Early this month saw the 6th edition of this epic SUP Surf Contest take place over in Trá Bhuí, Co Sligo, Ireland. This contest has become the highlight of the SUP Surf calendar in not only Ireland but also the UK. Words and full report by Paul at IRISHSUP
The run up to this year's contest was one of nervous anticipation as the forecast was looking shocking! It was looking like there was going to be no surf over the weekend. The weather charts were giving nothing, zero swell for this coastline, something that is very rare for this time of year.
Discussions about postponing did the rounds, but with only 2 days to go we made a call to hang in there no matter what and if there was no swell, well we would just have to talk an extra amount of trash and consume extra creamy pints of Guinness.
Late on Friday night the surf gods gave us a little North Westerly swell to work with and it was all systems go…!
Saturday morning threw up some lovely clean lines with waves in the chest to head high range. Light offshore winds made this very inviting. With 5 categories to get through, and 43 entries from all over Ireland, and a few over from the UK, we got stuck into the first round heats.
Entries were down on last years, possibly due to the endless winter we have been having and due to the poor forecast in the run up, but the heats were very competitive with some big upsets and others displaying great form.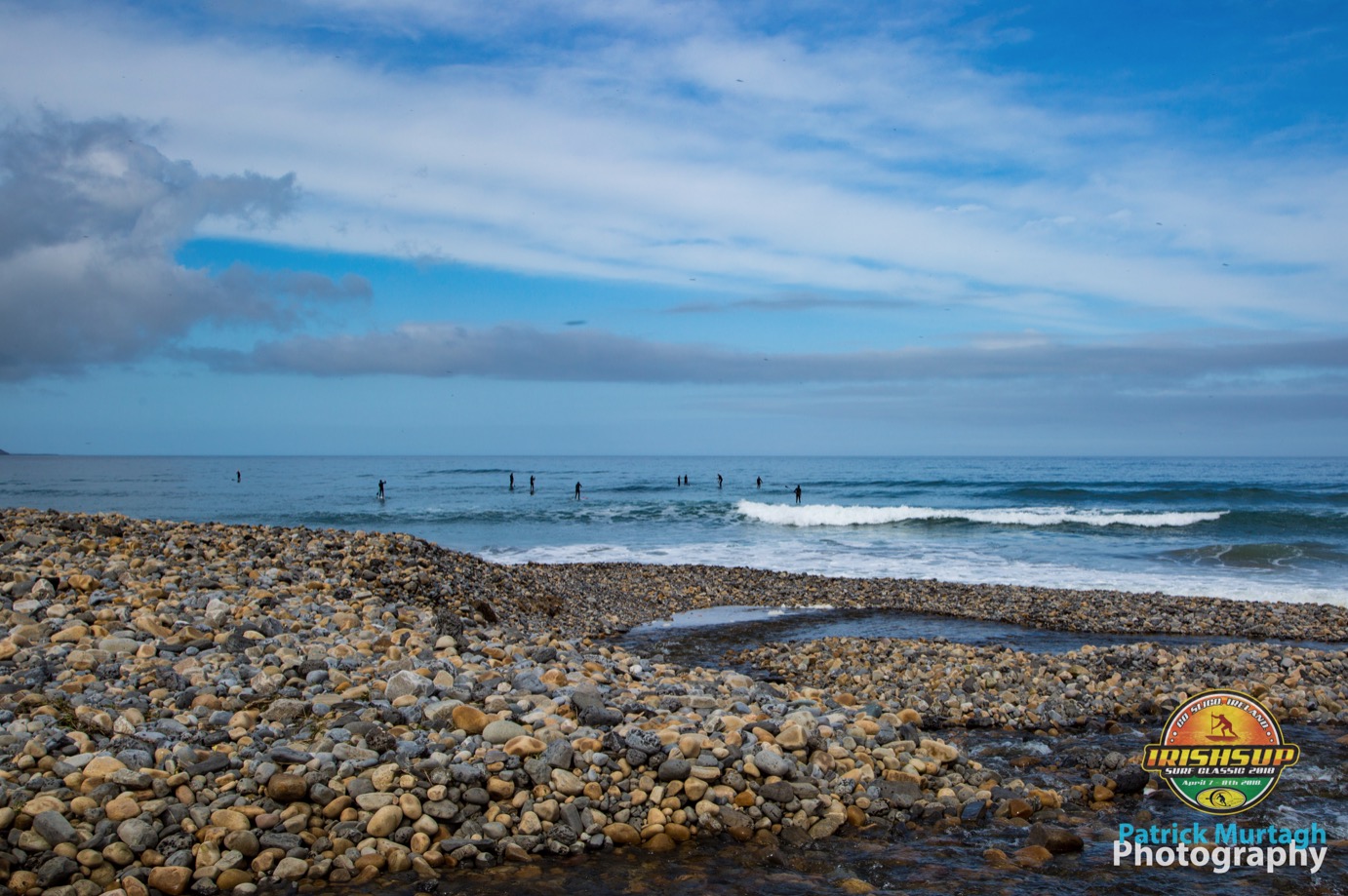 On the Saturday we ran through the first rounds of all categories right through to semi-finals. It was evident from the get go that the standard was higher than previous years especially in the ladies and first timers sections. Saturday night entailed a well-earned dinner and lots of tales of woe!! It great to catch up with everybody, some of whom I had not seen since last year. This is what this event is really about..!
Sundays forecast was for the swell to drop off in size during the day so we were keen to get on it early, but it was fairly solid when we got down to the beach to begin the semis. The shore break tested all, but once out back there was a beautiful selection of clean glassy peaks to choose from.
The ladies final was the first of the finals. Local girls Mia Hamilton and Nicola McCutcheon did battle, with young Mia displaying super form taking the win. The fierce competitor Nicola pushing her all the way.
In the First Timers we saw Trevor O'Rourke and Nick Seymour battle wave for wave, and in the end Trevor was just having too much fun and this drove him to victory in a close faught battle.
The big board's hit the water for the 10ft plus category. This final saw Dave Owens, Lewis Eickholt, Ollie Laddiman, and Trevor O'Rourke do battle on their logs. Ollies nose rides, drop knee turns and infamous cockroach saw him take his first final win of the weekend.
The old boys (and girl…) Steve Laddiman, Tony Doherty, Nicola McCutcheon, and Nick Seymour paddled out in the Masters final. Our Welsh visitor did what was needed on a borrowed board to take the win despite having snapping his board earlier in the morning.
The short boards came out for the last final at Trá Bhuí. Here both Laddimans (Ollie and Steve) took on the Irish boys in Dave Owens and Lewis Eickholt. It would have been rude to not let the visitors continue their winning streak, and Ollie was unstoppable! His style and level of performance had all talking about how good this young Welsh surfer has become.
It was decided that the swell was a little big for the Foil final and we relocated back to the Aughris beach for what was Europe's first SUP Foil competition. Paul Byrne and Ollie Laddiman displayed their skills in what was now tiny surf, but despite this they both entertainer the spectators, with the judges deciding to award a joint first place to the two guys..!
This was another awesome SUP Surf event hosted by Paul at IRISHSUP. A massive THANK YOU to all competitors who attended. New friendships were made and old ones rekindled!!
An event like this would not be possible without the sponsors who year after year are willing to help provide a great selection for prizes for the finalists.
Thank you to…SUNOVA SURFBOARDS, DIRTY DOG EYEWEAR, C-SKINS WETSUITS, SURFEARS, COCO RIDGE COCONUT WATER, BREEZE SUP CLOTHING, FOUR SPRUNG DUCKS, ACADEMY OF SURFING INSTRUCTORS, PURE MAGIC KITESURFING, THE BEACH BAR AUGHRIS, HUKU BOARDS, SUPBOARDER MAG, MAUKA LODGE, LADDIMANS WOODEN CREATIONS, HARBOUR SUP AND SAIL, TOTAL SUP, RIDE ENGUINE UK AND KMS KITESURFING.
Looking forward to seeing you all again next year…yewww!!!!!!
IRISHSUP SURF CLASSIC 2018 RESULTS.
LADIES
1. Mia Hamilton
2. Nicola McCutcheon
3. Sarah Gannon
4. Lois Crighton
FIRST TIMERS
1. Trevor O Rourke
2. Nick Seymour
MASTERS
1. Steve Laddiman
2. Tony Doherty
3. Nicola McCutcheon
4. Nick Seymour
10FT PLUS
1. Ollie Laddiman
2. Dave Owens
3. Lewis Eickholt
4. Trevor O Rourke
SUB 10FT
1. Ollie Laddiman
2. Steve Laddiman
3. Dave Owens
4. Lewis Eickholt
FOIL EXPRESSION SESSION
1. Paul Byrne
2. Ollie Laddiman
SPECIAL AWARDS
SPORTSMANSHIP AWARD
• Dave Owens
BALLS OF STEEL AWARD
• Nicola McCutcheon
MOST IMPROVED AWARD
• Mia Hamilton
All photos credited to Patrick Murtagh Photography.
Check out Ollie Laddiman's video of the event and trip over to Ireland.
IrishSUP Surf Classic 2018 is always the best excuse to make our way back over to Ireland for a week or two. This time we made the journey with Ben Marsden, hoping to score some epic waves. With a slow start to the trip we ended up having some great waves, till next time!