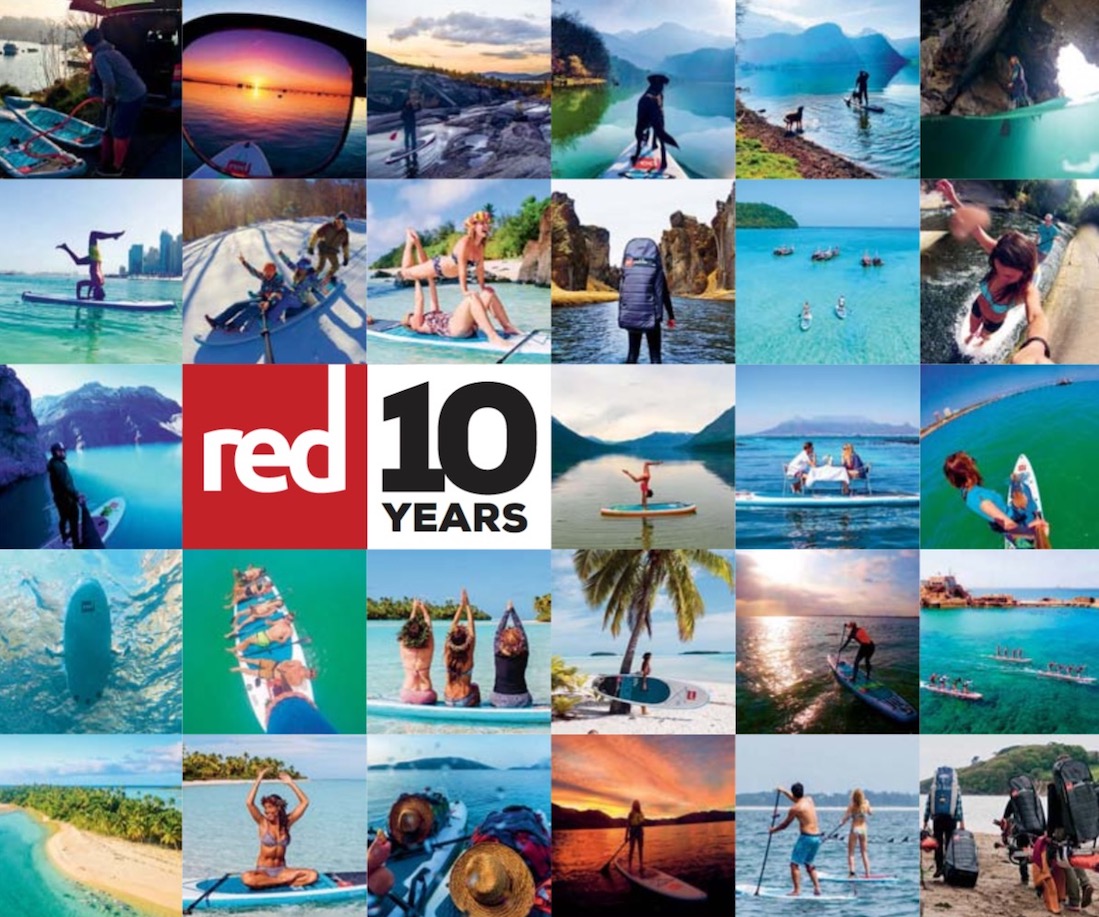 The early days…
It's hard to imagine it now, but there was a time when the inflatable SUP was not really recognised as a 'real' board. It was referred to more as a 'lilo', and seen as a bit of a joke by many of the worlds big watersport brands and market players. However, apart from being filled with air even the earliest inflatable SUPs were nothing like a lilo, as the robust drop stitch fabric used then was very similar to that used in todays boards. It's the fact that up until then every type of board used on the water was made of fibre glass and foam. And the inflatable SUP was something very different. Not the norm. In the early days of SUP it was a time when if you wanted to get into the sport you had to commit and buy a 12'x30" hard board. Not that practical for most recreational paddlers and the boards didn't even do anything particularly well! They were just big, heavy and hard to carry!
So what made John Hibbard the founder of Red Paddle Co believe in the inflatable SUP and commit 100% in the early days to set up solely an inflatable SUP brand? Celebrating Red Paddle Co's 10th Anniversary this week SUPboarder talks to John about the past, present and future of Red Paddle Co…
SB/ Coming from a professional windsurfing background what was it about SUP that first appealed to you?
JH/ The simplicity and the social aspect were the big ones, plus the fact that there were so many transferable skills from windsurfing. It also was something else to do when the wind was down.
SB/ When did you first see an inflatable SUP and what were your thoughts?
JH/ Early 2008. My first impression was… " Great idea, badly executed". I loved the practicality and transportability, but not the fact that it looked awful, bent when you stood on it and didn't fit back into the bag it came from. I immediately thought that if I could solve the performance issues then inflatables were going to become the most relevant product for most people.
SB/ What was it about the inflatable SUP that made you decide to set up an inflatable SUP brand not a hard SUP brand like many others did at the time?
JH/ I loved the potential I saw in both the possible design innovations and how the concept of inflatable boards was going to allow so many more people to get on the water.
SB/ Is it true that in the early days you and the inflatable Red Paddle Co brand were seen as a joke? What did people say and what was your response?
JH/ SUP itself was the joke! Before we could sell a board we were convincing people on the sport. We'd rock up to a shop and they'd never heard of SUP so the fact we had an inflatable board wasn't really of interest. We literally spent 2 years going paddling with retailers and their customers, presenting the sport. Only then once they had experienced the sport, did we start talking about board constructions. In some cases, we would surprise the paddlers by deflating their boards after they stepped off at the end of the session. They had no idea they'd just been on an inflatable board.
There were certainly some brands that thought we were doing the wrong thing. The sales director of one pretty famous boardsport brand did come up to me in 2010 and congratulate me on starting a brand but wanted to give me advice to immediately switch to hard boards as there was just no future in inflatables!! I think he missed the boat!
SB/ Was there ever a point when you doubted the inflatable SUP and your vision?
JH/ Nope! I am stubborn (just ask my wife).
"I was 100% convinced this was going to be a thing."
We spent so much time paddling and getting involved in the community that I had really good evidence that Red Paddle Co was the best way forward.
SB/ What size was the first Red Paddle Co inflatable SUP board you made and sold?
JH/ 11ft. Within 2 years we had developed a 10'6", which is what eventually became the 10'6" Ride. I wish now I had kept at least one of those first boards. They were good but absolutely nothing when compared to what we are producing today. At the time I had to sell them to pay the bills!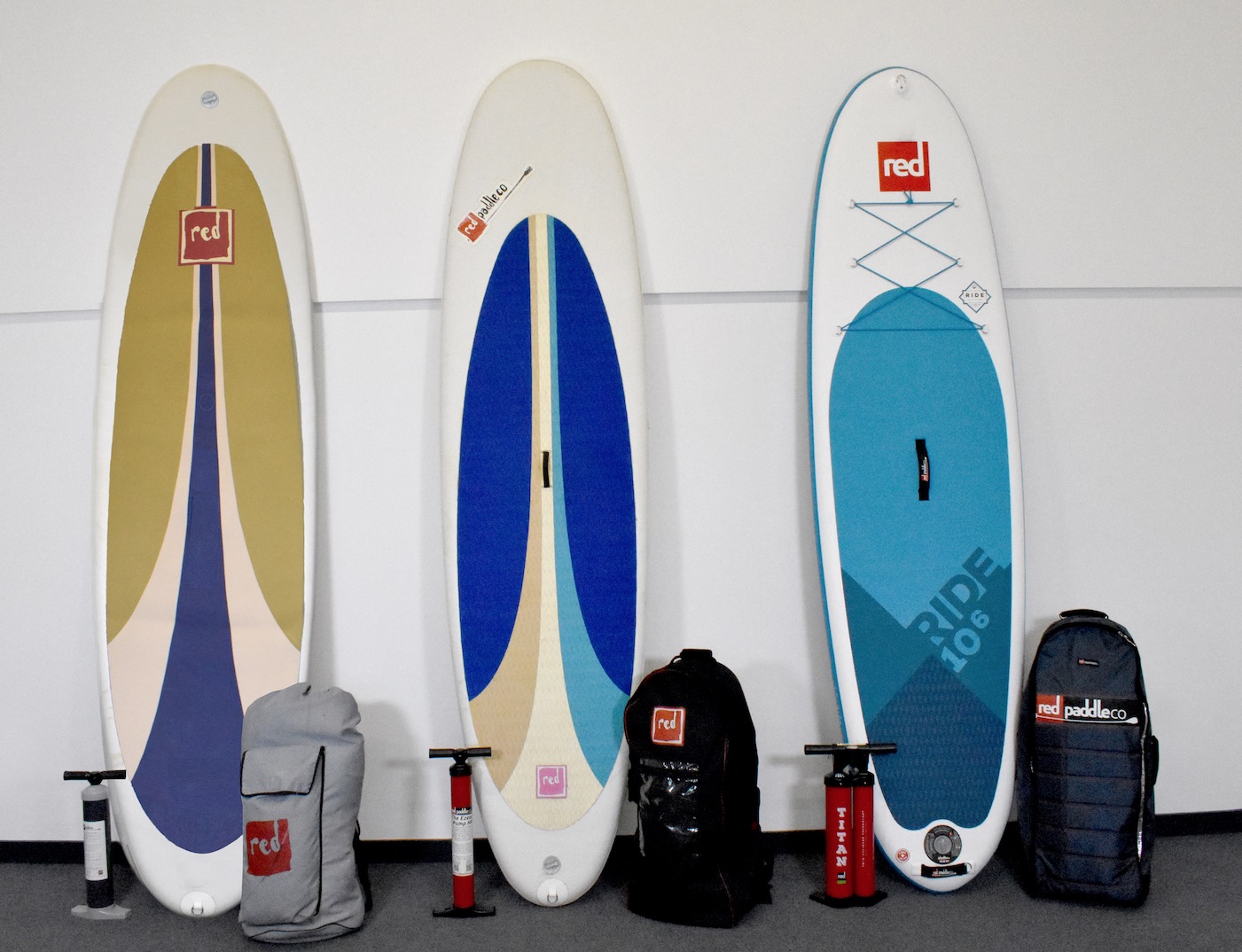 SB/ In the early days did you have any idea that SUP was going to grow into what it has become today?
JH/ I think I did. Or at least I was hoping it would! Everyone I took paddling loved it. Probably what hasn't happened as I had expected is the level of participation at the performance end of the sport – Surfing and Racing. I competed in a lot of the first major race and surf champs around the world. Events like the Battle of the Paddle in California, Hamburg World Cup, 11 City and original Waterman League surf events in Europe. I was pretty sure that side of the sport was going to be massive. It has yet to really turn out like that.
That's ok though, as the experience driven part of the sport, the social side, the bit we all do to relax, is booming and that's just fantastic – not just from a business perspective but also from the angle of getting more people outside and onto the water. I have lived most of my life on a board of some description, so I just love that lots of people are experiencing it too. The social side is also just so chilled out. There are times in the surf when things can get a bit heated or at least there is tension in the air due to how crowded the line-up can get. Paddling across the bay or down a river is totally the opposite. You wave and say hello to every paddler you pass. It's brilliant.
Red today…
Between 2008 and 2012 John Hibbard and Red Paddle Co pushed the development of inflatable SUPs, demonstrating that inflatable boards are a genuine product and can be taken seriously. During this time inflatable paddleboards became known as iSUPs and very much the norm in the SUP world. Many of the hard board brands who had previously shied away from the inflatable side of the sport, now saw there was very much a place in the market for iSUPs and started to include iSUPs within their board range. In it from the start, and 100% inflatable focused Red Paddle Co have certainly been pushing the RnD and become the leading iSUP brand. But with many other brands now making inflatable boards what makes Red Paddle Co different from everyone else?
SB/ When did you feel Red Paddle Co really made their mark in the world of SUP?
JH/ The first years were tough. Not because of the inflatable tag but just because we needed a foundation of paddlers to spread the word. We started when there were very few paddlers. Once we had a groundswell of paddlers (on any board) we started to see some movement. Our first year or so of sales figures were pretty poor. I remember being excited when I had sold the 100th board – after about 300 days of trying! That seems funny to think of now.
When we were able to fund developments such as the RSS system and had built relationships with moulding companies to make better pumps, we started to see some action and were able to make our mark. That was around 2013.
SB/ What are the major developments that you believe make Red Paddle Co stand out from the other iSUPs on the market?
JH/ First and foremost it's our attention to details. Making a good inflatable board is exceptionally hard. You are dealing with a 3 dimensional textile product that moves and shifts during the build.
"Our quality control is like a military operation these days. We've learnt from our mistakes and we have learnt from experience."
Running our own production and having the full say in how and when things are done has been a very important step. Our return/warranty rates are now tiny. Current models are sitting at something like 0.02% return rate. That's nuts – not many products have rates that low. That is testament to the brilliant team we have here at Red.
Along with that focus on build quality there are also elements such as our Titan Pump (fast and easy inflation) and our wheeled carry bag that are a true point of difference. The bag is a good example of attention to detail. It is built from the same materials you'd find in a windsurfing sail. Meaning it is strong and robust.
Our MSL material is also a big win for us. It is unlike any other material in the way it is made. I believe we are the only brand to actually control the recipe for our material. This means we are getting exactly the finish and performance we want. This is not off the shelf stuff. This is MSL.
SB/ The Red 10'6 Ride is the most popular Red Paddle Co board. Why do you think that is?
JH/ It offers immediate fun. It is easy to set up. No need to fiddle with fins. Just pump up and go. It is also highly dependable. With our low return rates and exceptional attention to detail people can rely on the board to be safe and dependable.
The Future of Red…
Today, with 9 board ranges, 22 boards, and the worlds best RnD and iSUP technology Red Paddle Co has undoubtedly become the biggest stand alone iSUP brand in the world. So where else can Red Paddle Co and the journey of the humble iSUP go from here?!!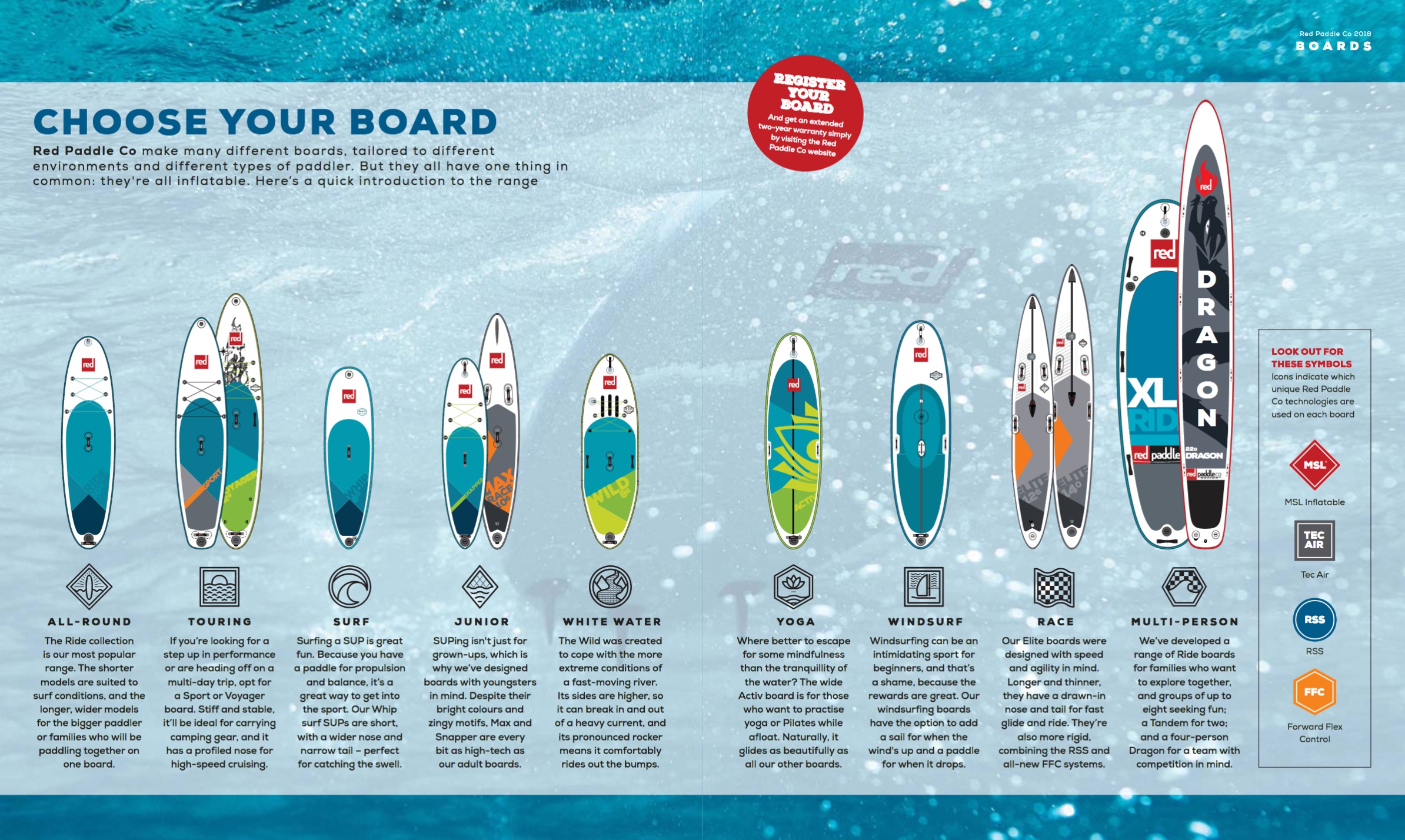 SB/ Red Paddle Co was a vision of yours, becoming a reality in 2008. Then your team, distributors and retailers grew around the world. How big is the Red Paddle Co team and family now?
JH/ We are a 15 strong team here in the Red International Development Centre. We have a team of designers working flat out, an operations team that are making sure we are getting products delivered on time into over 60 countries and a creative team who are responsible to bringing the brand to life through amazing images and video. They also use the products themselves, so we get some great internal feedback. We then have a further 5 strong team making sure all the UK businesses that use and sell Red Paddle Co products are well looked after. In Australia we have a further 3 people running the show for us down there.
"In total our extended family of distributors around the world brings us to over 150 people involved in developing and promoting Red Paddle Co. This is no longer a 1-man band!"
We are also sold in over 1500 shops around the world. We literally do reach right around the world from London to Lima and back via Melbourne and Moscow!
SB/ I know you're not going to tell us but what exciting developments can we expect to see from Red Paddle Co over the next few years?
JH/ In our development centre we are working on products that won't see the light of day until 2020. There is plenty going on.
"We are all about making the sport more accessible, safer and more fun. SUP is an experience driven sport and so we want to make that experience better."
SB/ What is your vision for the next 10 years with Red Paddle Co and where do you think a Red Paddle Co iSUP will take us?!!
JH/ Refining all the details. We are not about radical technique driven innovation we are about experience innovation. So, if we can make the "doing" of the sport better then we will be happy. There are a lot of products available and a lot of choice out there now. Quite a few of those products I wouldn't wish upon anyone. Especially when it comes to safety on the water. We have a huge responsibility to keep people safe on the water.
"Delivering reliable, trustworthy products is our number 1 goal. We stand 100% behind our products. To me that is our number 1 and what Red truly stands for."
For Red Paddle Co the next 10 years will be about improving every aspect of what we do. We are also launching our Red Original range. This is a succinct range of accessories built to our high standards, that will make your SUP experience even better. Every Red Original product has been designed with the same passion as our boards. We can't wait to share that with everyone.
SB/ Where do you think SUP will be in 10 years time?
JH/ As a sport I think we are only now starting to reach the major adoption stage. We see no reason why we can't help introduce more and more people onto the water. Paddling across the bay or down the river with the sun starting to set on a summers evening is just so compelling. I just want more people to experience that sense of freedom and escapism. You don't need to go to Hawaii or the Cook Islands to get an amazing buzz from paddling. I love it and I can't wait to share it with more people. For me the experience outweighs any particular need or requirement to get the technique right – that bit can come later if you want. Just the basic experience of standing on a board, out on the water is brilliant.
"Do it safely, with the right equipment and you are in for a lifetime of great paddling experiences."
SB/ Give 5 reasons why SUPboarder readers should buy a Red Paddle Co SUP
We've been at this for 10 years. We know what we are doing so you can trust us to give you the best and safest product.
Innovation filled products. Whether it is our MSL material, our RSS system, Titan Pump or Roller Bag all our innovations are designed to make your life easier and to improve your experience on the water.
We've got your back. We are as passionate about Customer Service as we are about the products. So if you have a question we will help you. Most of the time we will have responded before you've had time to check your emails even late at night or over the weekend.
We make what we sell. Having total control over our production makes a huge difference, not only to the product but we also ensure all our team are well looked after and treated fairly. Most other boards are made in general inflatable factories making bouncy castles one day and boards the next. Often poorly managed.
We all paddle. Red Paddle Co is a company full of paddlers, we aren't just jumping on a band wagon. We all live and breathe the sport and our products. Nothing hits the shops until we are all happy with it. We stand 100% behind our products.
Photos : Red Paddle Co
To find out more about Red Paddle Co and their range of products check out the Red Paddle Co website and facebook page.