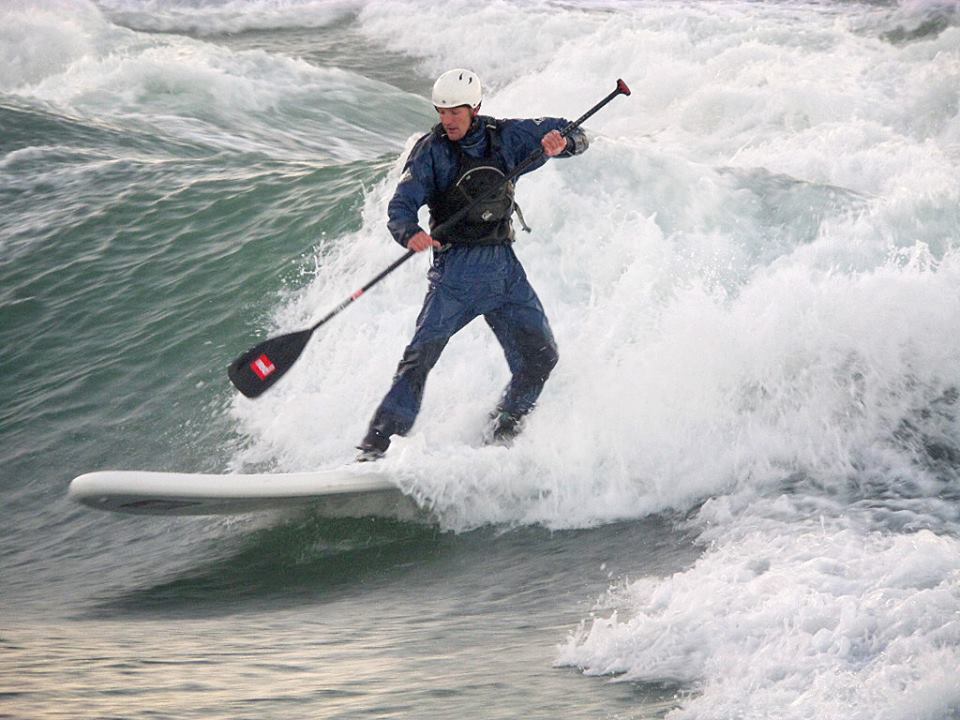 Sometimes you see a photo posted on social media and need to know the story behind it. When Tim Trew from SUP Bristol posted an image of him SUPing a tidal race called 'The Bitches' off the Pembrokeshire coastline in South West Wales, we needed to know more…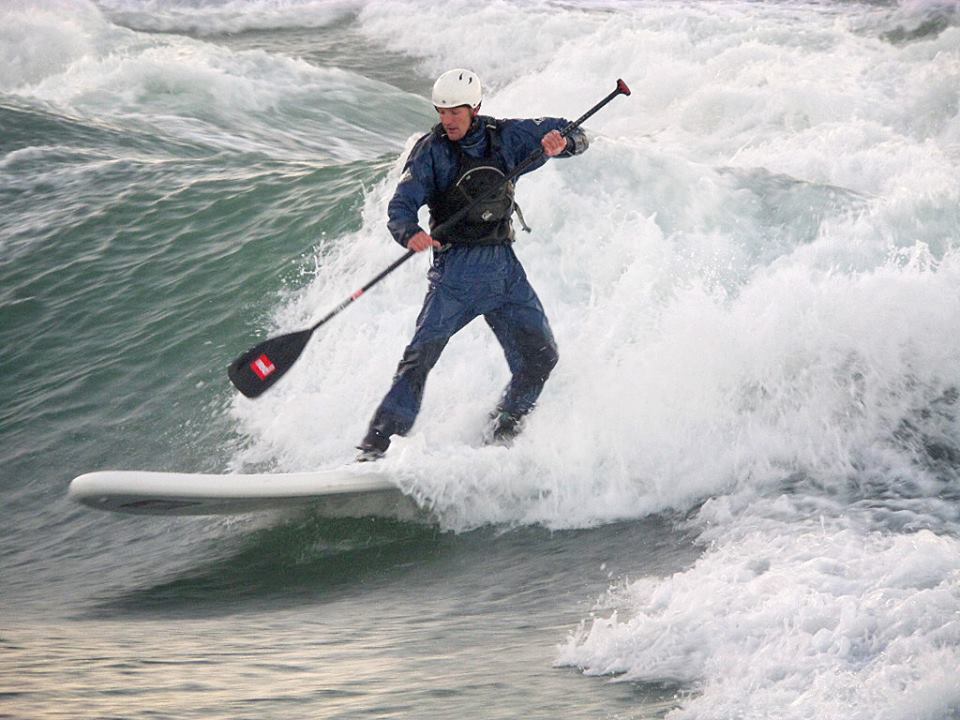 With rugged cliffs and beautiful beaches, you may already know the Pembrokeshire coast as home to some of the most breathtaking scenery in the UK. But you may not know that nestled in amongst this facade of tranquility lies a pounding tidal rapid, an enormous glassy green standing wave, and perhaps one of the best days adventures to be found in the UK.
Kayakers have been making the pilgrimage, half a mile off the Pembrokeshire coast for years, and it was here, back in 1991, where the first ever kayak world rodeo championships took place. A world-class wave deserves a world-class location and Ramsey Sound provides this and more. Paddling out to sea before dawn, sharing breakfast on a rock in the ocean, waiting for the wave to build as the sun rises over the Preseli Hills, was one of the most magical experiences of my life.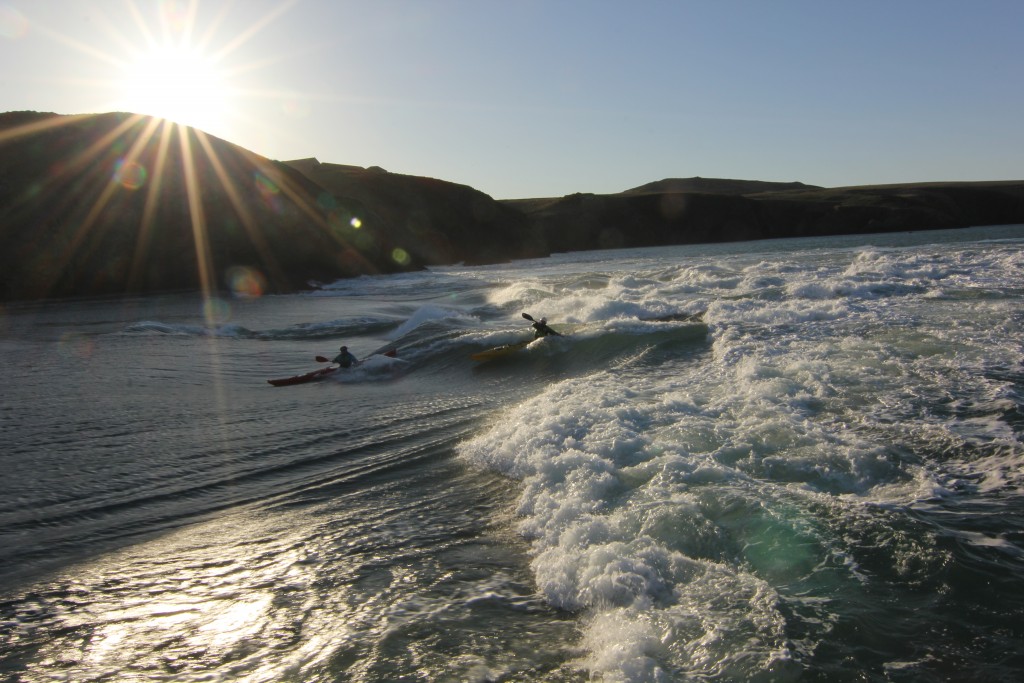 How would it work on a SUP though? Would I be the first to try it? Would I make the paddle across? Or back? Would I even catch the wave? And what about the furious eddylines, sets of unforgiving whirlpools that can pirouette even the largest sea kayak? There was only one way to find out, and with enormous spring tides this March, it felt like time to give it a go!
What are 'The Bitches'?
The Bitches are a tidal rapid that forms as the rising tide runs over jagged rocks between St David's Peninsula and nearby Ramsey Island. It forms with each rising tide, or every twelve and a half hours – meaning that for the fit and keen, surf's up twice a day!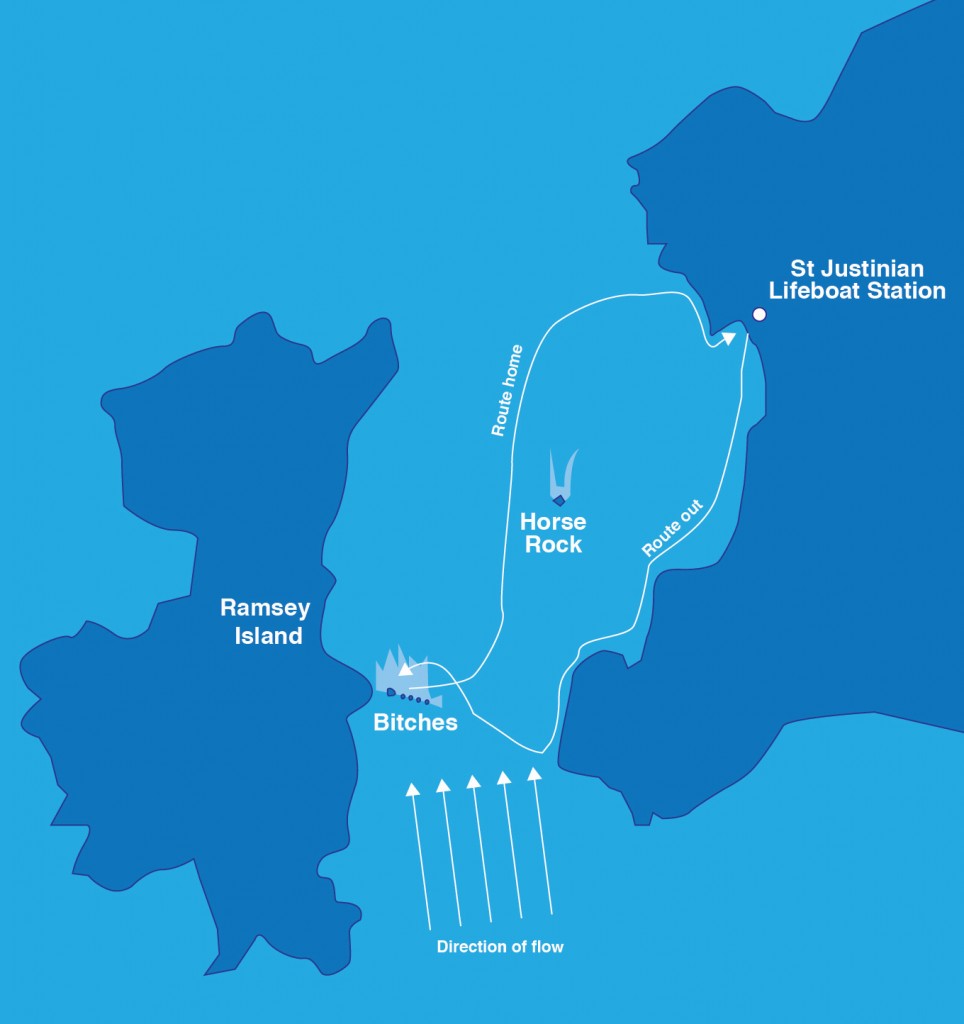 Not all bitches are created equal and for the biggest and best surfs you'll need to time your visit with large spring tides. Check the tide times at Milford Haven (www.tidetimes.org.uk/milford-haven-tide-times). Although this March's epic tides were 7.7m, the Bitches are surfable on any tide over 6m and for the first few times it's worth picking a smaller tide while you get used to how it works.
Getting there
Drive west as far as you can. After a lot of wiggling you'll reach St Davids, then go West a bit more to St Justinian. There's a simple campsite with sea views just 100m from the Lifeboat Station. Have a good feed and get some sleep – you'll need it for the early start!
Getting across
How to paddle into a headwind, against rough fast flowing water? I decided not to try it on the SUP, towing my 9'6 Red Paddle Allwater behind my trusty kayak instead. That's not to say you couldn't do it, I just felt more confident in the kayak. It was certainly a lot faster too.
Traditionally, paddlers leave St Justinian around three and a half hours before high tide at Milford Haven. Then there's a half hour paddle south, hugging the coast. You'll paddle past Horse Rock on your right (remember where this is – it will produce all kinds of evil when the water is running later) and if you're lucky you'll be escorted by inquisitive seals most of the way. You'll then need to cross the flow of the tide, moving at 10mph by now. This is where whitewater skills come in. It is more akin to the Zambezi than the sea and you'll need a good ferry angle and strong arms.
The wave
After half an hour you'll reach a string of small rock islands. This is the Bitches. The wave won't have formed yet – take time to look around you and wonder at the beauty of where you are. You'll see the wave beginning to build next to the largest of the rocks, as seals bob around you in the eddy. Sit on one of the rocks and watch the wave. When the Bitches are flowing well it's an incredible glassy green wave. Sit and watch a bit longer. With a bit of swell it can change every few seconds into a foaming pit of doom.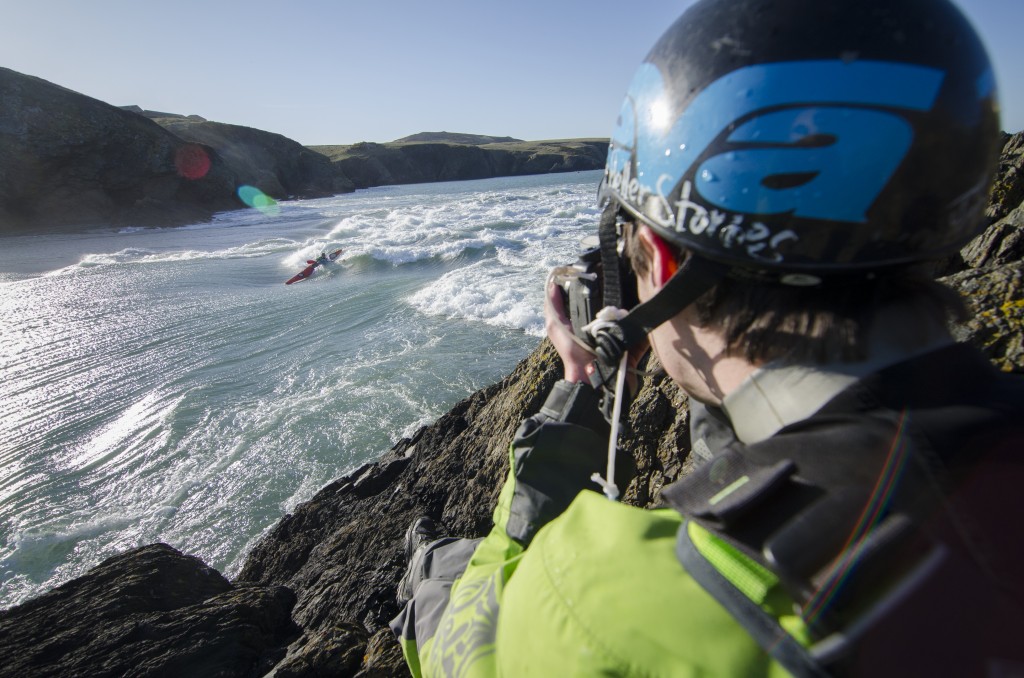 There are two ways of catching the wave on a SUP and both involve starting on your knees. The first is to climb up and over the rock, chuck your board in above the wave and drop in, paddling like fury. The second is to paddle straight in from the eddy behind the rock. Sounds easy but the wave is guarded by an eddyline, catch an edge here and you'll find out why they call it the Bitches!
Kneeling comfortably? Now stand and look around you. Marvel that you're surfing a standing wave in the middle of the ocean. Carve silently across the face of the wave. Enjoy the longest ride you've ever had. Hold onto your hat as the wave surges and you accelerate ferociously down the face. Smile with contentment. Then catch an edge and spend the next five minutes paddling prone over huge haystack waves, and being sucked down by whirlpools, until you're back to the safety of the eddy!
Paddling back
Don't forget to leave enough in the tank for one last adventure – getting home. It's not simple either as you'll need to avoid Horse Rock. Horse Rock is an enormous spear of granite that produces heavy waves and whirlpools, and has claimed the life of at least one kayaker.
There are two route options – above or below. Towing a SUP I went for the longer but safer option – to drop down below the rock, slingshot round it and eddy hop back along the coast to St Justinian. Another even easier option would be to wait until the next slack tide, paddling home in safety as soon as the water stops moving.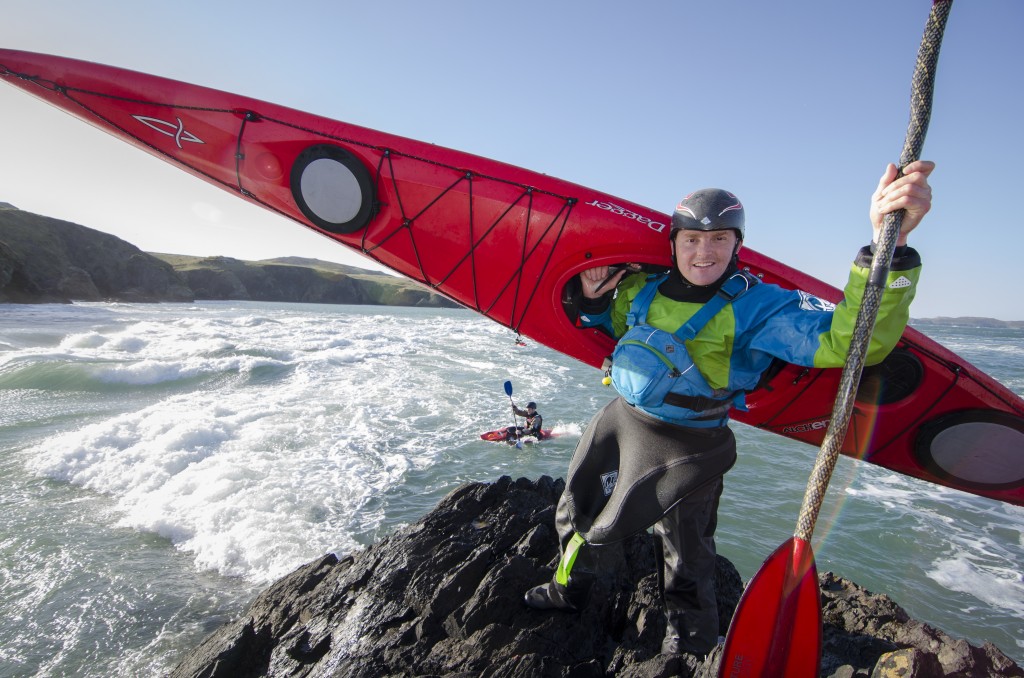 Safety
Take the Zambezi or White Nile, put them in the middle of the sea. You need to be confident paddling and swimming in big volume whitewater to contemplate coming here on a SUP.
If you do choose to give it a go though here are some tips:
Wear a Personal Flotation Device (PFD) and the best leash you can find. These are serious whirlpools and you're going to need all the floatation you can get.
Go with a good crew. If it's your first time make sure you're paddling with someone who knows the Bitches well and has experienced it in a variety of conditions. Take turns on the wave and make sure someones in the water when you're surfing.
Have a safety kayaker. Could you really reach your mate paddling your SUP if his leash snapped?
Check out the wind. Is it going to give you issues getting there or back?
Get a tow. Could you tow your SUP with a kayak or longer, faster paddle board?
Wrap up warm. You'll be out at sea for at least four hours. Make sure you're wearing enough.
Consider a kayaking/SUP course to learn about whitewater.
In the kit bag:
PFD
Spare paddle
Flares and whistle
Towline (you don't want to be taking your leash off here)
Bothy bag
First aid kit
Spare food and water
Phone in a dry case
Spare clothing and hat
Helmet (the rocks are sharp and hard)
Words by : Tim Trew from SUP Bristol.
The Bitches is a popular spot for experienced paddlers like Tim, and he may well be the first to take a SUP out there and ride the standing wave.  Paddling a tidal race is a serious undertaking. The Bitches and other similar features are spectacular places to paddle, but as Tim says they can be very dangerous even for the experienced. If you are tempted by the Bitches, make sure you learn about eddies, moving water and the dangers associated with them, get used to paddling in large volumes of water, and work your way up on smaller features first. And also make sure you, and your fellow paddlers get back safely, so you can tell us at SUPboarder all about it. 
About SUP Bristol
Tim and his partner set up SUP Bristol to get more people out on the water. Bristol is a beautiful city with an amazing historic harbour, and they wanted to see more people using it! As Tim says:
"The beauty of SUP is that it's so accessible. Last summer we introduced over 800 people to SUP, from age eight to seventy-eight. Most of them were female and nearly everyone had never tried paddleboarding before. This summer we're excited to be introducing hundreds more to the sport and building the SUP community in Bristol. We're also helping to develop the sport by working with British Canoeing to train outdoor centres all over the UK how to transfer their paddling skills to SUP."
You can find out more about SUP Bristol or book online at www.supbristol.com
Links
Guides
Tim, and SUPboarder would thoroughly recommend getting a local guide if you are planning on a trip to the Bitches.