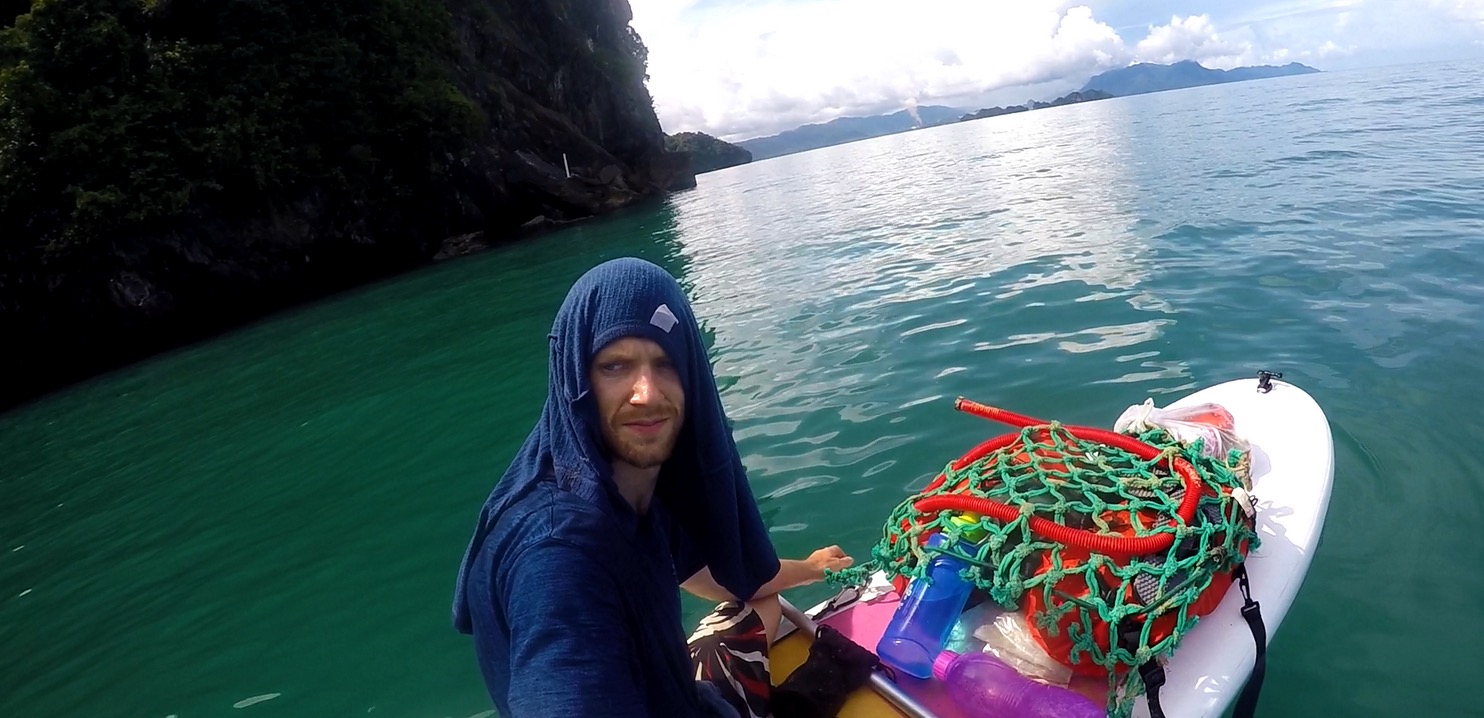 Paddling solo and unsupported 110 miles in 10 days in soaring temperatures and monsoon rains. That's the challenge amateur paddler Dan Wynn from Pembrokeshire set himself in November 2017, paddleboarding around the Langkawi Island archipelago, 30km off the mainland coast of northwestern Malaysia.
With a love for the ocean, and the unique sense of solace and contentment you get when afloat on a SUP, Dan and his second hand Red Paddle Co iSUP set off into the unknown. Despite having little long distance paddling experience, Dan's desire to explore, do something no one else had ever done before, as well as experience real Robinson Crusoe style-camping was enough to put his plan into action and complete his challenge. Dan shares his exciting trip with SUPboarder and offers some top tips if you're planning a similar adventure paddle…
The time had come to push off from the golden sands of Langkawi and into the deep blue sea. Before embarking on my expedition, a million questions were racing around my head… Had I packed the right gear? Would my second-hand inflatable stand-up paddleboard (iSUP) be up to the task? Would I be up to the task? If doubt was raised in any of my answers, it would be a perfectly valid and acceptable reason to call off the expedition.
"Many a doubt was raised – but my heart screamed only to float off, so float off into the sunset I did."
10 days later I returned to the same point at 9pm under the cover of darkness. A curious local shone his scooter headlight onto the beach illuminating me firmly in the spotlight. He might have been helping me land in the dark, but I believe it was more fuelled out of disbelief. His deep curiosity was matched only by my intense relief at finishing my journey.
"110 miles paddled in 10 days."
An amateur paddler from Pembrokeshire with no previous experience of multi-day SUP trips nor camping in tropical conditions had set off into the unknown; in the process successfully becoming the first-person to circumnavigate the Langkawi Island archipelago by human power alone. My route took me around the outer edge of the entire archipelago encircling all 104 islands and involved camping on uninhabited, remote islands whilst braving tropical storms, monsoon rains, temperatures of 34oC, dehydration and heat stroke.
Langkawi, often called the 'Jewel of Kedah', is an archipelago of 104 islands off the east coast of Malaysia near the border with Thailand. It is designated as a UNESCO 'GeoPark' and has 3 large rainforest reserves. These reserves have towering, steep-sided mountain peaks standing like battlements over dense rainforest rumoured to be a stronghold of the illusive Clouded Leopard. These reserves create a mosaic on the land forcing the majority of human development to the south of the main island, Palau Langkawi. The result is large areas of the coastline are truly wild as the rainforest meets the sea in a dense, impermeable wall – no phone signal, no access and so no rescue possible.
My choice of Langkawi was fuelled by a desire to experience real Robinson Crusoe style-camping on deserted, isolated islands. Only 4 of the 104 islands are inhabited in this archipelago with the majority living on Palau Langkawi. I wanted breath-taking scenery, beautiful wildlife and an experience like no other – in this respect Langkawi did not disappoint. I desired to see the untamed, wilder side of this destination which is rapidly becoming a tourist favourite.
Yvon Chouinard offers the following definition of adventure which I have paraphrased…
"When everything goes wrong – that's when adventure starts!"
By this definition my trip was certainly an adventure. It didn't all go to plan. I discovered the perils of SUP in monsoon season; as mid-way through my trip I camped in a tropical storm with driving rain, lightning and wind speeds of 40mph. My hammock was destroyed along with my tarpaulin – the only piece of material that protected me from the rain. That night I lashed my SUP and belongings to a tree, put on my waterproofs, curled up in the foetal position on the sand and waited for the sun to rise. There was nothing else I could do. I was cold, wet and hungry. I awoke to find a hermit crab pulling the toggle of my coat after barely managing 1 hours sleep.
The monsoon rains operated like clockwork bringing strong winds and rain almost as soon as the sun had set. This heavy rain could last for anywhere between 4-6 hours. Many nights thereafter I slept on the sand under my iSUP offering myself as food to the mosquitos. Suffice to say as the trip went on, my lack of sleep became an issue.
A friend recently gave me the definition of something called Type 2 Fun, which was "fun in retrospect, hateful at the time". My trip was certainly hateful at times but it would be completely unjust to say it wasn't fun also!
The daytimes yielded paradisiacal paddling conditions. Mirror-calm waters, clear skies, blazing sunshine and beautiful coral reefs blurred beneath the crystal clear seas. At times the scenery was reminiscent of a certain 'Lost World' minus the large reptiles. Dolphins regularly kept me company on my island crossings and Sea Otters could be seen walking along deserted beaches. Brahminy Kite and Sea Eagles would glare down at me from their lofty perches, skeletal branches overhanging sheer vertical cliffs, watching with what appeared to be mild disdain as I paddled past. They reminded me of the jury in a court of law and I was the defendant.
Some of my favourite memories were of exploring the vibrant mangrove swamps. I never encountered another person in my explorations of these living waterways. Jellyfish would emerge like phantoms from the murky green water. Shore crabs would skitter along the mud embankments – the silent watchers. Shoals of fish would leap clear of my board as I passed. The air was rich with the smell of damp organic decay. The only noises were 'popping' sounds as gas escaped the mud and distant 'cracking' as trees shifted or bent out of shape. The sun was barely visible through the canopy, such had the trees grown it was like paddling through a living tunnel. The colours were mind-blowing, every shade of green and gold imaginable, so bright and vivid it reminded me of an artist's paint palette. It was an exciting, secret world seemingly reserved just for my personal viewing pleasure. I never felt more like an invader on the whole trip then in these moments.
This adventure was an eye-opener for me as it revealed the opportunities that SUP presents. Put simply…
"SUP is a one way ticket to adventure."
When I bought my ex-rental inflatable Red Paddle Co paddleboard over 3 years ago, I saw new avenues of discovery and experience. It represented a new way to travel the world and challenge myself.
Many who read this may be thinking to themselves, "sure that's well and good but I bet it was expensive". I cannot stress enough that I did not spend a fortune on this trip, as with many trips the flight was the most expensive purchase. Including flights, in total the trip cost no more than £750. I used salvaged ghost netting to secure my gear to the deck. I recycled old containers/bottles to store my water. I used a simple camping stove to cook on. My hammock was second-hand off Amazon and I used plastic tarpaulin found in most builders' yards to keep the rain off – in fact I got it from a builder's yard! With a little creativity and resolve, you can salvage much of what you need and make anything fit for purpose. My extra gear totalled about 9kg on top of the weight of the board meaning I was paddling approximately 24kg.
I have a 10'6" Red Paddle Co iSUP, a beginner/intermediate level board and by no means a specialist expedition board. However its flexibility and transportability were essential in achieving this record. I could simply pack the board away in its travel case, protect it with extra padding and check it in as normal hold luggage. It wasn't the perfect exploration board, but I didn't let that stop me. It was more than up to the task – in truth, it coped with the challenge better than I did. Aside from a few scratches on the underside, it took everything a tropical paradise could throw at it from big swell to strong winds, extreme heat, rip tides and sharp coral reefs.
The only obstacle to any of you reading this from doing your own SUP expedition is the little voice inside your head telling you it's a bad idea.
"Do what I did… shut that voice down, throw yourself into planning the trip and book that plane ticket!"
Below are some of my top tips to help get you started.
• Research your route thoroughly noting potential haul-out/camping spots. These locations are your lifeline and escape points in bad weather.
• Use Google Maps to plot known water courses. In hot conditions, water is essential. I drank 4l/day – knowing where to refill your bottles is a real game changer.
• Never underestimate how much water you need. Take water filters, back-up filters, purification tablets and more containers than you think necessary.
• Take time before your departure to talk with the local community. I had 2 days dedicated to learning local knowledge.
• Take midday siestas to dodge the heat – paddling all day in 34oC is unbearably hot and a sure way to get heat stroke.
• Wear the appropriate protective equipment and exercise basic water safety, i.e. carry flares, radio, torch, whistle and PFD.
• Respect the ocean and learn as much as you can about local tides and weather patterns. In particular, keep a written note of tides times for all the days of your trip. Don't rely on memory or phone signal.
• Choose your equipment carefully. What to take with you is really a personal choice. But here are a few pieces of essential kit I could not have done without:
– Free Soldier Hammock with an inbuilt mosquito net. A wonderful hammock; it was comfortable and easy to assemble. Downside it does not come with an inbuilt fly-sheet – in retrospect I would opt for one that does.
– Survivor Filter Pro-Le Water Purifier – a fantastic piece of equipment that included a nanofilter, carbon filter and ultra-filter assembly. It is a small, portable hand-pump that easily filtered murky water rendering it drinkable. I added Oasis purification tablets after filtration just to be sure.
– Garmin eTrex 30x – great handheld GPS unit that comes with the option to buy additional base maps. I found it be very accurate, always locked onto satellites no problem and had a good battery life.
– Golden Fuji Gas Stove – small and portable gas stove. I actually bought this in Malaysia and it was excellent, even surviving a brief inundation when the tide caught me out.
• Take lots of dry bags – water and sand get everywhere!
Words & photos – Dan Wynn.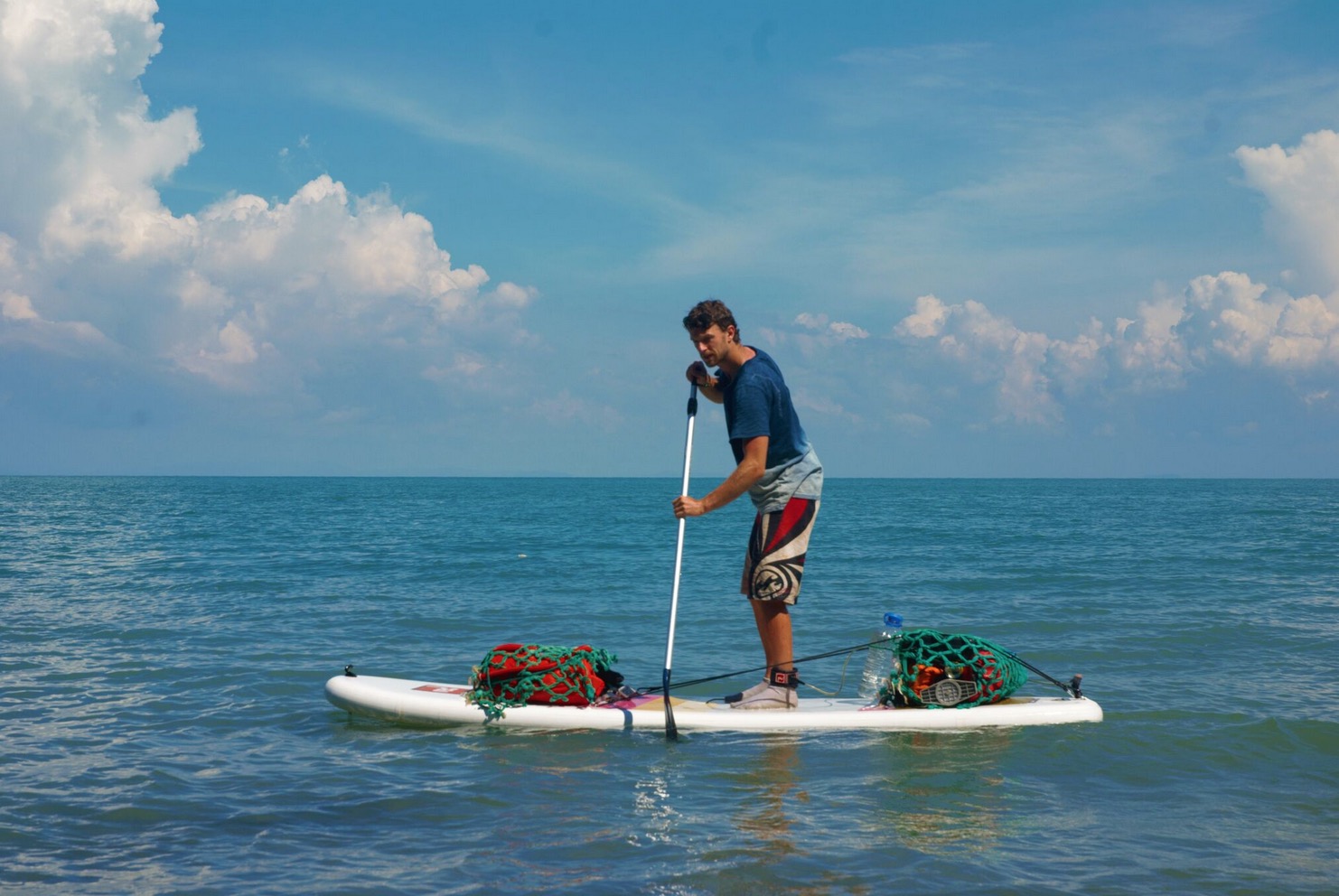 (Don't worry Dan didn't paddle all the way with his paddle backwards! It was a rushed posed shot!)
Well done Dan. A great achievement. No doubt this won't be the last of your big SUP adventures! We look forward to hearing what you're planning next!
What SUP expeditions are you planning in 2018? And do you have any top adventure paddling tips you'd like to share? Get in touch at info@supboardermag.com or comment below.