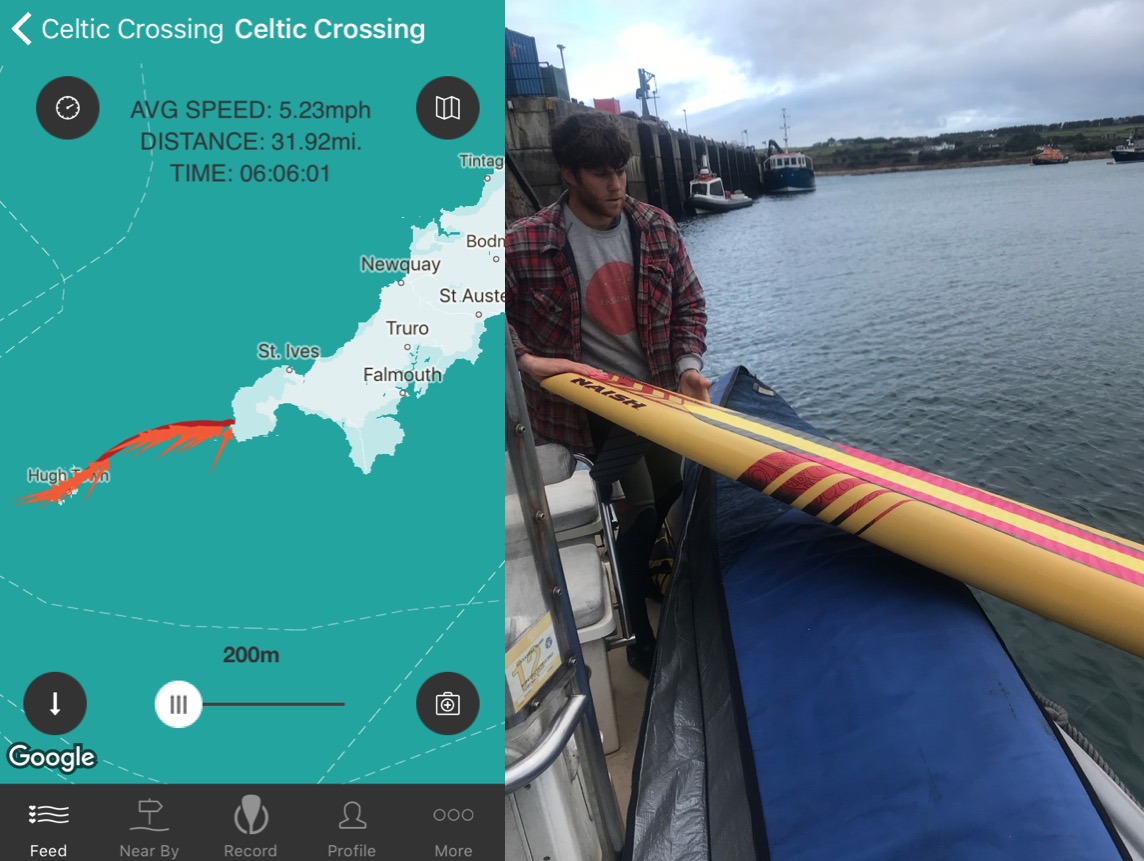 SUP challenges take place all over the world, from local lake challenges to open water paddle challenges (and everything inbetween!) There are some amazing events out there to get your SUP challenge juices flowing. But what happens when the weather doesn't play ball with the event date or injury prevents you from taking on your dream challenge? Well… you could sit back and wait for next years event hoping the same doesn't happen. Or… you could just get on with it and take on a 'Bandit run'! 
We hear from Naish paddler Ben Fisher after he decided to do just that – make it happen instead of waiting for it to possibly happen. After the 2017 Celtic Crossing was cancelled earlier this year due to unsuitable weather conditions on the dates set, instead of waiting until next years event Ben decided to find another weather window and take on the 32mile, downwind, open sea crossing solo! Paddling from the Isles of Scilly (an archipelago off the Cornish coast), back to the southwest of England with just a support boat behind and a lot of choppy water ahead, Ben knew it was going to be tough! Just because you are in control of dates and times doesn't make the SUP challenge any easier.  Before you get to the finish you've got to get to the start line!…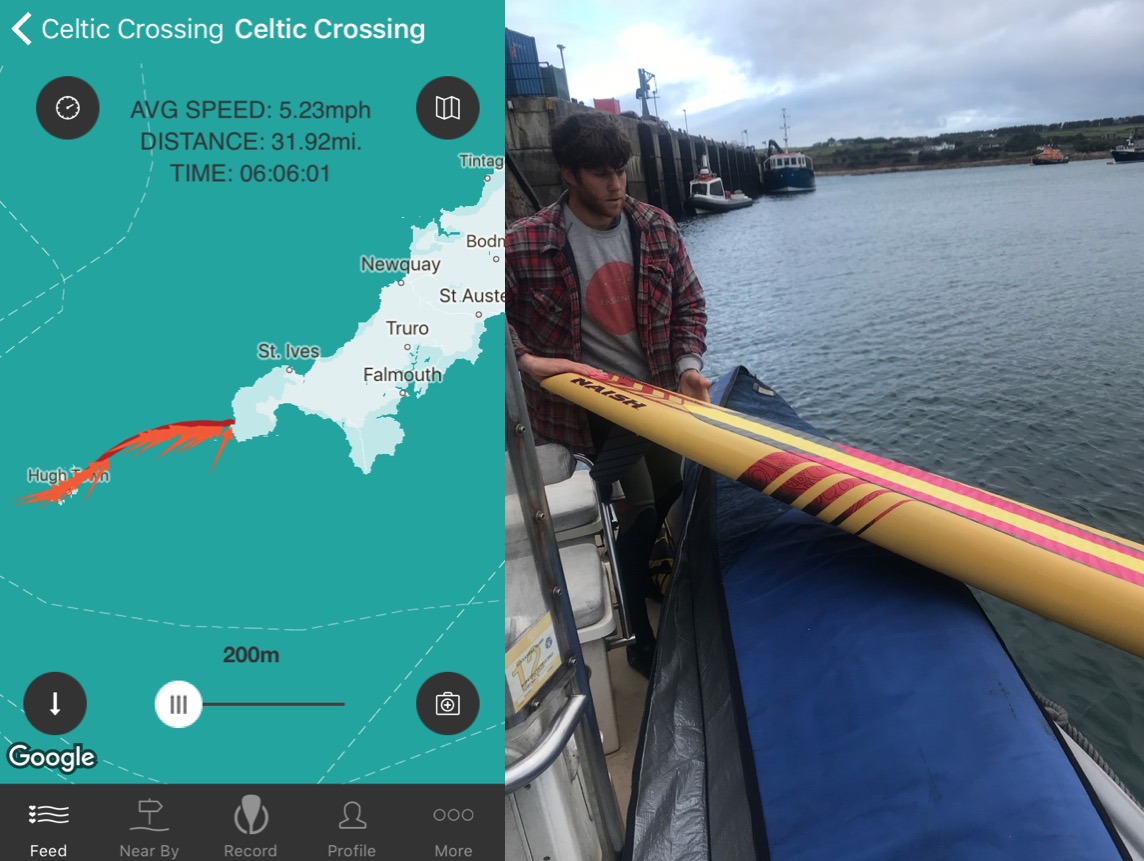 Having pulled out of last year's event due to a knee injury, my main goal of this year was to complete the Celtic Crossing. Originally planned for September, then bumped until October and subsequently canned because of storm Brian, my persistence persuaded Glen Eldridge (from Ocean Sport Centre) and the event organiser to escort me on a late season attempt if both tide and weather were favourable. Mid November was the very latest we could attempt the crossing due to water temperature and daylight hours. Initially planned for the Monday the 13th November, weather then turned unfavourable (light wind but a swell from the north). On Sunday afternoon Glen gave the call to attempt a solo crossing on Tuesday 14th November.
Having thought the event would be binned off entirely until May next year, I had not been prepping for the challenge ahead. Luckily, I had left most of my gear box ready to go after the initial planned event two month previous, however, I had not started to get myself into the right mind space or thought much about the physical prep (hydrating and eating a lot of food). Sunday evening after running around like a mad man I grouped together all of remaining kit; doubling up on the paddle boarding kit in the most part in case I had any failures, wet weather gear for the transit out there and in case of an incident where I need to be extracted from the water, along with a mish match of gels and energy food and any other potential useful stuff, amounting to a fairly hefty pile of kit.
I went to work all day Monday, post work I popped into Reactive Water Sports to pick up a board bag, then to the super market to get 'fuel' for pre and post crossing; bananas, pasta, porridge, flap jack, nuts and scotch eggs. Getting home it was a manic couple of hour checking and double checking I had all the kit, making oat mixes for breakfast and cooking up pasta to eat on the go. Finally setting off to St Ives, where I had a couple of hours kip in the van.
Tuesday morning, I woke to my alarm clock at 0500 hours, I had half an hour or so before the planned rendezvous with my escort crew Glen and Johnny. I wolfed down my first tub of soggy oats and got all my kit (paddle board, paddles, dry bag and a boxes worth of 'stuff') onto the beach. We had the boat loaded and stowed by around 0630 and got under way to the Scilly Isles, approximately 45Nm trip on a 7m RIB, in the dark against a 15-20mph wind and head sea, progress was slow. 1 hour in and progress was not good covering less than 10 Nm, at this point it was looking doubtful we would make it out to the Scillies at all (ETA at current speed 11:00am). As we made it into the deeper open water away from the turbulent water of the Cornish coast, conditions got better but progress was still not great, all three of us took a beating from the slamming as the boat came off the top of short confused swell. Any chance of pre-race energy loading/ fuelling at this point was out of the question as both hands were needed to brace against the motions of the boat. I had already jettisoned a banana I had in my pocket as it had reverted to mush. Glen did a great job at steering through the confused sea state throttling on and throttling off, this was a constant pay off between time (tide and day light to complete a 6-hour passage) and between us and the boat making it to the Scillies in one piece. Passing the Seven Stone Light Ship conditions started to get better and we started making ok progress, finally making it to the lee of the Scillies the sea state dropped, and the RIB was able to punch through the half foot of chop at 30knts. We finally made it to Hugh Town quay in St Mary at 09:50am – for the best tide I would have liked to have left by 09:00am. I can safely say the trip out to the Scillies was not the best way to prepare for a 6 hour paddle on open water, thinking my back and arms had already had an intensive work out, I had 30 minutes to get myself and kit ready.
The next half an hour was spent fuelling up (both me and the boat) getting equipment ready and getting myself in to the right state of mind. Having set up my hydration pack up on Monday evening, the bladder had burst on the way out, meaning I resorted to a spare smaller bladder and using the pre-mixed electrolytes I had in reserve on the boat.
My board of choice was the 14ft x 24inch 2017 NAISH MALIKO.
I reinstated the fin and stuck a compass to the deck, put on my wetsuit and booties (a lot of thought went into what to wear – a wetsuit you get very hot but if you fall in having some neoprene will help keep off the cold, and judging by what we spent 3:1/2 hours driving into I didn't back myself not to fall in, I choose a 2mm short sleeve wetsuit) and I was ready to go.
We started just after 10:30am, the official start line for the Celtic Crossing is the end of the harbour wall in Hugh Town. The first 400m or so was cross swell and wind, this was a quick wakeup call as to the physical challenge which was about to come. Having got into the main channel I could turn to an East-North-East heading of around 69 degrees which was a run line back to Sennen, this first part of the paddle I flew with shin high chop and a fresh breeze channelling down the Scilly Isles archipelago. I was making good speed, averaging between 6 and 7mph (5-hour crossing).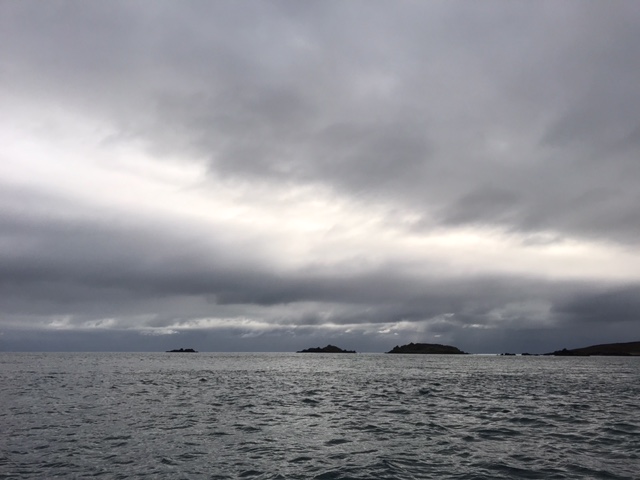 Beyond the rocky outcrops of the Scillies I stared to pick up a northerly swell rapping around the island. This developed in to the dominant ground swell direction, the same swell we experienced on the trip out an hour or so earlier. Progressing further and getting a few miles clear of the shelter of the Scillies a more south westerly wind swell kicked in, there were some small bumps to be had, but it was hard going.
It was around the two-hour mark where I took my first dip.
Refreshing but annoyed with myself for going in so early on in the crossing (at this point this is where the mental game kicked it, there is the potential for moral to drop and start falling every couple of minutes).
A couple more hours, a couple more dips, bumps were hard to line up because of the confused swell which I am assured is normal for the location. This made for hard work for balancing, with core muscles working overtime and dropping strokes to stop falling in. The hardest bit was getting going again from sitting on the board and having an energy gel, getting back to the feet felt super wobbly in the sea state and because of this I had less breaks, not getting the salt and sugar I needed to sustain progress. As a result, I begun to get cramp developing in my forearms and upper abs, an uncomfortable painful sensation and far from what I wanted with such a long way still to paddle. Rightfully so, the advice from the Glen on the support boat was to stop for a couple of minutes to refill my hydration pack and eat flapjack and isotonic gels. This was around the middle of TSS (Traffic Separation Scheme) 18mile mark, not much shipping traffic to recall.
Pushing with the crossing was becoming as much mental as physical.
I started pushing to get into some of the bumps, one memorable bump, the Maliko picked up and accelerated, a decent 100m or so ride, only to meet a breaking wave for the conflicting swell chucking me off into the water. Although not cold I was glad to have a wetsuit on. Most of the time and effort was on focusing on the nose of the board, looking for the next bump. The odd breaking wave in the peripheral threw the concentration resulting in a support stroke which was proving more effort every time. With the boat alongside I hear call of support from Glen and Johnny, then just in front of me a tuna the same size as a dolphin breaches and jumped out of the water. It is incredible the wild life that you see in these waters, a couple of years ago it was a shark.
The last hour and half were the toughest, within sight of Sennen Cove, land did not seem to be getting any closer. It felt as if I wasn't making any progress, (this I think was both mental and physical) exhausted by this point and due to the delayed departure, the counter current for the north to south had kicked in which I was having to paddle against. The sky was beginning to darken, at this point I thought I would struggle to get in in the light, and this gave me the drive to try to get into the bumps and wrap up the crossing.
The last challenge was negotiating the Cowloe, the semi submerged reef of the Sennen Cove. We had to pass to the north of the rock which meant pushing directly into 2 knots of tide and cross swell, pretty wobbly after 5 and half hours of paddling, I had a couple more dips at this point. Finally clearing the reef, I gave every last bit of energy to get into the Sennen Harbour wall, the official finishing point for the Celtic Crossing. Time elapsed since leaving Hugh Town harbour wall – 5hours and 54 minutes.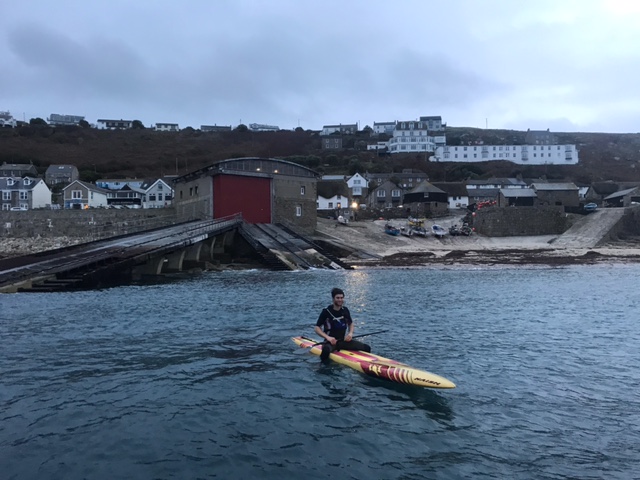 Having done the crossing out of season, and a solo 'Bandit run', Sennen car park was deserted. This added to the rawness of it all and part of the agreement of a mid-week spontaneous solo attempt. I was swiftly taken away for a hot shower and cup of tea.
Although not the prefect preparation for the race, and the challenging conditions encountered, 2 days on and my back and stomach are still very sore, but I am content. Taking on such a challenge, it will never be the perfect race, so many variables to align; training, race prep, wind, swell, tide, weather and equipment.
I grabbed the opportunity when it arose and had to be adaptable and push through with what was presented to me on the day.
A massive thanks to Glen for creating the opportunity. We pushed it out to the very last chance of a crossing this year due to daylight hours, weather and temperature. As it was, Johnny and Glen had to make the return trip from Sennen to St Ives in the dark along the treacherous Cornish coast line with a running sea and counter current. Big thanks to Johnny for the media coverage and support provided right from meeting at 05:30am in St Ives.
And thanks to all the other support; NAISH SUP as a board sponsor, Water Sports Academy (WSA), Reactive Water Sports for their support through out the season, GeoSup App which allows me to review and relive the crossing and Devonport Royal Dockyard Sport and Social Club for funding and supporting my Celtic Crossing Campaign.
Words : Ben Fisher
So if you are looking for a bit of inspiration to get back on the water after the Christmas break, we think this does a pretty good job! We can't wait to see what Ben is going to do next. But one thing is for sure… knowing Ben it wont be easy!
Photos : Glen Eldridge (Ocean Sport Centre) and Johnnie Wells
Check out Ben's full paddle on GeoSUP online by clicking the picture below or visiting/ downloading the GeoSUP app here : www.geosup.com