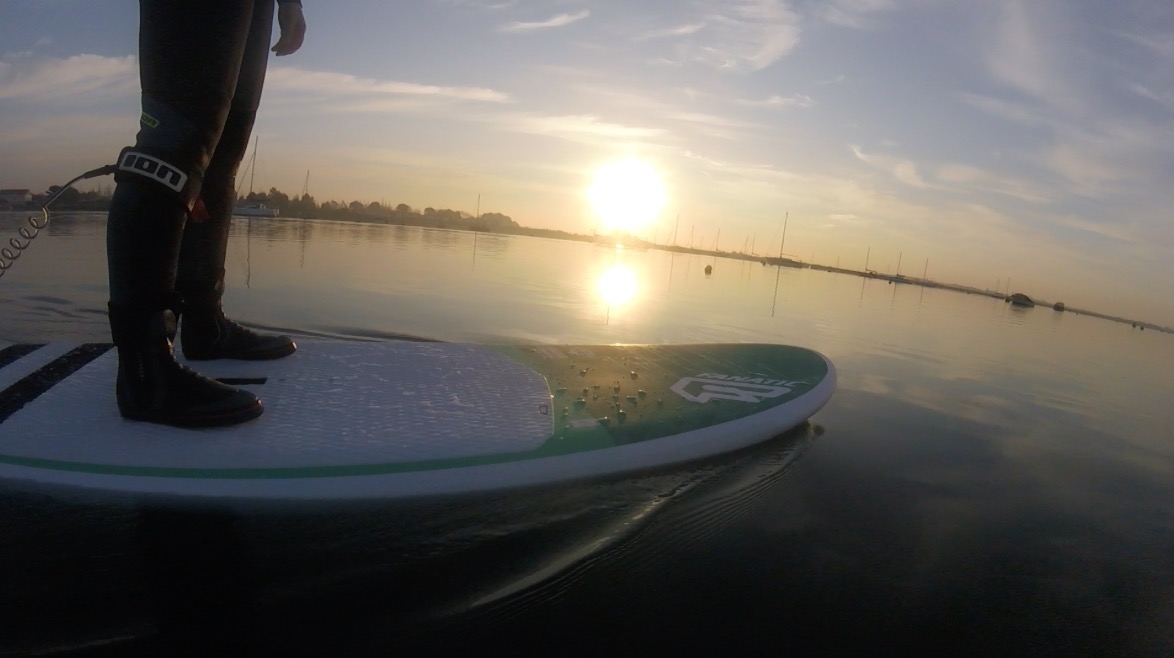 Some of us are lucky enough to have grown up by the water, living and breathing the ocean every day and enjoying the great opportunities associated with it. But for others, love for the ocean and discovering the fun it brings takes time… and confidence!
SUP enthusiast Jayne Lake is one of those people who had to learn to love the ocean. With a fish and water phobia it certainly wasn't love at first sight! In her mid 40's and with a passion for her camper van, cooking and outdoor life, Jayne decided after a major life event that it was time to face her fears and try something new. With a bit of encouragement, in 2015 Jayne tried SUP… and she's been SUPing ever since. Enjoying being part of the friendly SUP community and taking part in various events Jayne tells her amusing story of how her water phobia turned into her new love for SUP…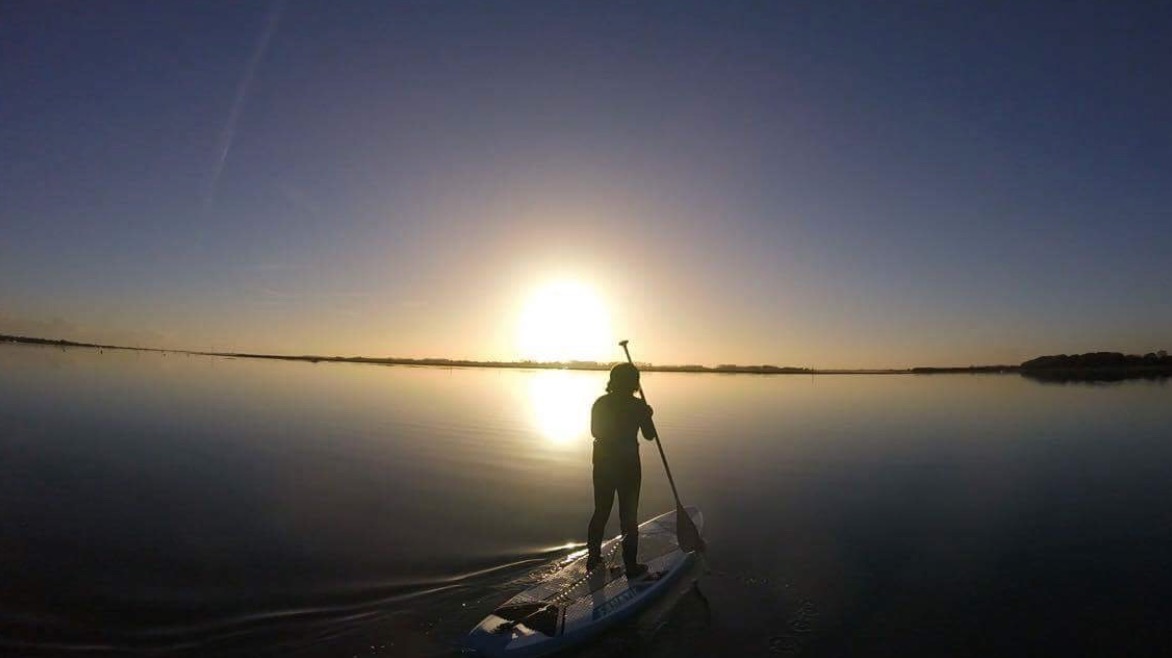 I know I am a bit strange but what is so surprising and funny about paddleboarding when you have a fish and water phobia?!
In June 2015 I was recovering from quite a large operation and I seemed to be having a mid life fear of not facing my fears and giving things a go. I took the motorhome to Hayling Island and just tried everything. I had a day to spare before I came home so I asked someone I trusted how I should spend it, the answer came back – contact Fran Blake and go paddleboarding. Now this was really pushing the boundaries, but having spent a day sailing and getting back on a bike after many years I thought why not! Pretty mad really considering the thought of floating over the unknown with the potential of bathing with fish was just so abhorrent.
Little did I know but Fran's matter of fact no nonsense approach was exactly what I needed. The morning was perfect, early, still and hazy and the harbour just looked amazing, even inviting.
I managed to wobble to my feet and set off on what was to be quite a life changing trip in more ways than one.
There was lots of chatter and fun so much so I forgot what I was doing and just kept paddling albeit very inefficiently, and now knowing how quick Fran normally goes it must have been rather frustrating for her. I could see her chuckling and wondered why, it was only later she told me of all the fish jumping behind me!
So that started my trips down the M3/M27 to the south coast for my "standing above the water" fix (having managed to this point not to fall off), and yes my friends realised for sure that I had lost the plot! Soon after I bought an ISUP 11 foot Fanatic tourer, and the day after that I told Fran I wanted to paddle from Hayling Island Sailing Club to Langstone, thinking how hard can it be?!!! I don't think I had factored in a wind that was stronger than expected and a side on swell, so I had my first dunking. All in it took three hours, all the jelly babies Fran had in her pack and a lot of sitting on my butt, but I did it. This was a make or break – it could have been the quickest resale of a SUP board in history – but it made me even more determined to give it my best shot, I'm no quitter. To many, such a small challenge is laughable, to me it was crossing the channel…
And now? Well, I live one and a half miles from the harbour, I get out as much as the wind and tide allows, I took part in a N1SCO race, and I am working on my technique and other board based skills. I took my ISUP out to Spain and also bought a beautiful Fanatic Diamond Pure to keep the inflatable company!
The water? I totally respect it but I no longer fear it.
I started to have personal training sessions with Phil McCoy – he soon got the measure of me and realised I hated having a roof over my head and then we also realised we shared the love of SUP so my exercise went outdoors. It's amazing the exercises you can do with a board and a paddle! His confidence being so infectious I have now ventured to the Hayling seafront and there's a lot of Gopro action of me laughing, swearing and falling off on the surf and while trying to do step back turns. I am currently in search of a race board to complete my collection and even considering an instructors course, all things I would have never believed two years ago.
The fish? Mmmmm I'm not sure I will ever get over them.
My strategy is to fall in with as much noise and splash as possible in the hope they will just stay out of my way. I really must learn to shut my mouth as I enter though!! Only in the past couple of weeks have I entered the water by choice, once attached to a board and in a moment of madness I actually went in without my board to cool down – that's progress!
SUP is an activity open to all, you can do it at whatever level you wish. Many get into it through being proficient in the windier sports and others just see it as a sport that you can explore and socialise at the same time. It seems to me one thing that everyone seems to agree on is its therapeutic qualities – to be able to glide over the water with such simple equipment under your own power while enjoying often amazing scenery has got to restore the soul. It's a great full body exercise and if you are fit enough, racing is a very accessible sport.
There are then nutters like me who need to prove something to themselves and end up taking part in an addictive and rewarding pastime.
I sometimes get disappointed reading forums and chat from individuals who have forgotten what it is like to learn and explore – the know it alls, the want it alls and the have it alls. On the other hand there are so many SUPers out there that are brilliant at nurturing and respecting all that take part in the sport, including my two mentors, and to be honest they will never realise how much they have changed my life through pushing the boundaries!!
I love my Fanatic kit, but I have to say the attitude of the N1SCO has me excited because the racing isn't elitist. Getting on the podium must be fantastic, but everyone is encouraged and so much can be learnt watching those running around the board and the buoys. The prize is in the taking part, exceeding your own expectations and meeting others with the same passion. I took part in the Emsworth race – my first ever race and more recently the "not so inland championships" that was removed to Swanage and now I have set my benchmark to improve on for next year.
I have an amazing (mature) friend who like me started to SUP only recently. She took part in the N1SCO race in Emsworth, where there was a really strong side wind blowing her off course. There also was an equally amazing lady called Amanda who did not care where she came in the race, she was only concerned that my friend completed it. She stuck with her, board on the leeward side ensuring they did not venture further into the harbour. Now that's what I call team spirit in an individual sport. Wouldn't happen in many other sports would it?!
I have been lucky to have the guidance from sport science professionals including a sports physio, an exercise physiologist and an accomplished paddler. Although I am far from being any good on the water I have learnt that there are a few things you can do to improve your efficiency and also to protect your body from injury especially if you want to go beyond the gentle paddle and chat on the way to the pub! I now have a very simple programme to strengthen the bits that are important and Phil McCoy will be sharing some of his expert knowledge on SUPboarder over the coming weeks.
Words : Jayne Lake
Jayne has started up a Facebook group called "Emsworth SUP Fitness' to help bring local paddlers together – a forum to publicise when you are going on the water to invite others and to share useful information and events. She is also setting up a volunteer group to look after the coastline around parts of Langstone and Chichester Harbour – clearing litter and monitoring. 
Jayne likes a challenge, but also likes a laugh and is not someone who takes herself too seriously. So keep an eye out for Jayne and her 'nutritional treats!' at future events!
SUPboarder wishes Jayne all the best with her SUP antics this year. And hopes others will pluck up the courage like Jayne to jump in at the deep end, face your fears and discover a whole new world… the world of SUP.