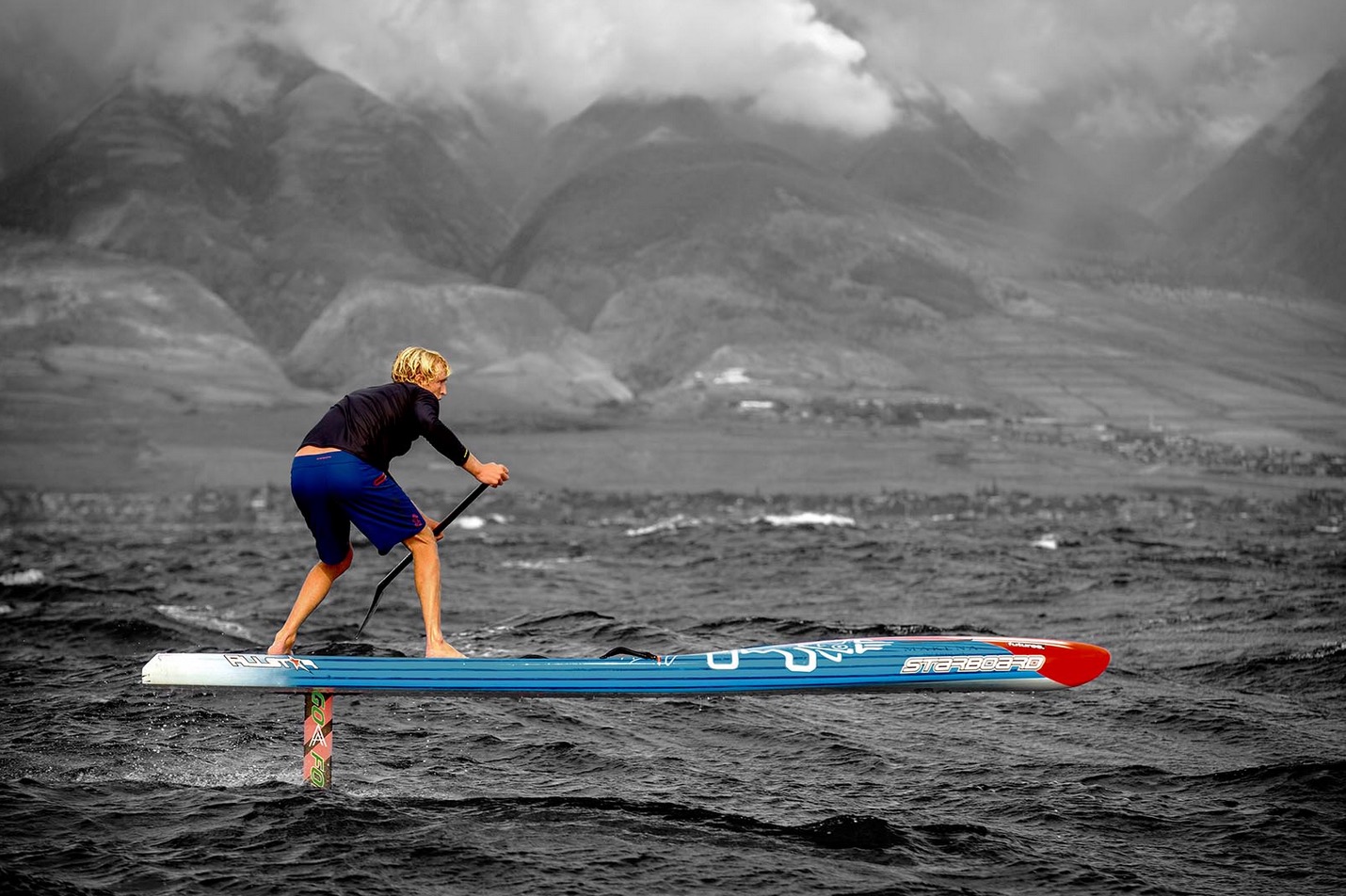 2017 is all about the foil. And top paddlers are filling their social profiles with sup foil action from across the globe. Kai Lenny gracefully gliding above the water in his boardies, on a downwinder in Maui. And Zane Schweitzer carving elegant foil lines in the surf. But is foiling really as simple as it appears? And is a foil really something that every keen paddler will have in their kit bag by the end of the year?
The SUPboarder Team recently bought a Naish Malolo to try out, and give their independent view on the foil side to our sport. With no previous foiling experience, over the last few months they've certainly had some exciting times (and good laughs from the beach!!) But would they buy another one? And more importantly should you buy one!? Here we look at the real world facts about foiling from the every day paddlers perspective…
"The first time the board rose out of the water onto the foil and I was surrounded by complete silence, I knew it was something special. Something I'd never felt before… excitement and sheer terror! The feeling of flying above the water is something no normal SUP board can ever achieve. There is definitely a place for the foil in the world of SUP." – Reuben Ellis / SUPboarder
Foil Disciplines
To get up onto a SUP foil you will require either help from a wave, or a helping tow behind a boat. At present even the worlds fastest paddlers cannot paddle their board onto the foil (but this may well change in the future!)  So this allows us to use a foil in 2 SUP disciplines… SUP downwinding and surf.
Downwinding
Out of the 2 disciplines using a foil for downwinding is definitely the most challenging and effective. There's no doubt that a high level of fitness is needed and real knowledge of how to read ocean swells and chop is essential. Kai Lenny does make it look easy but hey, its Kai… He could probably paddle a front door on to a bump! It's not impossible but you are going to have to put the time in to master this side of the sport. The conditions have to be right when you start learning, and putting in your time to learn how and what speed the board comes up onto the foil is key, aswell as foot placement, and being able to read ocean swells.
Being out in the ocean away from the busy crowds is where the foil can be used at its full potential. Compared to traditional 14-17foot downwinding boards the foil is great for higher speeds when on the foil. But it really suffers if the foil isn't in use. It will suit some downwinding conditions but not all and there is still a large amount of time that a traditional board will be more effective and fun.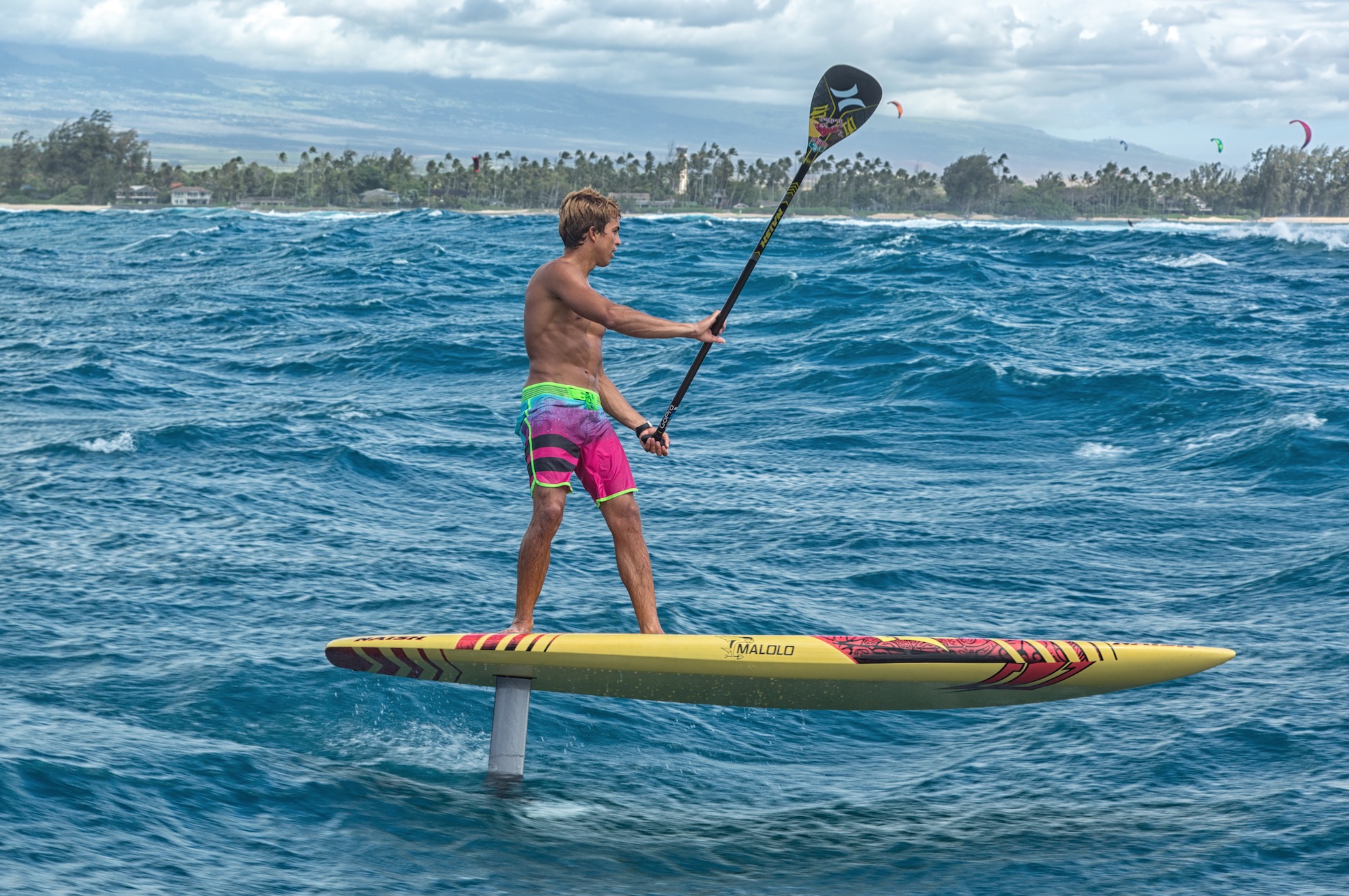 SUP Surfing 
The videos are everywhere of paddlers riding foils in the surf. And almost every brand out there has a foil surf board in their range. So should we all be buying surf foils? There's no doubt SUP foiling in surf is easier than downwinding, as you are able to see the waves coming, get yourself into the correct foot position and then paddle onto the foil. The wave sizes can be smaller than needed for a traditional board but remember it does need to be deep enough! The length of waves you can ride with a foil are amazing and no other board can compare to the amount of glide and freedom a foil can achieve. The wave doesn't have to break or have any white water on the face at all. In fact the foil works best slightly further out in front of the wave where a normal board would stall and loose speed.
Where and when to use a foil?
Whether it's surf or downwinding there is one thing you need with foiling… SPACE. Paddling around with an over sized razor blade bolted to the bottom of your board requires a little respect and caution. For downwinding that is easier to achieve. You just have to worry about the right wind and swell direction, launch and landing site and you're away.
For using the foil in surf it requires planning You are looking out for a wave or swell breaking or better still rising/peaking and rolling in from an offshore reef or sand bar. Ideally with very few or no other surfers. Out of all the surf foiling videos Keahi de Aboitiz has to be spot on, and seems to have found the ideal break.
But the really good thing about foiling and why Laird and Dave Kalama starting foil Jaws years ago is it doesn't have to be glassy. You can ride a foil in onshore mush if you really want. That's the great thing about foiling. There are no bumpy waves to worry about when you are riding a foot above the water! And the chances are you will be surfing on your own because in conditions like that it would be unridable for normal boards.
First time foiling
Don't underestimate foiling. It might look easy, but it's not! Off the foil your board will feel slow and delayed. And on the foil its twitchy to say the least! Foot placement is essential to get foiling. If wrong you'll either never get up onto the foil, or if you do you'll soon be thrown off! Having said that the learning curve is relatively fast, so once you've mastered the basic principles and got a feel for it you'll soon be flying (even if just for a split second initially!)
You've also got to be paddle fit. If you think that after just a few paddle strokes you'll be up and away on a foil then you're very much mistaken! Getting up onto the foil takes effort and sprint fitness, especially if you're taking off on shallower waves (which is where you ideally want to be when learning) But after a bit of practice and perfect positioning on a steeper wave, getting onto the foil is definitely achievable. But the amount of time you stay on the foil is very much down to foot placement and weight distribution!
Looking after the SUP love!
Whether you like it or not, SUPers are more often than not hated in the line up. And unfortunately there is often a good reason for this! In the past numerous stories of big SUP boards being used out of control in busy surf line ups have hit the surfing headlines around the world. And SUPers have frequently also been called wave hogs. But hopefully over the last few years SUPing has gained more respect in the lineup due to SUPers being more aware of surf etiquette and also due to more experienced surfers getting into SUP.
However if foils become more of a regular appearance in busy surf line ups, and the novice fashion accessory then we could see a big problem and some nasty accidents! If we are not careful it is only a matter of time until there is a serious injury or worse still, a death caused by a foil being used in a busy surf break. Please don't let it be from a SUPer on a foil! A foil moving at speed could easy take an un-wetsuited arm off!
Foil logistics
This is something you don't always think about (until it's often too late!). Foils are not only a lot of money, they're big and pretty fragile too! And even when separated from your board they're definitely not the easiest SUP accessory to transport to and from the beach! The last thing you want to do is chip your foil trying to squeeze it into the back of your car. You can take them apart and the Naish Malolo comes in a cool transport bag which does the job well. But then you are going to have to spend a bit more time putting it back together, which for many of us is eating into our valuable session time.
If you have to walk a good distance to the beach then it's worth considering the weight to, as a foil does weigh a fair bit. The Naish Malolo comes in at 4.5kg for just the foil.
Then there's the launching and recovering from the water. Be prepared to get wet! You're going to need to walk up to at least waist depth before you put the foil down. So this might involve wrestling with an upside down foil in the surf and taking a few waves on the head (and knocks from the foil!) It's not impossible, and much easier once you've figured out the best way to hold it.
Top tip – never let your foil get between a wave and you. It will run you over every time!
A SUP foil is definitely not the easiest piece of kit to manoeuvre in and out of the water, especially in windy and wavy conditions.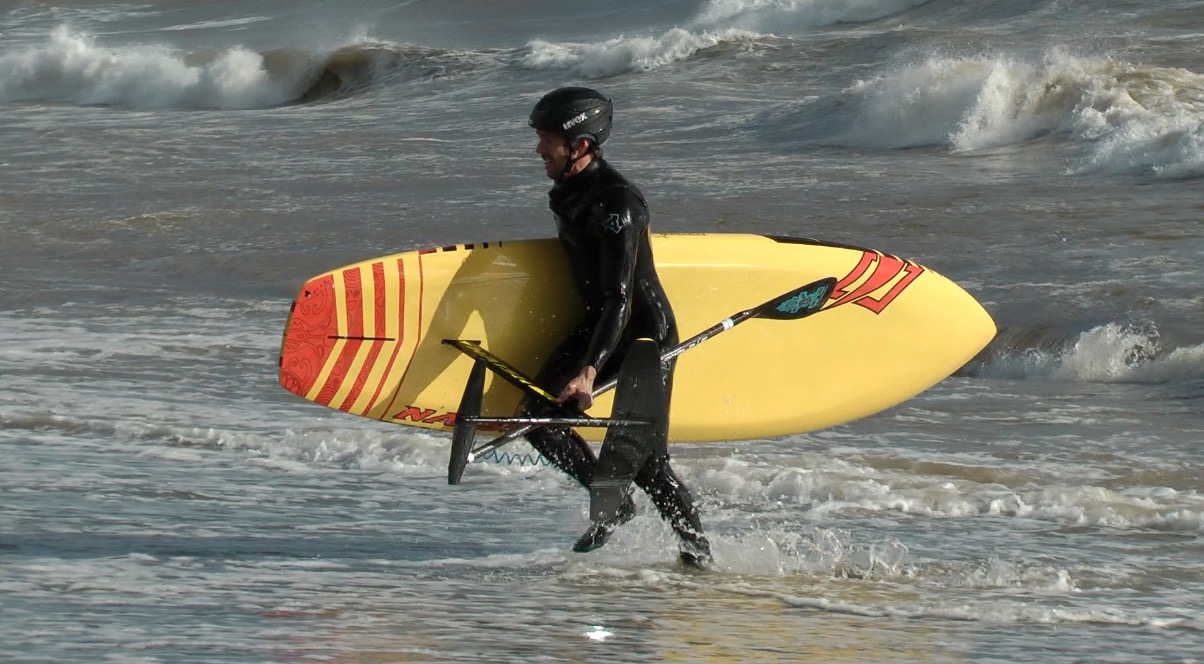 The foils, boards and cost
The cost of a foil can vary, but they are all around the £1000-12000 mark (without the board)… so a little bit more than a fin.. Ha! You can fit a foil on any board that has a deep tuttle fin box, in the right place (further forward than standard fin boxes). If you haven't got one get a custom board shaper to put one in for you.
You can foil on any board, but when it comes to learning to foil, specialist foil boards definitely make it easier. The Naish Malolo with its super soft rounded rails is much more forgiving when you are coming up and down on the foil. A harder/sharper railed board would be much more likely to catch and throw you off! Shorter boards are light and easy to get up onto the foil but do require more paddling speed or a steeper wave to engage the foil. After a while however when you are in the air 90% of the time the board you're riding is less important.
Most of the foils on the market today have been designed by GO FOIL but there are a few different shapes and sizes on the market. It appears that shorter depth foils are being used in the surf, and a foil with curved wings is easier to turn in the surf. Foil construction and design are changing rapidly and no doubt in time they'll become more efficient and easier to use.
Safety and gear
SUP boards can be dangerous on their own. But with a foil attached they really can be a lethal weapon! Big and sharp they can certainly do some damage. Even when used responsibly, when learning the foil is likely to hit you at some point. A helmet is definitely a MUST and wearing a wetsuit is strongly advised to keep the bruises down!
A leash is also a vital bit of equipment, because when you fall off your board is likely to accelerate and launch itself out of the water. In a downwind situation you'd be lucky to ever catch it up, and in the surf it's just damn right dangerous!
You also need space (lots of it!) – a foil is big, travels fast and is dangerous. So when learning to foil (especially in surf) you do not want to be in a busy line up. Finding an empty peak well away from others is a MUST. You'll have enough to think about without worrying about other water users.
As with any time you go SUPing, tell someone where you're going and when you expect to be back. Or better still go with someone or get someone to watch you from the shore (they'll be guaranteed some entertainment thats for sure!)
SUP surf Vs SUP foil surf
Now this is a personal thing. So take this as you wish!
If you're surfing a clean, waist to shoulder high wave, in our opinion you are crazy to go foil surfing over normal surfing. Normal SUP surfing is so much more fluid, dynamic and technical than using a foil. And as I'm sure many of you would agree, a good surfer is way better to watch than a foiler (once the novelty of them flying has worn off) However when the surf starts to get choppy or the waves go slack and less powerful then the foil definitely has its place in the surf.
The feeling you get when using a foil really is like nothing else… it's incredible. But just because you've got a foil doesn't mean its necessarily the best equipment for that day. Our rule is… if the wave has a bit of shape and isn't too choppy, then leave the foil in the van for another day!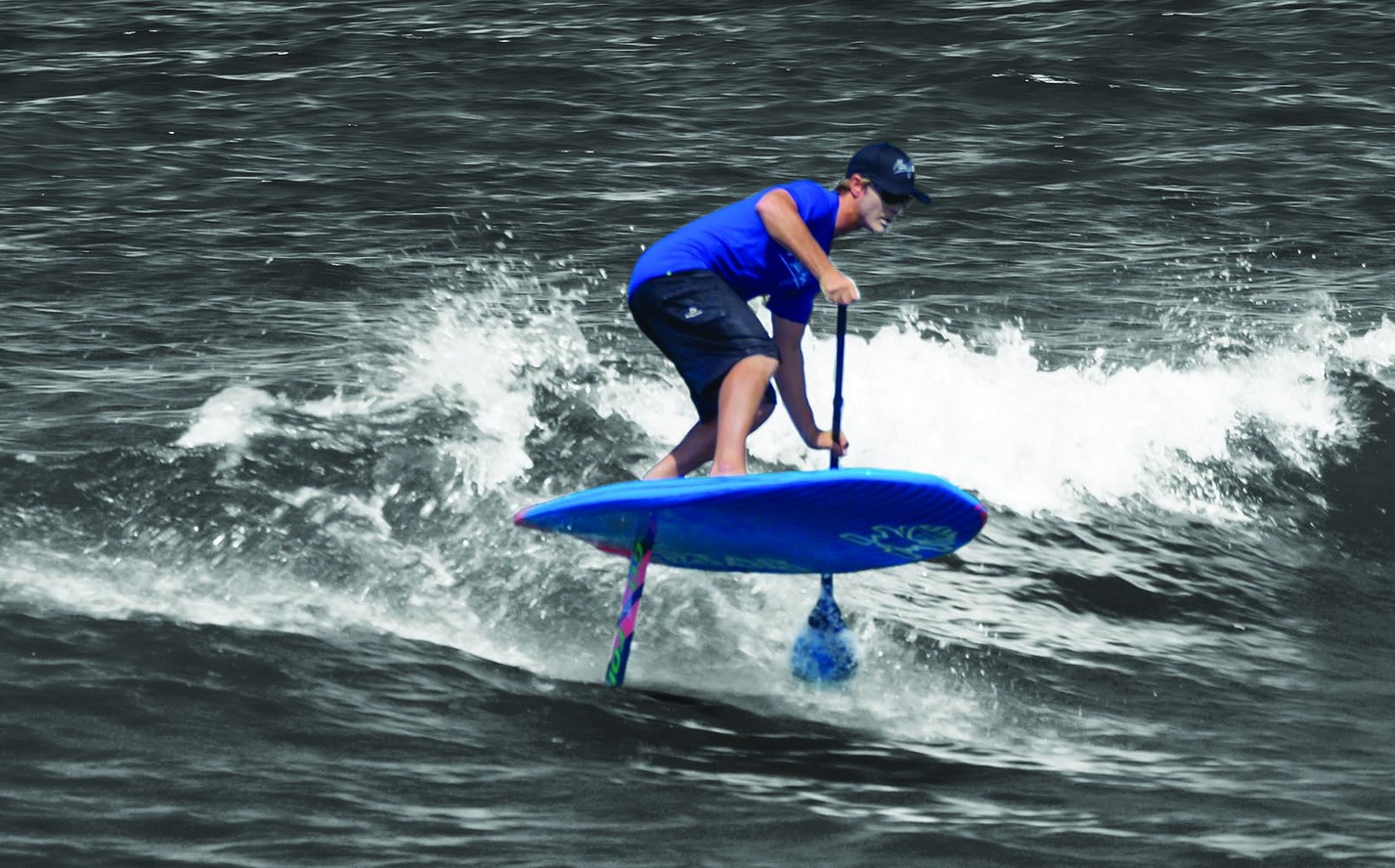 "It's hard, tiring and dangerous but has a lot of potential.  It is however like a completely different sport! Riding the foil is technically very demanding and because of its size and shape, if you don't wear the right protective gear it could really hurt you.  Foiling is not as easy to do as many of the videos make out, you are going to fall in a lot initially. Like all watersports complement each other, foiling on a SUP will complement your surfing and downwinding, by training your brain to work faster to ensure you can link bumps and stay on the foil, forcing you to think more carefully about body position and trim." – Will Rogers / SUPboarder
These are the facts of SUP foiling and what we have leant over the past few months. We are not pros and some of the things you might find if you get a chance to have a go at foiling this year. It's an amazing side to our sport which is so much fun and very addictive. It will suit a lot of paddlers out there but by no means all. It's not going to replace the world of SUP as we know it but treated with respect SUP foiling has a place in our sport. Take your time and enjoy learning a new sport. There really is no better feeling than gliding silently over the water.