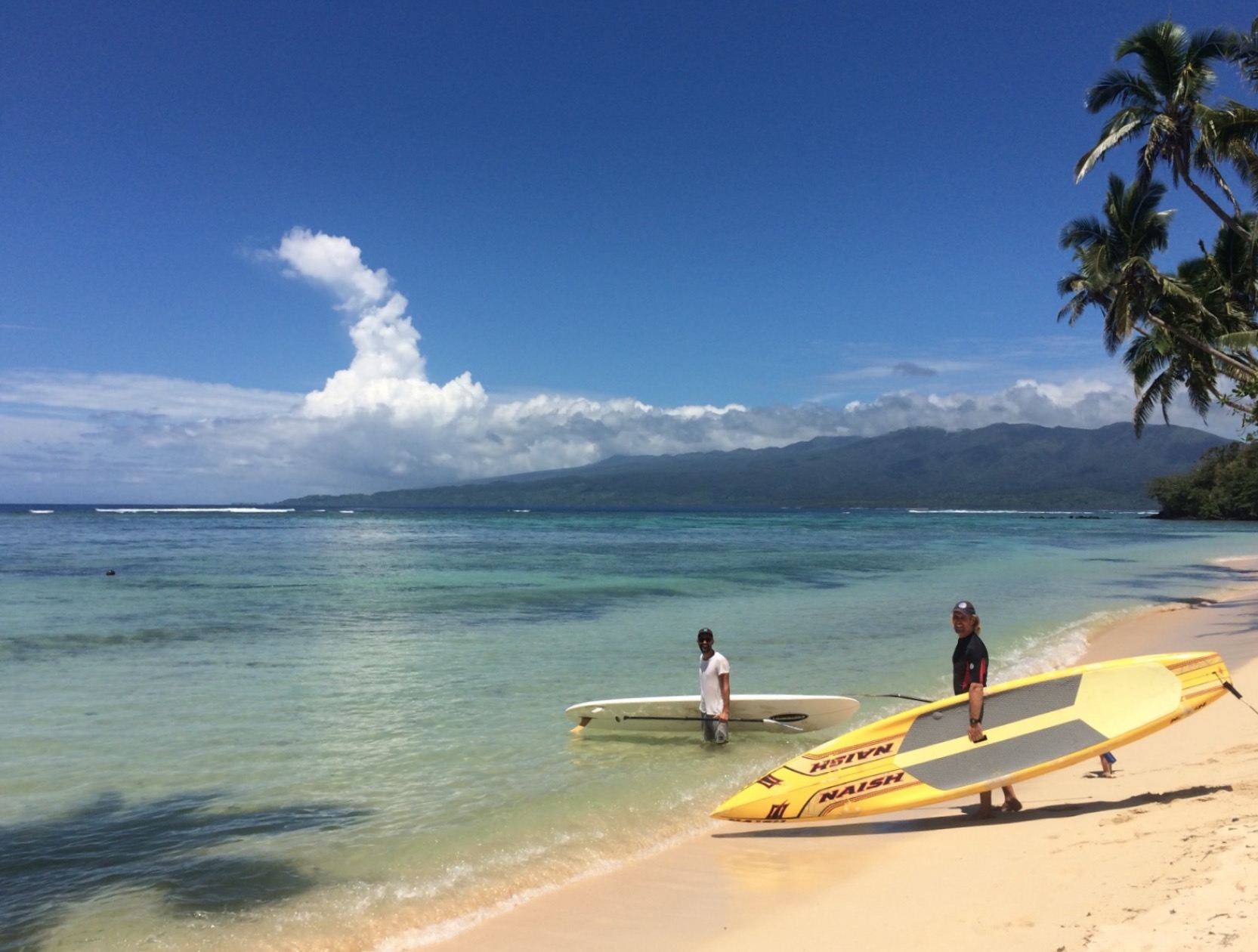 Finding that remote piece of SUP paradise is not easy in todays world… But Andrew Grenenger, from Australia was determined not to give up looking for his perfect family paradise… a remote, off grid and sustainable place, away from the 'real world' and social media overload, with pristine beaches and perfect waves. A place where Andrew, his wife and 2 young children could not only call home but also a paradise he could enjoy and make a living from his main passion SUP.  Not easy with a limited budget and family to support. But Andrew was determined not to give up. And it sounds like he made the right decision!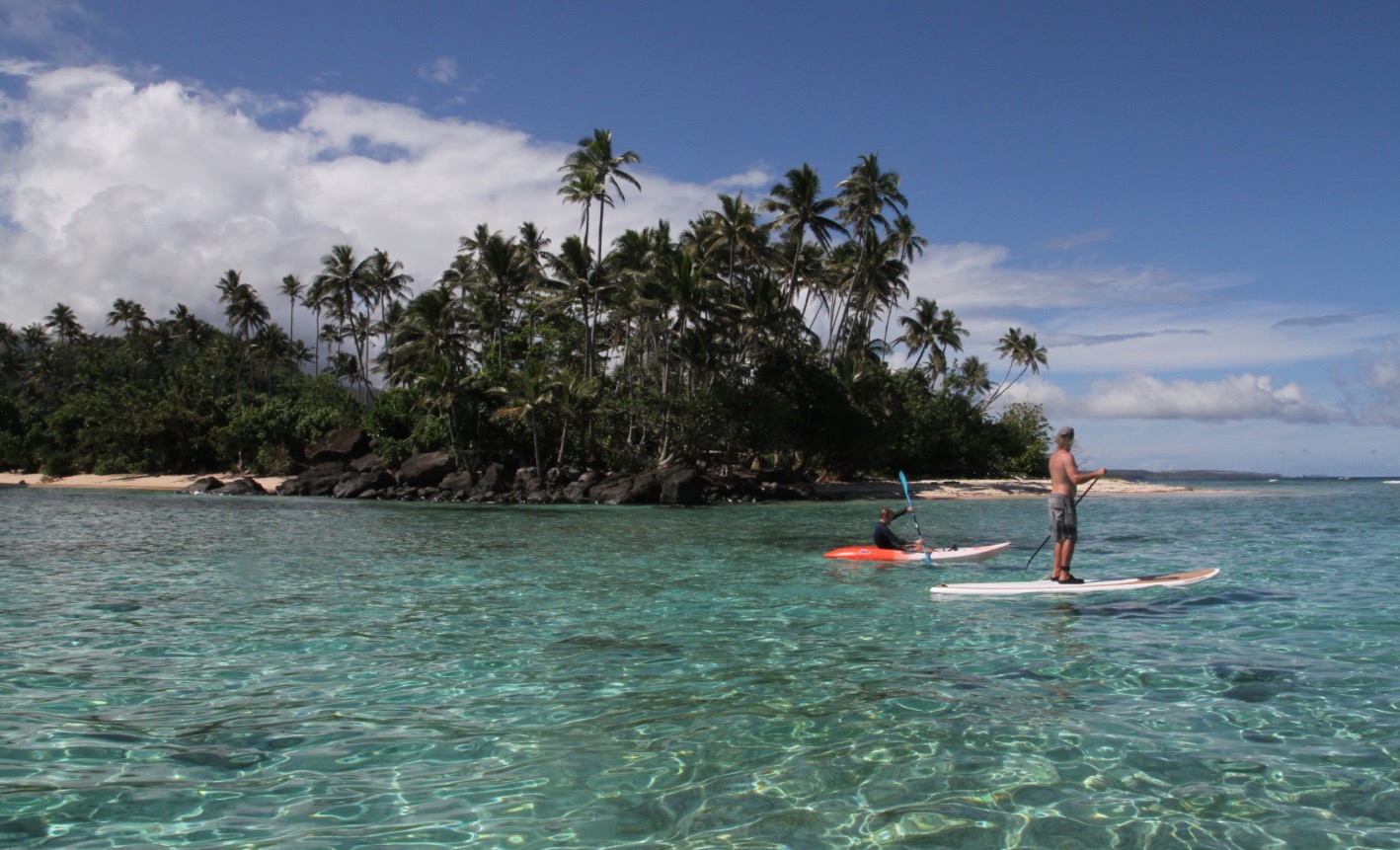 Lucy from SUPboarder caught up with Andrew to find out how he and his family finally found a life of paradise in Fiji and what his remote boutique 'Waruka Bay Resort' which opened last Sept has on offer for paddleboarders across the globe…
SB/ Tell us a bit about you and your family
Ermm? Well, we're just a typical family I guess! But we realised pretty early on that city living was most likely to drive us insane, so an exit plan had to be formulated asap. As parents Bec and I were getting pretty freaked out by the impact social media might have on our young children and I was working way too many hours and just not spending enough time with my family. A change was certainly required. To spend our days submersed in nature, working from home and living by the sea, seemed to be the healthiest and happiest outcome.
"As ideal as it sounds, living on a remote island also requires you to become a home schooling teacher, a builder, a farmer, a handyman as well as resort manager, so the hours are still demanding, but we're doing it together, so it's all good."
SB/ How did you come to settle on a remote island in Fiji?
I first fell in love with Fiji when I was putting on music festivals here in 2006. During my downtime I'd spend every spare minute exploring the outer islands in the hope of finding that untouched piece of paradise. My life long dream had been to set up a few thatched huts on a gorgeous beach, somewhere well away from the real world. A place where we could get back to raw basics, off grid, remote and sustainable living whilst submersed in nature. With 332 islands in Fiji, there were plenty of gems around, finding one that would squeeze into my limited budget was a tad more problematic. To be honest I had just about given up on the idea, the 2006 military coup had effectively ended our tourism based music festivals and exhausted and broke I'd moved back to Australia to 'start again'. Then I got a call from a friend back in Fiji, we'd been neighbours and he wanted to know if I was interested in a block that was passed down to him by his father… It was a long shot, but being a hopeless dreamer I jumped on the plane one last time in the hope this was 'the one'. I guess I had to find out either way, as the thought of not knowing would have sent me mad. The outcome was a life in paradise.
"We were confident there was a market for travellers who were looking for smaller, more intimate and less commercial, remote destinations. We basically built our ideal holiday destination!"
SB/ What's the set up at Waruka Bay Resort?
It's a remote boutique resort practicing in sustainable tourism and very much catering to the needs of SUP enthusiasts. I know what a hassle it is travelling with SUP kit, so wanted to have it available for guests to use.
We have just 3 large beachfront bures (Fijian huts) and a massive open lounge & dining bure. With time we'll probably expand to about 6 bures but even though we're sitting on 76 acres, I don't think we ever really want to be any bigger than that. Once you put in too much accommodation you lose the intimacy.
There are so many incredible things to do at your front door step here including SUPing, kayaking, snorkelling, diving, surfing, swimming, fishing, village tours, waterfalls, bush walks and bird watching. We have moon light outdoor cinema nights and a big screen if an unmissable sporting event is on! We've gone against the grain of most resorts though and decided not to put televisions in the rooms. Why would you want to sit infront of the tv when there's so much to do!?
We have an onsite organic farm providing the vast majority of food for the restaurant. All of our breads, sauces, pastas etc are made from scratch with organic ingredients. We have pineapple, passion fruit, banana and papaya plantations providing the majority of our fruits with mangoes popping up seasonally. There's a host of incredible seafood in the bay out front with healthy populations of crayfish and pelagic, so seafood features quite prominently on our specials board. We're proud to be able to offer organic 'paddock to plate' meals.
On our island there's no cars, roads, shops, services, anything really, except pristine rain forest, white sandy beaches and amazing waterways, so we were fairly motivated to use renewable energy. The rate at which solar power has come along in the last 10 years and the perfect land geography here made it a pretty easy decision to become completely sustainable. Being south facing, the trade winds take away our humidity and our 6 star solar passive designed bures mean we don't actually require any heating or cooling throughout the year. We also have artesian water springs onsite for both drinking and showering, so all of our services derive directly from nature.
SB/ What are the SUP conditions like and what SUP kit do you have available?
Luckily we've got a great variety of conditions which to be honest is what makes this place so magic. We have protected lagoon waters out front for flat water riders & beginners. A fun 1-2 foot wave for longboard and all rounder SUPs, an insane right hander for the shorter board and advanced SUP rider and then vast expanses of water for downwind island crossings and exploring. All of these conditions are within a 2km radius of the resort.
"The most difficult decision is usually which board to choose!"
We currently have the following kit available:
JP Wide Body 8'2 – great for under 80kg surfing and perfect for kids and smaller adults learning to SUP on flat water.
Naish Hokua 9'1 – an absolute gun board for our bigger swell and main surf break.
11'6 Coreban Cruiser – a peach of an all rounder board. Perfect for flat water or longer distance paddling but it also handles beautifully in the surf up to 4 foot. It's an amazing long board ride and my favourite surf board on the beach break out front. Long enough to have excellent carry and keep you on smaller swell but light enough to throw around with big turns… (sorry I get a bit excited about this board!)
Bic Duratec 11'6 – fills the same roll as an all rounder. It doesn't have the same performance as the Coreban but it's really durable, which is nice around reefs with newbies learning to SUP.
Naish Glide 14′ is for flat water, down winding and longer journeys. A really fast board with exceptional carry, incredible stability and perfect for both beginners and advanced riders.
SB/ When's the best time to go?
Fiji's fairly lucky in so much that it doesn't get a cold season. Temperatures get to 26-30 degrees every day if the year. It's just the humidity that increases over the Southern Hemisphere summer months. Fortunately our bay is fairly protected so flat water and longboard surfing work all year round. The swell for short board SUP surfing is definitely cleaner from November to April and conditions are more favourable for down winding from May through October, but again, both of these pursuits are available year round. Regardless of the time of year a short boat trip will always land you in the conditions you desire and the water temp is never an issue in Fiji, it's always warm.
SB/ Why visit Waruka Bay Resort?
It's a different type of holiday and a different type of existence out here. It's remote and quite a hike to get to, but if you really want to feel like you've left the modern world behind, then this is it.
"Once you are here the rest of the world ceases to exist. You genuinely feel like you have escaped. Paradise still exists!"
To find out more and prices etc… check out the Waruka website and Facebook. Or contact Andrew Grenenger (resort manager) on +679 999 5167 / sandjunes@icloud.com
FREE SUP HIRE if you mention this SUPboarder article!
So… if you're looking for a small, intimate and less commercial, remote SUP destination Waruka Bay Resort sounds just the place! Boutique style beachfront accommodation with hassle free SUP kit available for use throughout your stay.