On Friday 16th December 2016 one of Europe's more well known, but less frequent big wave breaks 'The Cribbar' in Cornwall, woke up and started to fire. As soon as dawn broke on that chilly monster morning social media feeds started lighting up and sharing shots of the beast rising, awakening surfers around the world. The Cribbar was definitly on! The Cribbar may be just a stones throw from the surf capital of England, Newquay, but it doesn't have many takers… just plenty of spectators! With rocks everywhere, killer rips and hellish wipeouts to be expected it's certainly not every surfers idea of fun! But SUP surfers Peter Edkins, Dave Ewer, Nick Healey, and surfers Rob Barber, Jack Coombs, Bruce Collingworth, Pete Geall, George Bartlett and Alex Chisholm were there last week to take on the Cornish beast. 
Peter Edkins is a name well known by many surfers in Cornwall. He has had his fare share of big waves off his home break of Porthleven on Cornwall's south coast. But last week out on the Cribbar Peter has to have caught one of the waves of the day! Major respect Peter for waiting for a 'Proper Wave'! SUPboarder caught up with Peter to find out what's realy involved in SUPing and surviving the Cornish Cribbar!… 
Video by Light Colour Sound
Words below : Peter Edkins
My daily habit is checking the weather charts, and the big low pushing in mid Atlantic promised huge swells. Nick Healy and I were hoping for a big wave session and were trying to make a decision last thing Thursday night for the next day. The wind was changing frequently which didn't help but the Cribbar looked promising.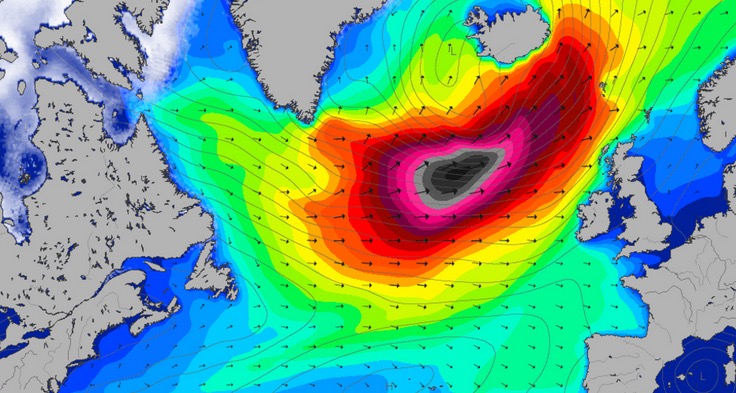 When I arrived at ten and there was already a crowd of people gathered up on the headland watching the sea and a lone surfer. It looked perfect, clean, with a light offshore wind. The Cribbar is not one of my regular surfing spots and Nick Healy had warned me the night before that it can be deceivingly windier and bigger out on the reef than standing on the headland!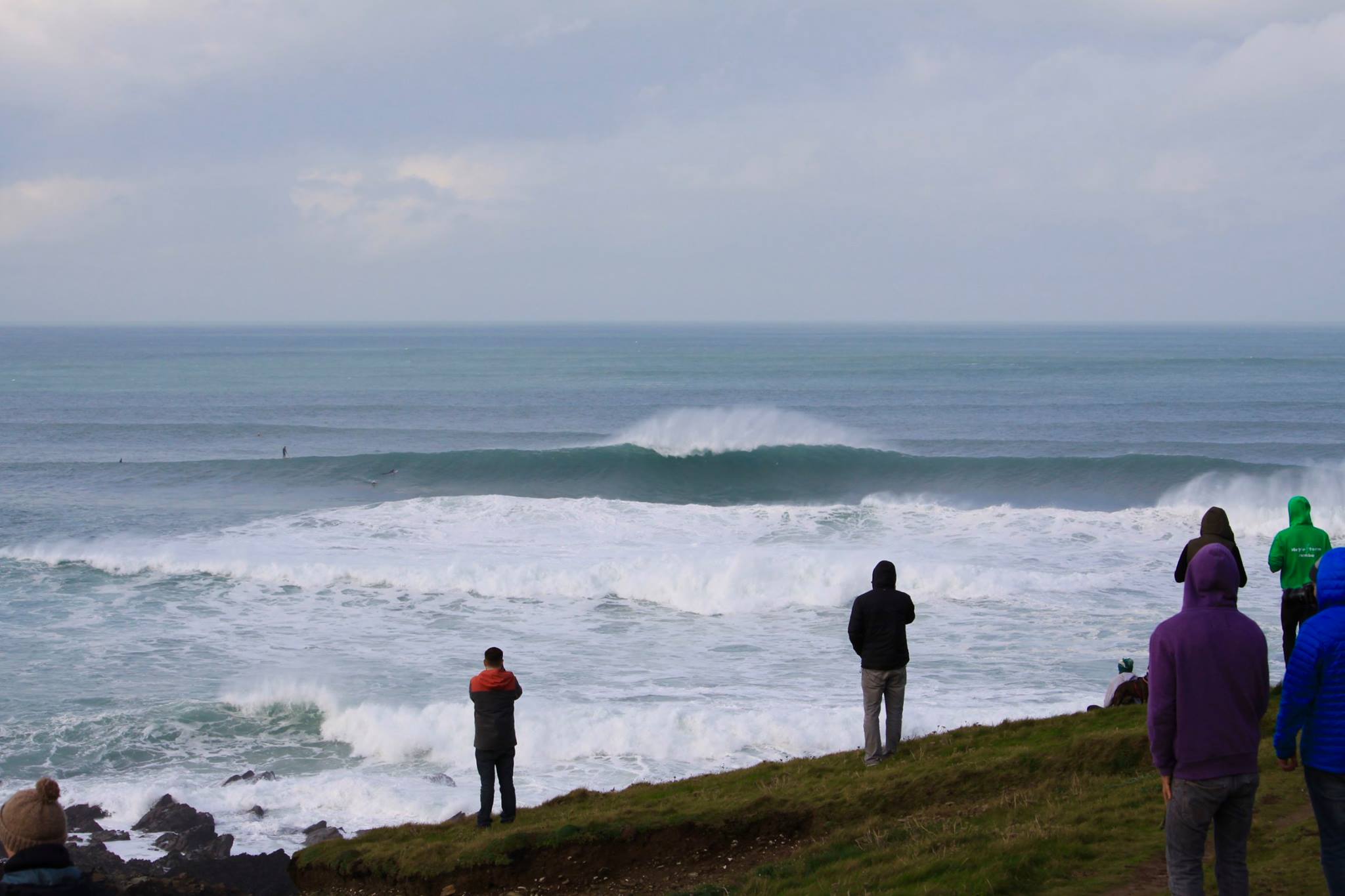 I have never been a big one for preparations, always wanting to get in as quickly as possible, but these waves did warrant a new leash and I also sanded my fins for softer edges hoping to avoid getting my new leash cut. Nick was running late and so having met up with Ben Wade, a body boarder, and Pete Geal, a surfer, with the tide just right we decided to paddle out and Nick would catch us up.
Click to enlarge : Shots by Adam Gordon
We paddled out round the headland and as we approached the reef I realised I had made a big mistake! You need a big board for these conditions and I had thought that my Fatstick 8'2" would be fine but I now knew I was under gunned. I hadn't brought another board with me, although Dave Ewer kindly offered one of his, I decided to stick with what I'm used to and also avoid the possibility of trashing his board. The headland gentle offshore wind was now blowing a gale out on the reef and being blown backwards made it really difficult paddling to get any speed up to catch the wave. Dave Ewer was over on the beach side and catching some great rights. Nick had paddled out and was catching his first left almost immediately. Sat in the middle on the peak I was getting frustrated as I was missing waves and getting hammered by some heavy sets rolling through, which meant having to ditch my board, diving under and then two leash climbs back up for a gasp of air. Although there is some calm between sets the adrenaline is pumping now.
"And then I caught my first 'proper wave'!! (Cornish for a good wave)."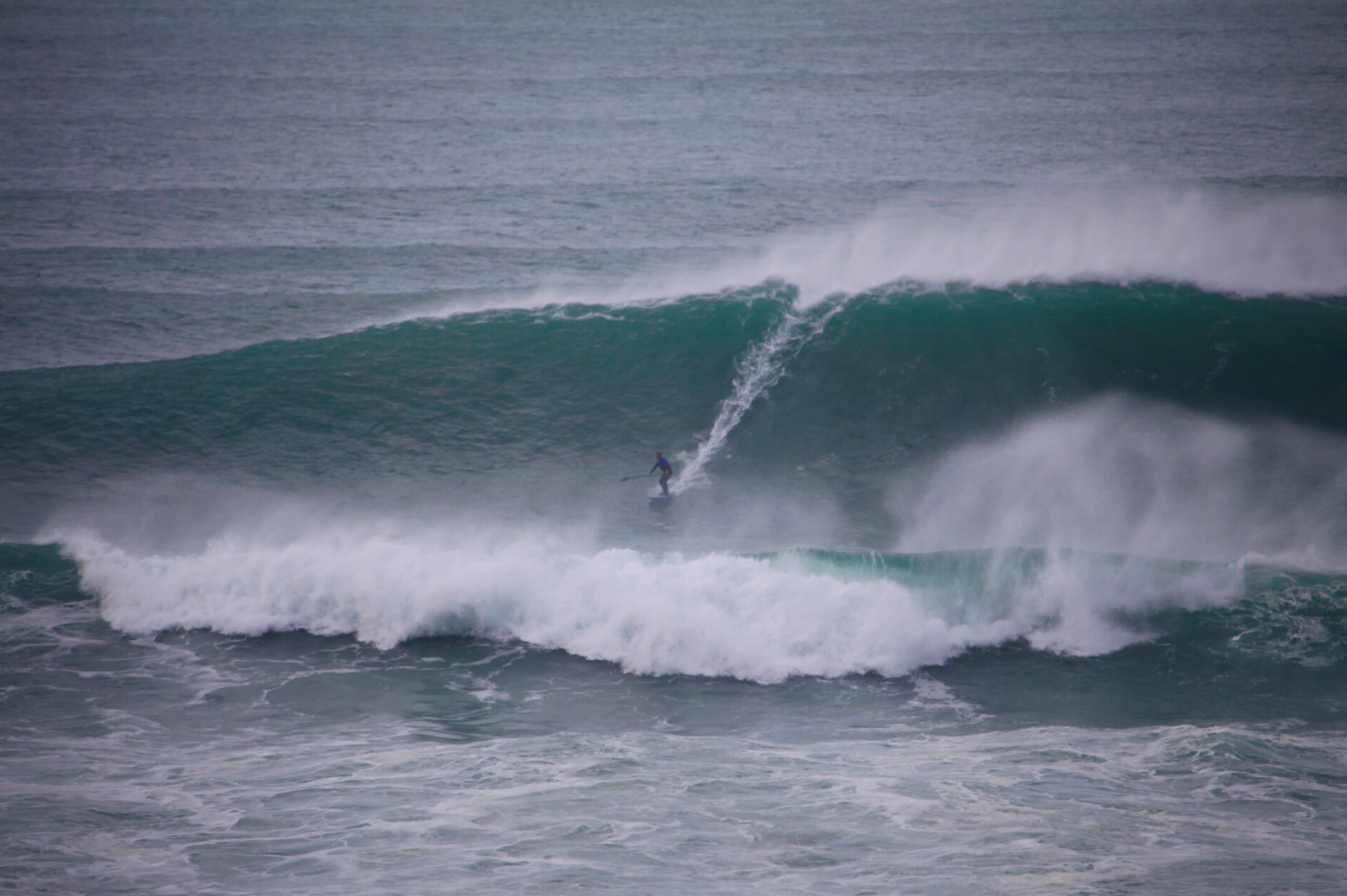 I've relaxed a bit now, knowing where to wait and I've found my take off zone. Standing and just watching a mile out to see when a bomb is coming. Smaller waves come through but I let them go as I only want 'the wave' as they only come around every couple of years. Then it comes and I'm on it hoping I don't make any mistakes as I know it will punish me if I do. I'm on a high and I need to go again…
When you turn up on a SUP you aren't always welcomed with open arms but I must give a huge shout of thanks to the local guys who let me surf their spot. It was a fantastic days surfing, a great vibe in the water.
These days are rare so you take the chance that you may destroy your board, leash, paddle, even your body. Waves like these take no prisoners, they can be brutal but are worth every second.
I need to thank Ocean and Earth for the leash, it did its job and survived the Cribbar. Thanks also to Excel Wetsuit and huge thanks to Reuben May for the Fatstick board and paddle.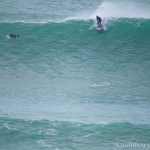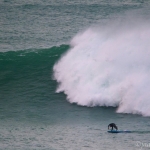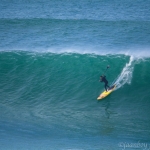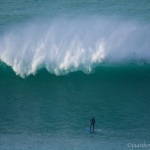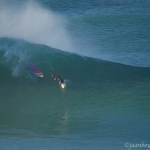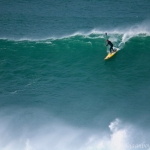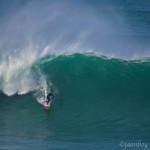 Click to enlarge : Shots by Jaanboy Photography
Giant waves are breaking in every corner around the world. But without the hardcore and slightely crazy surfers prepared to search them out and take them on, they would go unridden and possibly still be undiscovered. Because of that we salute any surfer that takes on the big faces.
Until next time… the Cribbar and Peter will have to wait for that next 'Proper wave' whenever that may be.