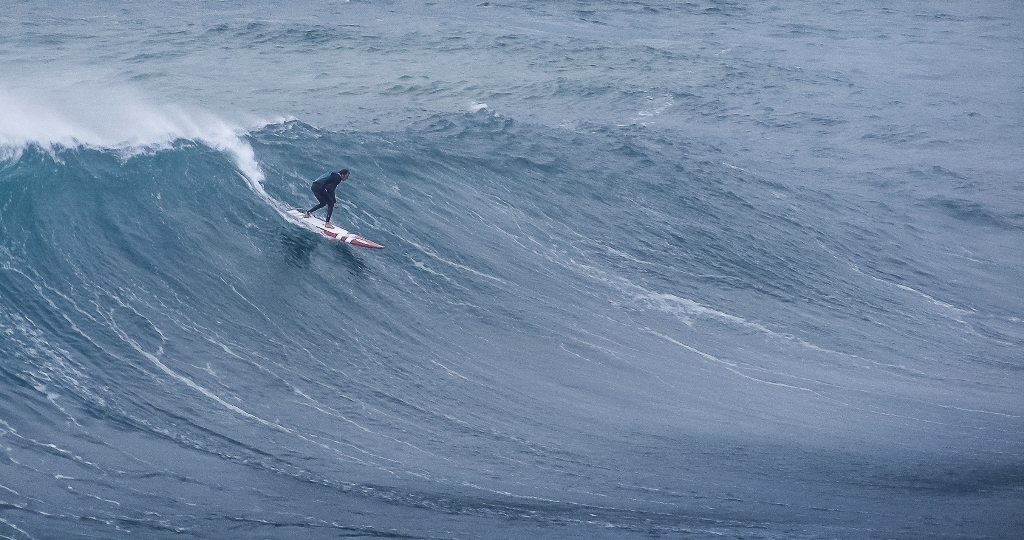 Glyn Ovens has recently scored the big wave break of Nazaré in Portugal where he's been enjoying a winter of  big swell action on his SUP. Big wave SUP surfing is not for the faint hearted and not to be undertaken lightly. It requires a great deal of surfing skill, wave knowledge, kit preparation and safety equipment to ensure you not only catch the beasts but also make it back in to the beach! Glyn enjoys following the big swells around the world and developing his big wave surfing.
SUPboarder sat down with Glyn to find out what it's really like to supersize SUP surf and to talk about boards, kit and how you get to riding giants;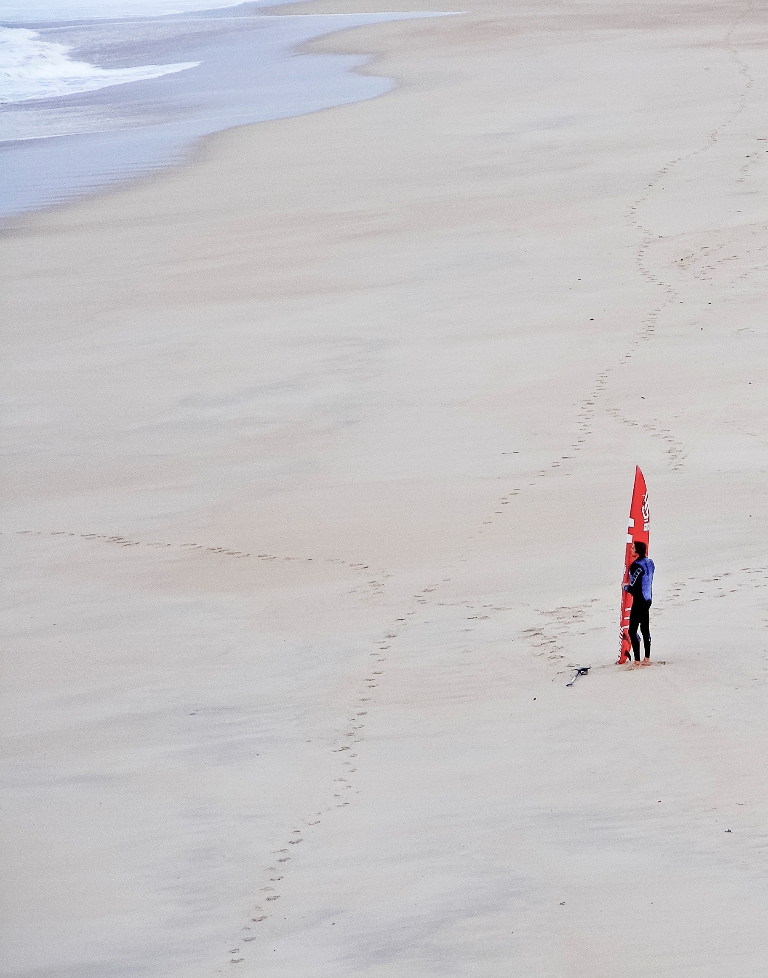 SB / How does a competent 'small wave' surfer step up to large waves? Is it mostly a mental challenge or…?
GO / I have always had an affinity with bigger waves, with traditional Prone surfing and also Tow-in. But every normal wave session hones your technique.
Being in and around larger waves as much as possible has helped with being 'more' comfortable, being fit and also believing in your fitness is a big part of the mental conditioning.
SB / Fear? Doesn't a large wave scare the stuffing out of you?!! 
GO / 'The only fear is fear itself'… no, only joking!! Yep being caught inside whilst a mountain of white water bares down on you, with a sup gun on your leg, is pretty daunting.
I have some amazing flotation gear and kit from ION, and this keeps me safe, and bouyant.
SB / Are the boards different and if so how? And what about paddles? Tell us about the kit you've been using.
GO / So my normal board is a Pro Wave 7'6″ (Fanatic), 80L, but I am riding the 9'10" gun version, with 130L. This sits a lot higher, but paddles like a weapon… added to this a longer paddle (my height plus 10 cms), with an 8.0 full carbon blade (Fanatic). This gives me deeper reach and more paddle power.
SB / Etiquette. The rules/guidelines for surfing are well established, how do these change in a bigger wave environment?
GO / It takes so much focus and commitment when you go for one of these waves, so the less things to deal with the better, and everyone knows this. You have to get going early, so it is obvious who is going, and no-one wants a pile-up on a bomb! When we have mixed disciplines we usually separate out and the paddle guys (prone or SUP) get priority over tow, but if everyone knows each other and are competent, we can mix it up.
SB / Safety gear? Yes or No? For example, big wave surfers may say that using a leash is dangerous in a big wave environment…
GO / Yep for sure, big wave safety has come a long way, and the bravado of not wearing safety is long gone. The level is going through the roof, and kit is required. I wear about 100Newtons of buoyancy when it is big, (average life jacket is 50N).
I use a leash depending on swell size. If I have a safety ski with me, I may go leash-less or a really thin one that would snap in a heavy situation.
I have had to rip my big wave leash off pronto in the past, when caught inside badly.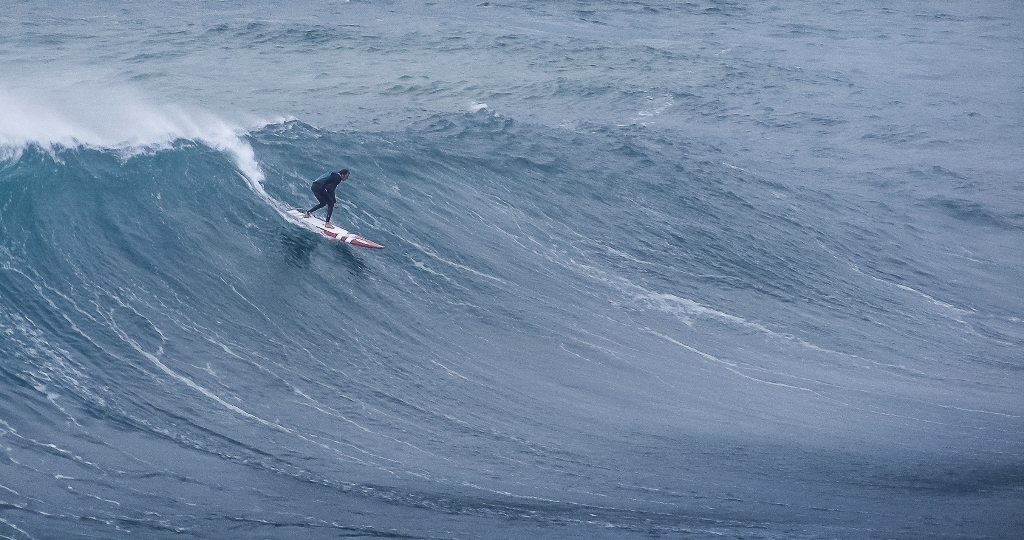 SB / How big can you go? Can it ever be too big?!! Do you see a SUP version of Riding Giants being made in the future? 
GO / It all comes down to who wants it, and wind. As it gets bigger and bigger, the chop becomes a huge factor. There is still more to come, despite the awesome run that Jaws has been having, some insane rides and waves there.
SB / What do you do when it goes wrong? Or what should you do if it goes wrong?!! 
GO / 'Goes wrong, what could possibly go wrong'?!! Well in a wipeout: try to get away from your board, hold on to your paddle, and make sure it won't bash you in!
"I grab hold of my vest and go for the foetal position for the impact, then try and relax, and go for my personal best for a hold down, it is then never as long as you think!"
SB / Who is leading the way with big wave SUP surfing?
GO / The boys in Maui are on a charge, and having a great winter. Kai Lenny has been dominating by all accounts, but Mo Freitas has also been putting in a sterling effort, I have seen him on some bombs. There are a few others out there, but mainly the Hawaii guys.
SB / Is the big wave scene all male?
GO / At the moment yes, but there are a few girls knocking on the door, and we are seeing a couple out in the line-up on the bigger days now.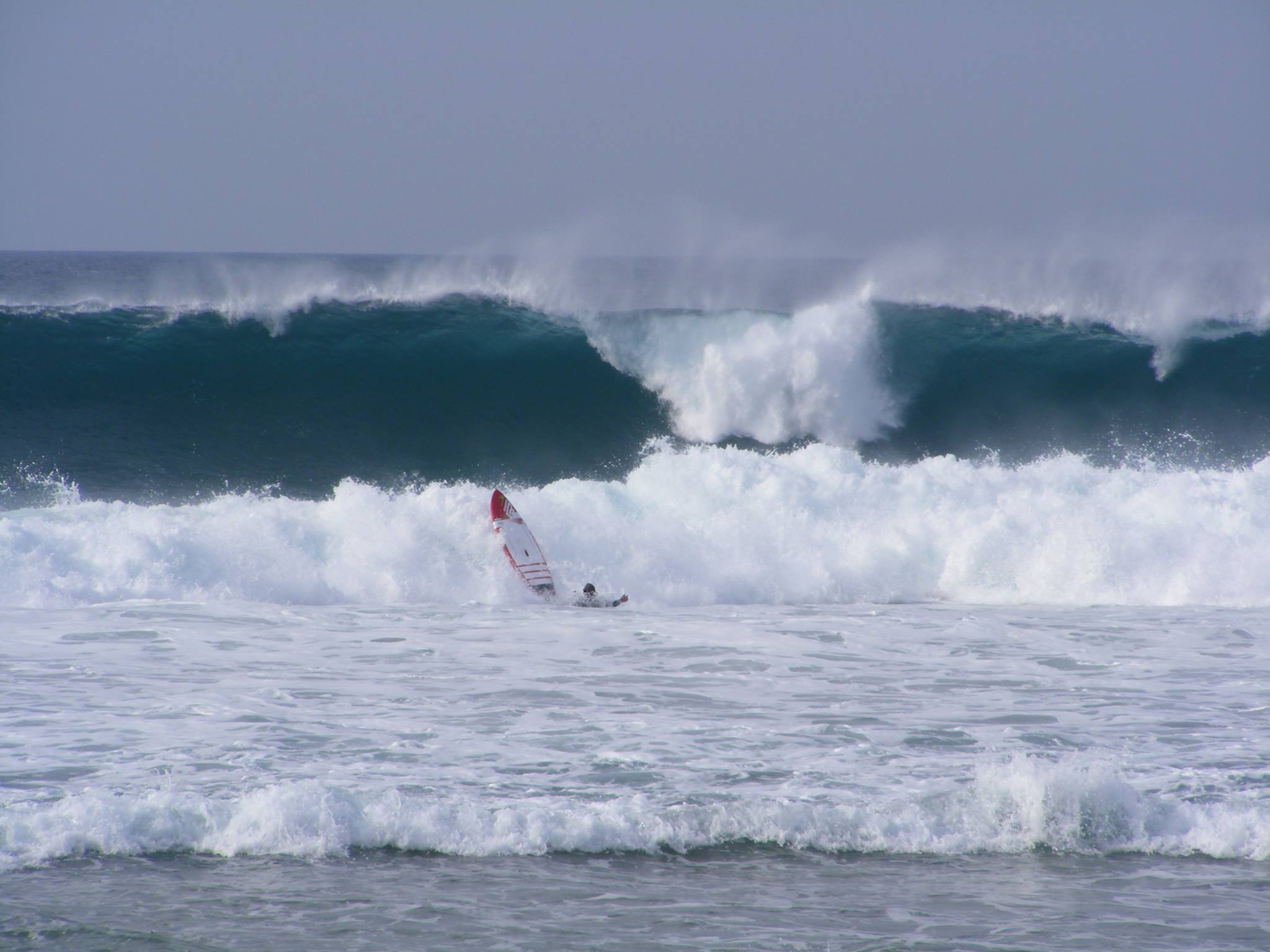 SB / You've been catching big waves in Nazarre, but where's next on your wish list?
GO / Yep been spending a fair bit of time in Nazaré (Naz-a-ray) We had a poor spell after new year but now are waiting for our next serving. It tends to be when UK is being hit by storms, that's when we get it nice, big and clean, but during the UK cold snap it has been average.
I was hoping to head to Maui, and by looks of it I should have, but it was too much of a financial stretch. I have some great friends there endlessly giving me grief to get on the plane!
Nelscott reef in Oregon was also on the cards for a big wave SUP contest, but I couldn't get the connecting flights in time from Portugal when they called it on.
Will hope to get to Mexico this summer too: lots of hopes, I will keep you posted 😉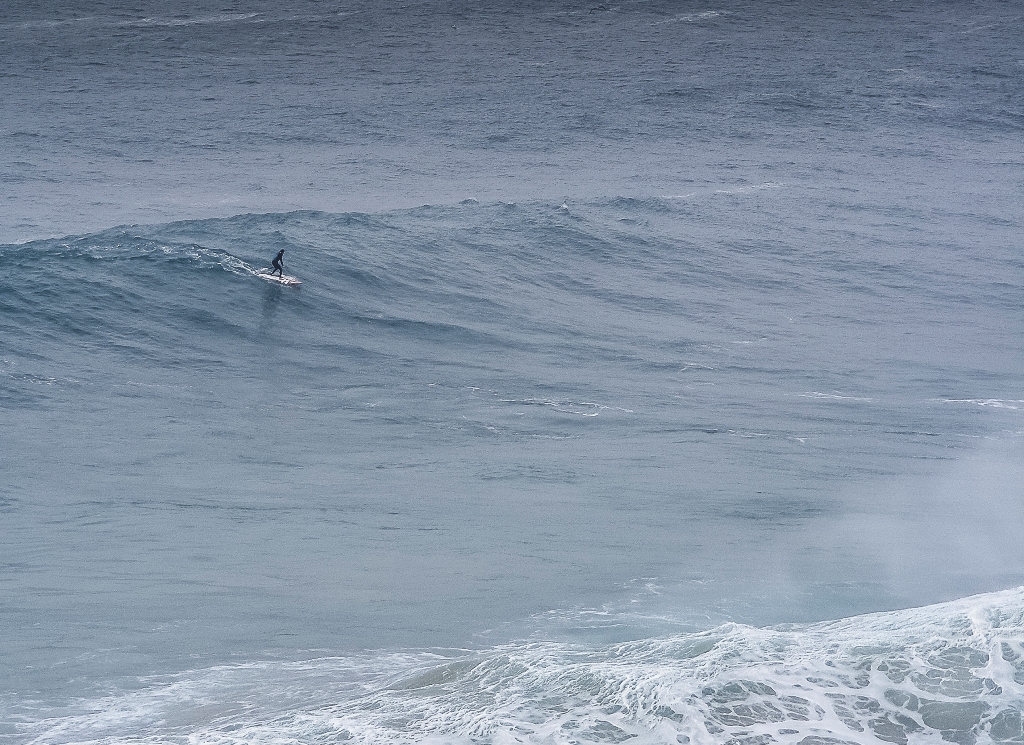 SB / Describe the conditions that day?
GO / It was moderate day for Nazaré, but nice and clean, and that is the key. The tide was a little high, which can give more back and side wash to keep things interesting. This also meant that the peaks where moving further inside making it heave more.
I had already paddled for a few, and when this one came in, there was a lot water drawing off the bottom, pulling me up the face, but the 9'10" had it covered .. haha.
Dropping down, the wedge effect of the Canyon at Nazaré, means you get a huge amount of speed, with double the power of a normal wave added to the sheer size..
Unfortunately the safety ski was tied up, so when I kicked out and got caught inside by a full set, it was unleash time, and blasting to the beach. All good fun!
All images taken by Manuel Ricardo.
Big wave riding is not everyone's idea of fun, but it sounds as though Glyn is still on the look out! SUPboarder will be following Glyns travels through 2016, and no doubt he'll be going bigger through the year!
You can stay up to date with Glyn and his surf and SUP travels on his Facebook here : Glyn Ovens