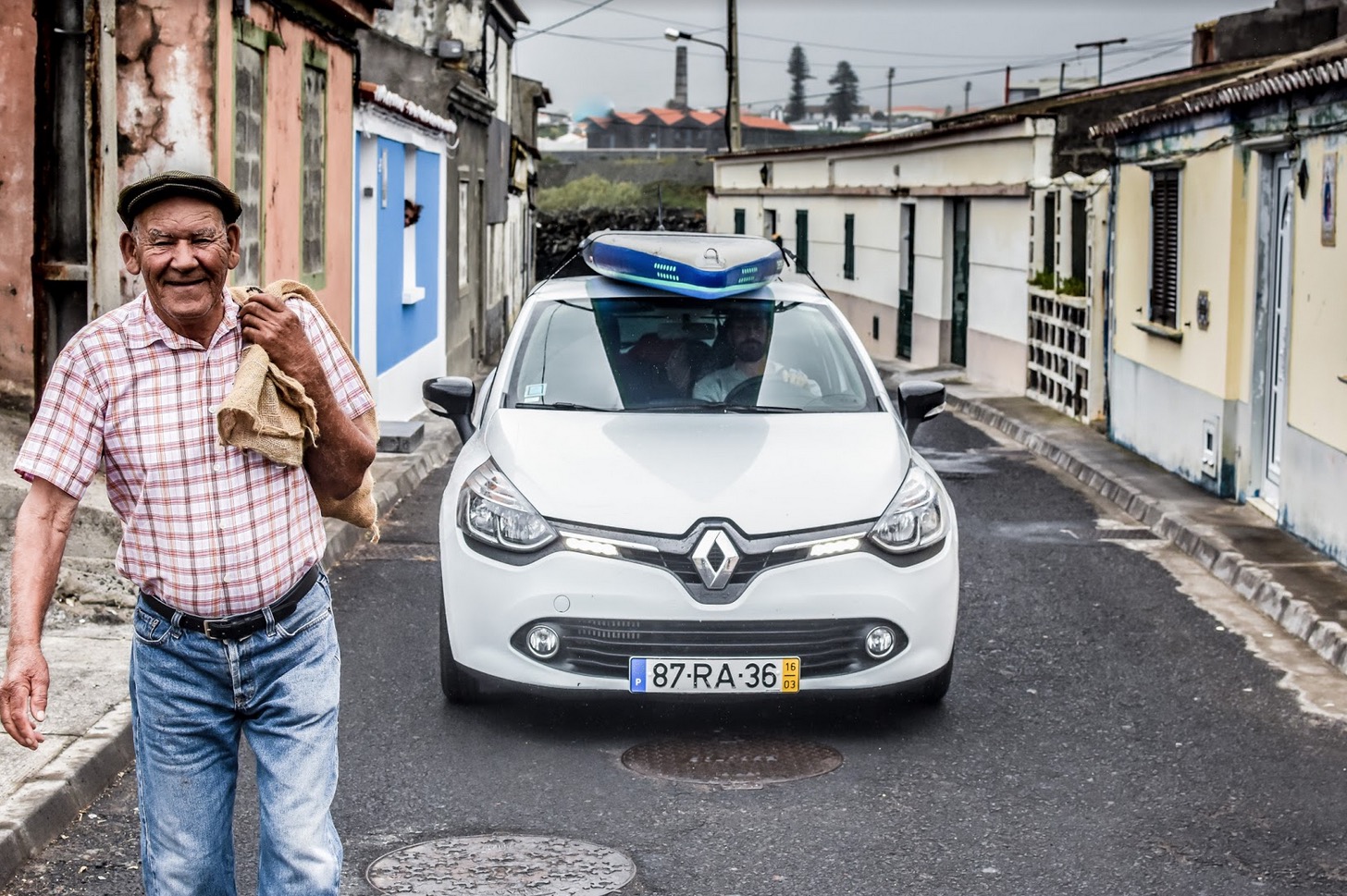 The Azores, an autonomous region of Portugal, are an archipelago in the mid-Atlantic. The islands are well known by sailors who frequently use them to break the journey when crossing the Atlantic. However they are less visited by others. This stunning, remote island group has so much to offer on and off the water. Dramatic cliffs, crater lakes, lush green pastures, and friendly locals with a strong culture are there to great you. And then endless coastlines and secret surf spots are there to be explored. 
Italian professional stand up paddleboarder and action photographer Franz Orsi recently headed to the largest of the islands in the Azores, São Miguel, to explore the stunning coastline by iSUP. Franz explains why this remote island is so special and a must place to visit for any SUPer…
I've always felt that all islands are somewhat different and yet very similar at the same time. They're all pieces of land capable of giving you this feeling of confinement and limitation – but that's also what makes them so unique, with their own peculiar habitats, plants and animals.
São Miguel island in the Azores is no different. In this piece of land lost in the middle of the Atlantic, so far away from everything, you can identify every Portuguese cultural trace but all of them with a twist: the accent of its people is just a little stronger, the fish is a just a little fresher, the landscape is a just a little greener, and the sea is just little wilder than in the mainland.
We went to São Miguel with the purpose to enjoy this wild sea. The other reason was that we wanted to witness first hand, the ISA Junior World Surfing Championships, a one of a kind event that brings together each year the best up and coming young surfers from all over the world to one single location for an intense week of competition. This year the championship brought to this stuck in time little town in the Azores, Ribeira Grande, about 400 athletes from all over the world.
During that week in Ribeira Grande everywhere you looked there were flags and colours from all over the globe. Teenagers running across town to get to the beach as soon as they could, not to lose any of their excitement.
I suppose this brought a life and an energy you don't usually see in the places, where most of the population is either unemployed or works in precarious conditions in the fishing industry. That's part of what brings all the authenticity you find around here: real people, real food, real beaches and real waves. Tourism is just starting to grow around here, fuelled by Portugal's big hype as one of the most attractive destinations in Europe.
As a stand up paddler it is always interesting and highly inspiring to watch surfing, even more so when live. We went to the Azores to watch surfing but we also went there to meet some new friends we got to know during one of our last SUP trips, the boys of the first ever junior surf national team of São Tomé e Principe. Travelling the world to discover new spots and practice the sport you love brings so much more than just this from a personal point of view…
In between all this, meeting far away friends and watching this awesome event, we had the time of our lives exploring the four corners of this awesome island. For this quick trip (only four days) we decided to bring only our Starboard inflatable touring boards. You can easily find deserted points to surf by yourself in São Miguel but this time we took full advantage of our inflatable SUP boards to explore the island at its fullest.
São Miguel is the biggest island of the whole archipelago and probably has the greatest variety of landscapes: from the high cliffs, to the secluded bays in the south, to the black sand beaches in the north characterized by their heavy water conditions, to the stunning lagoons formed in volcanic craters. São Miguel is both a paddler's paradise as well as an accessibility nightmare! Both the western and eastern ends of São Miguel are very cliffy as the land drops away sharply from the volcanic peaks that used to be two separate islands. This means the best way to explore these coasts is by the sea, with a good touring or open ocean board and a few friends. It's in this way that we discovered many spots both on the south coast as well on the infamous north coast. The beauty of the ever-changing landscape is breathtaking in the Azores. Places like Ponta da Galera, Ilheu da Vila and Ribeira Grande made for some awesome SUP cruising. And not to mention Lagoa das Furnas with the misty look it had on the day we visited it, when we were unable to see the famous Lagoa de Sete Cidades due to bad weather in the highlands. It's a pity that we weren't able to visit that too but it is definitely on top of the list for our next trip to the Azores.
São Miguel is a great SUP destination and should be considered a year-round destination – in winter for the SUP big wave riders or for paddlers just interested in getting a nice break from the cold and going for a cruise in the calm south-side of the island. The rest of the year it is a great destination for the recreational paddlers and the intermediate SUP surfers who want to enjoy its exposed summer beach breaks. The nice thing about São Miguel – and the Azores in general – is that the four seasons are condensed into one day so whenever you choose to visit it you can be sure to find some great options according to your program.
Text and Photos: Franz Orsi / Vania Marques
Franz Orsi is an Italian professional stand up paddler and action photographer who has travelled extensively to capture stand up paddle in all its forms. He is based in Lisbon, Portugal. He combines his position as national coach for the Portugal's SUP national team with his work as Starboard's team rider and SUP official photographer.
About the Azores…
Getting there
Once a pretty expensive destination, the Azores is becoming pretty affordable due to many low-cost flights from many airports both in Europe and USA. TAP,  Sata, Ryanair and Easyjet all offer reasonable prices for flights to São Miguel International Airport (PDL). Bringing a SUP board along with you is usually not a problem.
Accomodation
It is possible to find in São Miguel every type of accommodations ranging from four-star hotels to affordable B&B (Alojamento Local in Portuguese).
Climate
The Azores archipelago has a tepid, oceanic, subtropical climate, with mild annual temperatures oscillating from 15°C (59 °F) to 27°C (80°F). The average temperature in the Azores is 18°C (64°F). Statistically the driest month is July and the wettest November. The ocean water temperature ranges from 17°C (63°F) in the winter to 25°C (77° F) in the summer.
Clothing
With the ocean water temperature ranging from 17°C (63°F) to 25°C (77° F) you'll need a light full suit for most of the year and a spring suit or just boardshorts for July-Aug. Out of the water light clothes, with one or two sweaters/jackets for the cooler days or nights, are enough all year round. It's also a good idea to bring along a light raincoat, as there are frequent showers followed by sunshine. "The days of the four seasons" as the Azoreans affectionately say are more prevalent in the months from October to April.
When to go?
For SUPers the Azores is a great all-year round destination offering big wave riding opportunities, and south coastal cruising during the winter months, aswell as great recreational paddling and intermediate surfing on the beach breaks throughout the summer.
So… what are you waiting for? Pack your bag and your board and get exploring these forgotten magical islands by SUP. Sounds like there's no better way.