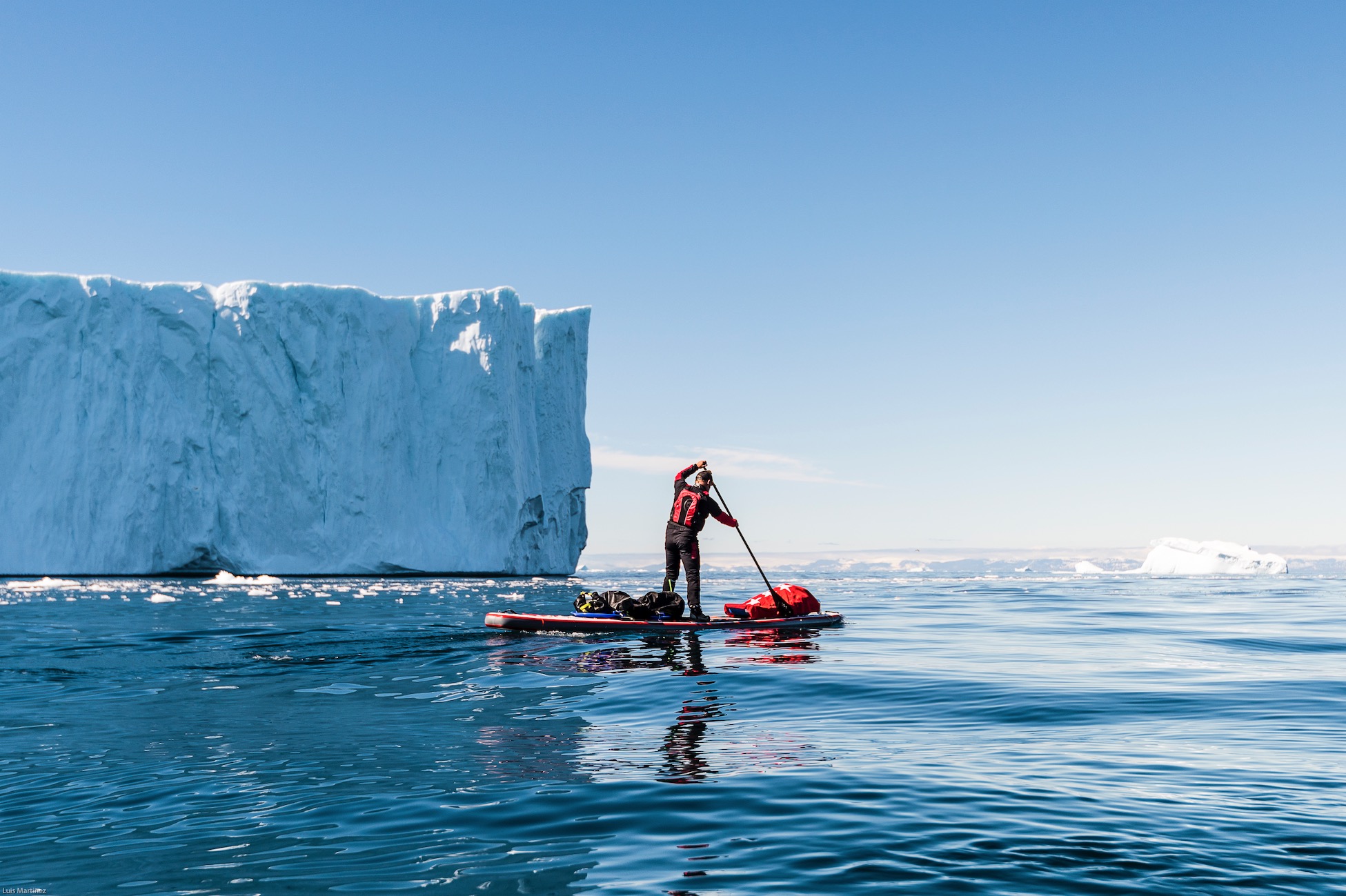 This year adventurer Antonio de la rosa, set himself a real challenge. But not just one… three! Between March and November 2016 Antonio plans to complete his 'Tri Winter Challenge'. Covering more than 5000km in some of the coldest and harshest areas of the world: from Alaska to the South Pole through Greenland. 3 totally different expeditions, with 3 totally different means of transport – by fat bike, SUP and ski.
Having already attempted the gruelling 1700km North Route Iditarod in Alaska on a fat bike in March, on the 30th June 2016 Antonio set off on the 2200km journey around the Arctic, from Ilulissat to Thule in Greenland, and then continuing to Alert in Cananda (the closet human settlement to the North Pole). Antonio didn't have to worry about daylight with the sun never setting at this time of year at this latitude. However the challenging windy and freezing conditions in the remote environment, and 220kg of kit onboard his custom 6m iSUP meant it was never going to be easy!
Antonio explains why he decided to embark on such a challenge, and why although unsuccessful in completing his SUP challenge this time, he will be back for more!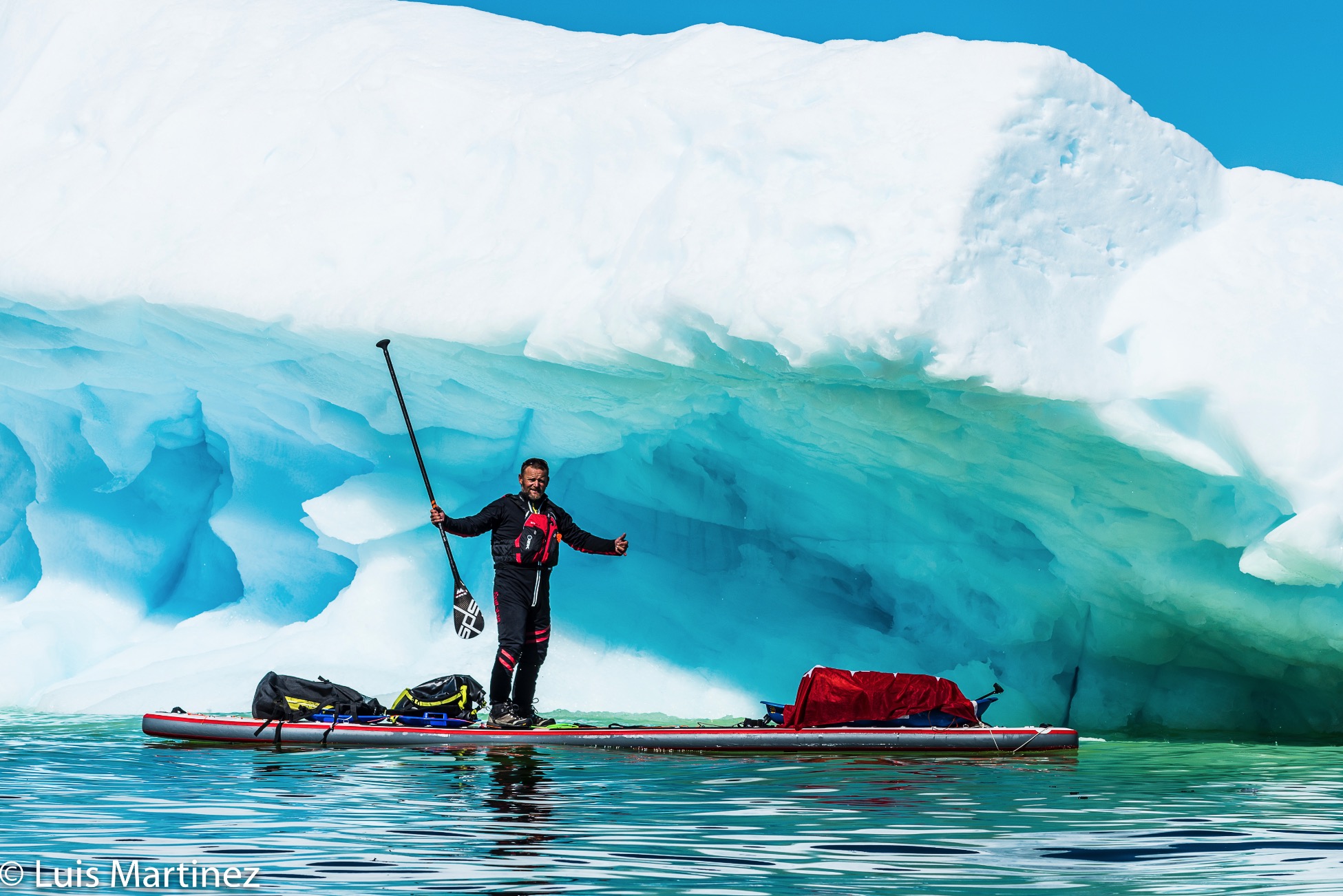 At the close of 2015 I decided to do a very special triathlon, three complicated expeditions in three different planetary locations: one with a rowing sport, one skiing and one by bicycle and all with one thing in common: cold and snow.
I knew I wanted to try and repeat the Iditarod of Alaska that I did 2 years ago on skis, but using a Fat bike, a bicycle with fat tyres of the type that are commonly used on snowy terrain, something I did a few years back but because of technical and physical issues couldn't quite complete.
Greenland, the faraway land which doesn't seem so far thanks to its association with the European state of Denmark, was the place chosen to do some something with rowing and as I've been practising paddle surf for 4 years it seemed like the right choice.
Everyone was asking me why I had this need to take on these sporting challenges. Since I was a boy I've been doing different sports. I started canoeing aged 11 in Vallodolid, a sport that would take me all over Spain and competing in hundreds of races. When I was older I started triathlon and quadrathlon training, where I realized that the more kilometres I ran, the better I felt, so that I even ended up taking part in the 1995 Decaironman: swimming 38 kilometres in a pool, 1800 kilometres on a 2 kilometre cycle track and another 422 km on foot along the same track. I finished in 12 days and it was a definite turning point in my sporting life. I think both my body and mind got a thorough spring clean, ha, ha.
After 12 years leave from my fire-fighter's post in the Community of Madrid, I decided to set up my own multi-adventure business, Meridiano Rain in North Sierra, where I currently live. From here I train for all my challenges. Its mountains are the ideal place to get ready and organize sporting trials, like the Sierra Norte bike challenge, and its reservoirs, El Atazar and PInilla I use for practising paddle-surf. Maybe that's why I'm the Ambassador for Active Tourism and Nature for the Community of Madrid.
In fact it's my sporting experience together with my restless spirit that have, over the last 7 years, led me to carry out numerous personal challenges; such as crossing the Canary or Balearic Islands in a kayak or canoe and bicycle, crossing Lake Baikal in Siberia on skis, rowing across the Atlantic in 64 days or taking part in the Iditarod of Alaska, more than 1600 kilometres on skis under winter conditions from Anchorage to Nome.
After talking to my good friend Javi Galvez about the possibility of touring the Northern part of the west coast of this giant island with a longitude of almost 4000 kilometres and, with a little investigation, I saw that 3-4 people had done a similar route by kayak, but there was nothing done on a SUP above the 70th parallel, just a one week short sail on the 68th parallel by the well-known Bart de Zwart. I found hardly any information on this, as strong winds meant he completed only a few kilometres. On the map, where it's easy to get carried away and dream up impossible routes, the initial proposal considered was starting out from Ilulissat and after arriving at Thule, Greenland's most northerly inhabited town, paddle another 800 kilometres along Baffin Bay, that separates the island from Canada, and arrive at Alert, a Canadian military base situated less than 500km from the North pole, for this reason the most populated place closest to 90 N. After talking and analysing with top specialists and explorers like the well-known Ramon Larramendi and Javi Galvez of Artic Yeti, who told me that it was too ambitious to do in just one summer, I decided it would be better to get as far as Thule, although I always thought I would do those 800 kilometres north…
On the 22nd of June, I took off from Alicante Airport with, 7 oversized bags and 160 kilos weight and accompanied by my friend and photographer Luis Martinez, to Iceland where I had a 2 day stopover. On the island my friends from Artic Yeti were waiting for me, and they helped me out with the travel logistics. We all enjoyed two very fun and intense days when I had my first contact with the icy waters with the SPS board designed exclusively for the expedition by the 100% Spanish company. It was a complex and difficult to construct prototype because of its 6 metre length and rear rudder, which were totally new and unique. The place chosen was the Jökulsárlón glacier, the most impressive of Iceland and definitely worth a visit. I also tried out my dry-suits by SUPSkin. The days before my challenge, now in Ilulissat (Greenland), were spent on the last preparations. Making adjustments to the board, organizing all the material necessary for the crossing: energy meals by Victory Endurance, dehydrated food, the drysuits, electric fencing to prevent polar bear attacks, buying a rifle for the same purpose, the tent and Trangoworld sleeping bag and the rest of the necessary materials and last minute purchases.
Thursday June 30th June the wind forecasts were favourable and I decided this should be the day to start the challenge. I felt physically and psychologically fit and ready to face this Polar test. I was going to have to be constantly alert, as it was the most dangerous and risky expedition I had ever done. There was a lot of weight on my board, more than I would have liked. 110 kilos are hard to move around and make up a significant volume. Any wrong move could see me falling into 4ºC waters, where I might find polar bears, killer whales or narwhals that could puncture the board, or abrupt jagged rocks.
As soon as I distanced myself from Ilulissat I was witness to the rapidly melting glaciers. I came across many blocks or icebergs of varying sizes floating in the water, which made navigation an Odyssey. My hair stood on end when I heard blocks of ice breaking, although you do get used to it, it's like thunder when the storm is close. Lucky for me I was never underneath, ha, ha. Joking aside, we should take this problem seriously. We should all become more aware of the climate changes that we ourselves are provoking.
I learnt a lot of things as the days passed, I came across problems I had not considered. The breaks for rest and sleep I tried to do on the coast, but I didn't count on the fact I would have to unload all the gear from the board and anchor the board or bring it ashore. Bearing in mind that first I had to check the tides to avoid damage to the board, I would lose 2 to 3 hours in the process. This was an ordeal. To give you an idea, on one of the days I awoke in the middle of the night, only to find that the tide had risen greatly and the material was floating in water. I had to put on the drysuit and spend one night collecting everything, and I also lost some of the food.
This challenge has been defined by abnormal weather conditions. I spent many months before preparing myself for the challenge, asking people, studying the environment, and nothing corresponded with what I had come across. All the inhabitants I met told me that it was a very unusual summer, but the worrying thing is that the winters are also milder. The Inuit use a lot of dogs which can be found in each village to move across the ice in winter, but for 10 years now the ice has been weaker and they barely dare to cross with the sleds.
After 10 days of navigation I reached Niagornat, with no more than around 20 houses. I lived with its inhabitants and could compare their way of life to the Inuit of Alaska (Greenland is part of Denmark). In Greenland there is no internet or satellite TV in the homes, communication with the outside is poor. There is only one community internet with a bad signal; they don't have vehicles, only a couple of fishing boats and many dogs to pull the sleds, and the most surprising thing is that there's no running water in their homes, contrary to Alaska. I was stuck here for a couple of days due to bad weather, over which time I was able to initiate the first Greenlanders in the art of SUP. They were pretty good. They can fall into the water and survive. They could stay up to 1 minute in the water. It seemed amazing to me. I was defenceless without my drysuit.
I managed to leave the village, but a few days later, constant meteorological instability with strong winds and rain forced me to stay another two days on a snow-covered beach. Under these conditions it was impossible to paddle. Once the storm had passed I managed to navigate the right side shoreline, which was longer but safer. I paid particular attention to these details. To my right was a parallel coastline. In the case of strong winds I would never be washed out into the open ocean. That would have been my downfall.
For weeks I met no-one. I hoped to reach the next village in a few days, but had more bad luck with unstable weather. The forecasts sent to me by my sister by satellite phone changed quickly. I was paddling along a calm sea one minute and suddenly, a strong counter-wind and insurmountable waves meant I was forced to search for safety on the coast. Things began to get more difficult on an almost daily basis. One day, coming away from the coast, a freak wave threw me against the rocks, which, aside from giving me a nasty surprise left me with some nasty bumps on my legs, but luckily for me nothing more serious.
I managed to continue with a gentle wind, which complicated navigation of Cabo Sigguk. A local fisherman had told me that this place was dangerous and had claimed several lives. There are high cliffs hanging directly over the sea. Seen from afar a thousand dangers crossed my mind: that a wave might knock me off, that the wind would throw me onto the rocks or that an ice cornice might fall onto my head. I carried some stabilizers for the board, one I had lost already, but I devised a new one out of a trekking stick and the Restube of my friends in Poipoi, a personal floatation device. This way I managed to get through the zone.
On the following days before arriving in Upernavik, the largest human settlement in a 700 kilometre radius with nearly 1000 inhabitants, the counter-winds were joined by undercurrents and thick fog. There were new stops, as continuing was impossible. On my arrival at the village I was told that it was a very strange summer, as if winter were about to set in. It was then that I began to see difficulties in reaching Thule. I was behind schedule, winter was coming and that would make it impossible to continue as initially planned to Thule, and then from there onto Alert in Canada, the closest village to the North Pole.
Although I may seem crazy, I always weigh up the risks. The only airport before Thule, 800 kilometres north, is in that village so after much reflection, I decided that the challenge stopped there for now, after paddling 730.7 kilometres in 26 days, 14 hours, 27 minutes and 30 seconds. It's not the end, it's a 'to be continued', which I intend to complete in the next few years….
Words : Antonio de la rosa
Photos : Luis Martinez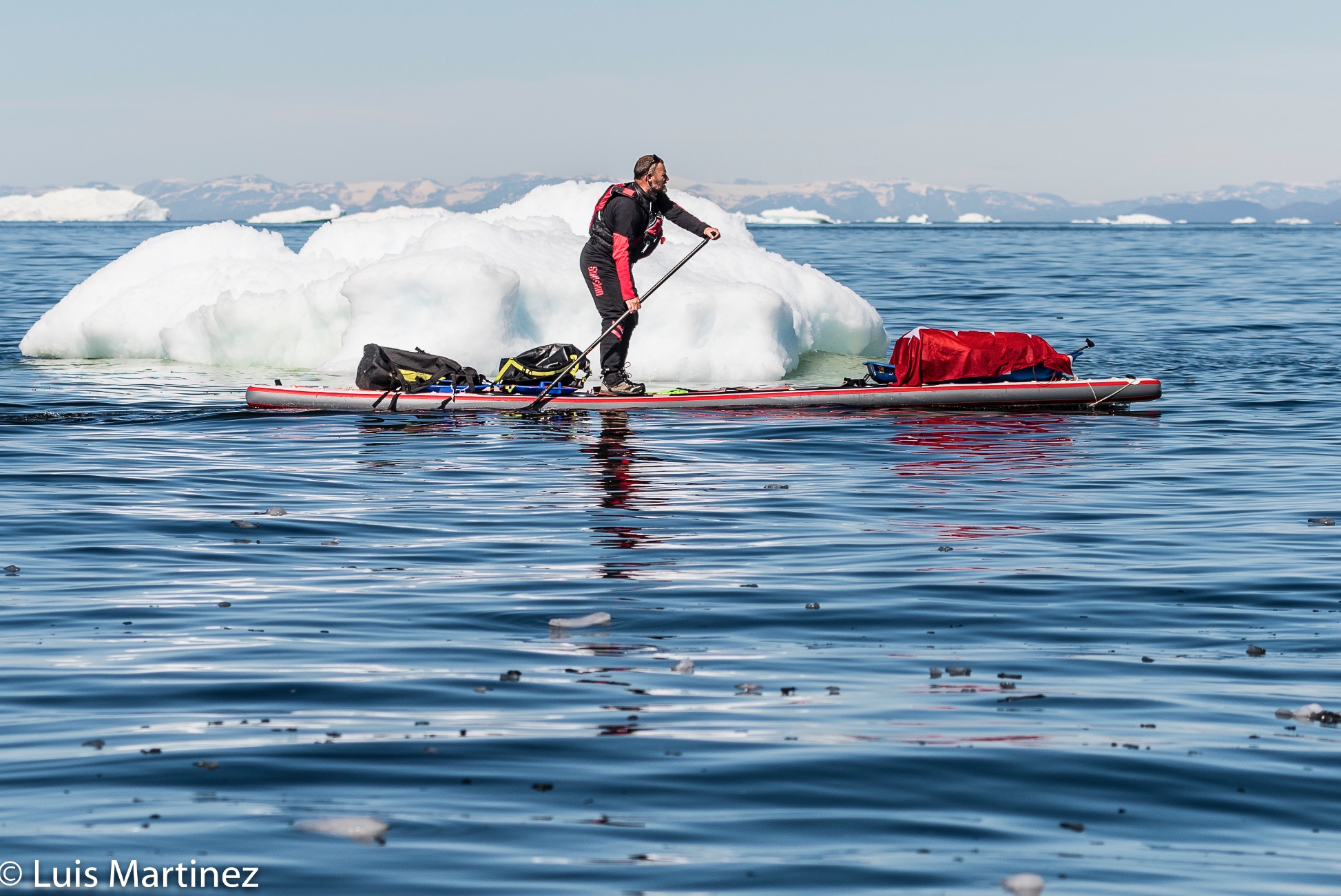 Antonio set himself a huge challenge, and with the weather not in his favour it's no surprise that he was unable to reach his end goal this time. But we look forward to following his sequel SUP in the icy waters sometime soon. Good luck Antonio.
In November Antonio plans to complete the trilogy by cross-country skiing 1300km from Hercules Bay in Antartica to the South Pole. Crazy or what?!