The Dublin Bay Classic is without a doubt the biggest event in the Irish SUP calendar. And if you haven't been to this massive fun packed family event before, Paul Byrne from Irishsup is here with this years event write up to get you in the mood to get involved next year…
This year's DUBLIN BAY SUP CLASSIC in conjunction with the BATTLE FOR THE BAY took place on the weekend of May 28 – 29th. The venue as always was the capitals Dollymount beach.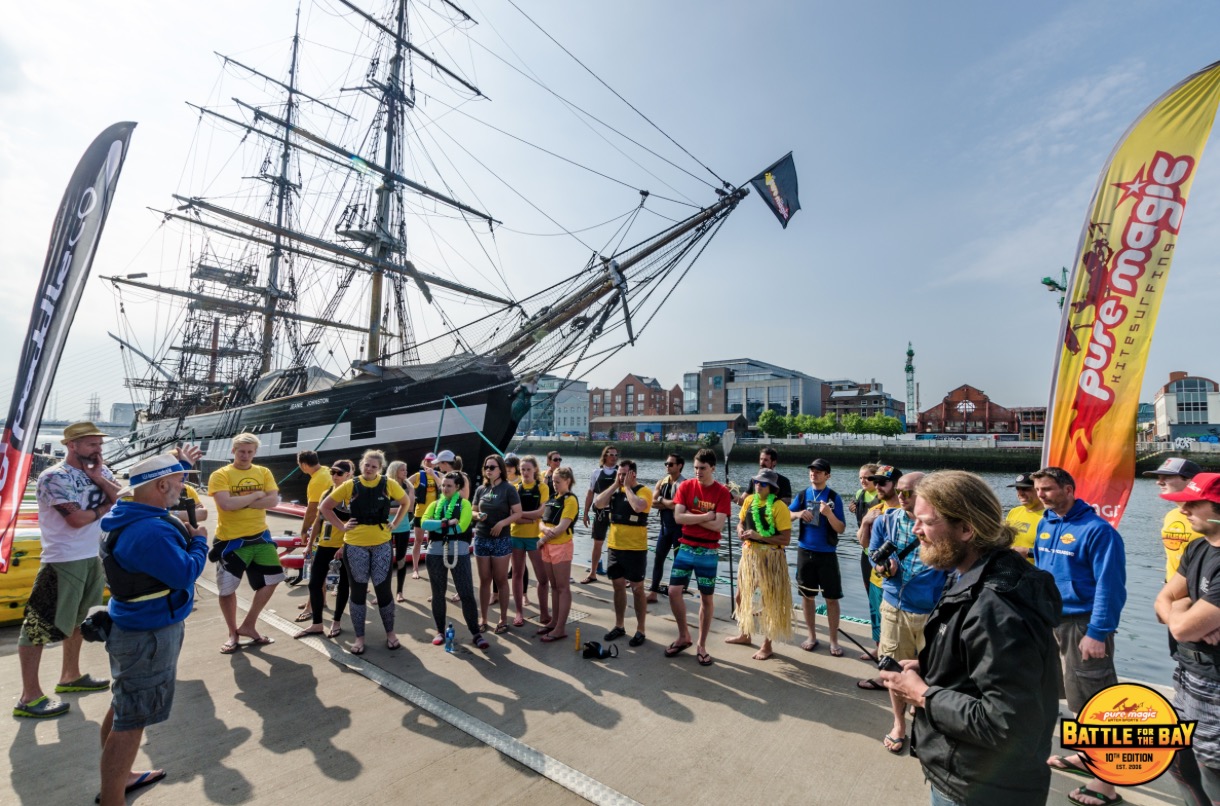 The weather gods looked favourably upon the SUP athletes this year and to the disappointment of the kite surfers there was practically no wind and clear blue skies.
There was a busy weekends schedule for the SUP racers to partake in, starting on the Friday night with a very informative paddle clinic with the events main SUP ambassador Zane Schweitzer. Zane is an incredible athlete and true ambassador to the sport. It was such a great pleasure to have the ultimate waterman attend.
Once the tide began to fill at Saturday lunchtime it was time to run the Technical Sprint. This was a short 1km lap with a nice light downwind leg finishing with a buoy turn inside the surf zone. 4 laps of this was enough to truly test who had been preparing for this year's event and who had not! Zane and Peter Kosinski had a nice little battle in the men's section with Zane taking it home. In the ladies Triona McMenamin took glory after a long overdue comeback to the sport, pushed all the way by Sarah Gannon in a respectable second place.
Saturday afternoon was not all about the adults, the kids also got their opportunity to meet and do some paddling with Zane. Surely something this guys will not truly appreciate until they are a little older……paddling with the ULTIMATE WATERMAN……. dude!!!!!!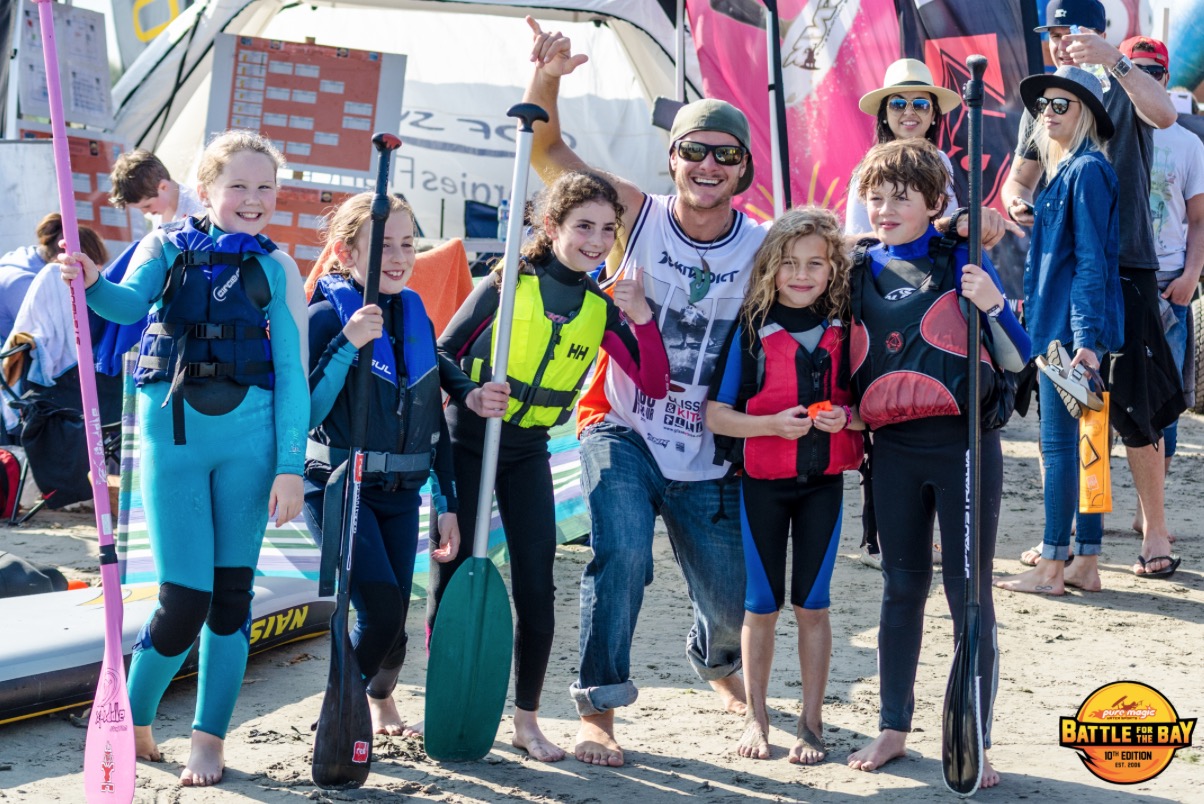 If there's one thing that the BATTLE FOR THE BAY is notorious for its their parties, and Saturday night is always the big one! This year was no exception, with fireworks and awesome music the SUP athletes needed to be cautious not lose the run of themselves before Sunday mornings LIFFEY CROSSING.
The River Liffey was looking as pretty as I've ever seen it on the Sunday morning. Zero wind and clear blue skies was going to provide a super platform for this morning's distance race. Just under 50 paddlers took to the river beside the Jeanie Johnston a replica tall ship used during Famine times and now docked right in the heart of Dublin's central business district. This race for logistical reasons is iSUP only, and RED PADDLE CO yet again came to our aid and brought every inflatable race board they could get their hands on for the athletes to avail of, massive thank you Neil and Fiona, it was something special to see that many boards get pumped and prepared to do battle in Dublin.
The men's race was a battle between Peter and Zane mixing up the lead in their 2-man draft train. David Mangan was giving all he had to try stay in contention, but had to work alone for a great amount of the race. Zane remained victorious with Peter right on his tail to the finish, and David third. In the ladies' race Triona was too strong for the other ladies, all her triathlon and lifesaving training stood her well. Sarah took second and Trish Brennan a respectable third. The stoke and buzz around the water that morning was true testament to the great community of paddlers we have here in Ireland.
Dublin's double decker story bus brought all the athletes back to the beach to prepare for the final SUP event of the weekend, the Survivor Race.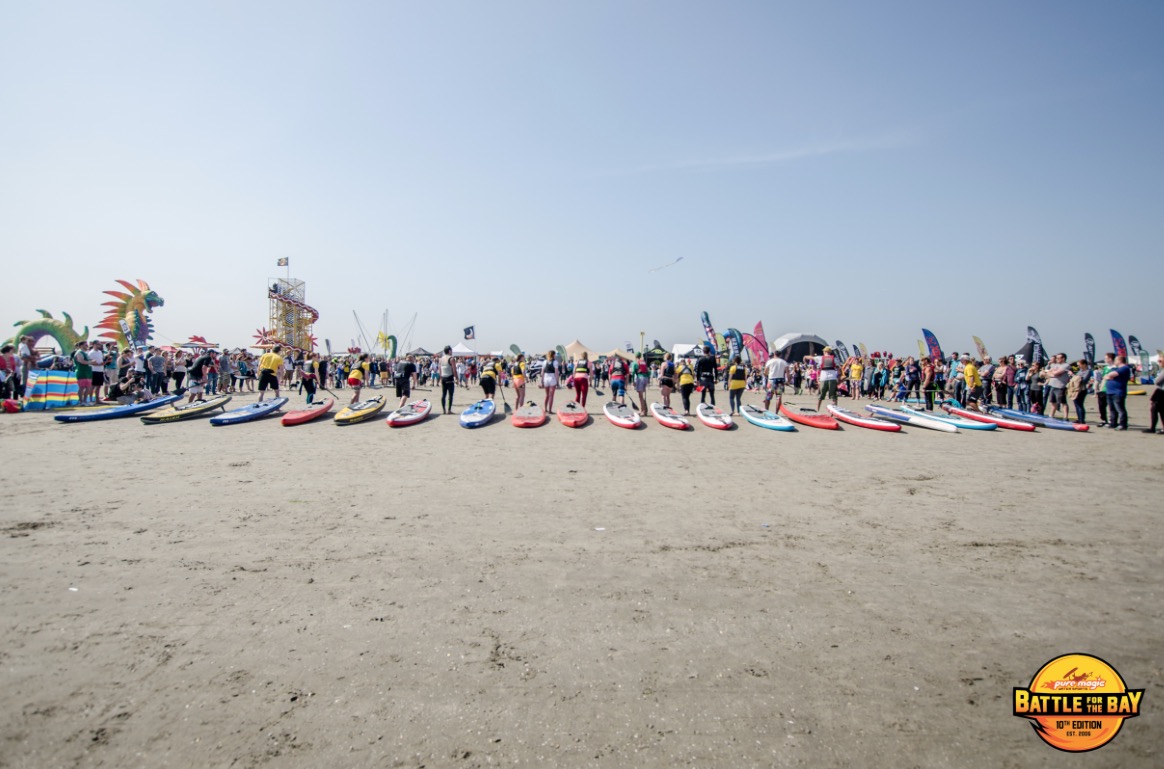 Jamie Mitchell invented this race format, one that brings people to their knees, and causes untold pain and hurt! Elimination format until there are only 4 athletes left for the final 100mt sprint out thru the surf and back to the beach. A combination of beach sprints and board transitions make this an excellent spectacle for all on the beach to watch, and there was no shortage of spectators……the weekends attendance was a whopping 65,000……yes that's right 65,000 people at a SUP event, that's has to be some sort of record?
Back to the survivor……after lots of bumping and jostling for positions two by two racers were eliminated until there were just 4 remaining for the final sprint, Peter, Zane, David, and representing the ladies Triona. Triona taking it home in first place in the ladies' section and Peter pulling one over Zane to win the men's. Again the buzz among both racers and spectators was electric and was a fitting way to conclude the weekends racing.
At the events closing ceremony and prize giving a special pair of awards are announced, the LORD AND LADY OF THE BAY. This award is given to the male and female athlete whom has gathered the most points from the weekend's events and not only takes home the Lord and Lady title but also a very specially hand crafted Paddle made by Dublin's very own Dave Owens. Dave not only spends hours preparing these masterpieces in the run up to the event but also competes himself and is a true ambassador the the sport here in Ireland.
This year's title of LADY OF THE BAY went to Triona McMenamin and the LORD OF THE BAY to Zane Schweitzer, well done to you both, awesome performances throughout a very busy weekend.
The success of this event comes from the awesome group of SUP racers that we have here in Ireland and Dublin especially but it would never happen if it were not for Pure Magic's Francois Colussi and Catherine Etienne, the magicians who pulls this whole festival together and provide us with a platform to strut our stuff…. thank you so much guys!!
Special thank you as always to our main sponsors, without whom this event would never happen; Neil and Fiona at Red Paddle Co, Wolfgang from Supskins, Brett at Hippostick Paddles, Paul at Kingfisher Craft, City Kayaking, Cabrinha, Mystic, JP Australia, iFly, Dublin City Council, The Bram Stoker, Dublin Fire Brigade.
Looking forward to seeing you all in Dublin again next year, and ready to welcome lots of new faces also!!!!
Go raibh maith agat agus slán go foill!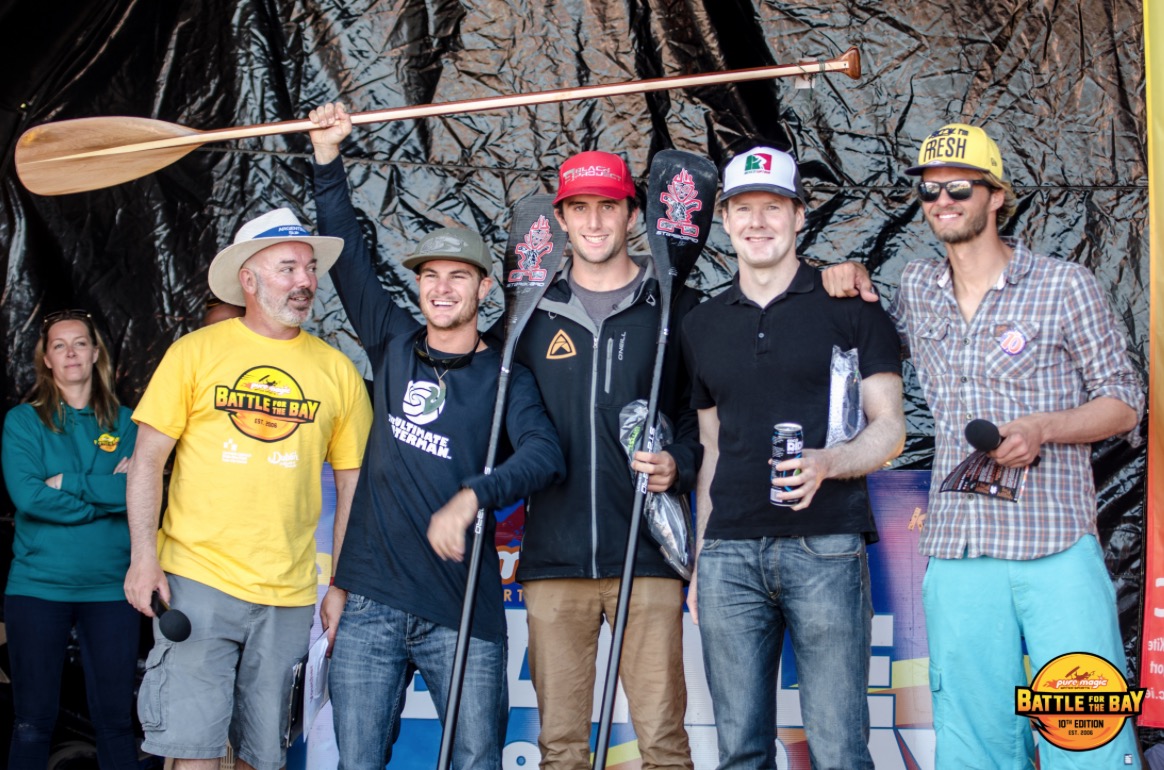 Full Results from the weekend:
TECHNICAL SPRINT
Mens Race 12'6:
Zane Schewitzer.
Peter Kosisinki.
David Mangan.
Ladies Race 12'6:
Triona McMenamin.
Sarah Gannon.
Maria Coleman.
Mens X-Over:
Dermot Toomey.
Ladies X-Over:
Caroline Harvey.
LIFFEY CROSSING
Mens Race 12'6:
Zane Schewitzer.
Peter Kosisinki.
David Mangan.
Ladies Race 12'6:
Triona McMenamin.
Sarah Gannon.
Trish Brennan.
Mens X-Over:
Ziga Tomc.
Ladies X-Over:
Olwen Dooley.
SURVIVOR
Mens:
Peter Kosisinki.
Zane Schewitzer.
David Mangan.
Ladies:
Triona McMenamin.
Sarah Gannon.
Maria Coleman.
Lady of the Bay – Triona McMenamin.
Lord of the Bay – Zane Schewitzer.
Words by Paul Byrne www.irishsup.com
All photos by Paul Doogue.