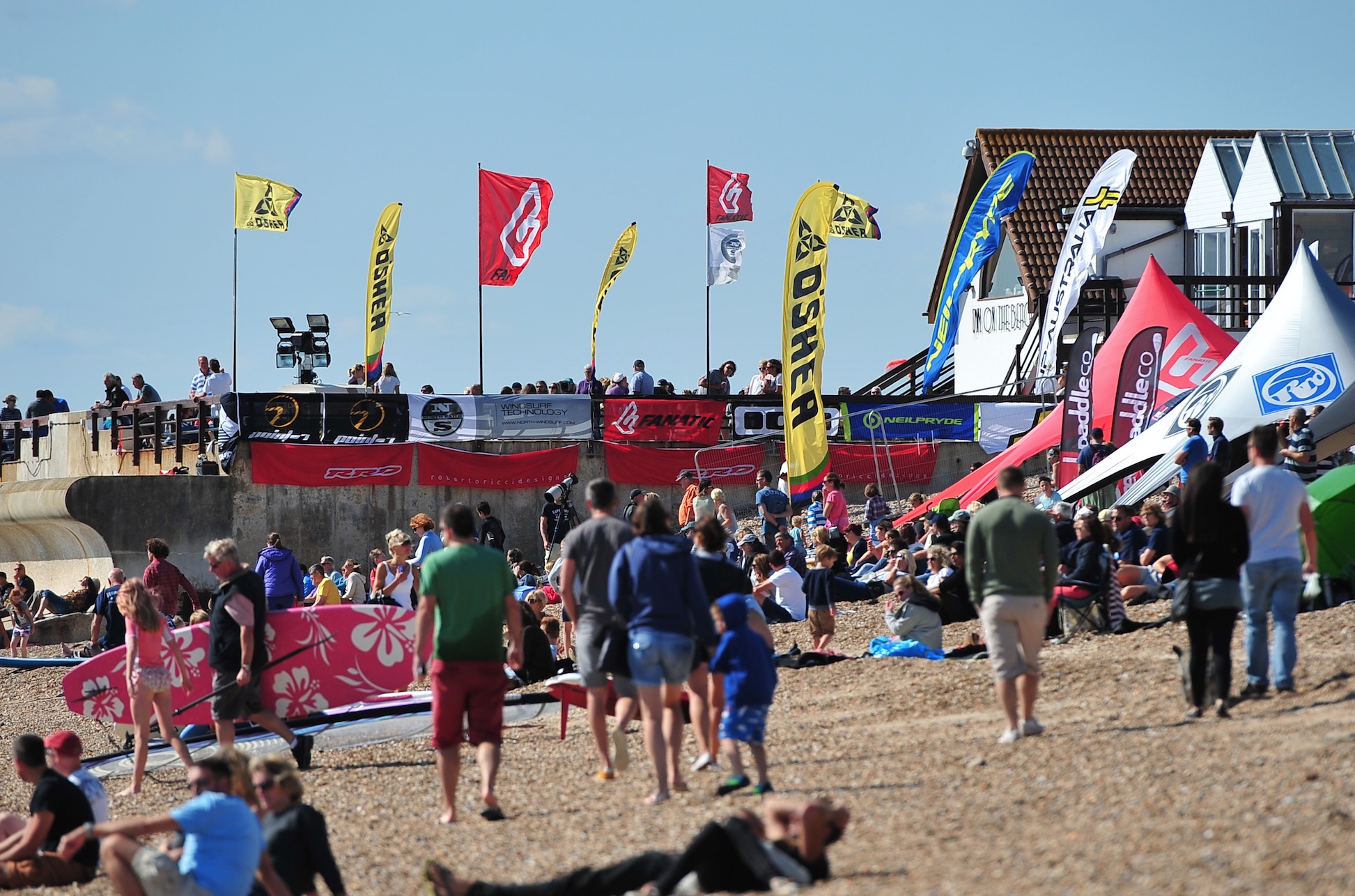 There is just over one month to go until the 10th edition of the National Watersports Festival, which takes place on Hayling Island, Hampshire between 2 – 4th September 2016. With SUP now the main activity, alongside windsurfing, we thought we ought to do some digging and find out what's going on to make the NWF a must- attend event for all SUPboarders this year…
First off, the event site will feel much more like a festival ground we're promised, with a host of things to do for all ages, so competitors and spectators can wonder round and take part in a range of different activities as well as SUP. You may fancy the climbing wall or grabbing a beanbag and taking in some of the back to back live music and acoustic sets that will be playing both day and night.
If you're bringing a board but one of your party isn't then there are taster sessions across the whole weekend, with ample safety cover provided. You'll also be able to grab some of the demo kit that the top manufacturers are bringing to the event and have a go and work out what really suits you and what you fancy (dangerous, we know!).
One of the fastest growing SUP disciplines is the SUP waterpolo and there was some pretty fierce competition on the water last year. Heats for the event will be held during the day and into the night, under floodlight. This always attracts the crowds and this year should see the competition hot up even further, as the competitors do battle in the giant inflatable court!
So what about the hard and fast competitors amongst you? Well, you're catered for too and there are races across the weekend where you'll be able to rub shoulders with the UK's best paddlers and then pit yourself against them and race alongside them. This could be on your own SUP or part of the XL racing team if you get a ride on one of the giant boards.
If you're keen to progress your boarding knowledge and find out more about different techniques, styles and wave essentials then there are free clinics to attend where you can learn and ask questions to help you progress to the next level.
There will also be coaching across the weekend to improve and develop new paddlers and intermediates. And new for 2016 will be an introduction to SUP surf on the Hayling sand bar, which will certainly be worth a look at.
Together with the SUP games which includes Pugil SUP and SUP Tug of war it doesn't sound like there will be a dull moment across the whole weekend and it looks like the organisers have got all the different level of entrants fully covered.
The competitor entry ticket will allow you access to everything we've mentioned, including the racing and clinics, as well as the legendary parties and camping. This year the organisers are zoning the camping sites so if you want some peace and quiet with the family or want to party into the night then there are separate places to camp, meaning everyone is happy.
With floodlit freestyle windsurfing to watch, alongside the SUP waterloo and a bar onsite we think they've cracked it for an awesome 10th anniversary event. And with the fancy dress theme for the Saturday night being Pirates, we say get your eye patch ready and we'll see you there! Aye!
For more information and tickets check out www.nationalwatersportsfestival.com