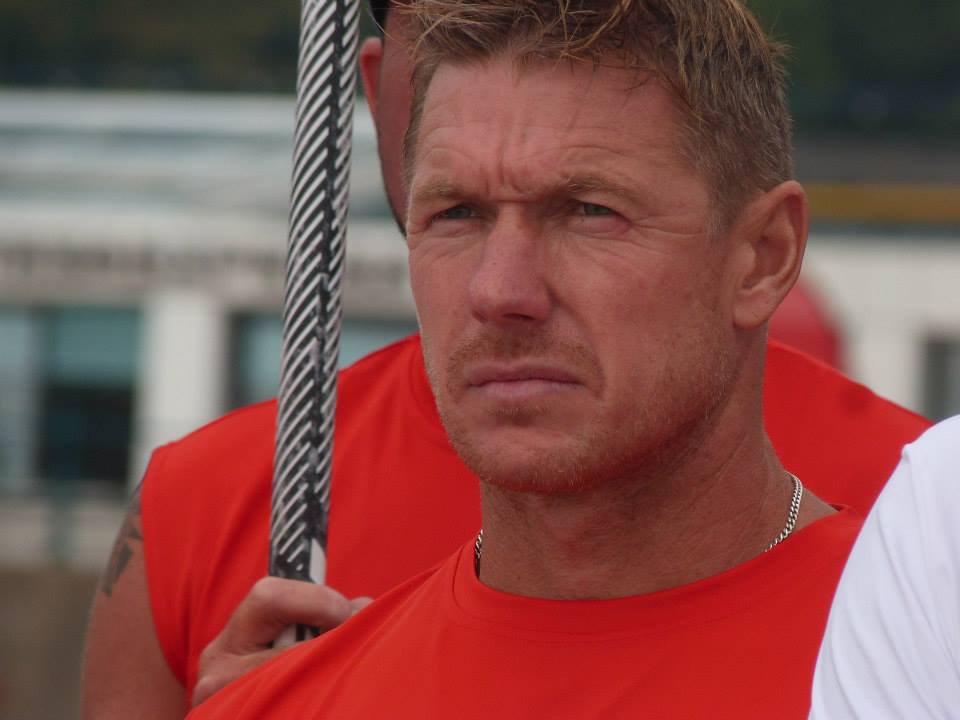 The 130km Dordogne Integrale
Mark Slater is the sort of Stand Up Paddler who likes a bit of a challenge; he has paddled around the Isle of Wight in less than 24 hours, completed the Celtic Crossing from the Isles of Scilly to Cornwall, and now he's added The Dordogne Integrale to his impressive list of achievements. And as if paddling 130km isn't hard enough, The Dordogne Integrale also incorporates a few technical rapids! 
Never one to make things easy for himself, Mark tells SUPboarder how at short notice he got himself and his SUP on the start line of France's longest SUP race, and how he completed the course on an inflatable SUP in a very respectable time;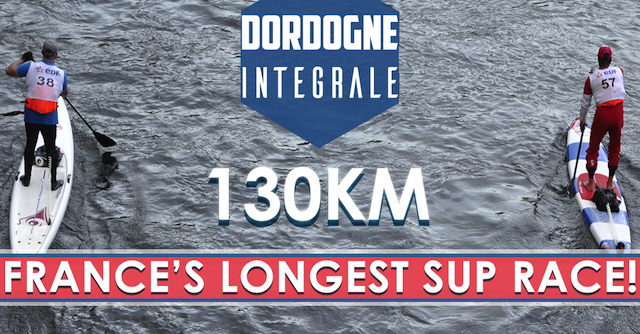 The Dordogne Integrale is a 130km annual canoe and kayak race in central France. With the starting point at Argintat, you continue down the River Dordogne to the finish line at Chappelle-de-Castelnaud.
As a trial run, a couple of Stand Up Paddlers were invited to take part in 2015. That was a success and the following year it was opened up to the whole of the SUP World. Entering the Dordogne Integrale was a bit of a last minute surprise for me. Andrè Le Geyt contacted me about 10 days before the event asking if I was interested in possibly travelling down together and competing.
We both then looked into travel options, but with the times and costs involved of ferry journeys, meeting up and driving down it was impractical and hard to justify for either of us. I then looked into flight options and…  bingo, there were flights from Southampton to Bergerac (about 50km from the finish line of Chappelle-de-Castelnaud). So, with it looking like it was a no go for Andrè, I made the decision to book the flights and give it a go on an inflatable rather than try and get my 14′ board onto the plane.
Upon arrival at Castelnaud-la-Chapelle on Fri afternoon I started to  prepare my food and hydration needed for the paddle whilst waiting for the courtesy bus to take us to the start at Argentat, where a meal and camping area would be provided. A lack of packing space coupled with a 20kg checked baggage weight allowance on the flight meant I had to travel textless, so it was a night under the stars in a sleeping and bivvy bag for me!
It was a 06:30 start on Saturday morning, with all craft starting en-mass. I got off to a good start and with pretty much no rules, I tried to tag onto the back of anything that passed to help try and offset that bit of extra glide you lose out on with an inflatable and keep myself within shouting distance of the frontrunners.
However, these drafting sessions were usually short lived as I didn't want to over exert myself too early into the journey!  One exception to the lack of rules was lifejackets must be worn, and guess who managed to not know that? Luckily the kind organisers loaned me one from their canoe school.
There are a few grade 1 & 2 rapids in the first 30km, which although nothing too serious, did manage to spice things up a little and keep one on ones toes. Having not done much paddling in flowing rivers before, I noticed some of the canoeists seemed to be finding faster lines of water not only through the rapids but also down the river in general, so I started to try and follow them as best I could.
A few refreshing dips entailed as part of this process,  by either a) coming to an abrubt halt when catching the fin on a submerged rock, or b) getting sideswiped by a sneaky edy of water. The skill shown by Dode Floret, Franck Fifils and Oliver Darrieumerlou to negotiate these areas on their super skinny 23″ boards was pretty impressive.
There were 6 manned rendevous stops en route laid on by the organisers, where you could top up with water and snacks. I planned to make two stops at around 45 and 95km to top up with fluid.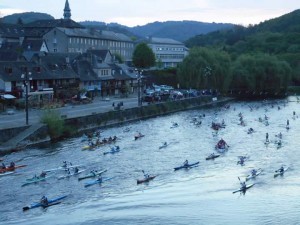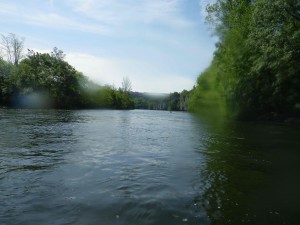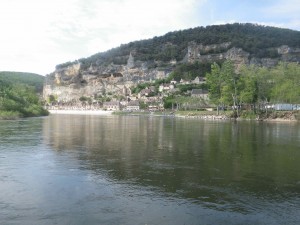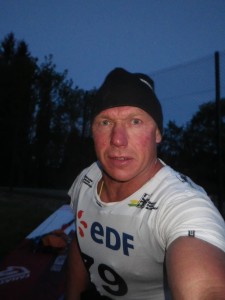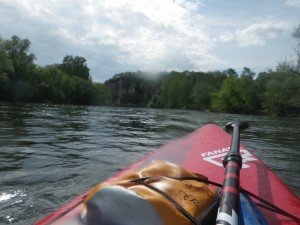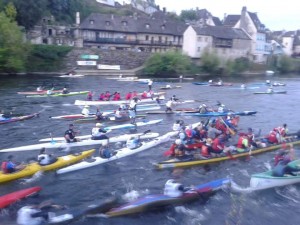 After my second stop I did get a little carried away in thinking, right only just over 30km to go, let's really push it all the way now. But my initial enthusiasm (and energy) soon waned and I really struggled for the last hour, just hoping that the finish line would somehow magically appear around every bend.
I ended up completing the journey in just under 11hrs, so was happy enough with that, however I was way off the mark of the first 3 Stand Ups who crossed the line in the incredibly fast times of sub 10hrs.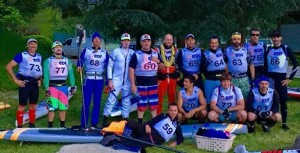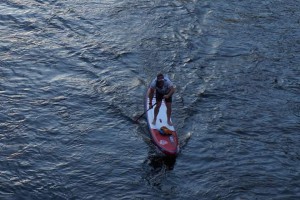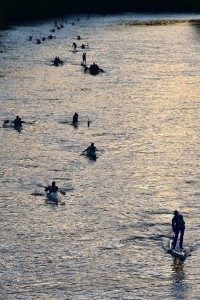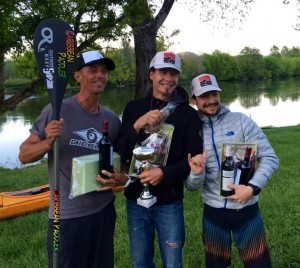 Overall it was a fantastic event to compete in and the scenery on the paddle down the river was truly stunning. Phillipe Marchegay and his band of merry helpers did an amazing job of organising the event, with everything running in a laid back, yet super smooth,  kind of way.
For an entry fee of just €75,  you got transport to the start, camping and a meal Fri & Sat night (plenty of alcohol on Sat too), breakfast Sat & Sun morning, along with food and fluid provided at the support stops throughout the course. So pretty exceptional value.
Equipment I used:
Board:

14′ x 26.5″ Fanatic Fly Air

(Inflatable)
Paddle: Fanatic 3 piece adjustable (perfect for ease of airline travel with inflatable board)
Hydration Pack: ION backpack with 3 litre bladder
I must say a massive thank you to Fanatic, ION and K-66 for not only their continued support but their ability to miraculously make an inflatable board appear on my doorstep at incredibly short notice.
Words : Mark Slater
It's fair to say that Mark is an exceptional paddler, whatever board he's on. Not only is he fast with amazing stamina, he has a knack of picking challenges that can only be assessed as 'hard' (or mad by others!). His decision to take an inflatable SUP shows just how versatile these boards can be. And getting all his kit in one bag under 20 kilos must have been another challenge, and success to add to his list of achievements! 7th overall SUP position and 1st inflatable SUP result is pretty impressive especially after a no doubt uncomfy nights sleep on the carpark tarmac beforehand! We're already looking forward to hearing about his next adventure. No doubt he's got one planned! Well done Mark. 
SUP Results
1) 9:50:11 Dode Floret
2) 9:52:50 Franck Fifils
3) 9:52:50 Oliver Darieumerlou
4) 10:21:43 Vincent Sultana
5) 10:39;00 Lionel Mougin
6) 10:47:09 Stephane Leblond
7) 10:55:36 Mark Slater ★ Inflatable
8) 11:02:20 Hervè Bounty
9) 11:21:03 Franck Seigal
10) 11:27;16 Rico Gratzel ★ Inflatable
11) 11:58;35 Julien Rhodes
12) 12:20:48 Patrick Lamarre
13) 12:40:05 Patrice Remouville
14) 12:40:10 Oliver Drut
15) 12:48:21 Kevin Kohn ★ Inflatable
16) 12:51:54 Ingrid Ulrich ☆1st  Female
17) 12:51:54 Christian Hermouet ★inflatable
18) 13:09:38 Mathieu Bernard
19) 13:25:31 Stephane Kock
20) 13:47:49 Pierre Joseph Espi
21) 14:00:00 Franck Ballesta
22) 85km Oliver Bagueu