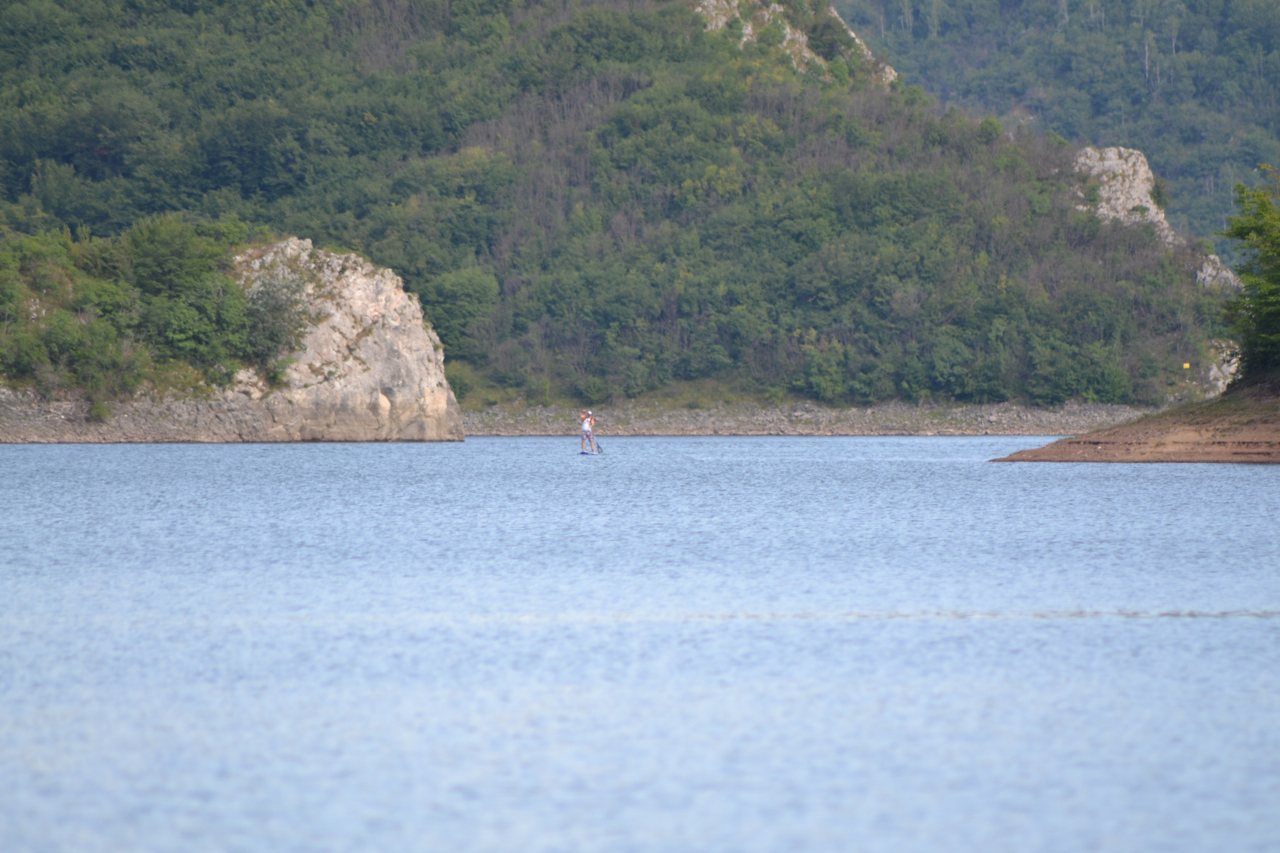 It's that time of year when lots of people are looking ahead to 2016 and making holiday plans. SUP Serbia might not immediately spring to mind but last summer Dan Willmore decided to do exactly that. Here's his SUPboarder report on a new-to-us SUP destination…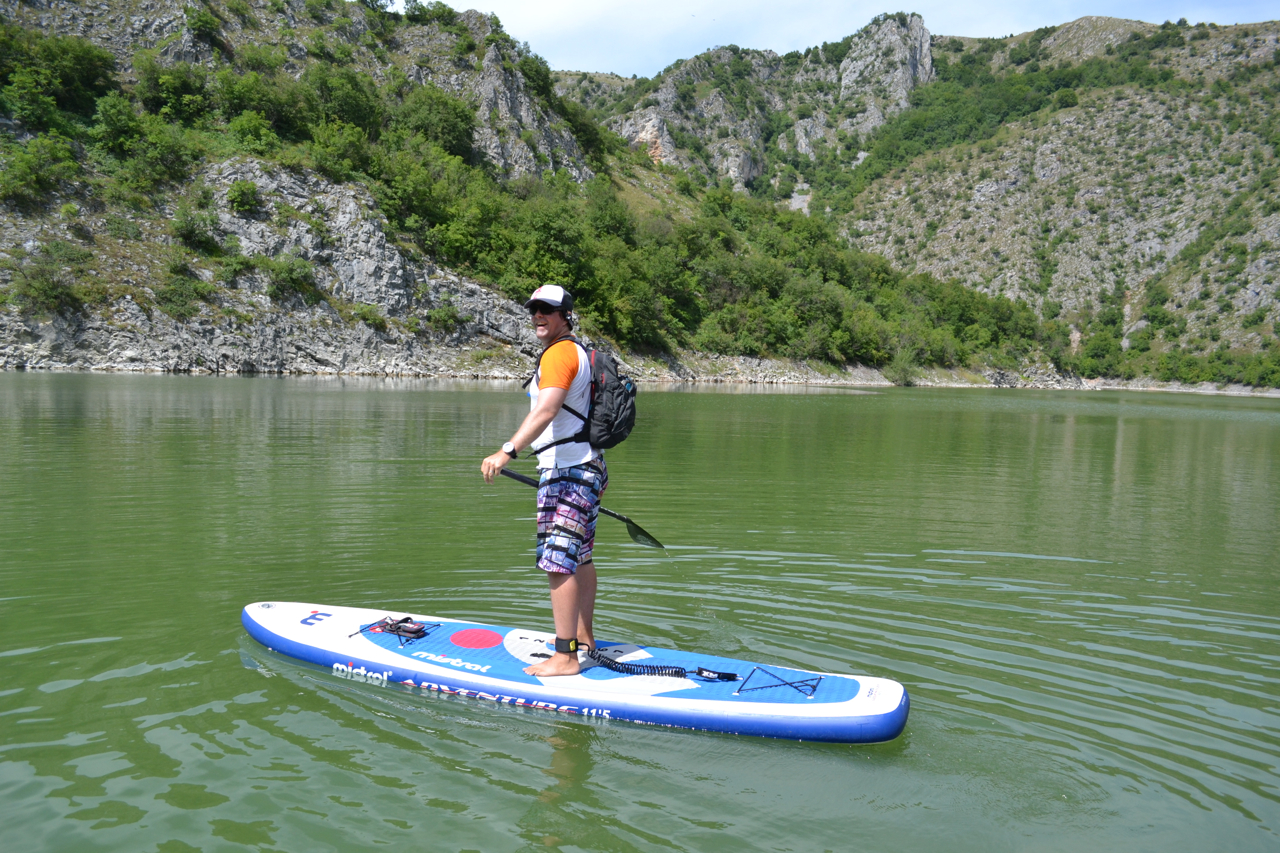 In 2014 my wife Maja and I went to visit her family in Serbia as we do every summer. On this occasion we decided we would drive the 1,669 miles and have a bit of an adventure. Our plan was simple; drive to Serbia and spend time with family and friends, then take a slow drive back to Cardiff stopping along the way to take in some of the sights and paddle some world class waters like the Italian lakes, Venice and end in France for a bit of wave action.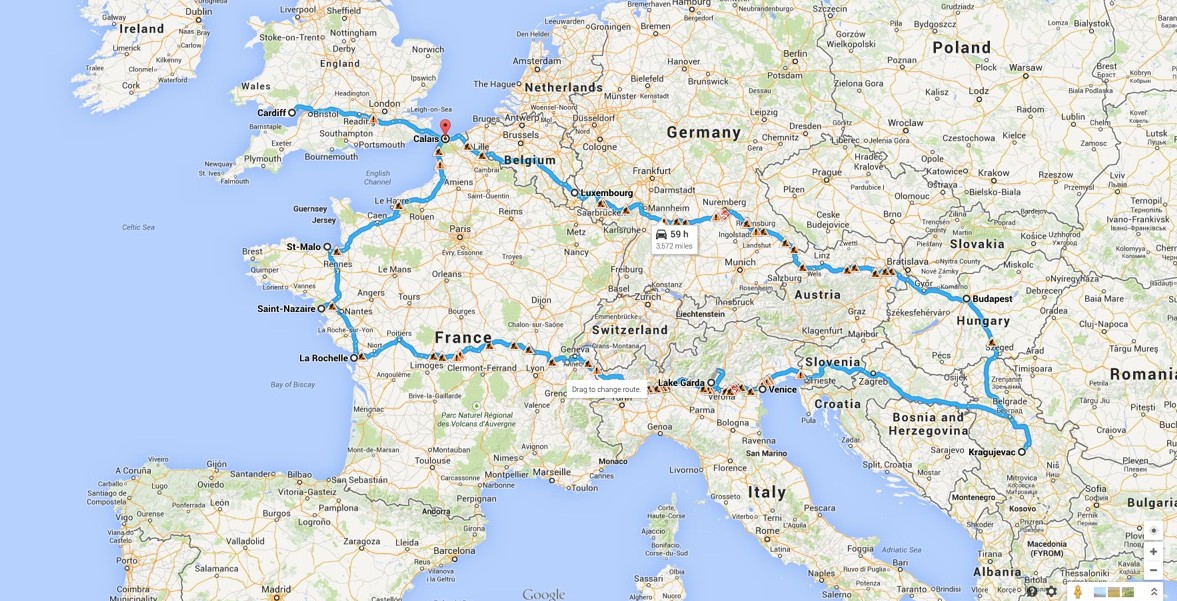 I was really looking forward to paddling out in Serbia, just to introduce some of my friends and family to paddle boarding. I never thought for a moment that it would end up being one of the best paddle experiences of my life let alone this trip.
SUP in Serbia is pretty unknown due largely to the fact that the average wage is less than 400 Euros per month. People don't have anywhere near enough disposable income to warrant such a past time like stand up paddle boarding.
"There was one spot I paddled out at and people were looking at me like I'd just pulled into the car park with my spaceship!!"
I spent some time showing the locals how to paddle, which was great fun. I think I may have started a trend!!
Whenever we travel to Serbia we always try to go somewhere different, visit new places and see new things. On this trip Maja's sister really wanted to take us to Nova Varos, a vast rural area in western Serbia. They had been before and said the lakes in the area were stunning. I was completely up for the road trip and couldn't wait to get in the water.
The drive to Nova Varos takes about 3 hours from my wife's hometown of Kragujevac, driving from the capital of Belgrade takes around four and a half hours. Once you have driven through the main towns and cities and start getting into the countryside the change is incredible. The land feels huge. It reminded me of driving in the French Alps where the roads hug the bottom of massive cliffs that lean out over you on one side and large ice blue rivers cut through the land on the other.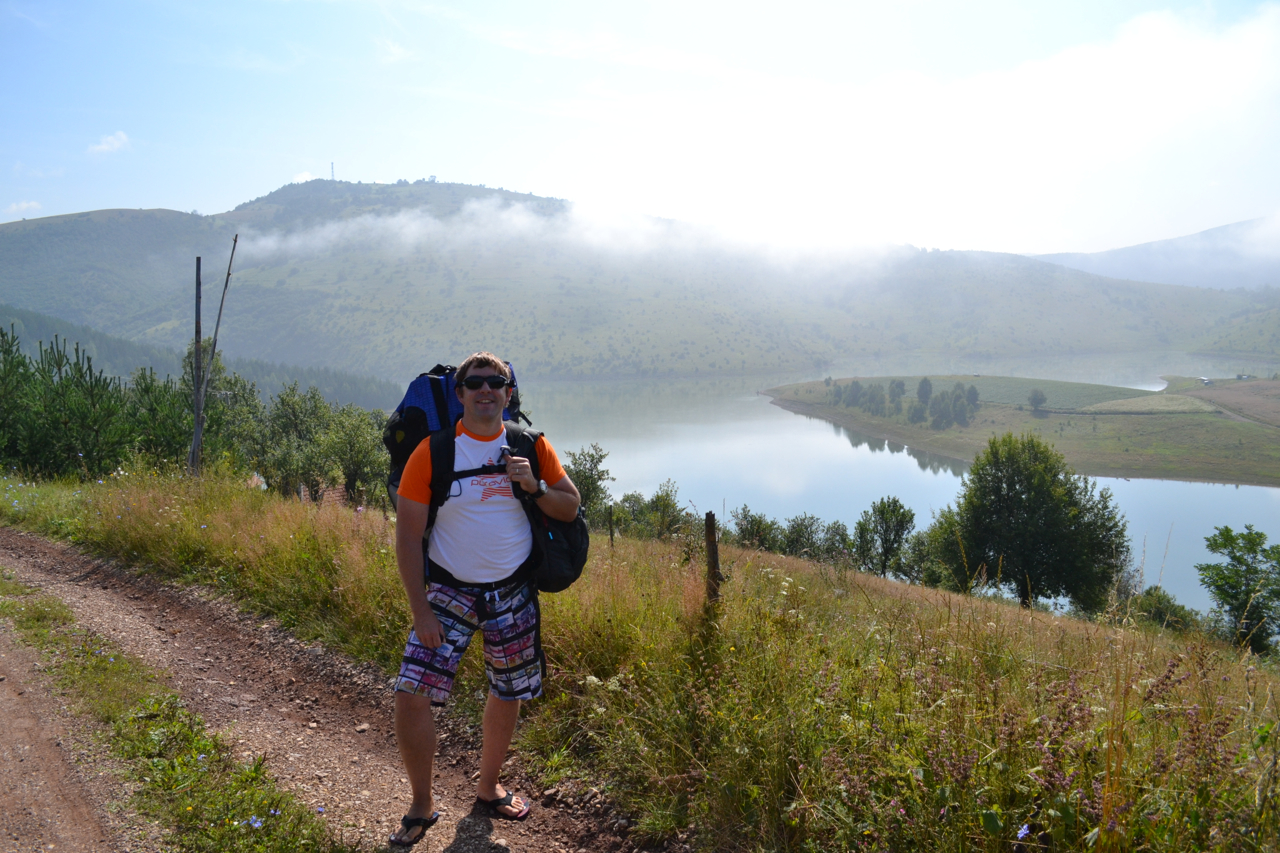 The one thing that really hit me was the colour of the water here! When you do eventually arrive in Nova Varos the colour of the lakes are breath taking. Some parts are emerald green while others are a thick pastel blue and the colours change right in front of you depending on which lake you are seeing or which part of the lake you're on. Zlator Lake was so blue I could have been paddling in the Maldives!!
Sandra, Maja's sister had booked us all into a place called the Ethno Houshold Lukovic, a beautiful little working farmstead. The accommodation is made up of two small picturesque log cabins (with showers and AC), which sleep four people in each, plus there are also rooms in the main house. For two people including food, boat tour and hike to the vultures nest cost €100. Ratko (pronounced Radco), a giant of a man runs the farm with the help of his wife, brother and mother.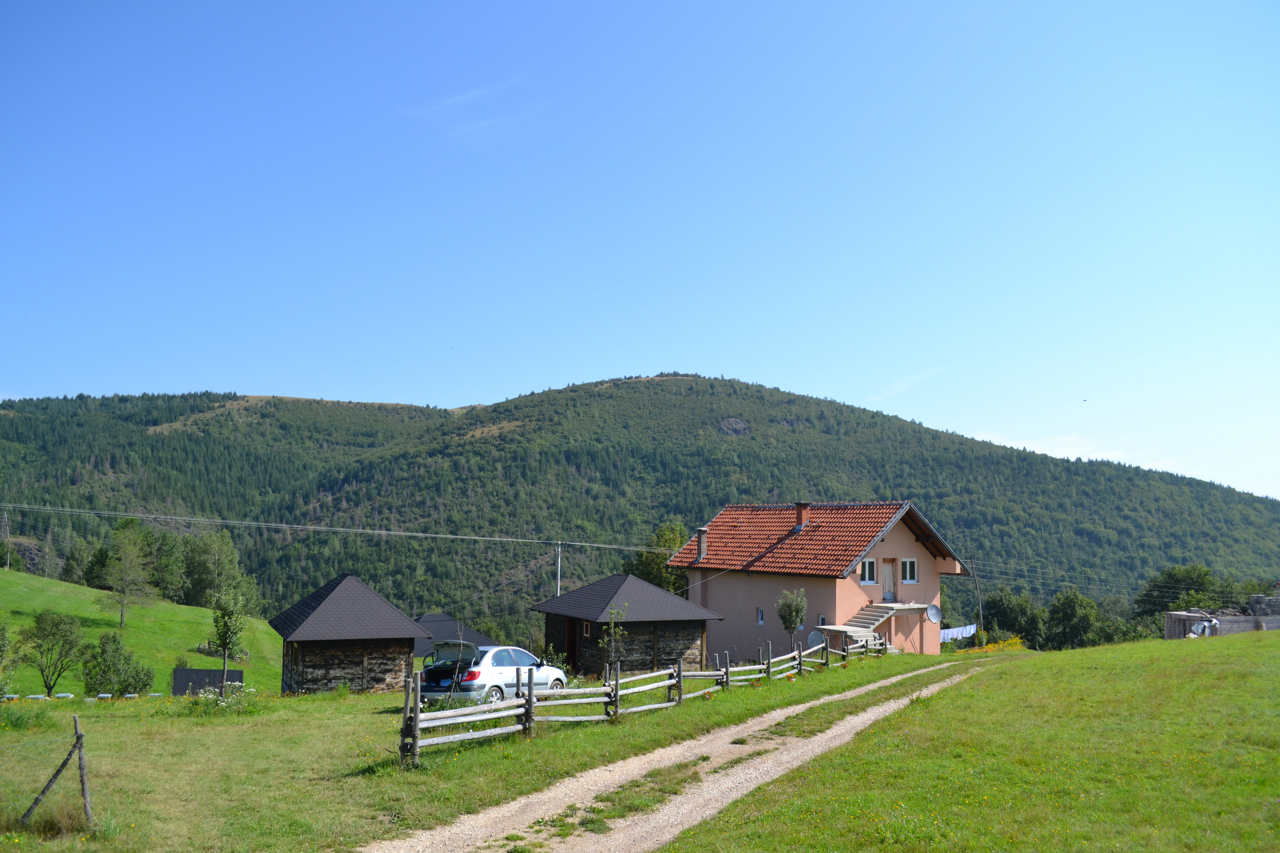 By the time we had arrived it was a little late so we ate while chatting with Ratko and had a few rakija's, the local plumb brandy, before hitting the sack.
The next morning we had an early start. I asked Ratko if I could take the iSUP; I had borrowed a Mistral 11' 5" Adventure, which he seemed happy for me to take. The area is a special nature reserve so I thought it best to ask.
The tour was going to be around five hours, which included 3 stops and a 6k hike to the top of a mountain to see the vultures, which are protected by the Serbian government.
Walking out of the log cabin into another stunning morning we collected our gear and made the one-kilometer walk down to the waters edge to meet the boat. The water was like glass. This is why I love iSUP's as they are so easy to transport.
The first stop was a short walk to a natural spring to fill our water bottles and cool off as the temperature was beginning to climb.
The Uvac Canyon is a large winding section of Sjenica Lake and the main nesting area for the vultures, which afford the area the title of special reserve and keep the area protected. It's also where you start the hike to the top of the mountain to look down on the vultures. The hike to the top is not an easy one as it's pretty steep and the temperatures start to get crazy hot this time of year. It's well worth taking the time to do, as the views are outstanding and being able to look down on these huge birds is something quite special. They refer to it as god's country. I did enquire about this and my brother-in-law simply said that if you get in trouble here you are in god's hands as there are no safety nets or emergency services in the area. The hike was made more interesting when we came across one of the local inhabitants; Poskok aka the Horn Nosed Viper which is highly venomous and made for a nail biting last kilometre.
There're quite a lot of amazing creatures in the area, wolves, bears, snakes and wild pigs. You rarely see the wolves and bears, but the pigs are a common sight, and we did hear the wolves during the night.
Once we returned to the boat it was time to pump it up the board and make the 23-kilometer paddle back. There was no room on the land to lay the board out so I had pump it up on board the boat which was just long enough to accommodate it.
After that is was into the water for a cool off before starting my paddle.
At first I had a bit of an audience as we were in the main tourist area. We had a quick stop off in Ledena Pecina translated the Ice Cave. I tied the board up and went in for a look. As the name suggests it's a stark difference to the 37-degree heat outside.
After that it was paddles ahoy. I was paddling with a few boats for a short while then once they had seen enough they moved on leaving me pretty much alone. That's when I really started feeling the buzz of adventure. I was pretty confident with my navigation but you always have that concern just in case anything goes wrong. I was equipped with a phone and other safety bits so I new if I did get into trouble I could call my wife.
"Lake Sjenica really makes you feel insignificant. Everything is so huge."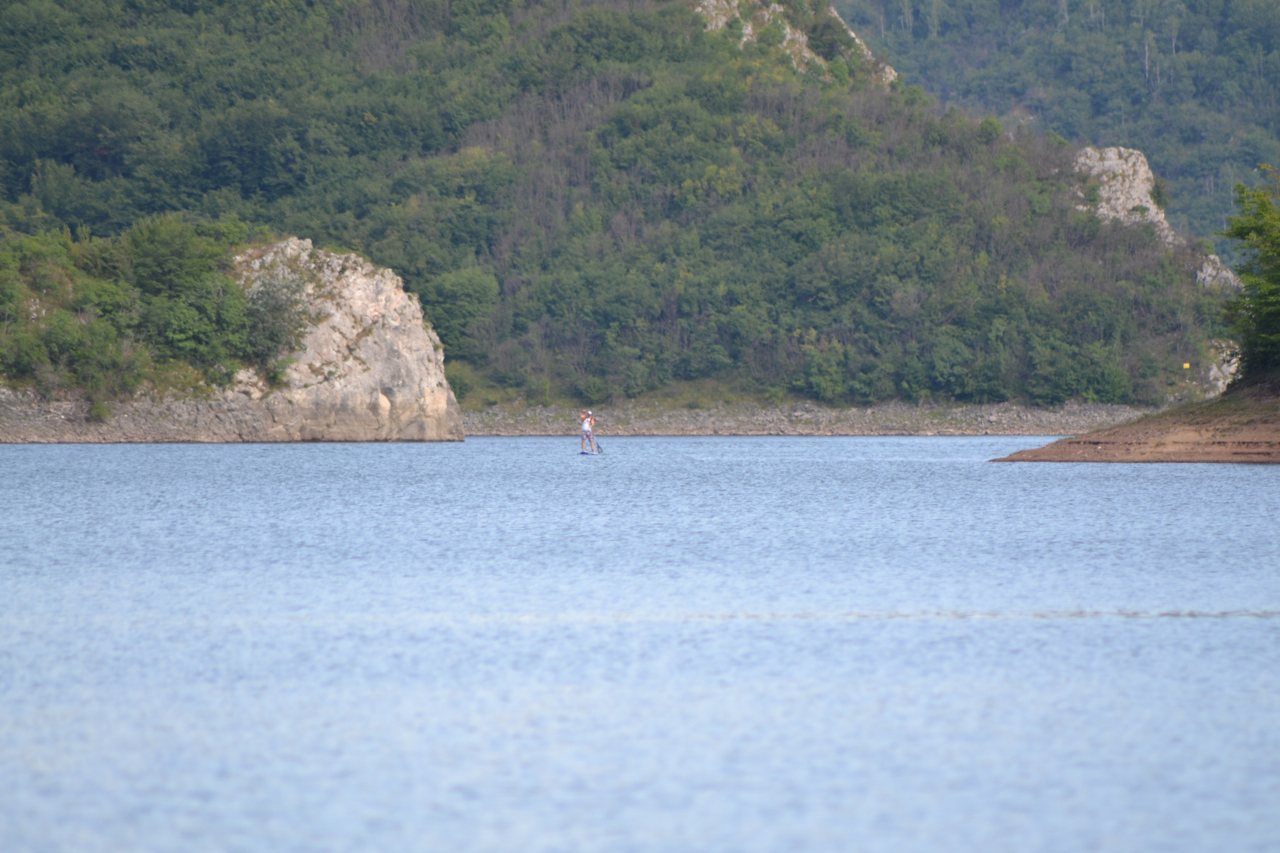 The cliffs just come straight up out of the water pretty much making it impossible to land anywhere and all the time you have the vultures looking down on you.
The lake begins to open up and the coniferous forest comes right down to the waters edge. I would see the odd fishermen floating past, they all gave me a wave and slowed down to see what this weird English man on a giant surfboard was doing. I find Serbian people are so friendly. Every one wants to say hello or offer you a drink or something to eat. I had the offer of a beer or two but declined thinking I better keep a level head just in case.
All the time I was paddling I was keeping an eye out for familiar spots. I knew near the end there was a left turn I had to make. However when I got to the spot I didn't recognise anything. The fear started to set in a little. I paddled up to one corner to peak around but didn't really see anything familiar and made my way back across to the other corner. At this point I was seeing my name being spoken by Michael Burke on the old show 999. "He'd just gone for a paddle and was never seen again". Fortunately as I got closer to the other side I could see a road in the distance, which I knew was where we picked up the second group of tourists at the beginning of the day. Panic over but I did pick up a little fear speed. As I got closer to the road I could see my wife and her family waiting in the boat at the small jetty. They made their way over and asked if I wanted to jump in. No way I was determined to paddling the whole way back.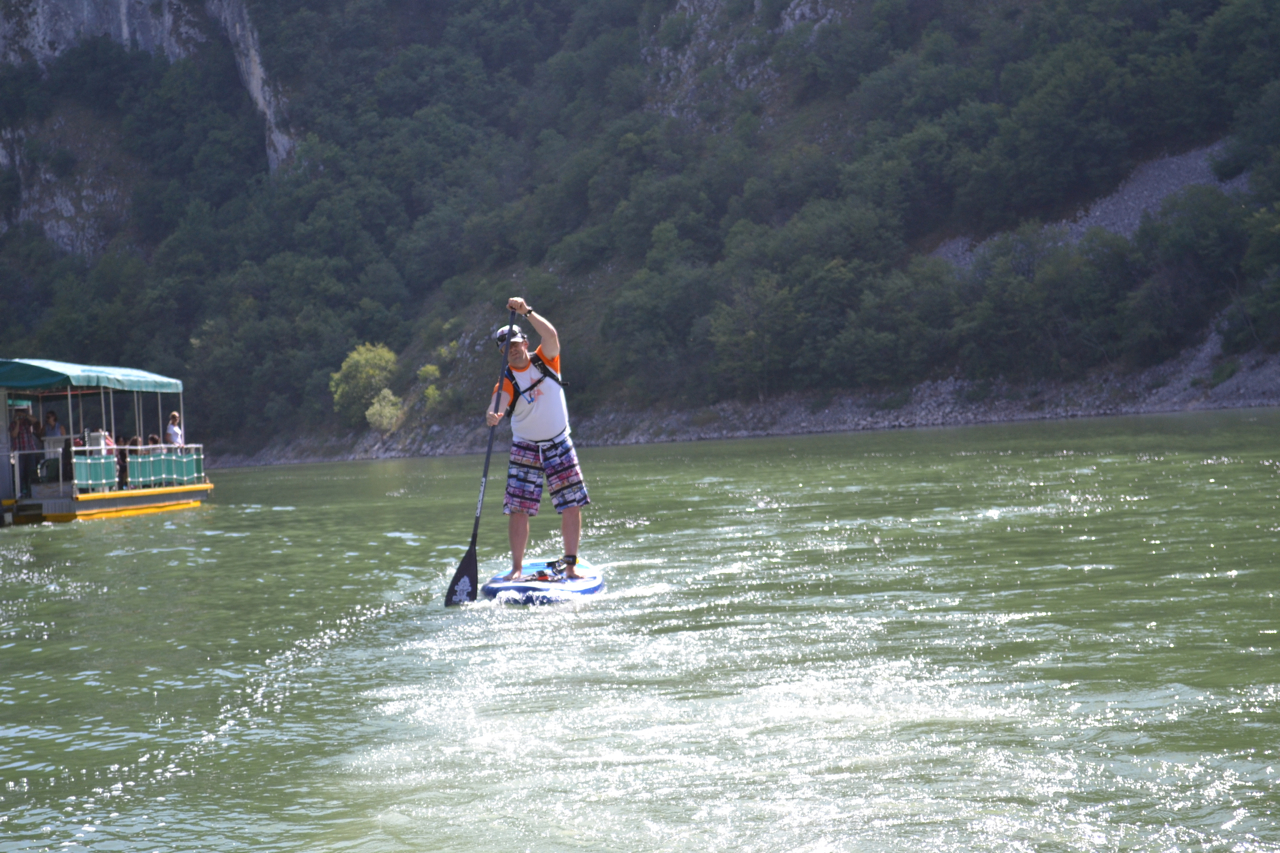 After that is was a short paddle back to the end. I pulled up, deflated the board and hiked back to the cabin. Once I had a quick shower it was time to let the food fest begin….AGAIN!! I was completely spent but I was still buzzing from the whole day. It is truly an incredible spot to paddle and explore. I can't wait to go back this summer.
About Serbia
Food and Drink
This is one thing that is in abundance. It is really cheap for both. Food and drink are a large part of Serbian culture so expect some serious eating sessions.
When to go
Serbia starts warming up around April and by June, July it's scorching hot. The weather stays nice till October after that they get a proper winter. You can ski and snowboard so really Serbia is an amazing place to visit all year round.
The Area
Nova Varos has two big lakes in the area Sjenica Lake and Zlatar Lake. I did paddle both, but the latter only briefly. Both areas utterly stunning.
Our Accommodation
zlataretnouvac.rs/en/accommodation It cost us at the time €100 for 2 people including accommodation for 2 nights, breakfast, evening meal and boat ride.
Gear
An iSUP in this case was the best option. Easy to set up and pack away. Means you don't have to hire a massive car with roof racks. Plus it make the hike down to the water a piece of cake. Take a dry bag and means of communication. Note that English is not widely spoken in this area so a translator app or phrase book would come in handy. (Read more about iSUPs on SUPboarders posts 'Inflatable SUP vs Hard' and 'Everything you need to know about an iSUP')
Words and Images – Dan Willmore
Dan's taste of Serbia may have wetted your appetite for this corner of Europe. Or maybe you've already been out that way? Going with an iSUP and travel paddle would definitely open up numerous paddle opportunities and maybe even some 'first ever paddles' for the adventurous paddlers out there. Serbia sounds like the perfect place for a SUP adventure or a family holiday with a bit of SUPing too.
If you're planning an adventure paddle let SUPboarder know! We'd love to hear all about it and share your SUP experience.