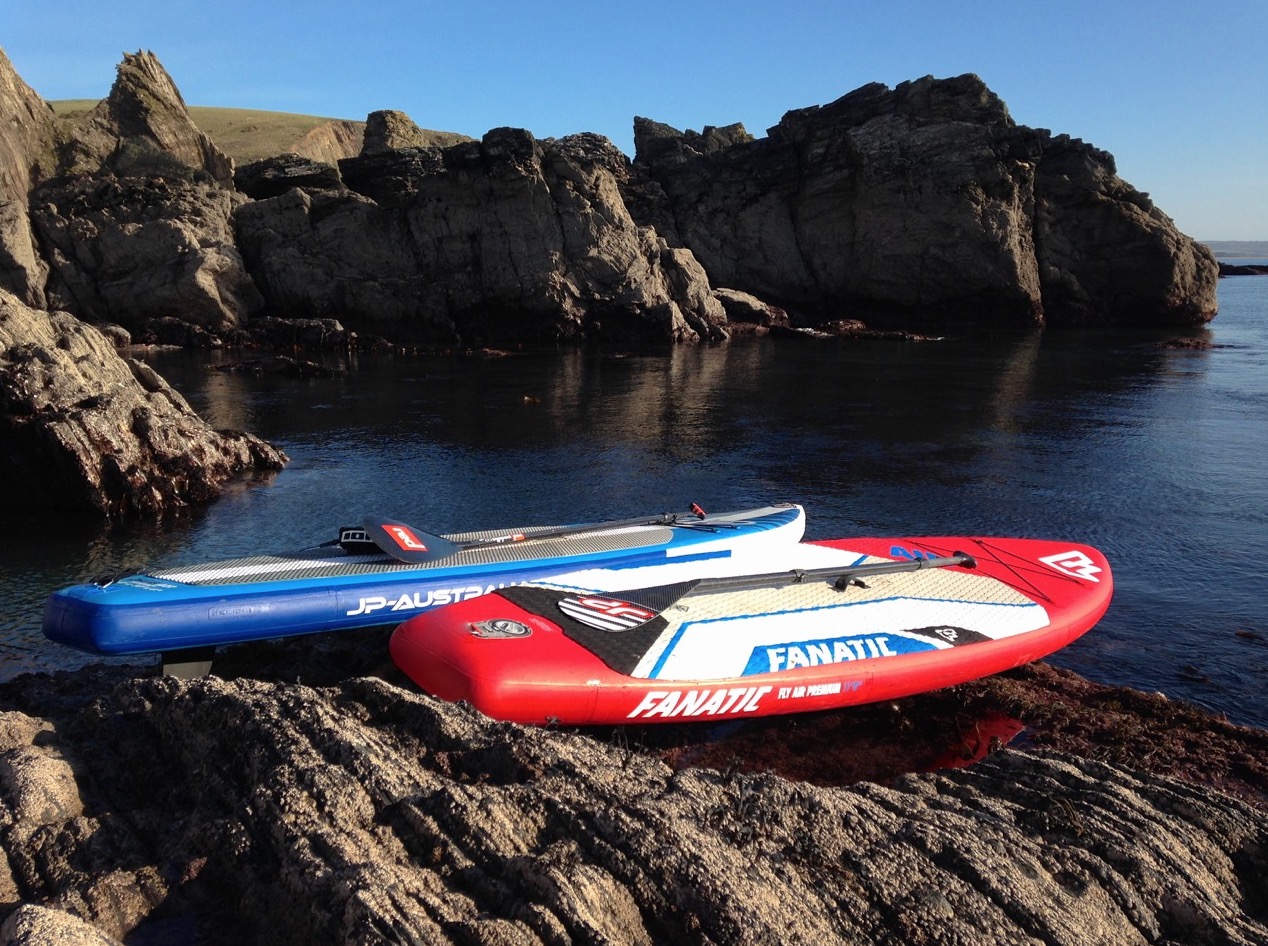 Inflatable paddleboards or iSUPs as they're more commonly called, are now regularly seen at most paddling locations around the world. And there's a good reason for that. iSUPs are practical, robust and meet most general paddlers needs. But there's more to an iSUP than you may think! They're not just a big lylo and they're not all the same. SUPboarder frequently gets asked questions relating to iSUPs, so co-founder Reuben Ellis, who has been using and teaching on iSUPs since the early days, thought he'd share his knowlegde about the boards taking the SUP world by storm…
History of the iSUP
The first iSUPs in the world arrived in 2001 from a brand called Uli based and sold in the USA. Red Paddle Co, a UK brand then followed in 2008. Shortly after in 2011-12 other brands started making iSUPs, but Uli and Red Paddle Co were very much the pioneers of the iSUP. The first generation iSUPs are still around today and going strong! The construction of boards today is still very similar to those early iSUPs. But in the early days the shapes were very simple and the sizes of the boards very similar e.g 10' – 11' and all 100mm / 4'' thick. In the beginning many people and other brands that just made hard boards were skeptical about inflatable boards. Would they really work? Was there really a place in the market for them? The forward thinking brands such as Red Paddle Co and Uli were somewhat looked down upon for making a board filled with air. But they were right! The iSUP has had a huge influence on the SUP market worldwide and helped SUP grow as big as it has today. It has also made the sport even more accessible to people around the world.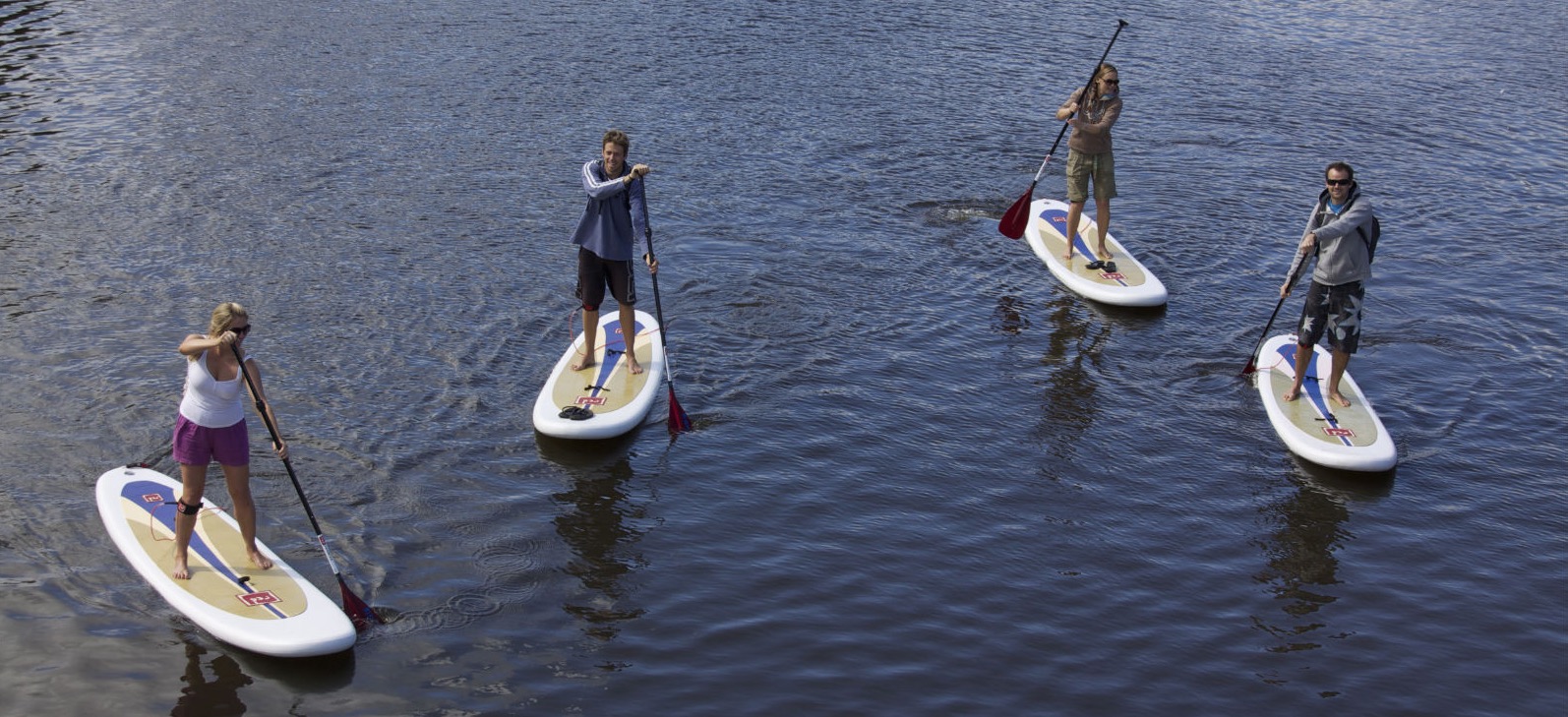 iSUPs today

The iSUP market today is a very different place than it was 5-6 years ago. With over 30 iSUP brands and more shapes and sizes then you can imagine, the SUP market is now largely made up of iSUPs. Including the brands who originally laughed at the iSUP, there now is hardly a board brand without an iSUP in their range. But not all iSUPs you'd want to paddle on! Their construction, shape, rigidity and quality can vary hugely. Out of 30 brands available on the market today, probably only half are any good! So beware!
What are iSUPs made of? And how are they made?
An iSUP is basically made of PVC, nylon, glue and air. The main material that you may have heard of is 'Drop Stitch' which gives the boards their shape and rigidity when filled with air. This technology was originally designed by the Koreans for making inflatable beds, swimming pools and hot tubs. This material comes in different thicknesses and is transported on a large role. The drop stitch is then rolled out on the floor and the board template is cut out. The sides are then glued together with a layer of PVC to make an air tight chamber. The valve hole is cut out and then the valve added so the board can be pumped up. The board is then given rocker (shape). There are a few different ways to put rocker in an iSUP and one of the most popular ways is using heat and pressure. Or another method is for the top and bottom drop stitch material to be cut different sizes producing a board with rocker when glued together. Extra layers of PVC can then be added to make the board and rails stronger and stiffer, but this also adds weight. Generally the heavier the iSUP the stronger and more durable the iSUP due to the additional layers. All iSUPs are hand made, which is the reason why the finished quality of iSUPs can vary not only between brands but between boards too!
Are all iSUPs the same?

The simple answer is NO. There are so many ways iSUPs can differ.
Materials: Generally (as in all things!) you get what you pay for! The better iSUP brands will use better quality materials. The best boards are made from drop stitch material with top quality nylon strands that are close together, giving the board more strength. The higher the number of 'stitch per inch' the less flex your board will have. Some brands advertise this, so worth trying to find out if you can.
Thickness: The thicker the board the stiffer the board. This is is why some brands may recommend heavier riders use a thicker board. 6'' is the thickest. Some brands have tried thicker but this really changes the feel of the board and how you paddle it, and there becomes a point where you are just too far away from the water!
Shapes: Most brands now have a variety of different shapes and sizes of iSUPs to suit every type of paddler.  The shape and feel of an all round 10'5″ iSUP may not vary hugely from one brand to another.  However a surf or racing style iSUP of similar length can be very different between brands. The tail shape for example may be totally different giving each board a unique feel and level of performance.
Fins: The fins can vary massively and they basically come in two 2 types. Fins that permanently stay on the board and fins that you have to attach The fixed board fins are the most solid and durable fins on the market. They can withstand big knocks without an issue, as they are softer and have some flex. However this means their performance is a bit compromised compared to a hard fin. The fins you have to fix on the board via means of clip or screw work well but they are more fragile and therefore you do have to look after them when you're launching and landing, and be more aware of rocks! There are some shocking push fin systems out there on the cheaper boards, which are super fragile and won't last 5 minutes, so please be aware!
Weights: The weights of iSUPs can vary due to the amount of PVC on the board. Even one extra layer of 0.8mm PVC over the whole board can add alot of weight. Many brands are making boards in different constructions for different paddlers needs. If you are a lighter paddler that only wants to paddle on a lake and you have a long walk to get there, then a lighter iSUP would be worth looking at. But if you want to do lots of different paddling in surf and maybe some small white water rapids then it may be better to look at a board that will be more durable and slightly heavier. But as board development progresses, boards are being made lighter and stronger, so this may well change in the near future.
Why are the board pressures different?
This is a very commonly asked question. One board says inflate to 12psi while another says 25psi. Why is this? Well, it comes down to a numbers of things including construction, thickness and knowing the boards limits! And often a combination of more than 1.
Some constructions of boards lend themselves to more pressure. How the board is made air tight on the rails is a massive factor to the amount of pressure it can handle. Generally the boards with less PVC overlap on the rails will be recommended to be pumped up to less pressure.
The thickness of the boards also has a lot to do with the amount of air you need to put in the board to make it feel rigid. A 100mm / 4'' thick board will need a higher amount of pressure to feel the same stiffness as a 152mm / 6'' thick board at a lower pressure.
Knowing the boards limits is a big part of the iSUP world. A good brand will know the limits of its products and will have tested the boards to breaking point! (which is to a psi way beyond what they recommend don't worry!) Therefore be wary of boards for sale that recommend only to pump up to 10psi max because chances are they haven't fully tested their boards and don't really know what they're capable of!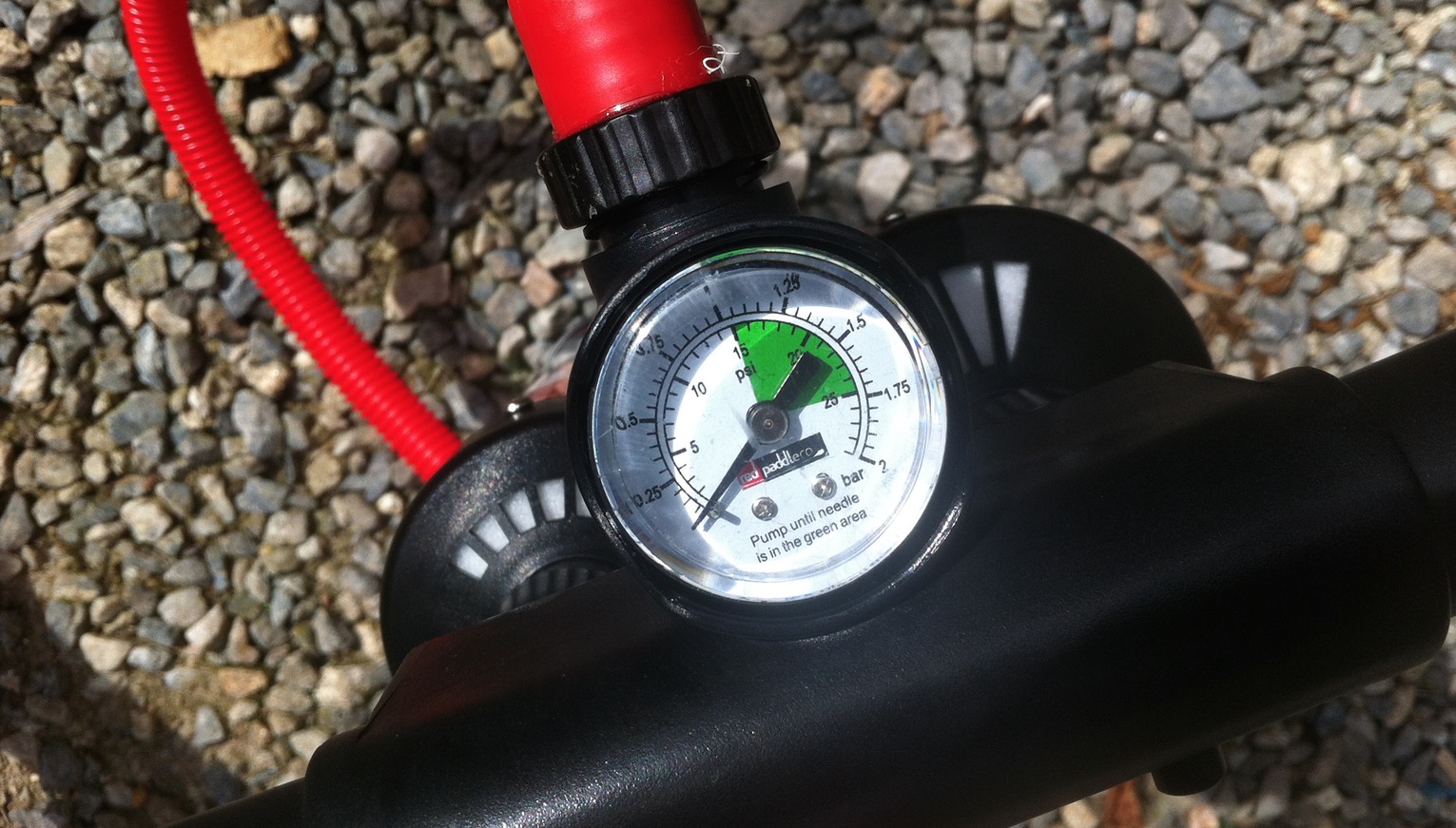 Pros of an iSUP
Easy transportation and storage is obviously the biggest pro when it comes to having any iSUP. Being able to chuck it in the back of the car or store it in the cupboard under the stairs is a massive benefit and reason why more people have got into SUP.
Durability or ding factor: There is no ding factor when it comes to iSUPs! Finding a nice piece of grass to put your SUP on when you come out of the water or whilst you're getting changed isn't always easy. Often the car park tarmac just has to do. With a hard board it's only a matter of time until you get your first board ding. Your board will never look as pretty as it did the day you left the shop! But with an iSUP, 2 years later your board will look just the same (unless your dog has had a good chew on it!). Perfect if the kids are going to use it too.
Easy to sell: It is far easier to sell an iSUP than a hard board due to the first 2 points. Just pack it up in a box and off it goes. Even if it gets run over by the truck it's still going to be the same at the other end! Also buying an iSUP second hand is a much safer bet if you haven't had the chance to see it first. As long as it hasn't got a leak it's not going to have any dings and it's going to paddle fine.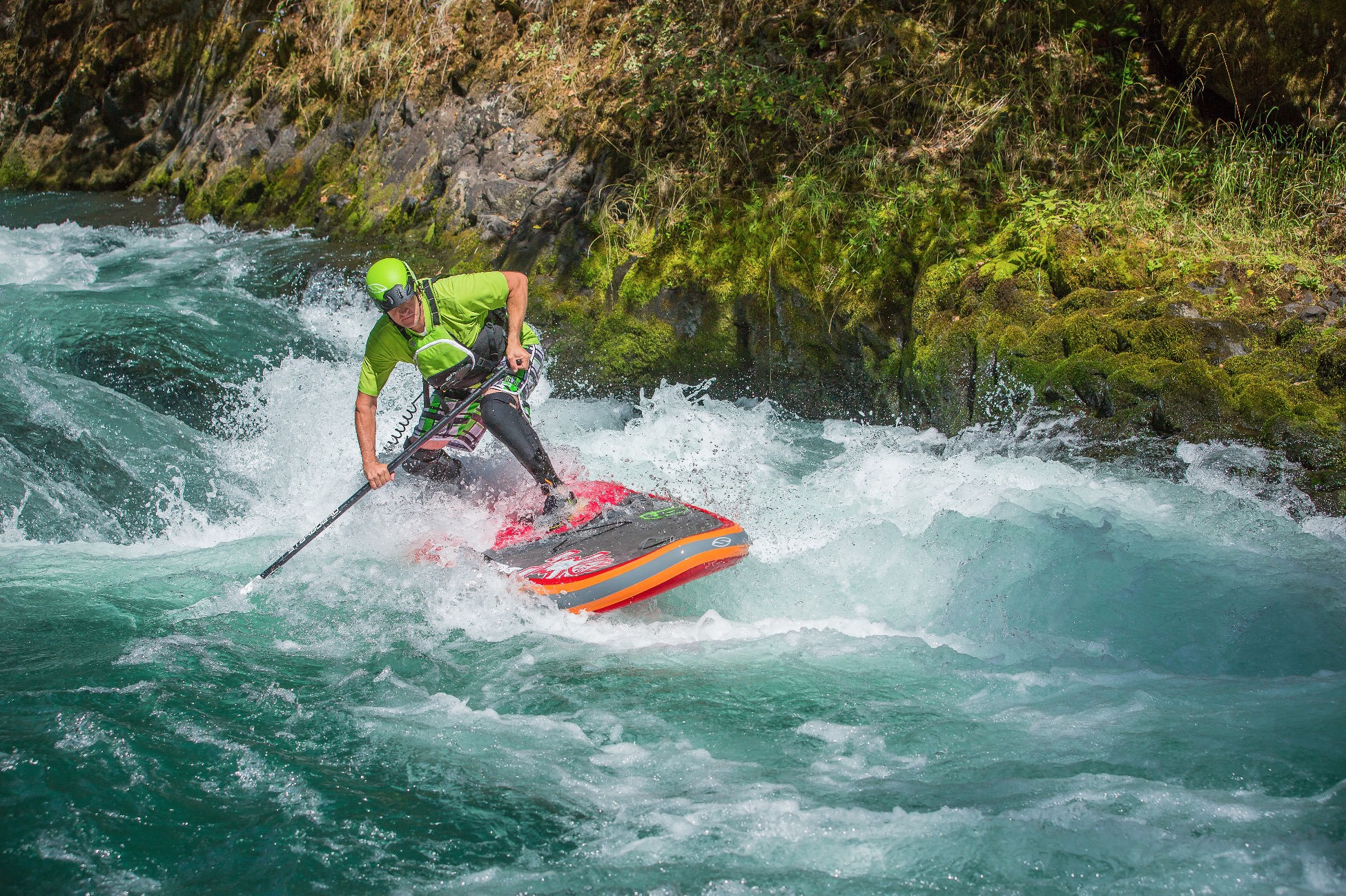 Limitations of an iSUP
There are definitely some limitations to an iSUP despite what the sales pitch is! And it comes down to 2 main things – rail shape and board stiffness. On an iSUP the rails are the same shape from nose to tail (unlike a hard board), which will have a negative effect on the boards speed and maneuverability. Bottom shape and deck shape also effects a boards performance, and this is something that is difficult to produce on an iSUP.
For race boards: To make a board fast you need to have a sharp rail, especially at the back of the board to allow the water to release and not drag the board back. This is why many hard race boards have sharp rails towards the back section of the board. Also the stiffer the board the more power you can put though the board and generate into moving the board forward (not downward). Hence a hard race board is faster than an iSUP race board, especially in chop!
For surf boards: A round rail is good for grip but you also need a progressive rail shape (from round to sharp) for a board to surf well and be more manoverable on a wave. iSUP's do work in surf just not like a hard board does. You will find that when surfing an iSUP you will have to surf a lot more of the back foot to get the board to turn well.
You can definitely surf and race iSUPs, just don't expect to take massive surf drops and paddle past Conner Baxter as soon as you get on one!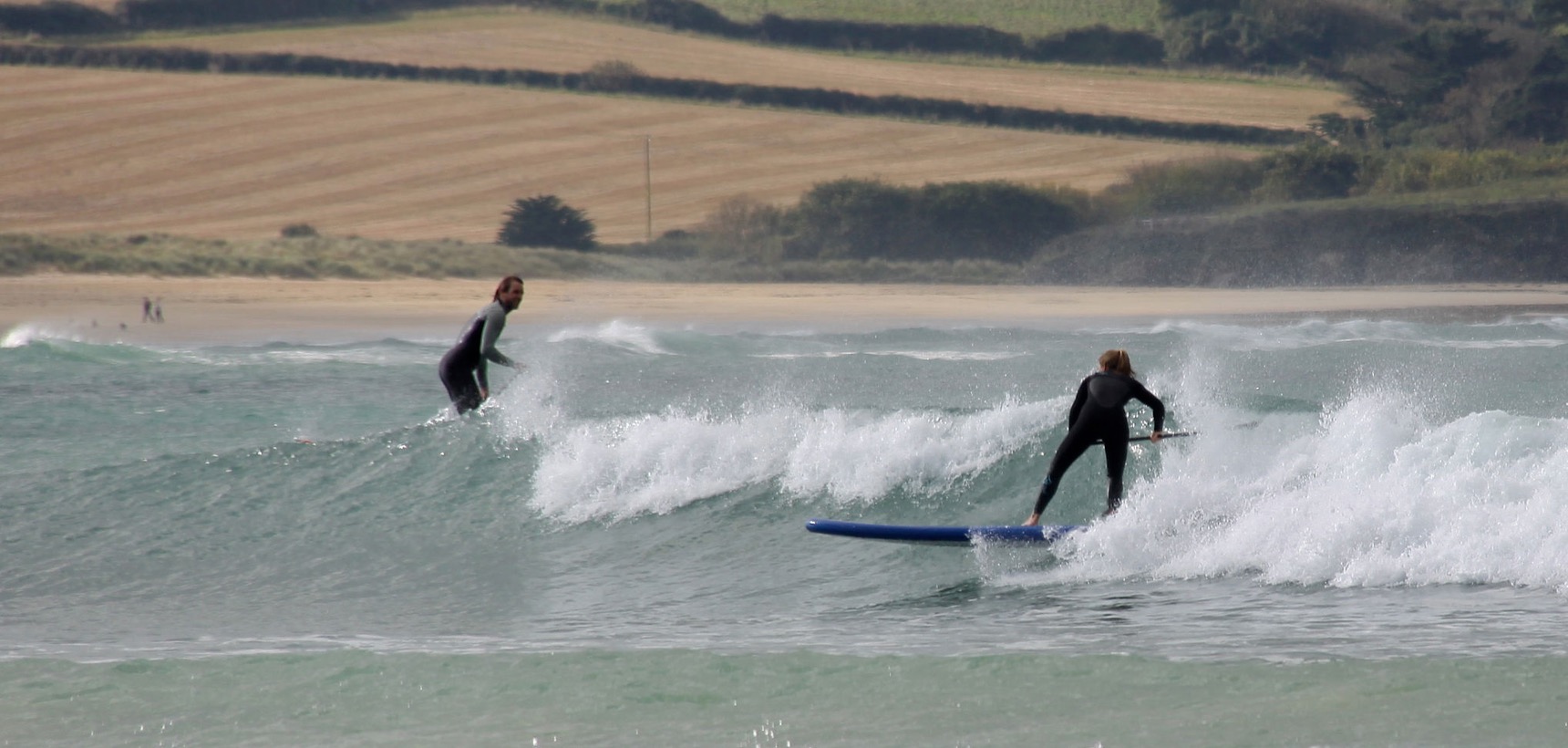 Why do iSUPs vary in price so much?
This is a very tricky question. It can be due to a number of things including exchange rate, manufacturing costs, direct selling ,RnD and quality control. Lets just look at the last 3 points, 1-Direct selling, 2-RnD and 3-Quality Control.
Selling direct to the customer happens with so many different products all around the world. The basic form of it, is the boards get made by a factory and sold by a factory on some well known selling site starting with the letter E, effectively cutting out the middle man (distributor and shop). These boards are cheap but 99% not as good. This is due to the fact that larger well established SUP brands spend a lot of time and money doing testing on their products to make them better and are constantly keeping the quality of their products at the highest level for the consumer. These brands will have their own factory or contracts with the factories not allowing them to sell direct for obvious reasons.
Buying any board from a shop will likely cost you more money. However with that you should get good information regarding the product and a warranty incase you should need it. Buying from a good brand and a shop will hopefully ensure you can easily obtain replacement parts and get your problem solved without too much hassle. A shop owner won't stock a board they're not happy with, especially if there is a problem or warranty issue with the product. So before you buy any board, do your research first. And if you can't find any good information then DON'T PRESS BUY IT NOW just because it's cheap!
Future of iSUPs

In the last 2 years alone we have already seen a massive leap forward in iSUP technology, such as the RRS batten system from Red Paddle Co, and PVC materials combined with Kevlar strips as seen on some RRD boards. It's hard to see where the future of the iSUP will go with regards to constructions and shapes, and what we'll be doing on them. But one thing is for sure, with the brands putting their time and money into iSUP RnD the boards will no doubt be getting even better in the future…feeling even more like a hard board yet maintaining all the benefits of an iSUP.
The lifespan of an iSUP is still unknown because the first ones are still here and paddling strong! Ok some might go a bit soft but they're not going to break! In the future will we be seeing garden fences made out of trusty old iSUPs that refuse to die?!
Top tips to buying an iSUP
Do your research and buy from a brand you've heard about and trust.
Look at the materials and the quality of them. If the brand doesn't know about the materials then they don't know about iSUPs!
Look at the the drop stitch per square inch ratio. The more stitches the stiffer and stronger the board will be.
Try before you buy. Its the best way to guarantee you are going to be happy with your new board.
You get what you pay for! If its new and really cheap then there's probably a reason! Don't be surprised if when it arrives it looks more like a lylo than an iSUP!
Also look at the pumps and the backpack with the board. The majority of the pumps with boards are good and pretty much the same as each other. But there are some absolute shocking pumps out there still! Give afew a try to know how they differ. It's no use having a board you can't pump up!
Pressure and thickness. If the board you're looking at buying is a 100mm thick iSUP and it recommends a pressure of no more than 12psi I can guarantee it's s going to look and paddle like a lylo!
Don't over look the fin systems. Make sure the fin is well secured to the board by clips or screws (not just pushed in!) The last thing you want is for them to fall out and loose them.
Hopefully you won't need to buy any replacement parts. But if you do they'll be a lot easier to track down if you've bought a well known iSUP brand from a shop and not just off a random site on the internet.
iSUPs… some people love them and some people hate them! But one things for sure, SUP wouldn't be where it is today with out the iSUP. For me, I've been paddling with them since they first came into the UK. There are some amazing brands and boards out there that are well worth paying the extra money for. So before you buy, do your research and try afew out first. If you make the right choice I can guarantee you'll have many happy years of iSUP paddling (and it will probably out live you!)

For more information about the differences between hard boards and iSUP's read SUPboarders "Inflatable or hard?" feature here.
For more information about finding the perfect iSUP for you visit the SUPboarder board guide here. 
Words : Reuben Ellis / SUPboarder Mag