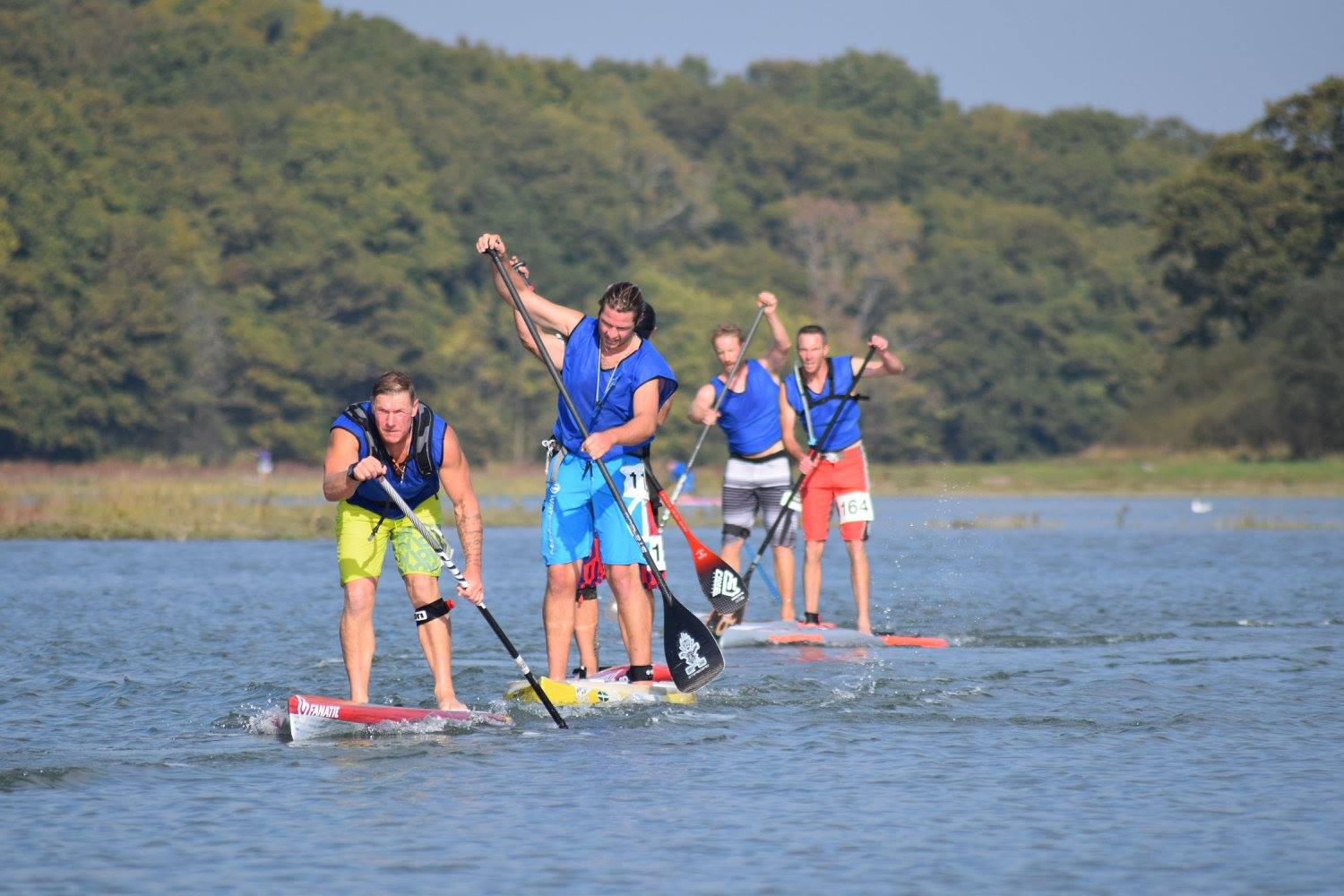 The 2015 UK SUP Clubs race series has been strongly contested all year and with only 2 rounds to go Crispin Jones from Waterborn SUP Club wanted to make sure that racing in the 14′ fleet stayed as close as possible before the series finale in October. Here is his SUPboarder race review:
It's hard to believe just how quickly the year has progressed, the penultimate race of the UK series hosted by Action Van SUP Club, the sun was shining and some 80+ paddlers hit the Hamble to battle it out. Having never paddled at Southampton or the Hamble I wasn't sure exactly what to expect, while growing up on the coast I was aware of the 'Double High' around the area and in essence creating 4 high tides a day but had never experienced them first hand.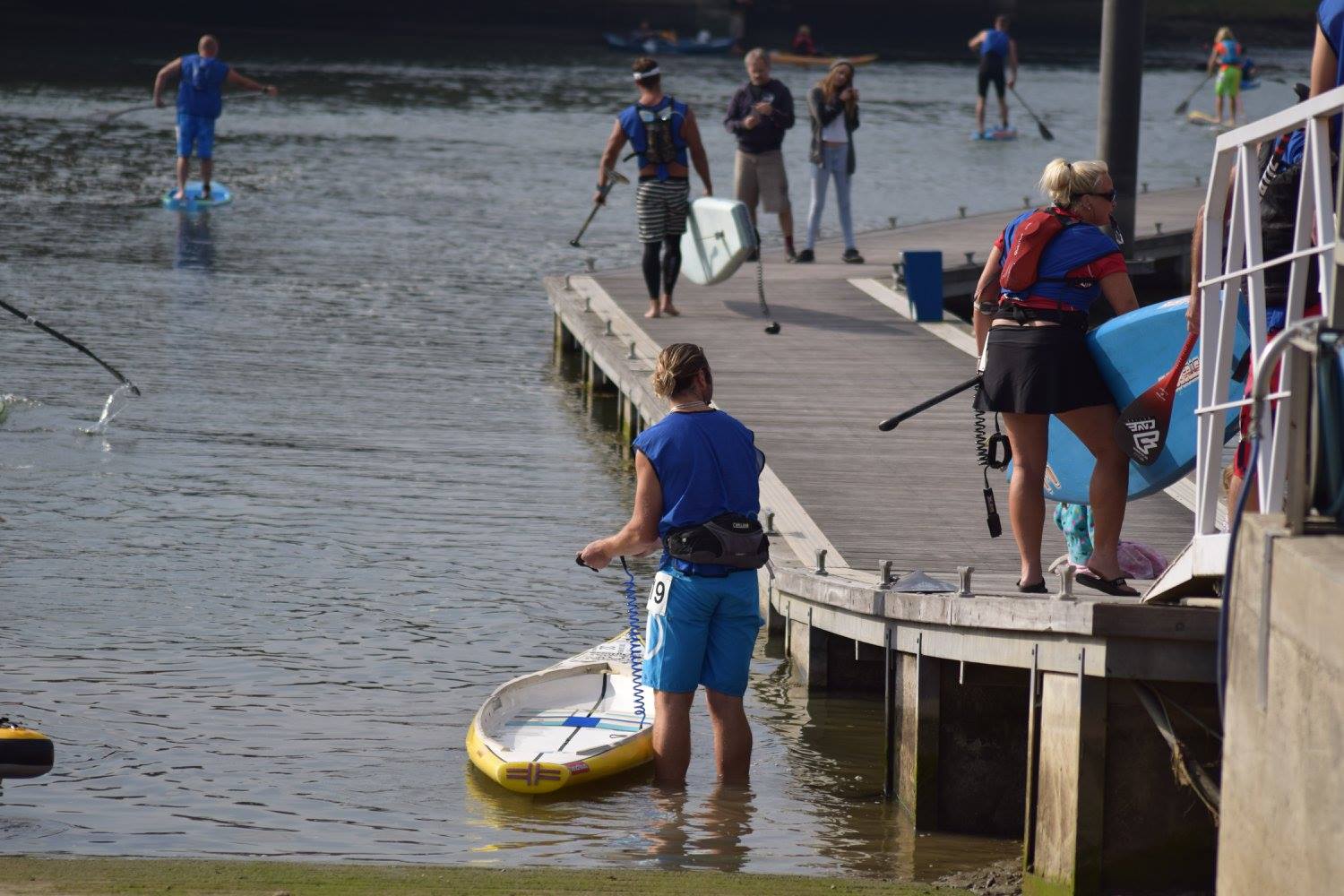 Looking to keep pressure on the men's 14' fleet I turned up wanting to at least not make it easy for competitors to acquire vital series points. Racing between Scott Brown, Ben Payne, Tim Harley, Mark Slater, Will Vincent, Phil Plume, Carl Thomas and I has been extremely tight this year, much of it boiling down to board choice for the conditions and general fitness/health on the day, also Marginal Gains, check out Bryce Dyers Article.
With so many all in the mix for the 2015 season top slots, every paddle stroke counts.
After an efficient race briefing from Karl Hobbs, and a well presented course map I might add, everyone made their way down to the water. The tide was flooding well and it was my first insight to the tides I had been anticipating. I knew I wanted to get a decent position and to make the best possible use of the few knots of running water, so with a few minutes to race start I stemmed the tide, had an energy gel, started my GPS and waited for the all important GO.
Sitting next to the UK's top 14' paddler Ryan James I tried to slot in behind for an early advantage, his lightning pace off the line on a light board though was far too quick for my aircraft carrier! Glancing around me I could see this was going to be a fast paced race. With the tide behind us we were going around 13km per hour! Thankfully it settled slightly but remained fast for what felt like the entirety of the race. Ben Payne got a great start and was leading the way as we headed upstream towards the first set of race marks, it wasn't long however before Ryan upped his game and took the lead. Scott also had a great start and was just over a board's length from the pair of them most of the way to the first of the top markers, Tim just fractionally behind trying to get on Scott's draft. In what felt like a re-enactment of the Great Glen, but lighter and much warmer, I could hear the surging of water coming up from behind me; it was the machine Mark 'Slasher' Slater! He stormed passed with clear determination, as myself and Will were right next to the top markers at this point we didn't see the need to move over to engage a draft, we all rounded the markers and sprinted out of the turns desperate to create a gap.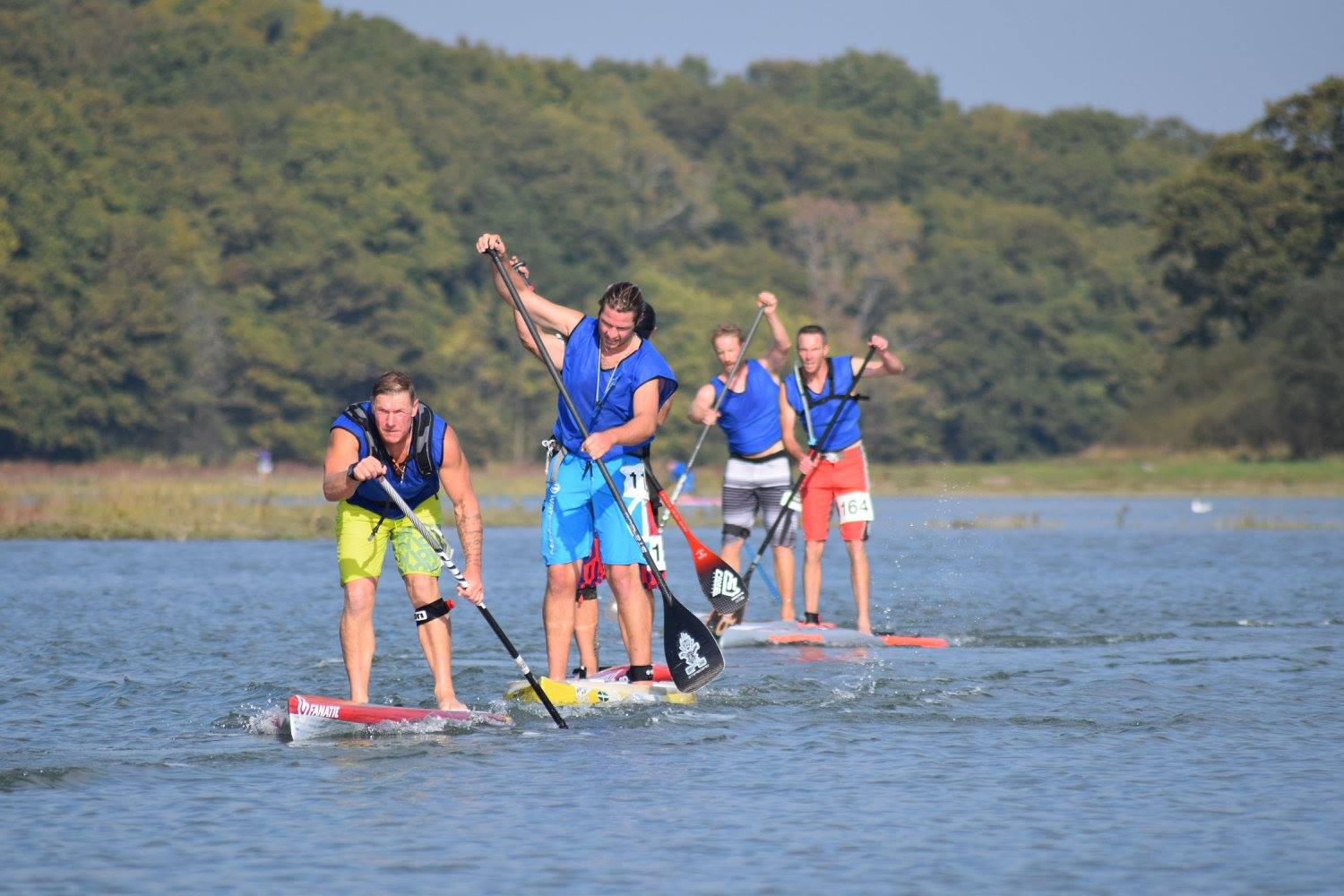 As we headed back against the tide I was in two minds, Will was paddling solidly and making small gains on Scott and Tim but Mark was clearly fired up, I slotted in behind but it felt hard work, his Fanatic board was rolling side to side and being further out in the channel he was having to work hard against the tide. I switched back to Will and after a quick recharge and some hydration (it was hot for the beginning of October) I decided to make a move. Taking the closest line to the bank, as much out of the flood tide as possible I slowly pulled passed with Scott in my sights, at this point he was reeling in Ben who seemed to be slowing slightly. I paddled hard against the tide and wind and could feel the gap closing, unfortunately though everyone else was slotted in behind me, I managed to glance back and saw a good 7 of us plugging away. Mark soon made another move as we got close to Scott, I knew I had to stay with him and beating Scott was imperative if my chance at a series 3rd was to remain on the cards. As we headed through the busier sections of the Hamble where all the Yachts were moored it was hard to work out exactly where we were going, thankfully, the AV Club team were at hand, out on boards acting as human sign posts we were directed passed some fairly impressive vessels. Again a slight flash back from the Great Glen as Mark almost ran aground on a shallow bank but we gained a lot of time on Ryan who wasn't directed the same way as ourselves. We were never going to catch him barring any disasters but you never know what can happen while racing so we plugged at it. By now it felt as though the tide was again with us as we hit the slight drop in-between the famous Double High's, unfortunately though it was time to turn and head back against it. Now knowing the exact route back I kept making small pushes to see if I could pass Mark and dictate the pace and apply pressure, every time I tried though, Mark responded and upped the pace. When we passed under the last few bridges it was time to sprint, the problem is that myself, Mark, Tim and Scott were all sprinting; it was going to be a close call and all the play for. Mark kept his edge and finished in 2nd, Ryan securing his Win and also securing his dominance in the series to Claim 14' Champion for the Year, Congratulations. I just held off Scott and Tim by a few seconds and it will make for the finale down on my home turf extremely interesting. Christine Anderson also secured her position for 14' Female Champion, Great work Christine!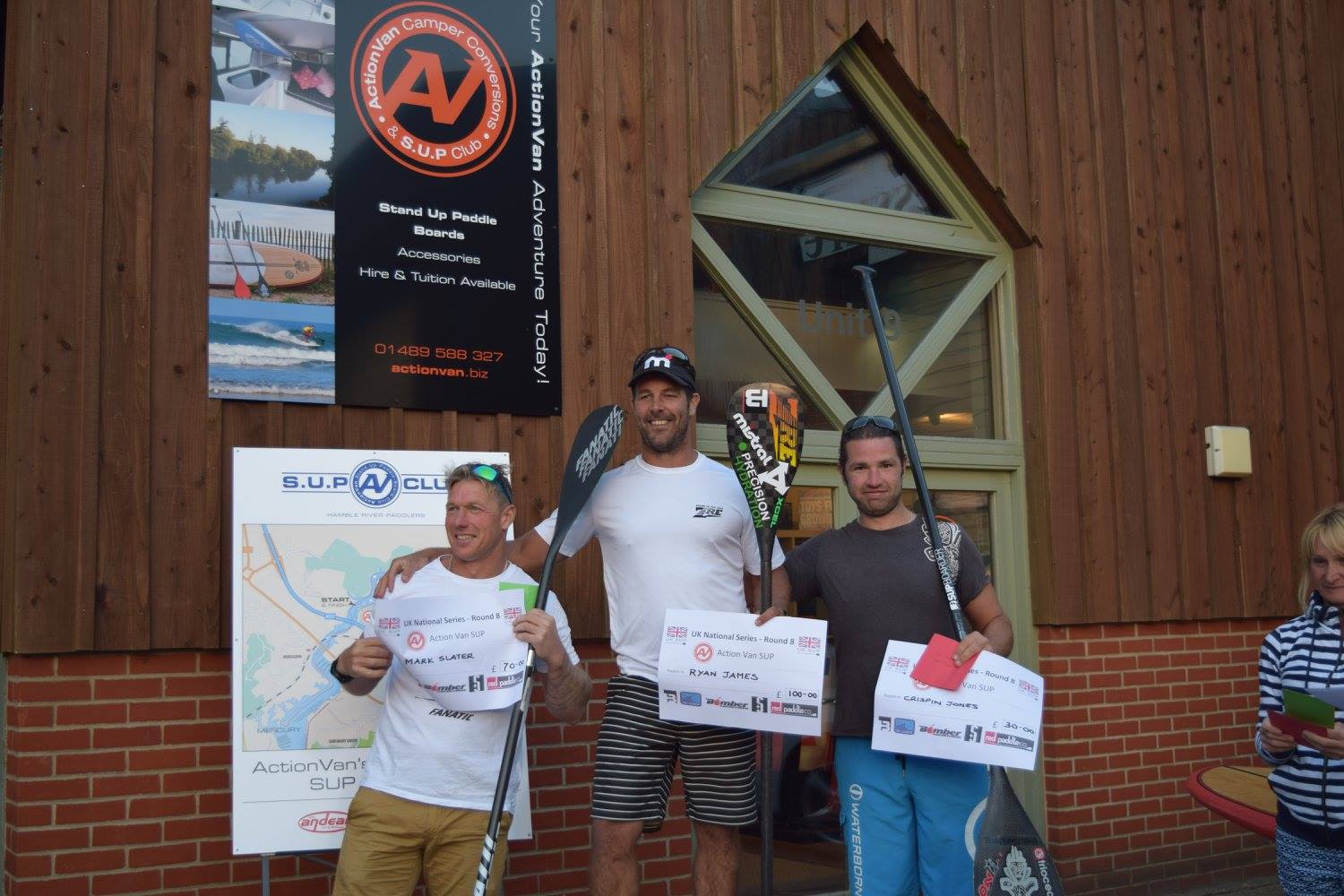 Thank you to Action Van SUP Club and a fun and well run event, I'd also like to congratulate everyone that took part in the fun race, often these are the racers of the future and it can feel a fairly intimidating experience taking the plunge into a new direction of SUP, despite being some of the kindest sporting athletes I've ever had the privilege to be part of its always hard to try to turn up to these events are not feel overwhelmed, so big congratulations to all of you and hope to see you again soon.
Waterborn are hosting the UK SUP Clubs Series Finale down in Kingsbridge on 24th October and look forward to seeing everyone for a race to remember. You can sign up here
Also plenty of daily updates are available on their facebook event page – SUP The Creek
Words: Crispin Jones, Waterborn SUP Club
Images: Georgia Wharton