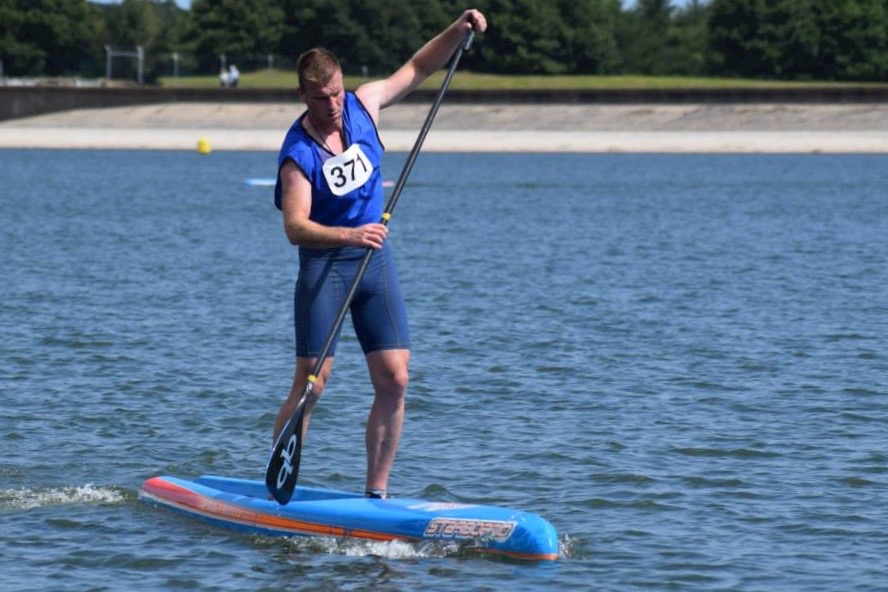 Race boards vary a lot in their design and finding the right one for your paddling style can be quite a challenge. Even then when you'e found the right board at the right price it might not be perfect. In other sports it's not uncommon for athletes to take their sponsors kit and tweak it to their personal preference, in SUP even a top of the range stock race board may need some changes to maximise your performance or to get as much 'free' speed on the water. "Marginal Gains"was a phrase coined by Sir Dave Brailsford with Sky Pro Cycling and in this article Dr Bryce Dyer explains how he has customised one of his race boards to get the most out of it. 
I conducted a study a few years back whereby I'd evaluated a range of Olympic sports and looked at their rate of performance improvements over long periods of time. My conclusion was that the biggest jumps in performance over the last few decades were due to technological changes, not huge jumps in human physiology. However, SUP is a newer sport and is therefore still early in its journey to the land of diminishing returns. This all said, the margins are tight and any gain in straight line speed is a gain worth having when you consider the majority of the events in the UK are held on flatwater. To give you an example of this, Scott Brown beat Crispin Jones for the last step of the 14ft podium by just 8 seconds in a 90 minute race at the recent UKSUPClubs event held in Norfolk. This gap equated to roughly just 0.1% of their total race time. On that day, Brown was riding a Starboard 26.5 wide Allstar whereas Jones was on his 30 inch wide cut down Starboard. Despite the impact of drafting, the fact that both paddlers are on radically different boards, suggests that one or the other profited from superior equipment (or ultimately was the best all round compromise on the day). Whilst you might be thinking that any defining factor is likely how well you paddle, you'd be right. After all you can't turn a donkey into a racehorse and SUP flatwater racing is still essentially an aerobic sport. However, any decisions you make with your equipment, is basically free speed and a completely separate decision to any effort to what you've being doing in training. One does not need to justify or influence the other.
In part of my day job, I research ways that I can improve and measure performance in sports technology and this interest expands into my own hobbies. As a result, I thought I'd illustrate how I customised my own race board to suit my own needs when I race. I purchased my first race board last year from the SUP Store in Bournemouth. It is a 2014 Starboard 'Sprint' in a 26 inch width.
I have changed it in a few ways to make it easier to handle, to be more stable and to give me the information I want when racing.
Improving Stability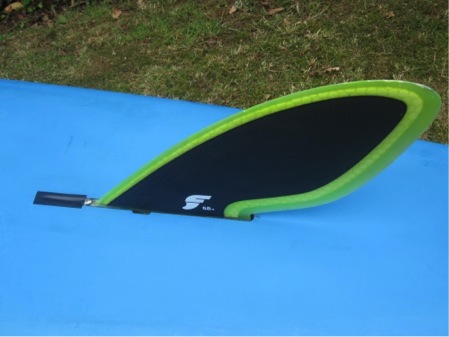 One of the first things I did was play around with was my fin choice. Fin size, position and shape can massively alter how a board behaves. The stock fin I found was fine but I when I tried some aftermarket models, I found I could drastically change the way it tracked and rolled. On this board I've currently opted for the biggest surface area I could find. In this case, I'm currently using a Future's JB Runner.
Many will say that a fin this large creates more drag but the level of drag is dependent on your typical speed. In addition, what many forget is that when a company says their fin has low drag, they likely haven't simulated it with the fin oscillating with the typical roll a paddlers board is subjected to. It's no good having a thin, low drag fin if the board is going through such lateral roll that the fin generates a huge wake.
There is a relationship between a fins surface area and the turbulence it generates based on its length and profile that should be tailored to your ability.
Not only that, whilst the force of the paddles blade in the water is propelling the board forwards, the paddle is probably not applying all of its contribution directly in line with the board. As a result, like a dagger board in a sailing dinghy, a fin can actually produce a positive drive forwards. Being big may not mean being slow. It's well worth experimenting.
By the way, I intend to countersink the bolt that holds it in place at some point if I can. It makes no sense to have a fin that is highly hydrodynamic in design and then ask a customer to whack a round headed bolt directly in front of the leading edge. If speed is the aim, fin manufacturers should really tidy that area up.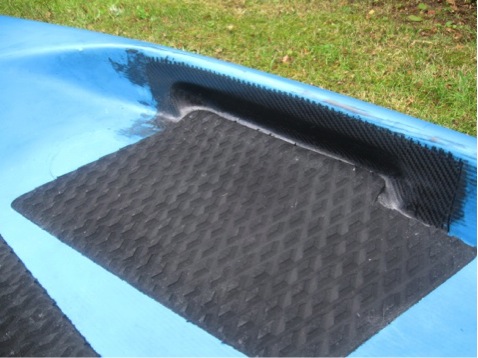 Being a novice racer this year, you could argue it might have been wiser for someone like me to opt for a slightly wider board where balance is a given and not six months on a wobble board. However, I calculated that the time gains from myself to several other paddlers decreased massively in my favour when I switched from my 28 inch wide 'Allstar' I'd used at the UKSUP Clubs Nottingham leg to my Sprint at the subsequent races. Part of this speed gain is the decrease in mass of moving from the glass build of my Allstar to the carbon Sprint. Its shape also obviously has some impact. The other big factor is likely the 2 inch decrease in board width. However, in chop I have struggled with the Sprints relatively narrow width. To help this, I sent my board off to a trusted source to get two foot indentations carved out on each side of the footwell, and then refinished in carbon fibre to my specifications. It might not be pretty but I found it has helped massively.
This allows me to have a slightly wider stance, thereby increasing my stability. In this case I gained another two inches. This might not sound like much but was an increase in feet stance of 10%, taking my effective stance width to the same as it is on my wider 28 inch wide Allstar. I then took the opportunity to replace the deck grip with something with more friction and cut it to fit the new recesses.
Be warned that this kind of mod isn't for the fainthearted, needs a board shaper that has experience you can trust, voids any warranty you have and likely reduces the boards second-hand value.
Note from editor, Bryce is a tall guy and will get most benefit from this dramatic change to his stock Sprint making the board more stable for the 'novice' paddler and allowing a narrower stance later as he progresses with his career. The 2016 Sprint range from Starboard feature a deck that has been made wider by undercutting the side, a full length version of Bryce's modification.
Improving Information
Information on the move is often limited to our own perceptions or at best a GPS wristwatch. That's not a bad thing as there is an old saying that athletes can get 'paralysis by analysis' or the numbers you see in a flash suddenly become a rod up your own back. Seeing a change in speed could indicate a current you need to move away from, a change in stroke rate an early sign of fatigue or a change in heart rate as helping a decision whether you should bridge a gap or make an attack. A wristwatch is in the wrong place to do this so I use a deck mounted Garmin 800.
You don't really want to be drilling holes in your board (as if water gets into the foam core, it can suck it up like a sponge). Instead, I use a standard cycling Garmin handlebar mount and then use its thick elastic bands run through the front leash anchor point. I could have customised a stick on Go Pro camera mount but due to my footwell depth, there was a risk the paddle could strike it when changing sides. By the way, I use more than one fitting band in case one snaps and I also use a thick foam pad behind it to help absorb any vibration of the board that could shake it loose.
Note from the editor, mouldable silicon glue like Sugru could help with adhesion and vibration when attaching electronics to a board. Also be aware that The Garmin Edge series is water-resistant which is enough for it's original cycling market.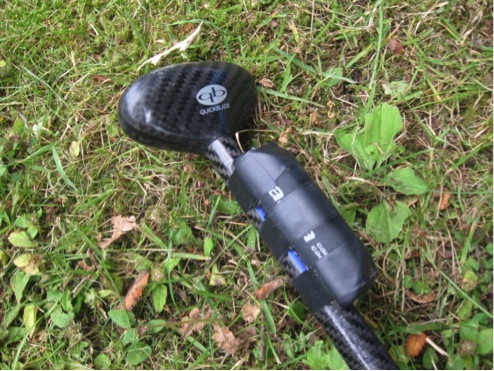 My Garmin is linked to a cadence sensor I've taped on my paddle blade. My sensor is a modified Vaaka sensor (they are not currently available for SUP paddlers) and this lets me know my stroke rate. I have done some testing with determining my optimum stroke rate but it also lets me know when I'm getting tired as I personally find my cadence drops badly when I fatigue.
With this set up, I can then glance down when I need to and I personally like to see my current speed, heart rate, stroke rate, elapsed time and 60 second rolling average speed. Review of this information later in performance software I have then lets me know what went well and where things need to be improved in the future.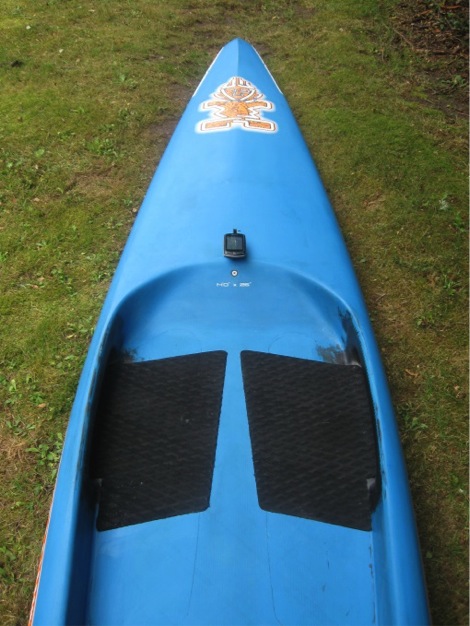 At the end of the day, no gadget or hacksaw alone is going to notch you your next big win. However, everything in sport can be equated to a set of scales balancing the factors moving you forwards or those slowing you down. Manipulating these might start to tilt those scales more in your favour….
Words and images : Dr Bryce Dyer
Featured image : Georgia Wharton