The Stand Up World Tour at Huntington Beach US Sup Open
Press release : Waterman league
Poenaiki Raioha puts on a flawless performance on the Final Day of action to take victory at the 2015 US Open of Stand up Paddling
Poenaiki Raioha (F-One) put on a flawless performance this week at the US Open of Stand Up Paddling, with some of the most progressive surfing imaginable and a mindblowing success rate.
Blitzing his way through the rounds, it seemed sure early on that he would make it far in this event, and with each heat, came an even more successful strategy, as he linked together seamless full rail turns and through the lip, fins free maneuvers to wow the judges and spectators alike.
Making it to the final day of competition, he was the one standing in the way of Zane Schweitzer's World Title hopes, a win that would earn him not only a place in the Finals, but on the Podium for the overall World Rankings.
He put on a performance to be remembered in his semi final against Zane, and then seemingly unphazed, went onto do the same in the Final to secure his first World Tour win and 3rd place overall for the year. At just 17 years old, Poenaiki is not only a star of the future, but of the present too, as he is one of the leading lights of the new guard that is filling in the top spots on here on the Stand Up World Tour and represents Tahiti's 'New Guard'.
Caio Vaz has to settle for 2nd place in the US Open of Stand Up Paddling, but walks away the 2015 World Champion
Caio Vaz (Art in Surf) was certainly one of the on form surfers of the event, with unmatched consistency as he marched his way through the rounds on his way to the Final. He knew what he had to do and stuck to his game plan to take victory over Sean Poynter in the semi finals. From there he sat on the beach and waited for the completion of semi final #2 to see if the Title Race would continue onto the Finals.
In the end, after two years of having to settle for runner up in the World Title Race, this year it was meant to be, as his only remaining adversary in the final 4 was Zane Schweitzer (Starboard), who fell at the hands of the young Tahitian phenom Poenaiki Raioha (F-One).
With a berth secured in the Finals and the World Title now his, Caio was determined to earn his first event win of the season to finish off the year right. Although this was not to be, Caio has once again showcased the extent of his impressive ability in all kinds of surf and proved himself the man to beat as we look ahead to 2016 and beyond.
Zane Schweitzer narrowly misses out on a World Title this year, but has clearly shown he has what it takes & it is only a matter of when
It was a bitter sweet day for the young Maui Champion Zane Schweitzer (Starboard), as he posted his best result yet on the Overall World Rankings, finishing in 2nd place and put on an impressive performance to remember throughout the surfing component of the US Open of Stand Up Paddling. However, with a Title that felt so close, there was no way to hide the disappointment that Zane felt that it wasn't to be him this year.
One thing is for sure: Zane Schweitzer has not only shown himself to be one of the greatest talents on Tour once again, but has also proved that he is a real World TItle Contender, with an event win and two semi final finishes to his name in 2015.
There is no doubt that Zane has a World TItle, if not multiple Titles in him: getting so close in 2015 will only fuel this young Champion that much more to achieve his goals over the years to come.
Sean Poynter puts on a solid performances and battles until the dying minute of the heat, but is unable to overcome Caio Vaz
Sean Poynter (Starboard) has always been a major threat on the World Championship Tour, but it wasn't until this year that he seems to have made a conscious step forward in his mental approach to competing. The talent is there, the work ethic is clear and now his competitive strategy is finely tuned to position him as one of the most dangerous athletes on Tour.
Coming into this Final day of competition, Sean Poynter (Starboard) was the last US (mainland) athlete remaining in the draw, as he set out to do battle against the new World Champion Caio Vaz (Art in Surf) in semi final number 1. With under a minute to go in the heat and trailing the Brazilian by a large margin, Sean's ability to respond under pressure got him to within 0.5 of a point of taking him out of the competition, with a dazzling right hander that went up into the excellent range.
Unfortunately victory over Caio in this heat was not to be, as Sean had to settle for a very respectable 3rd place in the event, and 4th place overall for the year. While Sean was disappointed not to wrap the year with a win and a podium finish, he has once again positioned himself as the USA's leading light on the World Championship Tour and a major force to be reckoned with.
Izzi Gomez secures her 3rd consecutive Event win here in Huntington Beach, and in the process, the 2015 World Title
Huntington Beach is a City that has become a very special place for Izzi Gomez (Starboard), as she was able to lift another Event Trophy over her head (now her 3rd consecutive win here in Huntington Beach, a place where she secured her first event win just 2 short years ago).
Beyond the event victories, it is also where she secured her World Title in 2014 and then again in 2015, as history continues to be made by this 2x World Champion at such a young age (just 15 years old). There is no doubt that this phenomenal young talent has an incredible future ahead of her and this is just the beginning.
Today's performance in the all important final heat of competition could be seen as a peak in her surfing for the year, as she put on an impressive display of her ability and grace under pressue in the challenging conditions on tap. A victory over the dark horse Mariko Strickland Lum (Naish) was a great way to end the year for Izzi, as she will now regroup, train and focus on an exciting new year ahead in 2016.
Mariko Strickland makes her presence felt here in Huntington, finishing in 2nd place in the Final against Izzi Gomez
Mariko Strickland Lum (Naish) is not a brand new face or name on the World Championship Tour, as she has stepped up to do battle many times over the past few years, whether it be in Surfing or Racing. However, after working through an injury through the back end of 2014 and early 2014, she came into this US Open event somewhat under the radar, but put on a performance that was anything but under the radar.
Mariko took down some of the sport's biggest names on route to the Finals and while she wasn't able to find the waves she wanted or needed to take down the 2x World Champion Izzi Gomez (Starboard) in the final, she walks away from this event with a solid 2nd place finish, but also the confidence that she does have what it takes to take down the best of the best on the global stage.
There is no doubt that Mariko is a force to be reckoned with and it will be exciting to see how she fares through the 2016 season, with the annual pilgrimage back to Oahu's Fabled North Shore scheduled to take place once again in February.
#USSupOpen Day 6
#USSupOpen Day 5
#USSupOpen Day 4
#USSupOpen Day 3
On Day 3 at Huntington Beach Felipe Rodriguez won the Men's Trials and he was joined in the main event by Riggs Napoleon, Colin McPhilips & Kieran Grant. Unfortunately Aaron Rowe couldn't find the waves to put him into the finals and progress him onto the main event.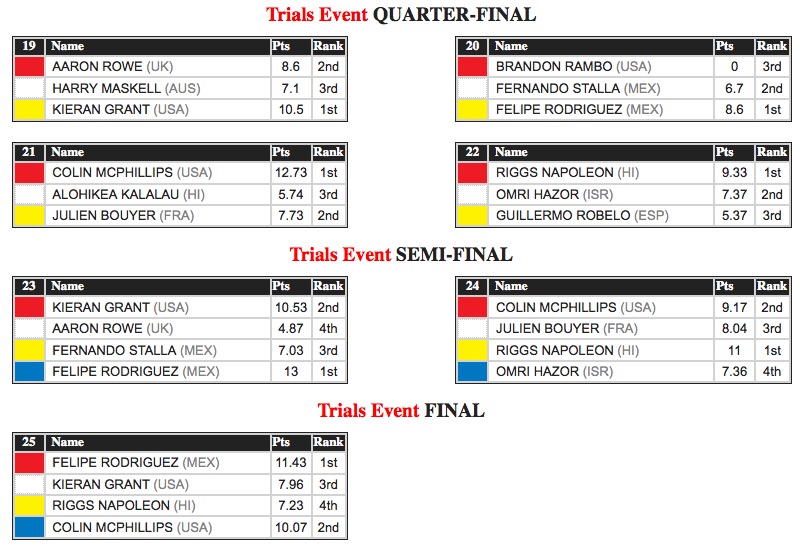 The trials for the event have got underway with 43 male athletes battling it out for 4 spots in the main event which is due to take place in a few days time. The trails this year has more male competitors than the main event which has 36.
#USSupOpen Day 1-2
Aaron Rowe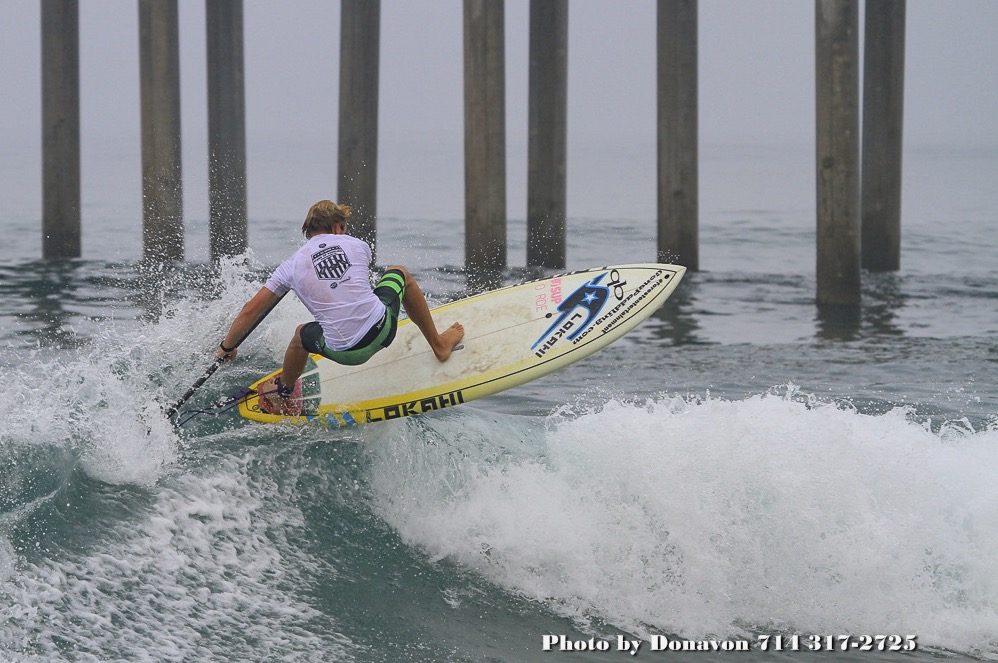 Our very own Jersey ripper, Aaron Rowe is there and is killing the trials so far. First place in every heat, he is making the best out of the little swell there is. Aaron is a ninja at ripping every little bump apart. He still has a lot of work to do to get into the main event, with some big names like Colin McPhilips and Fernando Stalla standing in his way. But best of luck to Aaron and thanks to fellow UK paddler Chris Bates for keeping him on track!