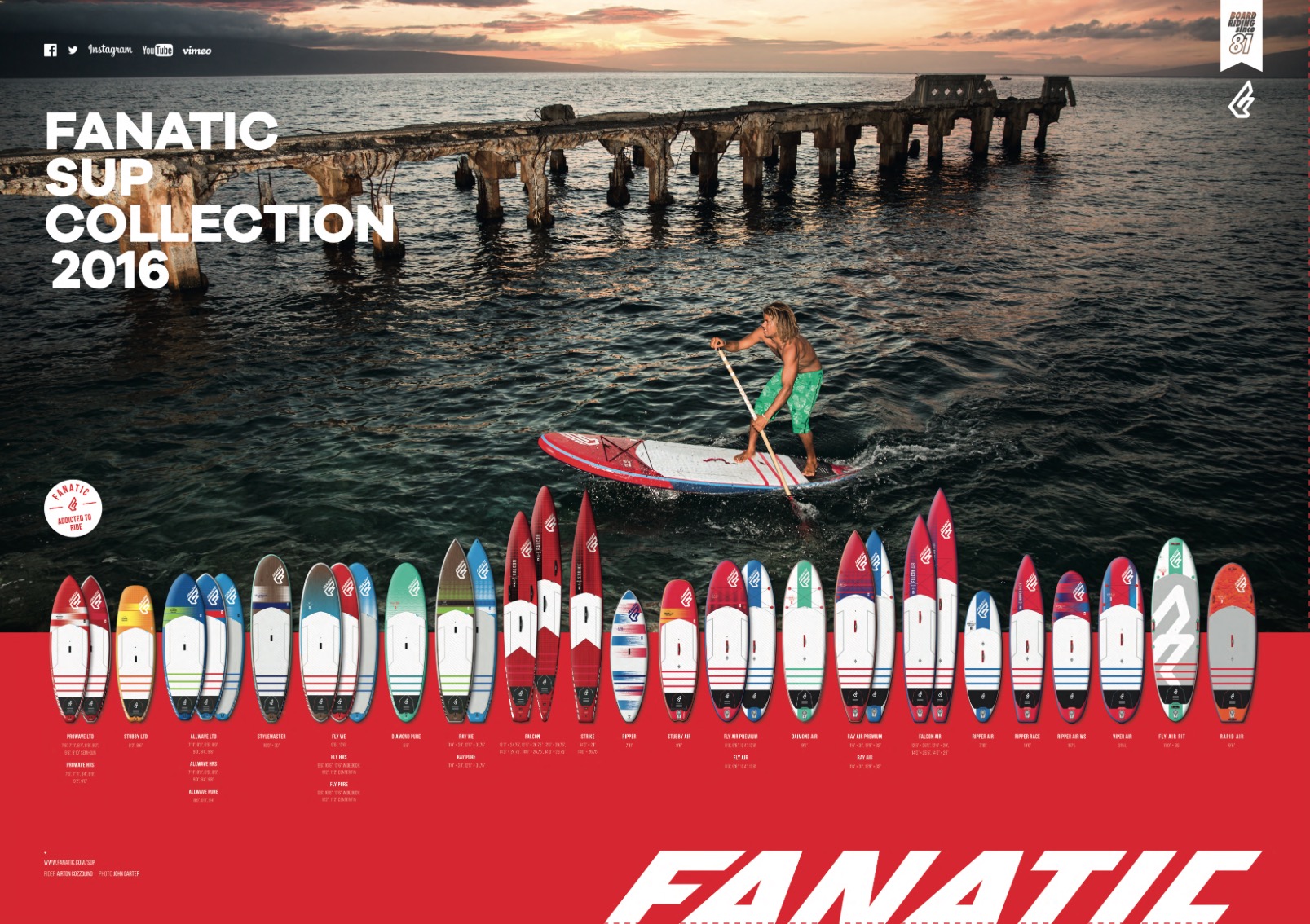 After the early release of some of the Fanatic SUP boards, Fanatic have now released their full range and updated their website with product videos as you can see below. We have yet to see in the flesh the full range of 2016 boards but if their product videos are anything to go by, it's a full and action packed range with something for everybody. SUPboarders pick of boards we particularly like the look of include the new Stubby, Stylemaster and the Strike. We look forward to giving you a full SB review soon.
Check out the full press release from Fanatic below;
We are happy to announce that after the first launch of our Early Releases Stubby/Stubby Air, Diamond/Diamond Air, Fly Air Fir & Platform and Rapid Air on July 15th, the rest of our 2016 SUP Collection is now online on our website here.
Waveboards: 
For 2016, our wave collection is world class, spiced up with that little bit of innovative "Je ne sais quoi". The high performance ProWave remains the adrenaline junkies trusted steed. Supercharged, powerful and balanced, its flow on the wave is outstanding, delivering tight arcs deep in the pocket. For unbeatable fun in all types of waves, then the AllWave is for you. Wider, thinner, and more compact outlines deliver a grippy ride, perfectly complemented with easy wave catching characteristics. For those wanting a ride that mimics that of a classic surf Longboard, we bring you the Stylemaster. Brimming with effortless flow and harmonious surfing curves, you'll feel right at home when the rails engage for the first time. You can thank us later!
Allroundboards:
Want something for everyone? Then there's a Fly model with your name on it! A range so inclusive it delivers an effortless, smooth glide across flatwaters, and lots of ›get up and go‹ in small to mid sized waves. With the ability to transform into a windsurfer, there's no end to the potential of this lines' ability to have fun.
Touringboards:
Adventurers looking for maximum output with minimum input, we bring you the Ray. Taking inspiration from our race series, we combine an elite waterline with outstanding stability in order to deliver
you uninterrupted paddling. Intricate detailing will make your experiences exceptional, whilst our variety of constructions suit every individuals' style and needs.
Raceboards: 
Why settle for 2nd place when the winning ride is with the Strike or the Falcon! Easy to manoeuvre, this line is filled with endurance machine delivering impressive top speeds. Our designs ensure a razor sharp bow and V release for unhindered glide. We have the winning formula, do you have the drive?
Inflatable Collection:
We realise that off the water there are limitations, which is why we continue to broaden your horizons with our Fly Air Inflatable range. Looking to open doors and include all who appreciate the sport, we bring you our most popular models in a lightweight, compact and easy to transport inflate/deflate package. The Fly Air and Ray Air continue guarenteed inflatable fun for any type and style of rider. The youngsters will find the Ripper Race to be a competitive haven based around our famous Falcon Air design, while the Ripper Air remains the ultimate all-round kids board. The Viper Air & Ripper Air are the most desirable WindSUPs ever – fun for the whole family!
Paddles:
You're only as fast as your weakest link – and with the new reworked and highly tuned Fanatic Paddle Range, we can guarantee that link won't be in your hands. With precision and care we have designed paddles in new materials and new optics which are strong and light, with the perfect amount of flex to deliver maximum power while allowing you to paddle in total comfort and style. We offer the perfect choice from beginner to pro – for both genders, every size and age. Grab a Fanatic paddle and take a stroke!
Kids Ripper range
Brochure 2016:
You can also download the complete brochure pdf with all info (text & specs) in English, German & French here.