This summer the ultimate SUP toy has to be an XL iSUP! All your mates on one board, sharing one party wave or cruising up your local river, has to be the ultimate in social paddling. The Fly Air XL from Fanatic is a real eye catcher with its bright yellow deck and super big swallow tail, which will give it more control on the waves. But then when it comes to waves if you do drop in on somebody (accidentally!) they are not likely to argue with you if there are 10 guys on your board! SUP schools all around the country will be turning heads on the beach this year with one of these in their SUP school/club.
More information from Fanatic SUP below.
XL Fun! Why paddle alone when you can have loads of fun with up to 7 friends on one giant Paddleboard! Designed by C4 Waterman and tested in the toughest waves of Hawaii and Australia, the Fly Air XL can be used at your local break for super fun waveriding, or on flat water and river tours. The Fly XL is supplied with multiple handles for easy carrying and for holding on when going faster or down a wave. Easily inflatable, stiff and stable, it comes with 2 Bravo standard pumps, and deflates quickly, rolling up into a compact size for easy transportation. Made of strong, durable, heavy-duty Single Layer Technology, the Fly Air XL is just perfect for a bigger group of friends, paddle groups or school classes to have fun on – no matter if tours, races or going down the wave, it ́s just the ideal Fun/Familyboard for more people!
 Heavy Duty Single Layer Technology
 Supplied with 2 Bravo SUP Standard Pumps
 Multiple handles for easy transport/holding on
 Heavy duty, durable Tarpaulin PVC
 Stiff and stable in all water conditions
 Stainless steel D-ring attachments
 Inflates 8-12 psi
 Deflates quickly
Rolls up for portability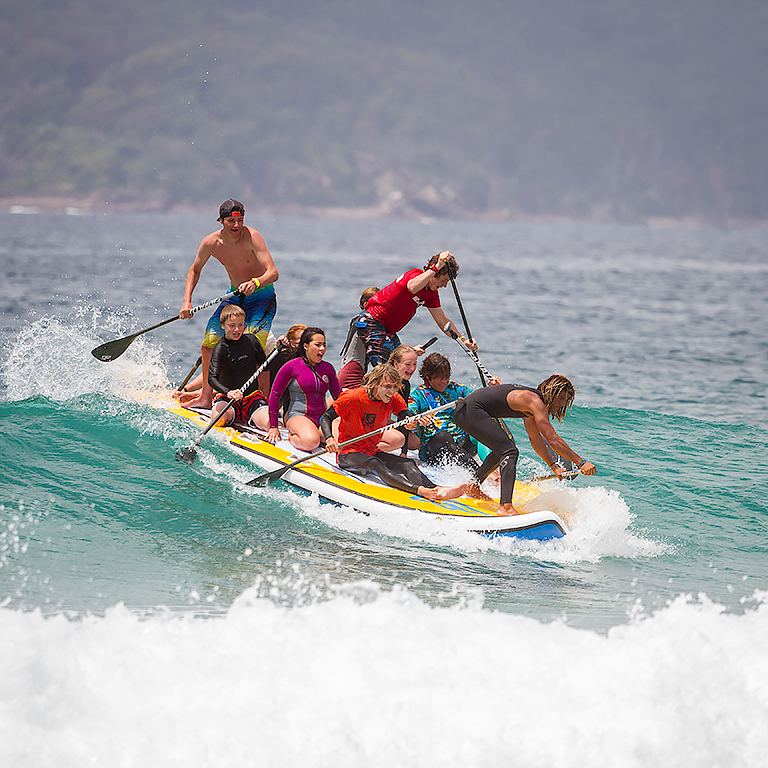 For more information about the Fly Air Inflatable XL from Fanatic and their other boards visit their website here.