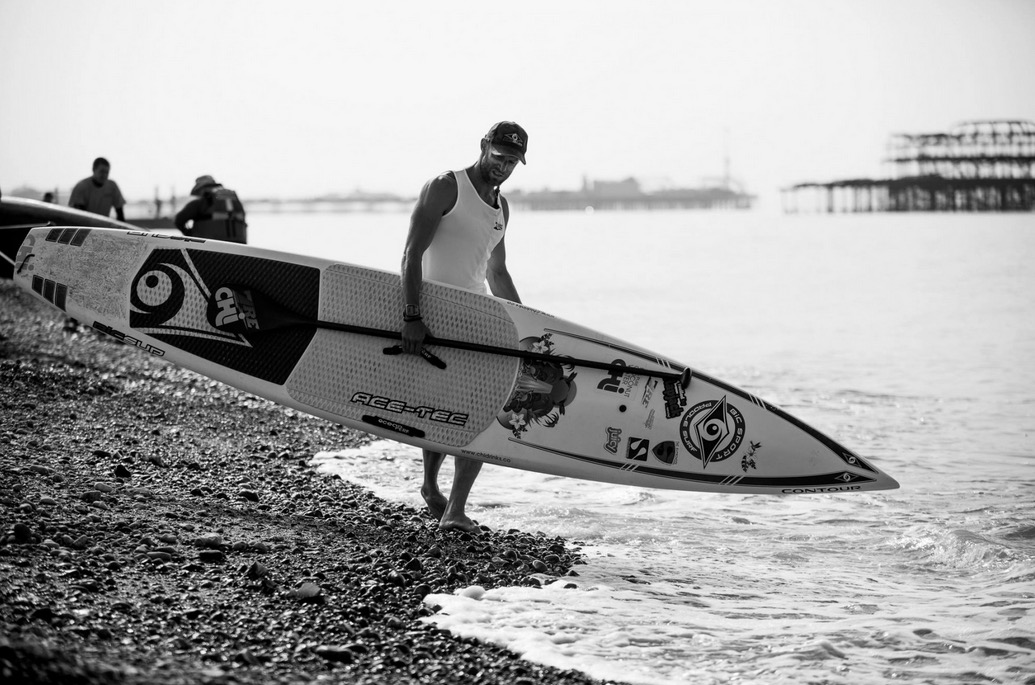 Pete Holliday is back with Part 2 of his 'Road to the 11 Cities' series. In September Pete will be taking part in the notoriously challenging 220km 11cities 5 day SUP race in Holland. Being the first time Pete's taken part in such an event, he decided to share with SUPboarder his training and preparation in the lead up to the big day. How do you actually train for such a long race and what do you eat for 5 days of tough paddling?!!!! Pete tells all…
So into July & August, the last two months before the big race (11 Cities). The training has stepped up and it's really not that pleasant! I am constantly shattered. We're still keeping to a similar training structure across a week but the distances are creeping up and the intervals ever so slightly longer.
Where possible getting out in the salt water where we have a nice 2.5hr open ocean session across the bay from Sandbanks, round Hengistbury Head & right up the River Stour to Iford. 22kms which is about half a day of 11 Cities!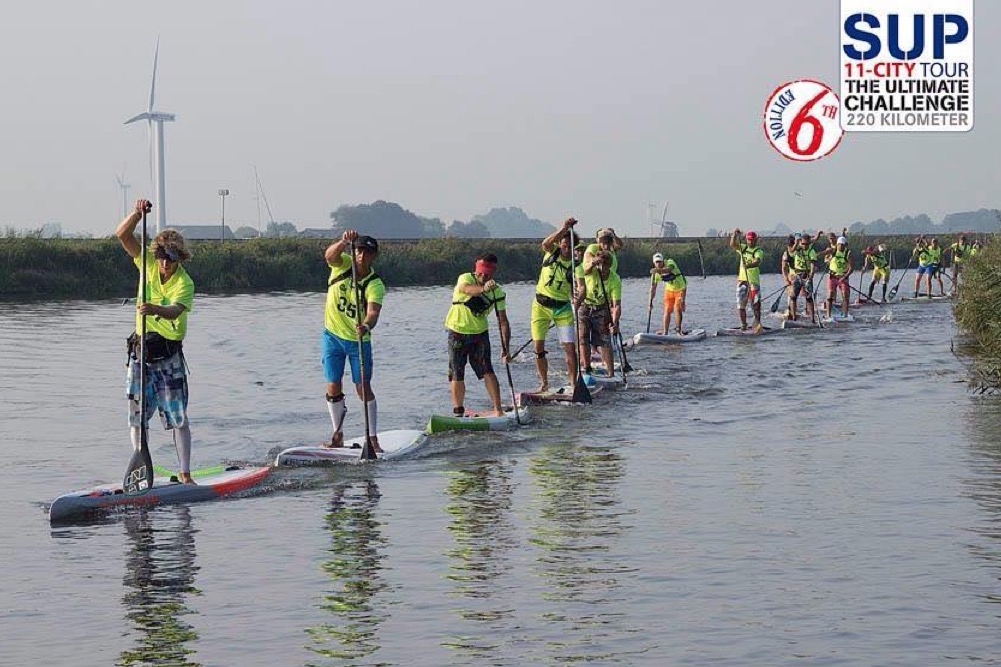 The 4 SUP sessions a week are set around working different heart rate zones and working intervals over a mix of times with active recovery (low heart rate gentle paddling) in between efforts. They tend to be just over 1hour but we try & finish with 20-30 mins of technical draft practice while maintaining race speeds. We practice both side & tail drafting. Personally I think the side draft is the most effective but it's really, really hard to stay in the right spot & not get pulled into the other paddlers board. It's definitely one I recommend people have a go at. Last year the top 3 guys paddled this way the whole race, next to, with no tail drafting at all!
The long sessions we try to do on the weekends are now regular 2.5hour sessions and we had our first 3 hour'er a couple of weeks back which due to other commitments we actually ended up having to do after work… finishing a long paddle like that at around 9pm is quite tough, I didn't sleep so good that night!
The 3 hours session is three times up and down the River Stour, Iford to Hengistbury Head, working the whole time in Zone 3. It was mind numbing! I spent the first couple of hours hanging onto Ryan James draft (Ryan & I are training together on the build up to try & keep each other motivated). Drafting is actually quite tiring from a concentration point of view, but at least it gave me something to think about. 2hours went by OK but the last hour dragged a little. Overall we had a great run. We covered 27km averaging 9.4kmph which was a pretty good average. Not bad for a school night!
Since May we haven't really had much break with training & races. The relentless training was starting to take its toll and towards the end of July I managed to get a few days holiday with the other half to get away, not paddle at all, & get some decent recovery. Of course I was still active, swimming, walking and a little run (Yes I admit, my names Pete and I'm addicted to exercise!) but it's amazing how a few days off paddling gets you motivated & fixes up your body again. Ryan had raced & trained the few days I was away and we got right back on it Monday night as usual for our high intensity session. After some good recovery for the first time I actually managed to beat Ryan on a few of the effort sets. This really shows how much training & racing takes it out of your body. To put it in perspective we'd trained 4 times a week for two months with some 30-50 reps in a session & I'd never beaten him before… not once… let's just say it was quite satisfying but the glory was short lived! It certainly highlighted the need to make sure we were well rested going into the race week.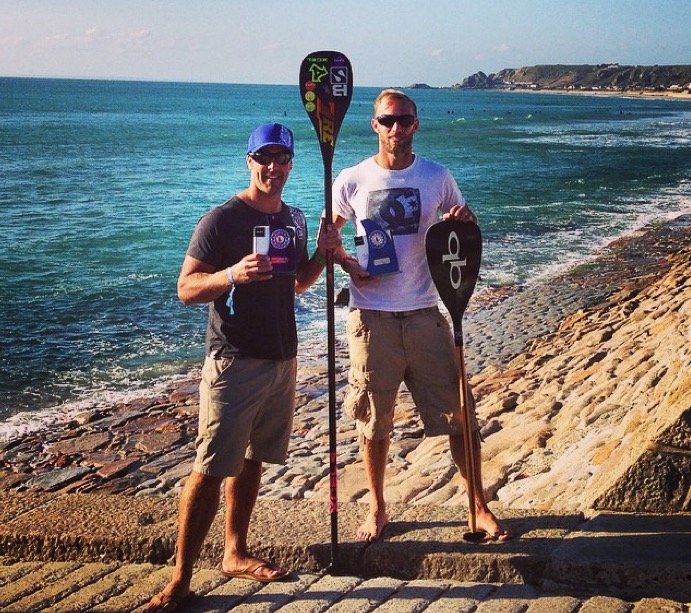 With the longer paddles it was important to start testing food / fuel for the racing. Over about 1.5hours you really need to take on board some fuel. I learnt this the hard way on one of our longer sessions where I crashed & burned towards the end.
I don't eat gels, energy bars, carb drinks etc as I try to avoid processed sugars but found some great little Pulsin raw chocolate, fruit & nut bars in my local health food shop to carry as snacks. The bars tuck nicely into the front of my trusty VestPac so will be handy to have to keep the energy up before the breaks along with something like a banana.
It's also important to work out what to eat during the day of racing too. We get a mandatory 15 min break each day where you can re-fuel. Occasionally I drink a shake/smoothie which was one of Ryan's secret recipes he gave me a few years back and I planned to use this for the race. It's a high fat shake from milk, cream, raw egg yolk, banana & avocado. The shake will be perfect for consuming in the break as it's all prepared, quick to consume so you have maximum rest, and saves long chewing with what will no doubt be a dry mouth!
Mid July we had the perfect opportunity to test a few food/fuel ideas as we had to complete a 42km OC6 paddle to qualify for the Celtic Crossing later this year. This would be a 4hour paddle and was not far off what you'd be doing in a day on 11Cities. I filled my VestPac full of H2Pro hydration drink, stuffed some bars in the front & stuck a smoothie in a bag strapped to the seat. Half way we all stopped for some food & drink, I smashed everything back, slurped some more hydration drink & got back to paddling. It worked a dream. I had energy all the way through the paddle, the test worked.
So we're nearly done & down to the last couple of weeks training. We've got a lovely 4hr paddle planned this weekend which I'm ecstatic about! Other than that with all this wind we've been making use of some downwind sessions on recovery days to keep the old sea legs & just enjoy some glide.
Looking back at my Garmin I've padded 650km since May, with nearly 30 weights sessions & 40 yoga sessions as well as a few just mobility and balance sessions, swims & runs on top. With the next couple of weeks being big distance weeks before the rest starts I suspect I'll be pushing 800kms in training for the race.
Looking at the attendees list and reading Chris Parkers SUPRacer.com updates it looks like there's some stiff competition with over 80 paddlers registered already. Who knows where we'll end up finishing but one things for sure, I've done everything I can to prepare for it & try & give it a damn good go. My aim, purely to finish it, my ideal result, I'll keep that to myself and let you know when I'm done!
See you on the other side! – words by Pete Holliday.
Feature image : Tomas Januska
Pete Holliday is supported by :
Zre – paddles
The SUPboarder Team wishes Pete all the best and looks forward to following his race progress and hearing all about the 11cities on his return! It's never going to be easy but all the training, and hard work in preparation is surely going to help! Read all about Pete's performance and hear how tough it really was on SUPboarder next month.