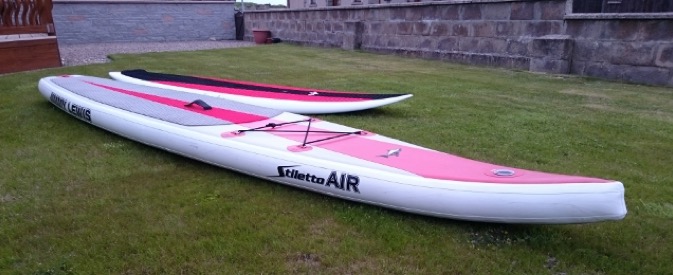 Jimmy Lewis UK SUP Ambassador John Watt tells SUPboarder his thoughts about the Stiletto Air 12'6" x 29". 
About John Watt 
33 Years old surfer from the North East of Scotland I've been paddling for five years and now an ambassador for Jimmy Lewis Sup through Surfs-sup. Current quiver includes the Jimmy Lewis Stiletto Air 12'6" and the World Wide 8'1" Surf Sup as well as number of other major brand boards.
First impressions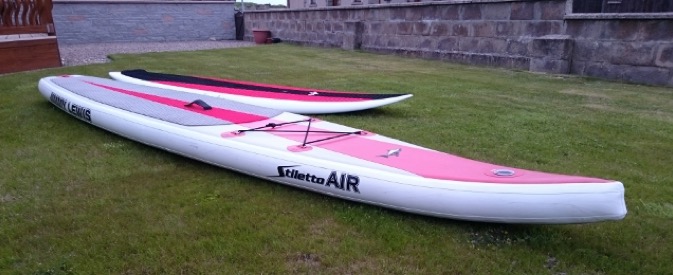 The Stiletto is supplied with good quality back which has plenty of room for the board, high volume pump, fin, and repair kit. At first glance everything appeared to be well put together. I unrolled the board not really knowing what to expect having never seen an inflatable or race type board before and was immediately impressed. From fitting the hose to optimum inflation pressure took roughly seven minutes taking a few breaks along the way, as with all inflatables an electric pump would have made things easier. Once inflated I was able to survey the features of the board including the US fin box which allows the use of a rigid fin, a well-placed handle and heavy duty tie down points on the nose of the board.
In all I felt pretty pleased with myself and confident that I had made a good choice with the Stiletto and giving myself confidence in thinking Inflatable SUP's make sense.
First Ride
I'm fortunate enough to have the North Sea a stones through from my back yard so after I had inflated it for the first time I knew I had to ride it even though conditions weren't ideal with a 15mph cross shore wind and small localised wind swell running. Carrying the board to the water's edge was easier than expected and comparable to a 10'5" Starboard Drive I own. Once up it felt a bit strange and it took me a good few strokes before I got used to the feeling of being on an inflatable. Paddling out across the wind and the chop was tricky but manageable, I set off up the coast for about 1km before spinning round for a mini downwinder. Downwind the board felt much better and I began to make good progress pleasantly surprised by the pace compared to the surf and more all round shapes I'm used to. Itching for some calm water I headed for the harbour where I knew there would be some protection from the wind enabling me to get an idea of what the Stiletto could do in good conditions. In the harbour it felt super smooth and fast, stepping back on the tail to pivot turn was easy and it came round surprisingly quick for a 12'6". With light fading I called it a night and made for home.
Second Ride
My second session came after entertaining a house full of people for my sons first birthday, perfect conditions to get out and get some peace and quiet with a light offshore breeze and virtually no swell running. I took along a buddy who'd only been a SUP a couple times before, he started off on the Stiletto and immediately got to his feet and commented on how stable it was. We made off round the bay for the local harbour which was like a sheet of glass a quick paddle round the harbour was followed by a blast out to the point where we encountered a bit more chop which is common there; again it proved no trouble for the Stiletto with my buddy remaining upright.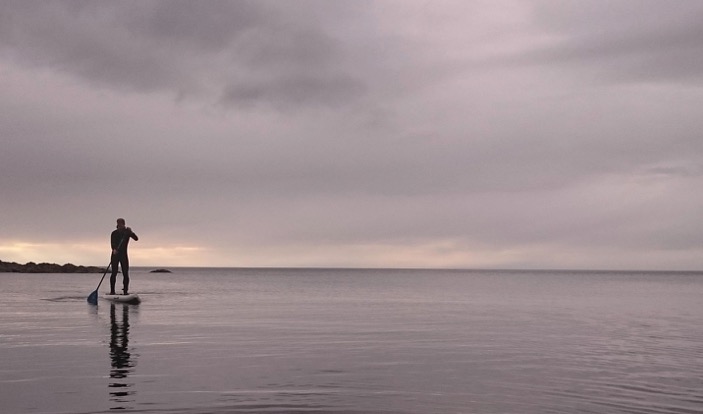 A quick change over at the next bay and we set off for the local beach at a steady pace, when nearing the beach it became apparent there were a few little bumps coming through which were almost rideable. This was too much temptation and I had to paddle into a few, with the glide that comes with Stiletto paddling in was easy and surprisingly I was able to pick a line a cruise down the line of few knee high waves riding them all the way until the fin bottomed out on the sand.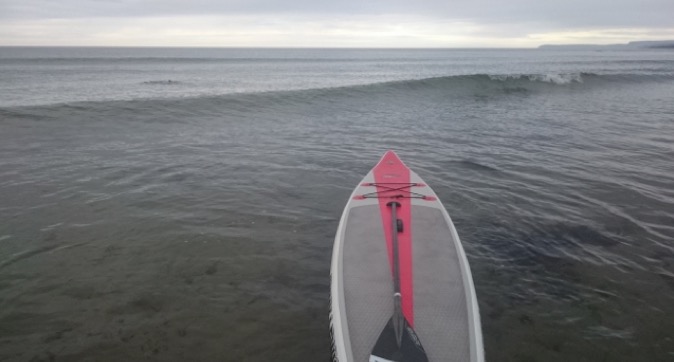 After a half hour of catching these tiny waves the sun began to set so it was time to make the paddle back home by this point there was no wind at all so we made great progress both pretty pleased with ourselves!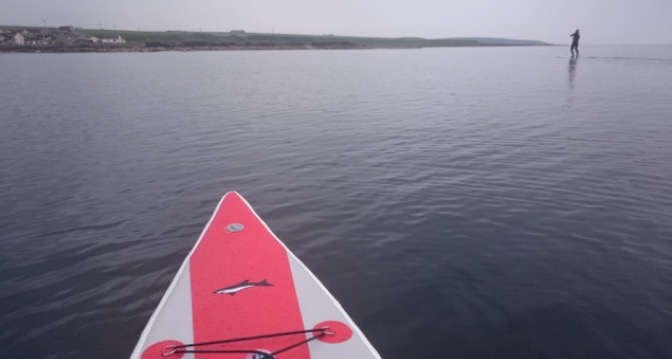 Conclusions
The second session really showed the potential of the Stiletto and definitely convinced me of the viability of a stand-up board being inflatable. If you are thinking about a second sup with a view to exploring you can't go wrong with the Jimmy Lewis Inflatable Stiletto it's a fantastic package easy to get on with both on and off the water. It is worth noting there is a wider version for bigger riders and also a more all-round shape inflatable in the Jimmy Lewis range which may be better suited to families and people looking for a more multipurpose ride.
Words : John Watt
If you would like to find out more about the Jimmy Lewis Stiletto Air 12'6" contact www.surfs-sup.co.uk  for more information.
If you have a board you wish to review then leave your review on the SUPboarder Equipment Guide here.