Surf Snowdonia is the worlds first public Wave Garden, an artificial wave technology developed in Spain.  The wave pool is located in North Wales, UK and opens to the public tomorrow 1st August 2015. This week Surf Snowdonia's SUP sponsors Starboard UK hosted Starboard International riders Zane Schweitzer, Izzi Gomez, Sean Poynter and Finn Mullen at Surf Snowdonia during the final testing stages of the wave.  SUPboarder was on location and captured some of the first SUP surfing action on the UK's first artificial wave!
Surfers all over the world have been patiently waiting for the completion of this monumental project in the beautiful North Wales mountains.  In the week before opening four Starboard international riders were invited to this iconic wave pool to test out the wave.  Braving the chilly waters of North Wales were World SUP surfing champions Izzi Gomez and Sean Poynter,  2015 world title contender, and innovator of SUP surfing Zane Schweitzer and big wave charger Finn Mullen.
Starboard UK are SUP partners to the Surf Snowdonia project and are working closely with Surf Snowdonia to promote not only SUP surfing but flat water SUP on the stunning rivers and lakes in the surrounding areas and whitewater SUP on the technical rivers of North Wales.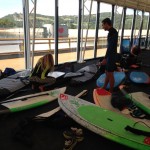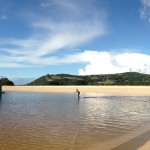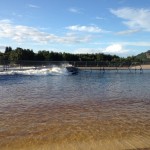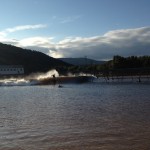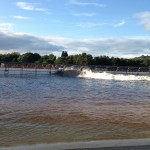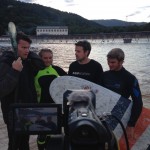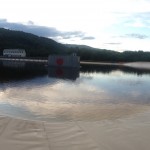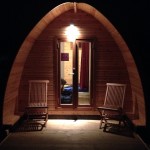 Artificial waves bring a new dimension to surfing – incredible consistency means you can learn fast and improve your skills whether you are a pro or a beginner – they present a great opportunity.  However, although they try to mimic perfection, they are also challenging to dial into and riders shouldn't expect to shred on their first wave.  Learning to take off and ride this wave is challenging but when you break the barrier and if you have the right mindset you will be able to improve faster than ever before.
Starboard UK and Palm Equipment UK team rider Sam Ross gives his opinion of the wave, why its unique and why he will be using it in the future to better his SUP surfing.
The UK is surrounded by a huge coastline and has some incredible waves, but Surf Snowdonia still offers a incredible experience where you can surf identical waves on tap in a stunning location.  It makes surfing for beginners even more accessible, allows intermediates the ability to accelerate there progression and professionals another opportunity to master progressive moves and drive the sport forward. 
The artificial wave revolution has reached us and its going to be very, very exciting….