Taking to the water with a dog is still novel enough to make bystanders stare. So taking to the water with two dogs is bound to cause a stir. Maria Schultz, author of How to SUP with your PUP has just released a cool SUP Pup video featuring her two dogs, Riley and Kona.
And continuing the dog theme, when SUPboarder team member Chris Jones bought a Labrador Retriever puppy in February he intended to train him as a SUP Pup. Chris explains why it took him longer than he thought to SUP with his Pup.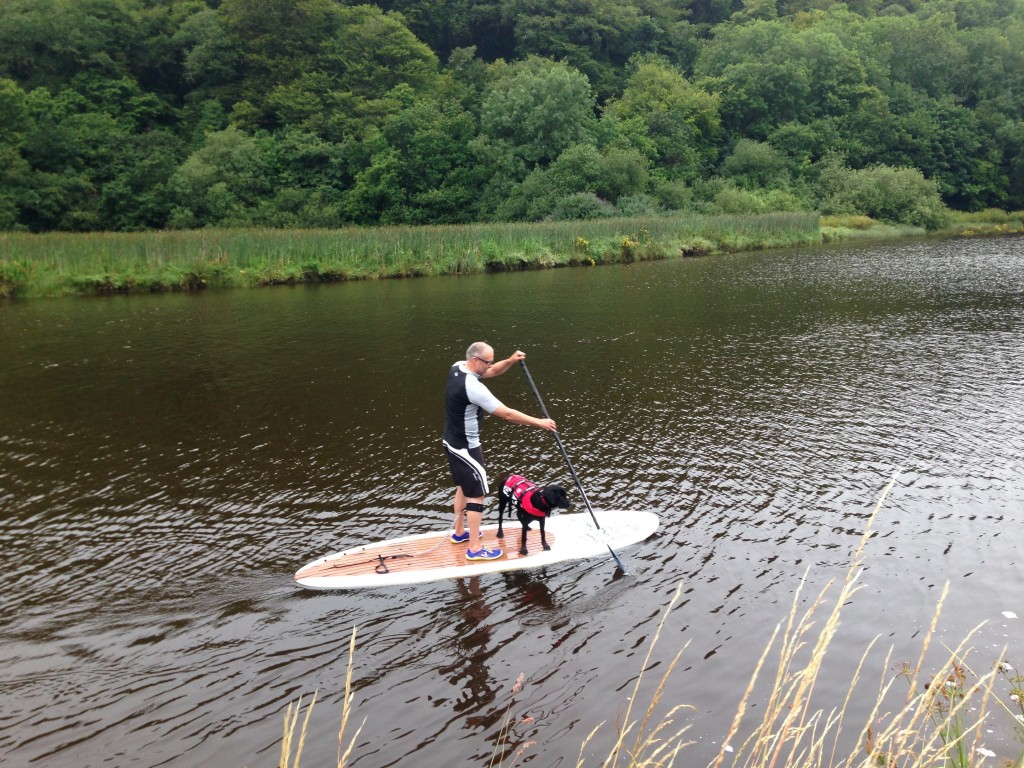 Magnus joined our household at the end of February, a small bundle of black fur and sharp teeth, a working stock Labrador Retriever, chosen because of good experiences looking after friends labs and because of the  reputation the breed have as water dogs. As well as being my companion on dry land I had planned that Magnus would be joining me on the water.  Naively I'd presumed that this love of water was instinctive. Over the next few months I found out that this isn't always the case.
Magnus' first encounter with a SUP was on dry land, to him it was just another toy to play with. He was fascinated with the pump, particularly the hose which he treated as a chew toy until taught otherwise. Once inflated he was quite happy sitting on it and exploring the deck. So far so good. We progressed from having the board on the lawn to moving it to the edge of some decking so it would tip as he moved, this was a new game for him and he seemed to enjoy it. All too easy…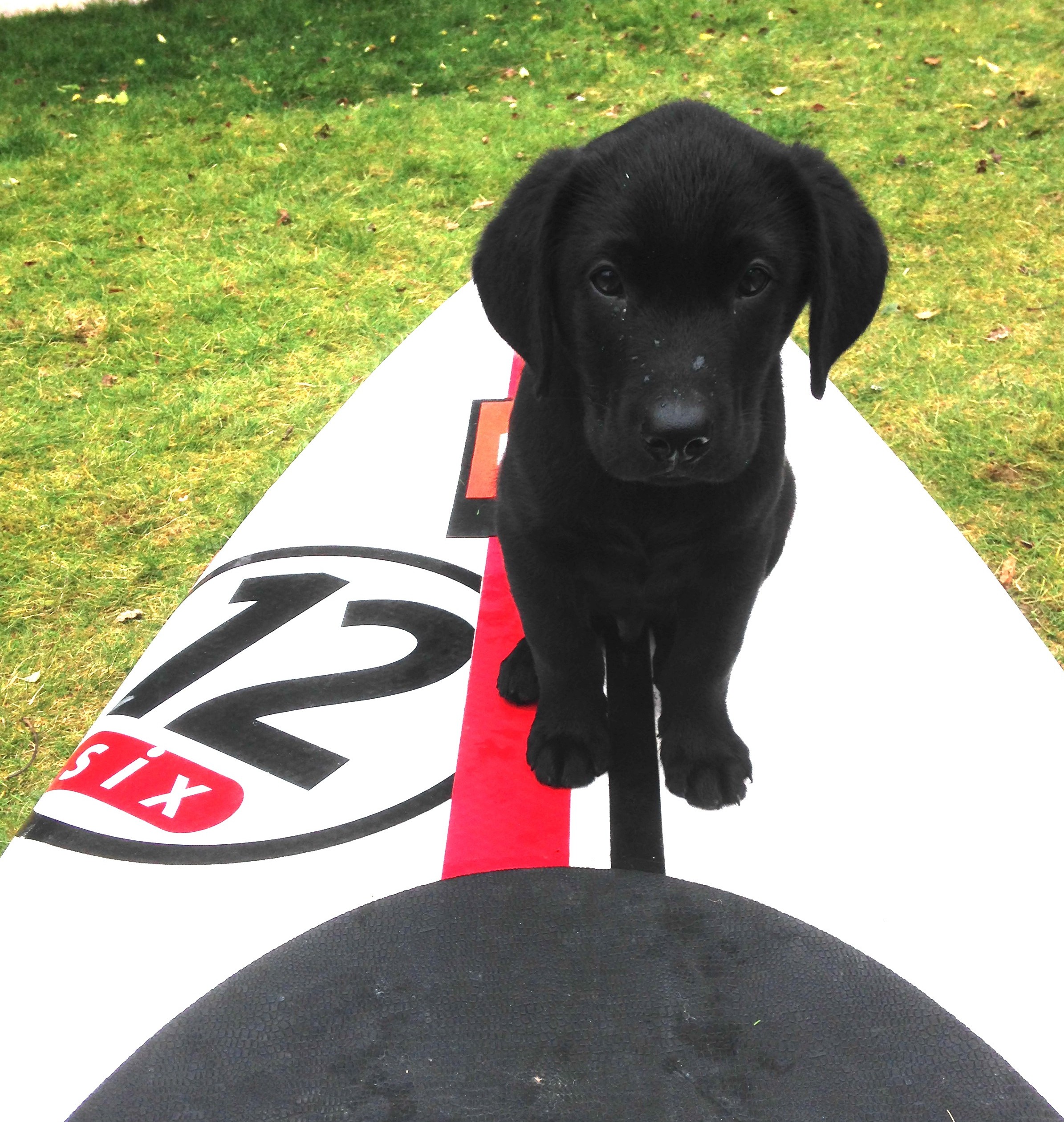 After some time on dry land our next step was to get to the water. Unfortunately there aren't a lot of dog friendly lakes or non-tidal rivers near me so I chose a local beach, where dogs are allowed all year, with shallow and sheltered water. I'd though that this would be perfect for him and initially all went well. Then he slipped off the board. I immediately scooped him back on board but water temperature at the end of March off the South West coast was about 10 degrees Celsius and he certainly felt it.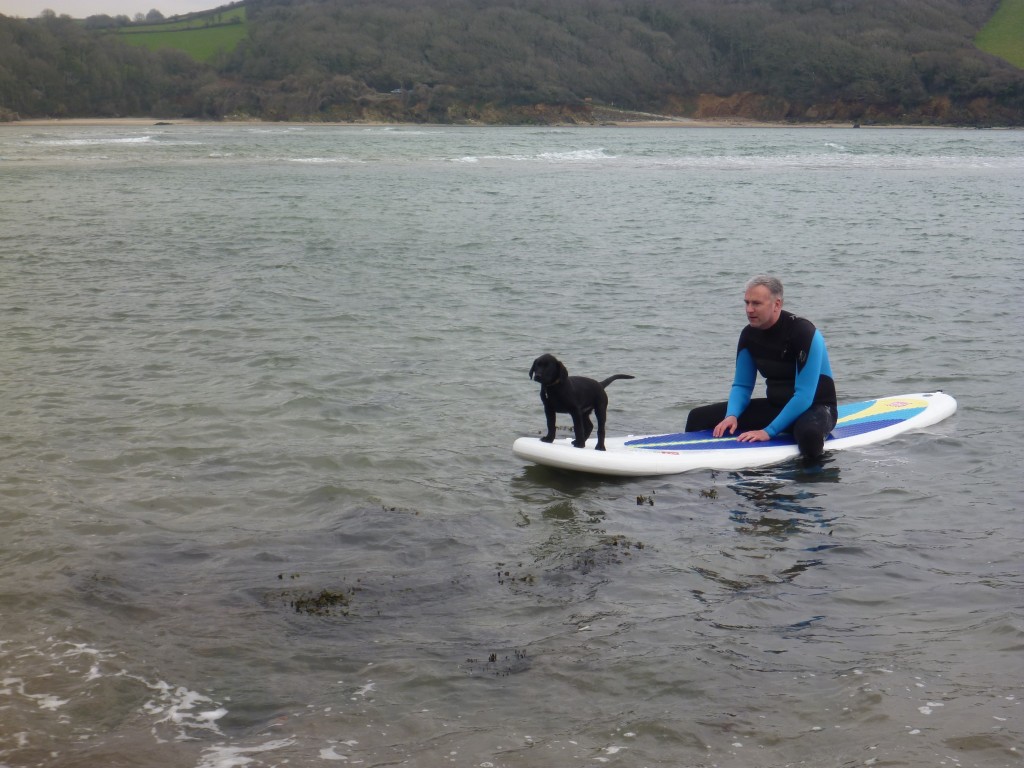 Looking back, my keenness to start paddling with him in that initial period when pups need to be exposed to everything meant I'd rushed his first lesson and I should have waited until the water was warmer.
After that unscheduled dunking he was less keen to be on the board when it was on the water. On the beach it was a huge toy to be played with but even his favourite treats couldn't persuade him that it was as much fun on the water. A bit of a setback given my original plan.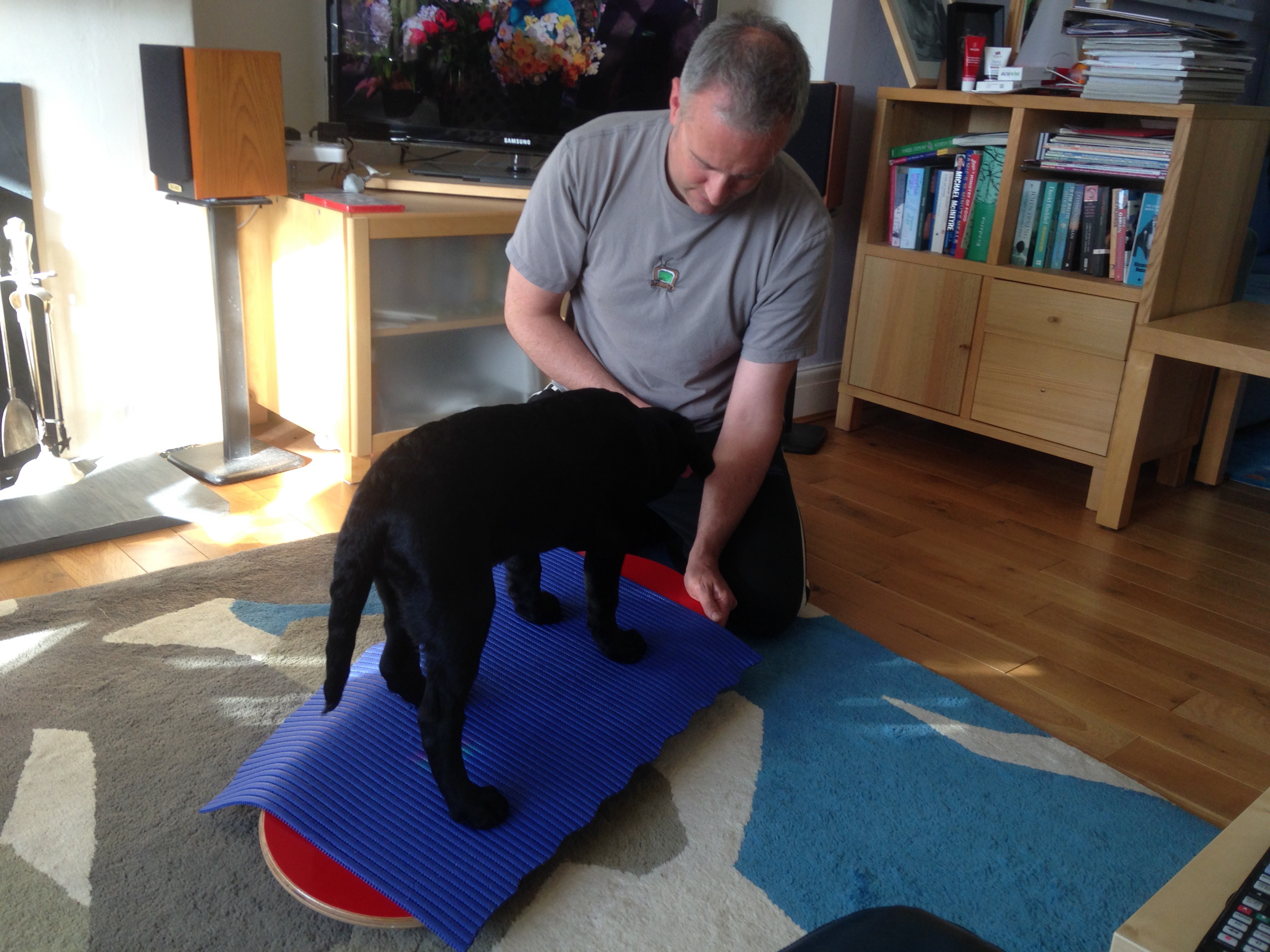 After some training on a balance board, swimming lessons, a buoyancy aid (BA) for him and a bigger board for both of us we were ready in July to try again.
Choosing a warm afternoon at high tide on a local river with perfectly flat water I launched the new board, which he needed a little persuasion to get onto. His nervousness overcome with a labs basic desire to eat.  Once there he was happy as a pup could be, tail wagging as he explored the board and every little thing that drifted past us. That initial 10-minute paddle was nearly perfect, he jumped off mid river and happily swam back to the board, the handle on the top of his BA making getting him back on board easy. He got off when told to at the slipway and then enthusiastically got back on when called. I need to work at the basic commands needed on the board, sit and stay being top of the list.
The next day we joined our local club night and had a 90 minute paddle, this too went well, the only problem we had being how to get an excited pup back when he's decided to explore a small island. I'd paddled too close to it and he couldn't resist leaping onto shore in order to explore and to sniff everything!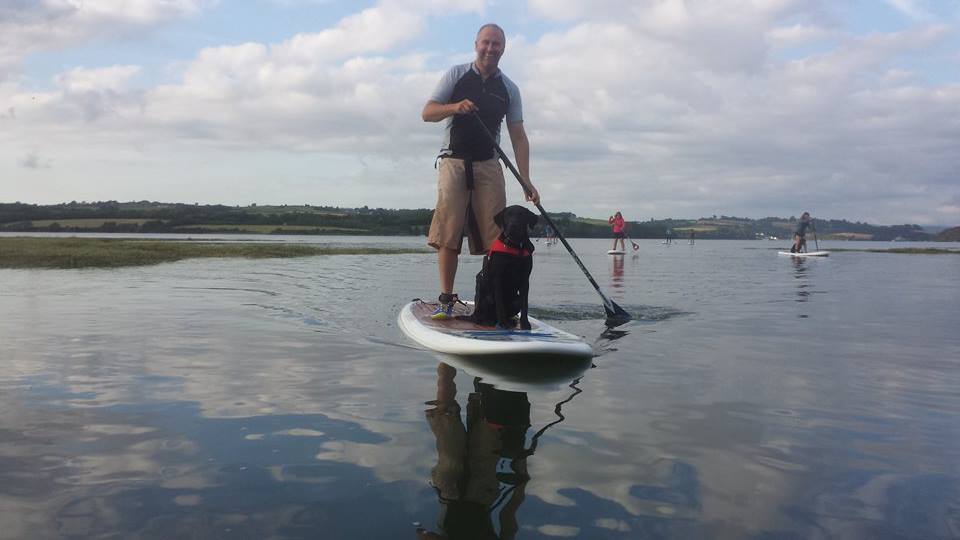 From my experience here are a few tips to get your pup on the water:
Don't rush them into it. Make sure that the entire experience is fun for the pup and be prepared for setbacks initially. Also a pup will lose body temperature faster than a fully grown dog so consider the water conditions and temperature before their first paddle.
Get them swimming before paddling. Many dogs like to swim, some breeds more than others. Pups will need to work out what to do in the water and every little thing that you paddle past will need to be sniffed which will lead to a puppy disembark.
Practise getting on and off the board with the pup, both from dry land and from the water. The first time you fall in with them they are likely to swim to you and not the board.
Use a BA or a harness. This will make them much easier to get back onto the board if they go for a swim and swimming can quickly tire a pup or fully grown dog.
Use a stable board that will take your weight and theirs, consider the weight that your fully-grown dog will attain if buying a board for the two of you. Magnus at time of writing is 27 kg, combined that puts us, including kit, at 130 kg or nearly 290 lbs which is a considerable load on any board.
It may seem obvious but paddling with a partner on your board is a harder workout for you, allow more time to complete a regular route. Magnus is not yet fully grown so I'm expecting more of a workout in future.
Always wear your leash but remove their lead once on the board. This could catch on something when the dog is swimming or if it trails from the board when paddling, that would put them and you at risk. Magnus now has a short lead that loops around his collar and is held there with Velcro, perfect for some control getting on and off the board. I've found that when I use a calf leash that gets in his way so have swapped to a coiled ankle leash for paddles with him. For him this is also a chew toy.
If paddling for some time remember to take water and treats for them with you, if paddling on fresh water they will drink on the go but on tidal estuaries or the sea they won't be able to.
Be aware of local conditions and hazards. This applies to all paddles but with a dog on board there are others that might not always be so obvious, for example over the winter Palm Oil was washed up on some beaches that Magnus and I have walked on and this is particularly toxic to dogs.
Take some time out on the water to give your dog some attention, stop occasionally to let them explore, stretch their legs and to go to the toilet if needed. Also remember to take more 'poo bags' than you think you'll need, our responsibility to clean up does not stop because we're paddling. Remember to dispose of the bag responsibly, do not hang it from a tree!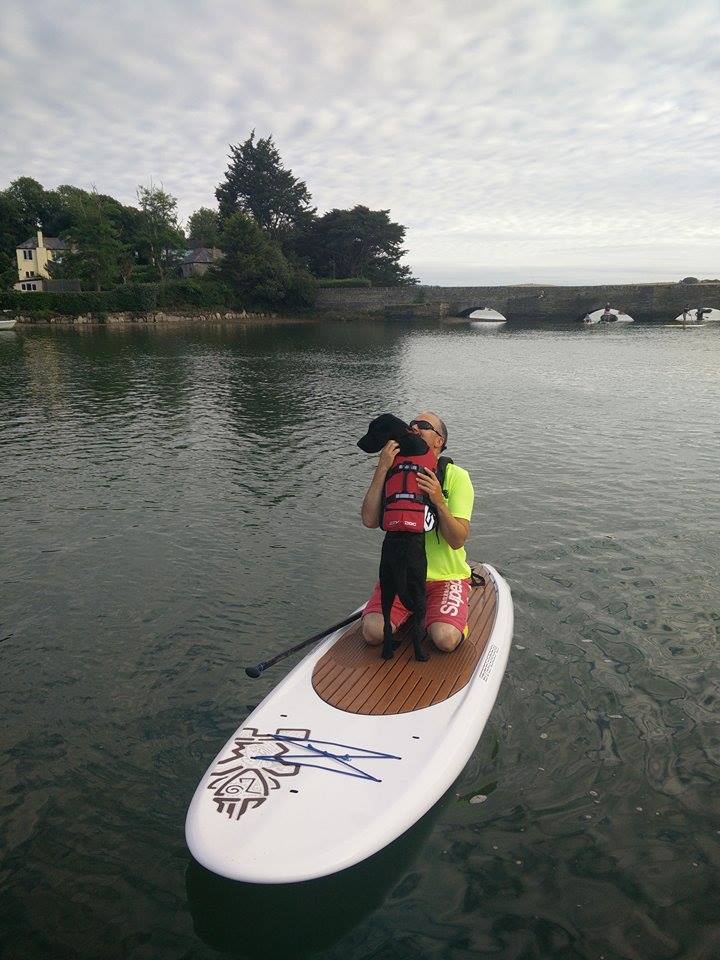 Magnus has now progressed somewhat as a SUP Pup, we have recently paddled with another local club for their SUP4Life paddle, 2 hours on the river with about 20 other boards, only one swim and one attempt to try a different board, much to the amusement of the other paddlers. He has also had his first paddle at sea, a coastal explore off the South Devon coast in a slight chop, this was finished with a dry dog as he gets more used to being on the water with me. The only problem he complains of is when I stop paddling, he will then look up at me and make a pitiful crying sound until we start to move again, I hadn't anticipated that my SUP Pup would take on a coaching role, paddle faster!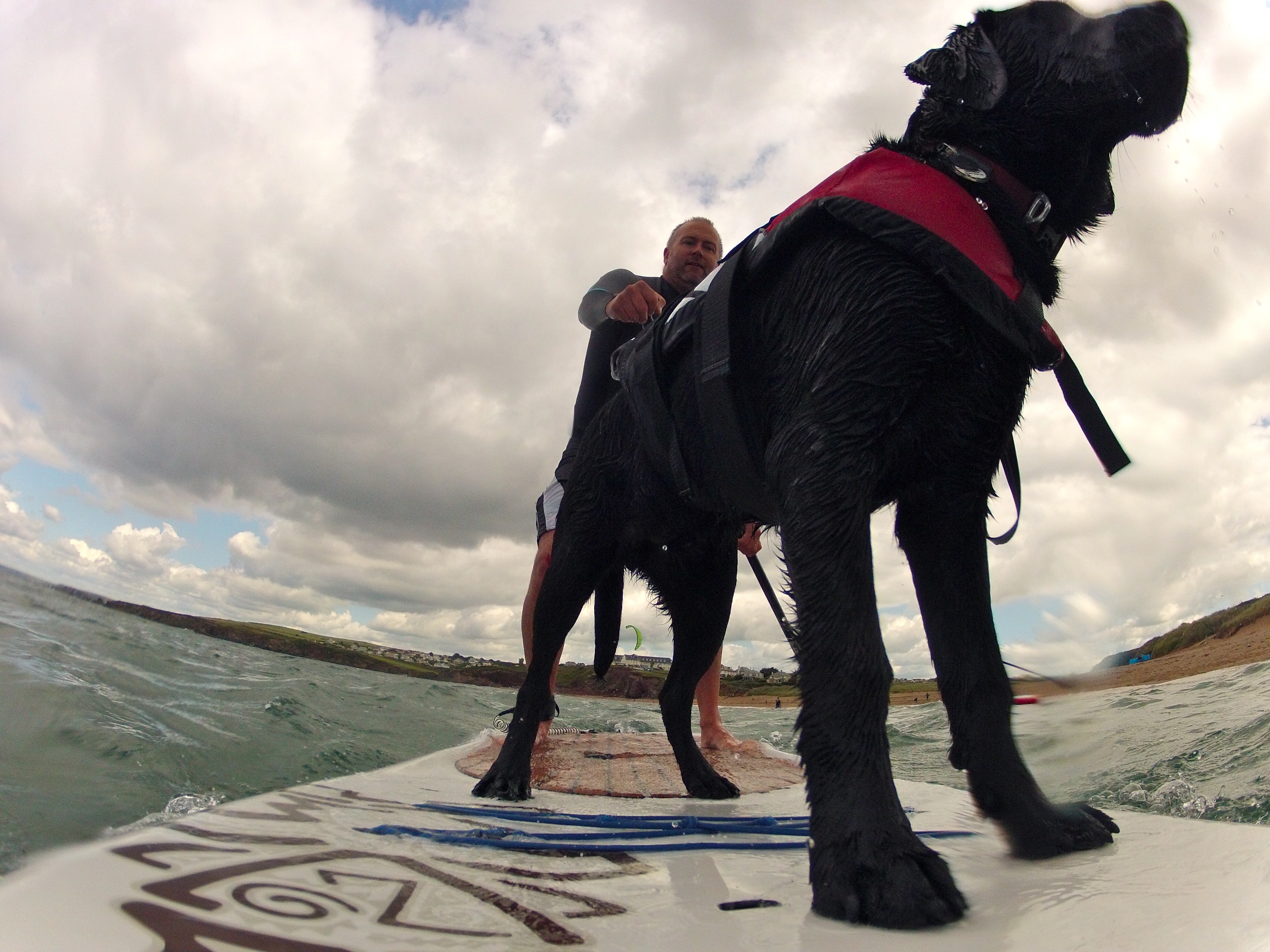 Paddling with a dog is a growing part of the world of SUP and can be a hugely rewarding experience if done sensibly and with consideration for your dog and other paddlers. With some training for the pup (and owner!) it is an experience that can be enjoyed and shared with friends and other paddlers with pups.