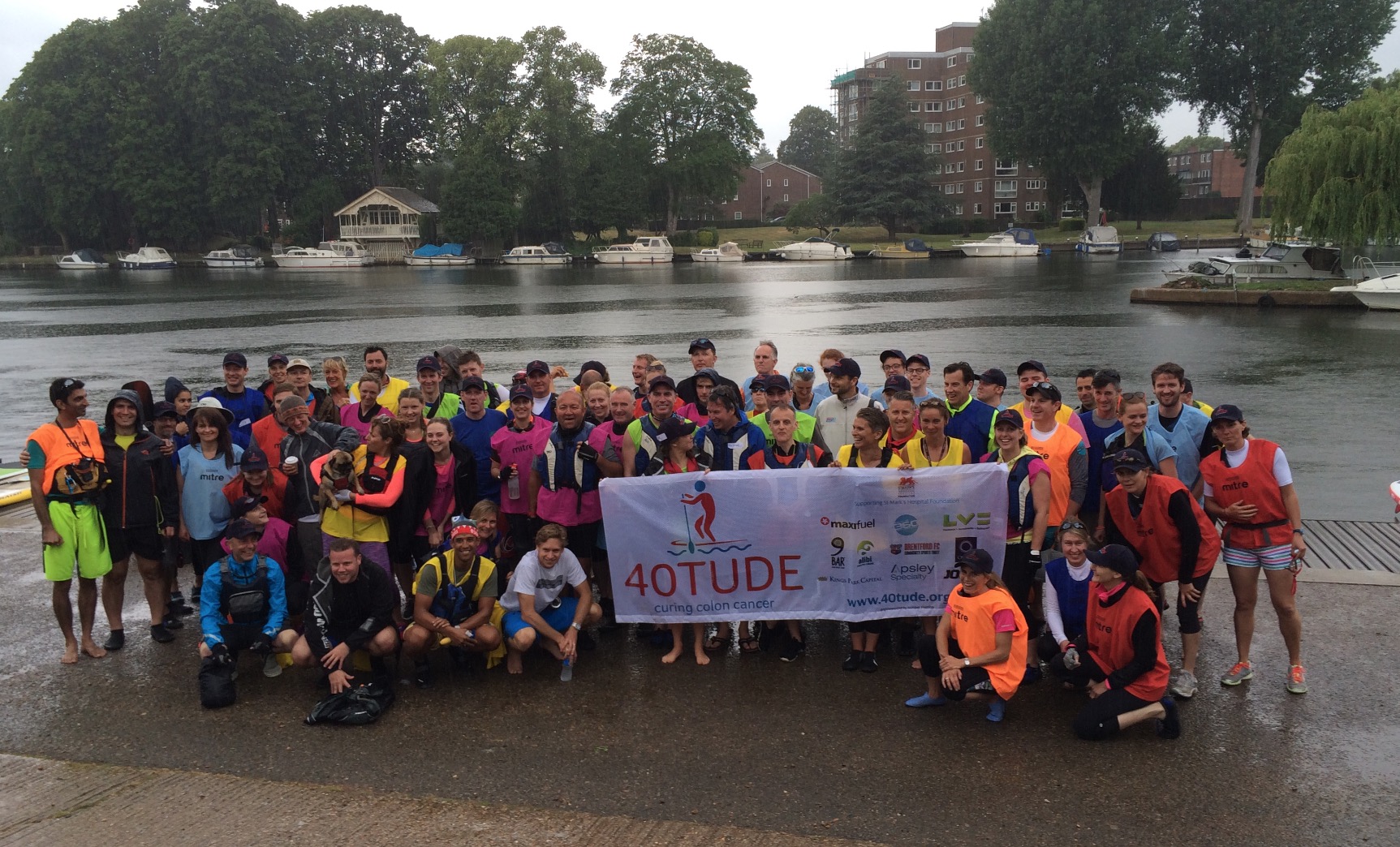 Just like deciding to run a marathon,  the idea of taking part in a SUP marathon seems a great idea at the time, but actually completing it is another story all together! But 75 paddlers did just that a few weeks ago when they paddled 26 miles along the River Thames raising awareness and funds to support the treatment of colon cancer. Paddling a marathon is a BIG achievement. And paddling through the heart of London with a group of like minded people, for a worthy cause is sure to give you a buzz. Free lance writer Cat Hughes jumped at the chance of taking part in this great event and here she tells SUPboarder all about her experience…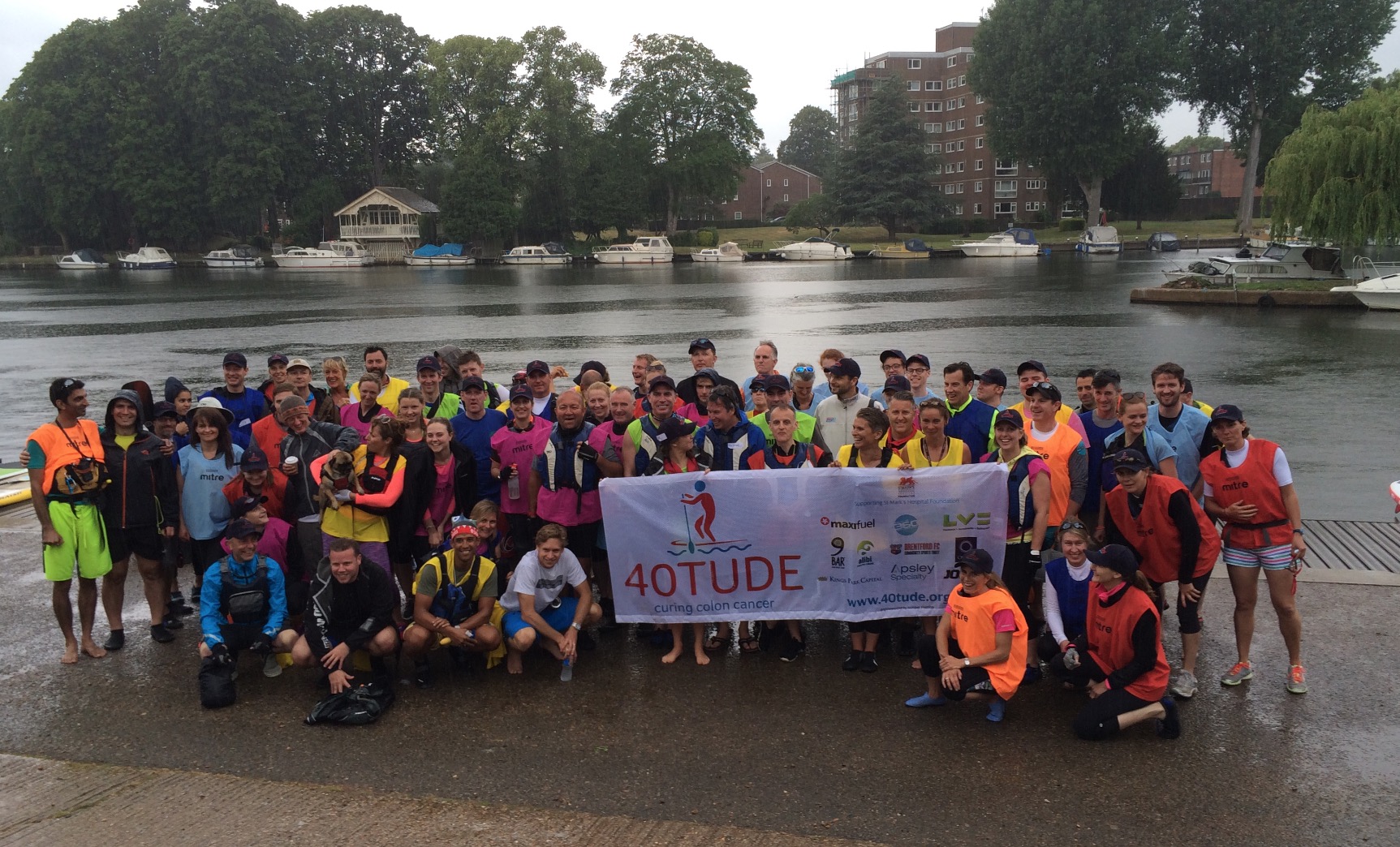 The tree line banks of the Thames start to give way to housing and soon I can see the flood lights of Fulham stadium. We're almost there. Relief floods the woman face who is SUPing next to me. She is digging deep after paddling 25 miles down the Thames from Shepperton and there is only one more mile to go.
As for me I did not do the whole marathon, due to a shoulder and wrist injury I've had for some time. I joined at the last leg from Kew to Putney to help out the team from Active 360, a London based SUP company, who are one of the organisers.
As we round the corner a group of teenagers start shouting encouragement at us.
"That's my daughter "said Heather Alston my SUP buddy. She waves back.
"Almost there Mum" shouts Alston's daughter. "Well done!" Her encouragement is even helping me paddle faster and stronger. Though I have no excuse for weariness. Alston is the oldest SUPer doing the St Mark's SUP Marathon.
This is the third Marathon organised by 40tude, a fundraising organisation helping to raise money for St Mark's Hospital in Harrow London. The hospital is a world leading centre for research and treatment of bowel disorders and their funding supports the development of a new treatment called FLEX. If successful this minimally invasive surgery technique will result in less of the colon being removed whilst still getting rid of the cancer effectively.
Colon and bowel cancer is the fourth most common cancer in the UK. 41,000 people are diagnosed with it every year and it kills 16,000 people annually.
So was it these facts that made a 61 year old mother want to paddle 26 murky miles along the River Thames?
"I saw the notices so I decided to get the whole office to do it… It's partially to raise money and to raise awareness" said Alston.
When I ask her for a short interview once we arrive at Putney she states how after this she is going to a sixtieth birthday party and must get showered and dressed quickly. I'm impressed. There is no way I'd be going to party if I'd just paddled 26 miles. Bed would be my only destination after a rewarding drink at the pub.
On a sunny morning in Sheppertion 75 SUPers took to the Thames. A record number of people for this marathon. In its first year only 25 participants took to the water and the year after that 54 took up the challenge. The event, like SUPing, is growing steadily in popularity.
75 SUPers all paddling down the country's most iconic river makes quite a sight. Many people crossing the Thames' many bridges stopped to watch and to whip out their phones to capture the sight. Its probably one of the best adverts for our sport.
The sun however did not last long, about half way the heavens opened and torrential rain began to pour. The paddlers had to stop and take shelter as it looked like a storm was imminent. Though it rained hard for a good half an hour, the thunder and lightning did not materialise, and the clouds dispersed leaving us with a warm and clear evening.
In the past the weather has not been so kind. Last year, the SUPERS battled a head wind and the current. It took them 11 hours to complete the course. This time it only took them eight.
A marathon, despite the weather, or mode of transport (shanks pony or stand up paddle board) it's a challenge and you'd think most were hardcore paddlers but not so.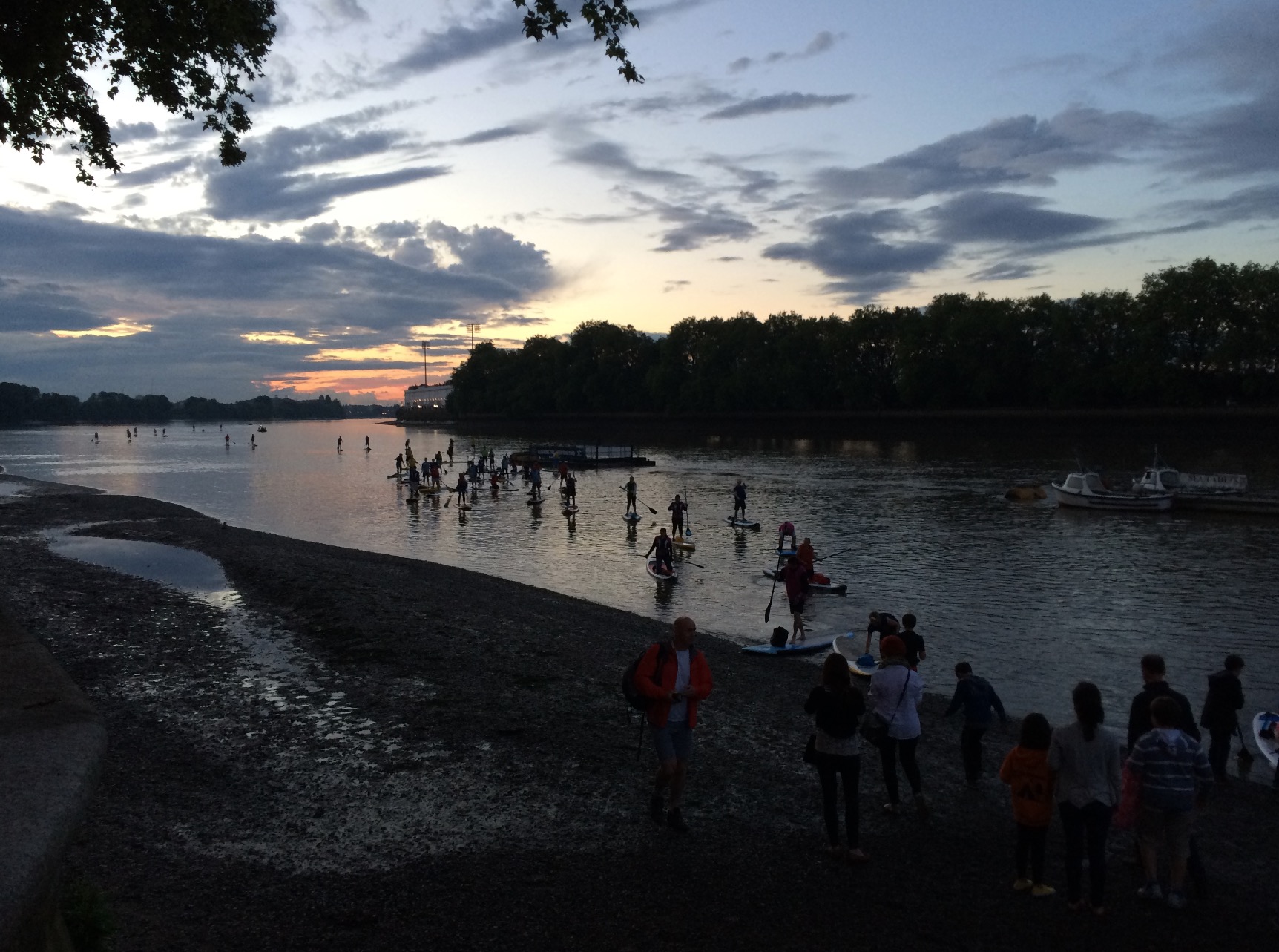 Simon Waller, who lives in the Netherlands, and came over here especially to do this challenge had only been on a board three times before he embarked on a marathon. Did he enjoy it?
"A big relief and a feeling of achievement because it was tough, it's a long way." He said after making it to the end of the 26 miles. "My back hurts, my shoulders hurt, my arms hurt and it's a great achievement and a great bunch of people to do it with."
Waller is not the only one who has travelled a long way to be at this event. Chris Whitney and his wife Linda came to London all the way from San Diego just to take part in this event. "My wife Linda and I were immediately excited about the adventure since we had never paddled a marathon distance and also wanted to visit London". Said Whitney, who along with his wife is an avid paddle boarder back on the West coast of the USA.
"The marathon was more than just an adventure for us. When we discovered the event's support of research for colon cancer, the race became more meaningful, making us want to cross the line knowing I contributed all that I could."
Beating cancer is close to the Whitney's hearts.
"A close friend of ours was diagnosed with terminal cancer (type never diagnosed) almost two years ago and passed away after a short few-month struggle. While he lived with us, I witnessed how cancer can inundate someone's life, robbing them of their identity as it takes over their life"
To him the events like the marathon are important as they help to contribute much needed funds to provide people with hope.
And that is exactly what 40tude want to do by raising money for research for better surgery techniques. They hope to improve the lives of tens of thousands of people diagnosed with cancer every year.
Everyone I spoke to on this challenge was passionate not only about Stand Up Paddle boarding but also about St Mark's and the work they are doing. I will leave the last word to 40tude.
"We're delighted that thanks to their efforts the donations from this event are totalling nearly £30,000 with more funds promised, enabling us to support the pioneering research programmes being carried out at St. Mark's Hospital into the improved treatment of colon cancer."
Words : Cat Hughes
Images : 40tude and Active 360
For more information about 40tude and their fantastic events and fundraising for colon cancer visit their website here.
If you missed out this year don't worry, there's always next year! A great opportunity to see the city from the water and be part of something big.