SUPboarder team rider Peter Kosinski has recently won the Battle of the Bay in Ireland. Peter as we know, is a top SUP racer who trains hard and has secured many podium finishes. For Peter having the right kit is just as important as being race fit. Competing in the inflatable only event last weekend meant Peter had to exchange his usual Starboard 12'6'' hard race board for a Starboard iSUP. Going into the race Peter knew he had some tough board competition. Here Peter tells SUPboarder his thoughts on the new 2015 Starboard Astro racer…
"Last Sunday the first ever Dublin City river race took place in the heart of Dublin City. A inflatable only race for logistical reasons. A total number of 40+ paddlers took to the River Liffey for a difficult and challenging race due to a strong wind and an emptying tide.
Many different boards were on the water from all the big name brands. I knew the Red Paddle Co. Elite Racer was going to be the board to beat with any paddler on it. It's rocker stiffening system and proven track record. (Sam Ross has raced the board in some of the biggest races in the world and beaten a lot of carbon race boards)
Luckily Starboard sent me the new 2015 Astro Racer. I have paddled all three generations of Starboard inflatables and knew that it would be tough to beat the Red Elite as it has been the market leader for some years. This is were I need to put a side note. (Honestly most inflatable 12'6 race boards are probably all the same speed due to a number of reasons. The flat bottom shapes, inability to create a bow to cut the water and they are all full of air which is not exactly solid under any pressure!)
Starboard have concentrated on four new elements with their new astro boards which has created a board with the best response I have ever felt out of an inflatable. I felt this response was the factor which contributed to my 1st place finish after a tough battle with none other then Keith McGuirk
on a Red Elite. 😉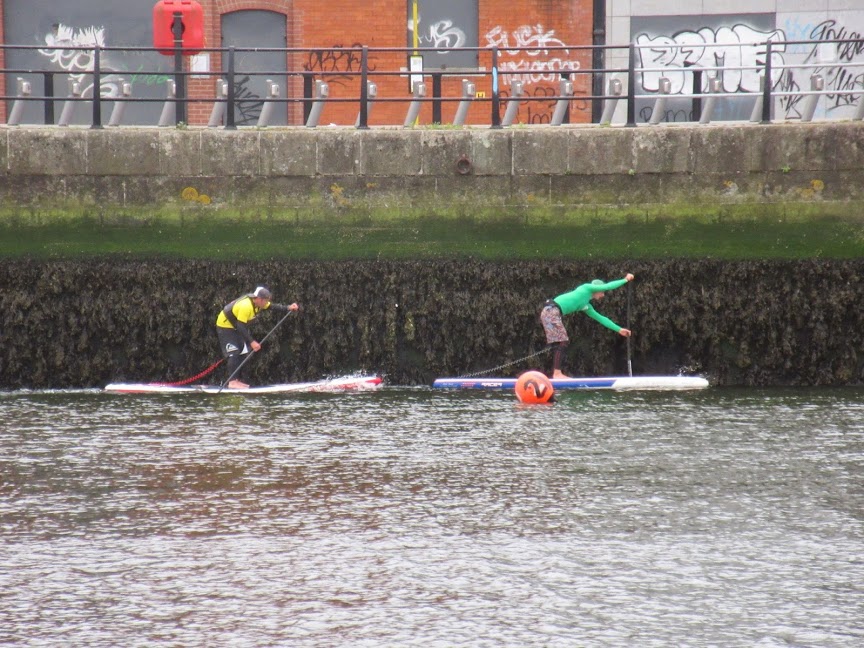 -Firstly when I picked up the board it was perfectly balanced through the handle. A good sign that it is not twisted. Showing that Starboards drive for quality still remains.
-The dual stringer technology which is a piece of composite material running from the tail to the standing area. Stiffening up the mid section for a reduction of flex in the board.
-2+1 rail band technology creating thick rails with shape. These rails are 70% thicker then last years and you can feel it immediately as the board responds through choppy conditions with a solid feel.
-The addition of the US fin box. Allowing me to use my K4 weed fin as the river was filled with debris and seaweed.
These small elements combined to put the new Astro board on par with the Red Elite. Most of the accessories are similar as well so it's a matter of trying the two boards yourself and find what suits you."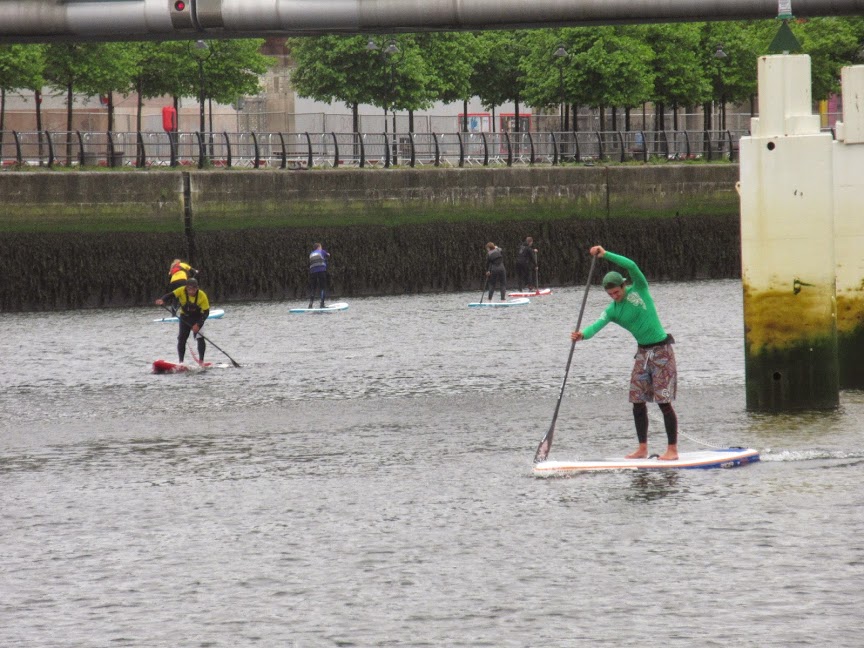 There are lots of iSUP race boards on the market today, and constant developments are improving their performance each year. Starboard's Astro Racer is obviously going to be a tough board to beat this year in the inflatable class. So if you're thinking about buying an inflatable race board this summer, get down to your local shop and try some out. It's always important to make the right decision and try before you buy.
Stay up to date with Peter K on his blog here and find out more about racing and SUPing from the man himself at his SUP school here. And for more information about the Starboard Astro Racer visit Starboard's website here.