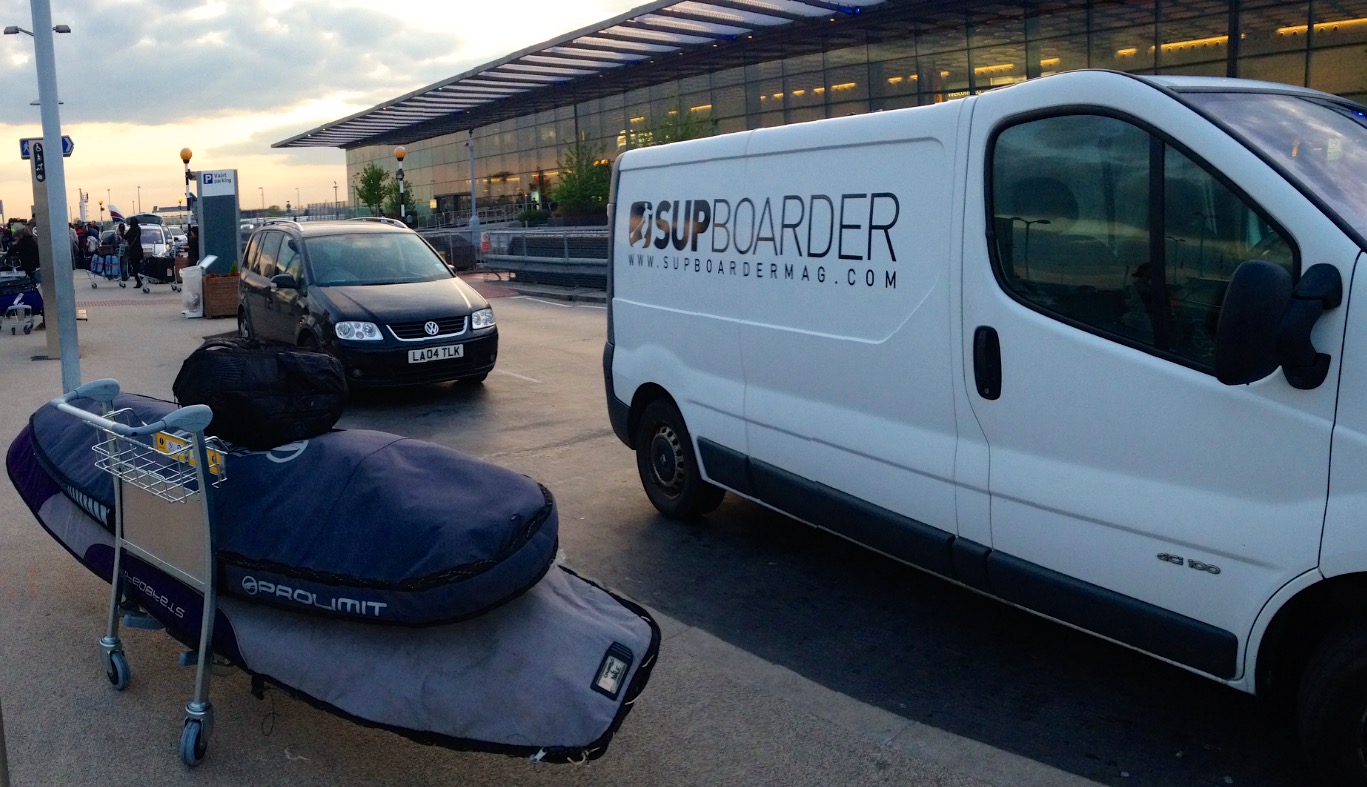 For many, flying with a SUP can feel a daunting task, due to their size, weight, potential unforeseen excess baggage charges and the worry of it getting damaged. Yes a SUP is big and bulky, but with a bit of planning and careful packing a trip away with your SUP can be easier than you think. And once you've done it a few times you'll wonder what all the fuss was about!
(Also check out our feature: Flying with a SUP / 2020 Airline Baggage Allowances)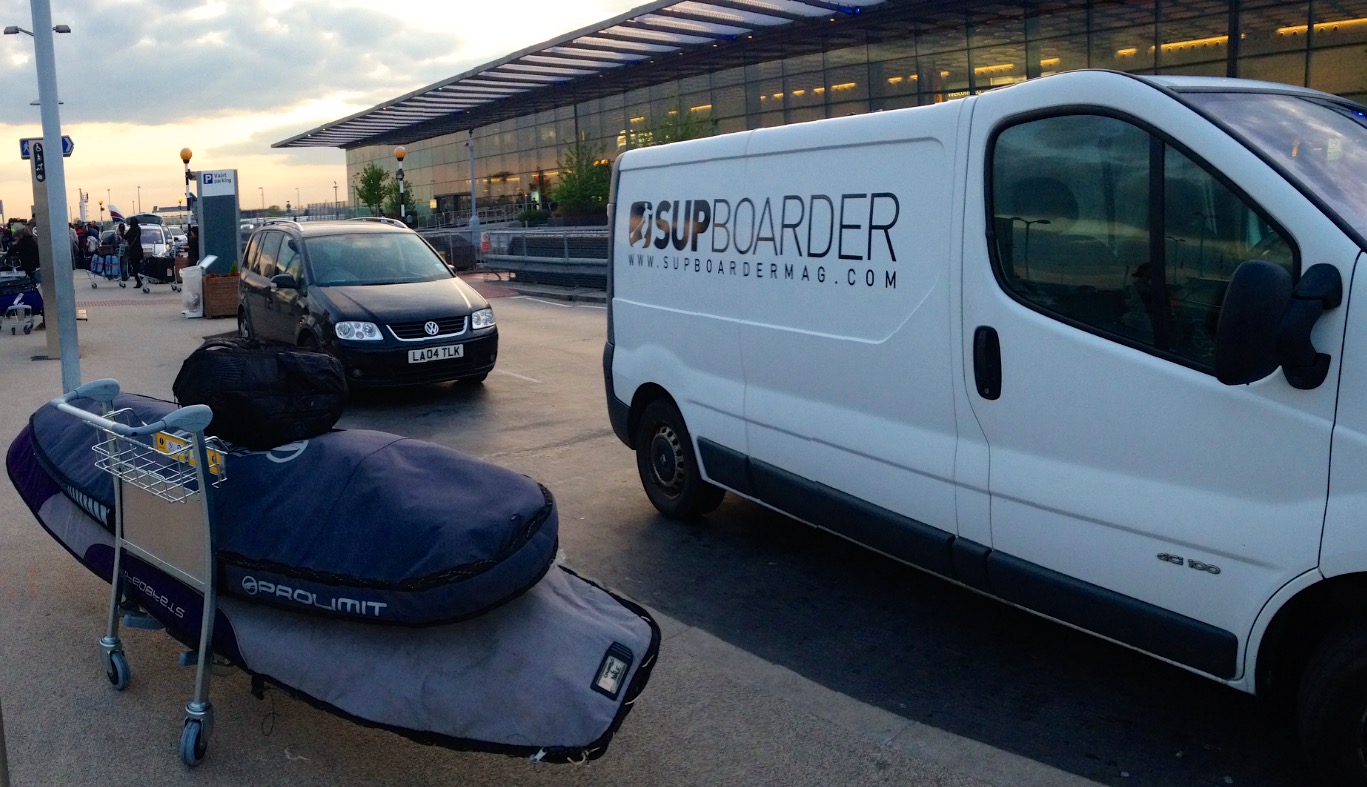 Having flown thousands of miles around the world with SUPs, the SUPboarder Teams have put together their top tips to make your flying with a SUP experience easier;
Do your research
Before you book a flight find out what the airlines luggage allowance rules are, and how they charge for oversized/excess baggage. Many charge per piece of sporting equipment with a weight/length limit. Others charge for excess weight over the allocated individual luggage allowance. But extra luggage prices can vary hugely so picking the right airline can make the difference between being able to afford to travel with your SUP, and not! And remember if you're also taking a smaller domestic flight, check that the excess baggage limits for these flights are the same as your international flights.  Chances are, your domestic flight will be with a different airline and will have separate rules. So worth checking!
It's usually (always!) much cheaper to pre-book your excess luggage (rather than paying for it at the airport) and this can be done at the same time as buying your ticket. You'll find you'll probably have to book it on as a windsurf board as it will be too large for the surfboard dimensions, and they'll give you a blank stare when you say it's a SUP!
So, to avoid hefty excess baggage charges or worse still, having to abandon your board in left luggage and watch the waves all holiday without a board, do your baggage research! And to avoid paying unnecessary excess fees don't take more stuff than you need to!
Protect your kit
It's well worth taking the time to pack your gear thoroughly, to give it the best change of getting to the other end in one piece! Most board bags have a bit of extra space to add some extra padding. But it's worth trying to keep it all as light as possible as you'll be surprised how quickly it all adds up to reach your bag weight limit. If your weight limit allows, it makes sense to pad out your board using other items that you plan to take with you e.g wetsuits, towels, camping/yoga mats, clothes etc..  Tape them along the rails, across the deck/bottom and on the nose/tail. But if you're tight on weight or space, then pipe insulation/foam along the board rails, cardboard, or bubble wrap can also do the job well. If weight isn't a problem then you can always double board bag for extra protection. If you've got an old board bag with a broken zip then just use a soldering iron to put holes in it and lace it up with some strong cord. Job done!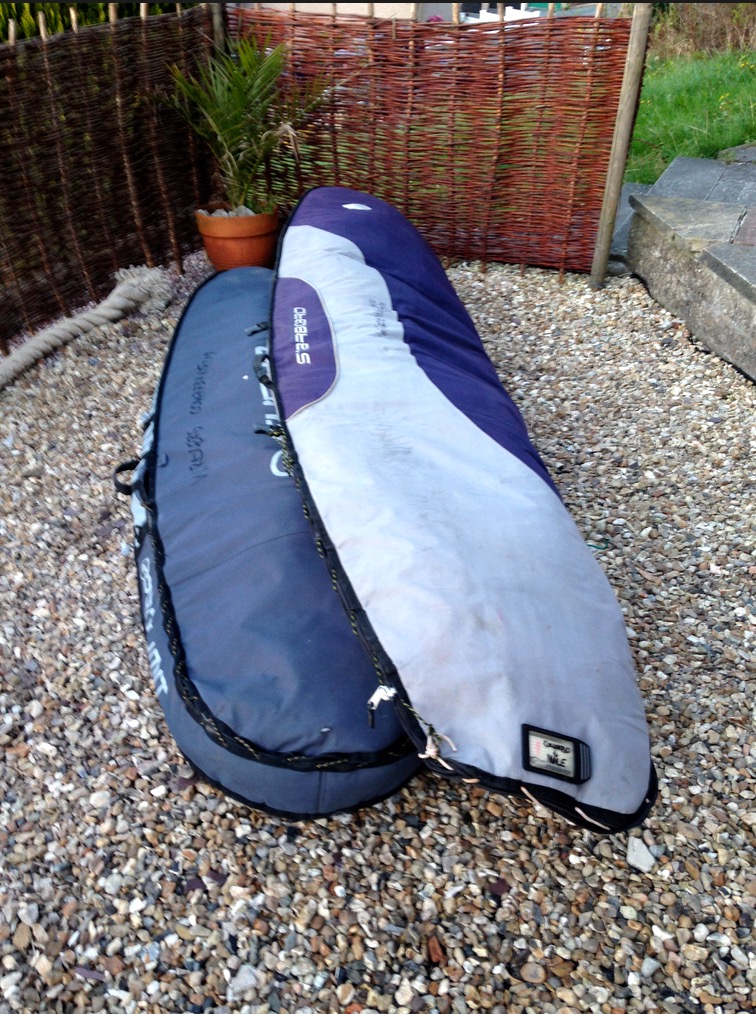 But remember, your packed boardbag doesn't just have to meet the airlines luggage criteria, you and the bag handlers also have to be able to physically carry it (along with your other bags/kids etc…!)
Also remember to have a roll of tape handy incase you need to make some final luggage adjustments at the airport. And a roll for your return journey, in your main luggage (not hand luggage as that can often make the airport staff a bit suspicious!)
You can guarantee that if you pack your board bag carefully to ensure it's under the weight limit they won't even bother weighing it. And if you decide to risk it, they definitely will and it will be over and cost you a fortune!!
Remove your board valve and fins
If your SUP has an air valve/screw, remember to remove this before packing the board. At altitude the pressure is higher and the air vent is designed to stop the board ballooning in the aircraft. Remember to keep it in a safe place for your arrival but make sure you remember to refit it before getting on the water. Taping it to your removed fins is always a good way of remembering and keeping them safe. Don't forget to take with you any necessary tools to fit them on your arrival, particularly if you are traveling to a remote destination.
Don't leave things loose inside your bag
There's always a risk that your bag might open in transit so take time to ensure that anything loose inside is tapped or tied to your boardbag. There's nothing worse that getting to the perfect SUP spot and realizing that your centre fin is still in the hold of the jumbo jet. A cable tie is a simple, light weight security method, to ensure your bag stays shut. But you'll need to get hold of some scissors the other end!
Think about what you take in your hand luggage
Sounds like an obvious one but along with the well known banned items such as liquids, scissors etc… airlines are also not too fond of fins, fin keys, screw drivers, tape, cable ties, and board valves. So to prevent them being taken off you and never to be seen again, put them in your checked-in baggage. It's not worth risking it.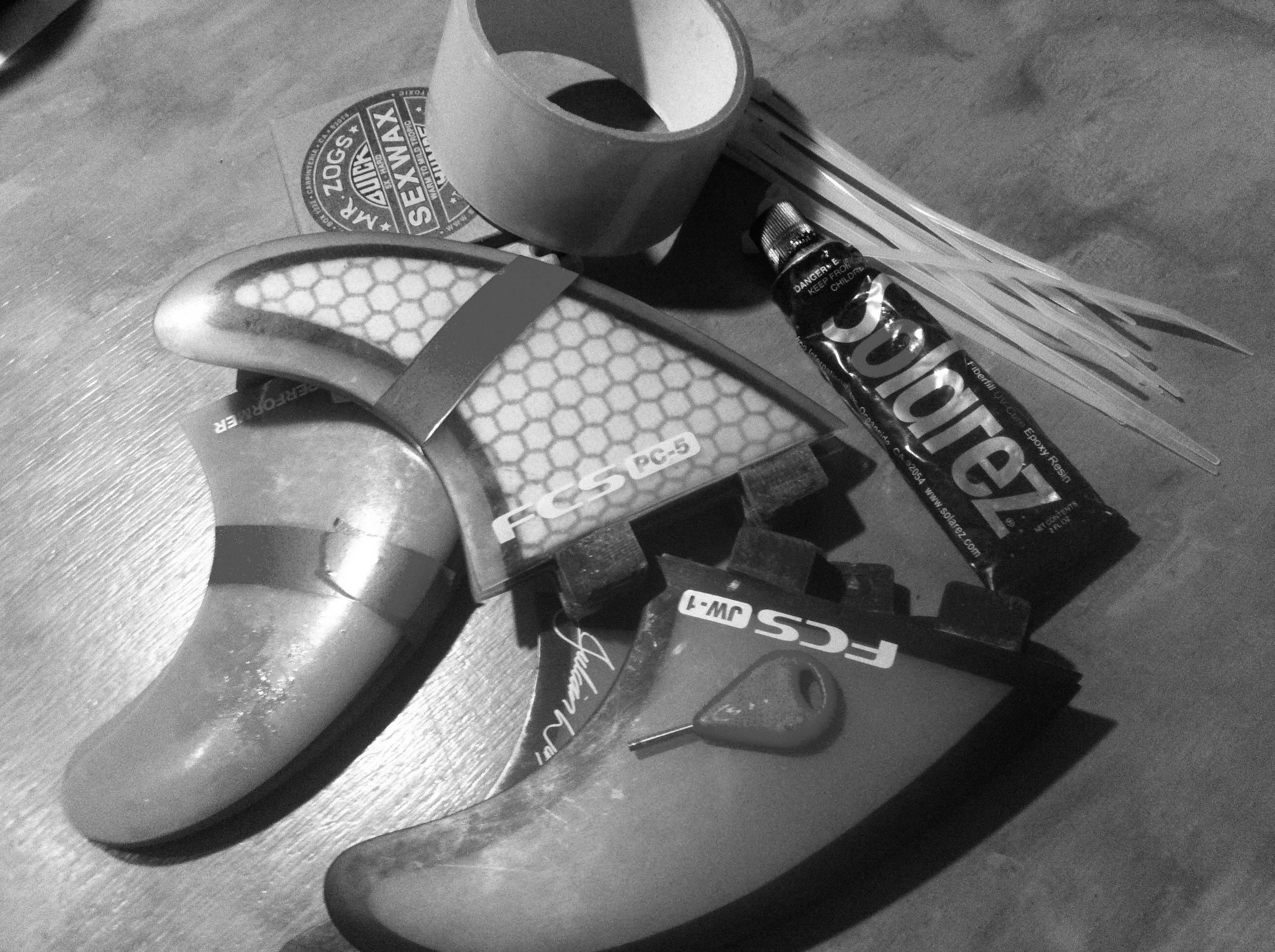 Be prepared to cause carnage at the airport!
SUPs are big! When moving your gear around the airport, particularly in a big group its going to cause a bit of disruption. Be prepared for this, give yourself extra time and have patience. An airport trolley can either make or break your airport experience! Until you travel with a SUP you're unlikely to notice little things like whether the trolleys can be pushed sideways as well as forwards! Most can't but when you discover they can it makes negotiating your SUP through a crowded airport much easier. With a bit of trolley practice you'll be amazed where you can go with a SUP onboard! Although it's worth giving the zig zag queuing a miss with your board bag. If you're traveling alone most airlines will let you leave your large boardbag alongside the queuing lane, so you can collect it when you get to the front of the que. But remember to always keep it in view. Or if you're traveling in a group it's best for one person to stay with the boardbag whilst you're queuing. Remember that although it may be your first time traveling with a boardbag, the airport staff will have seen it all before, so just ask them what's the best thing to do.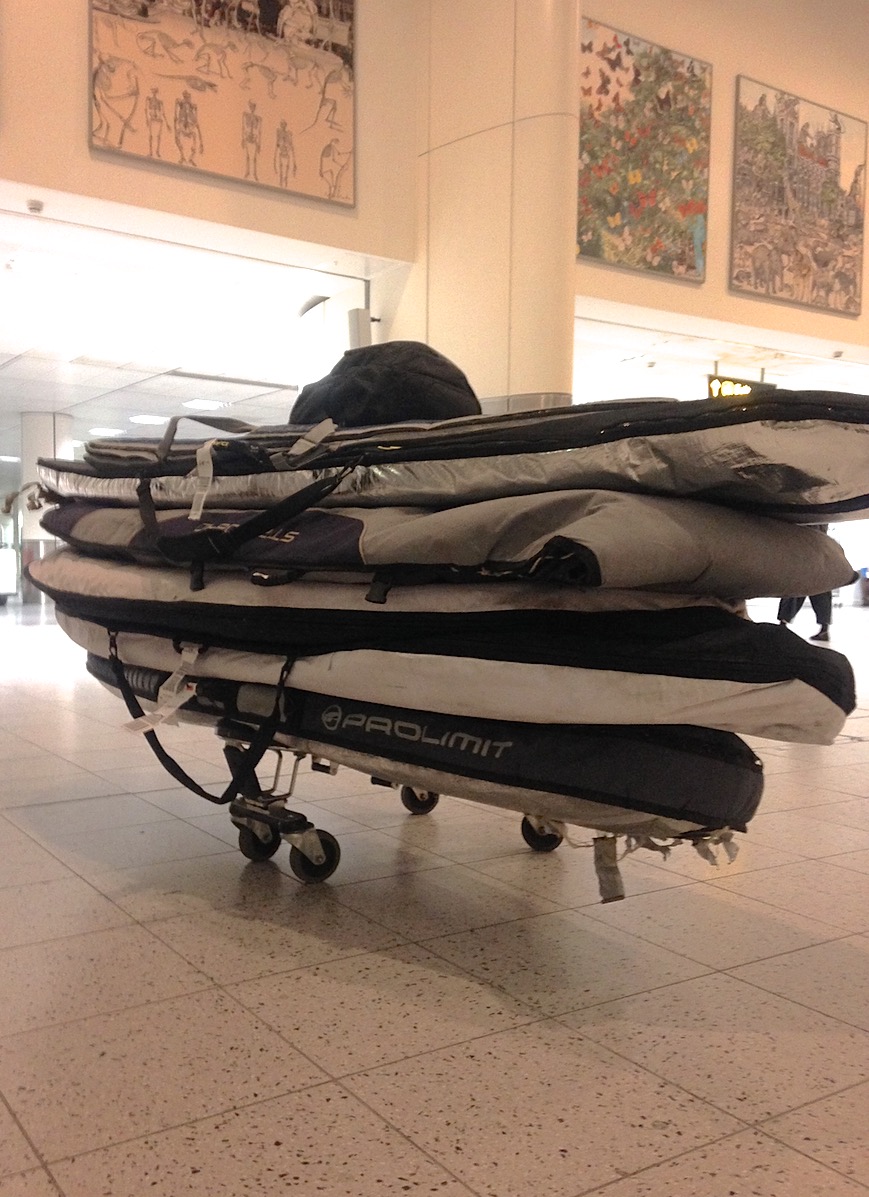 Be smart at check-in
Although not particularly heavy SUPs are large and can make the check-in staff a little nervous and uneasy (especially if you've got a race board!).  It helps if you arrive early, are polite, have pre-booked your kit on the flight, and help lift and move your gear on and off the scales.  A big smile and making your boardbag look lighter than it really is, can also help you avoid any unwanted excess baggage charges!
At the other end
Consider how you're going to transport your SUPs on arrival.. If it's by rental car, taxi, bus or a mates car, the chances are you'll need some roof rack straps and possibly a roof rack. An inflatable roof rack is a really handy item to take with you and also doubles up as great board padding. Roof straps can also be handy to tie around either end of your board bag/s to make a good shoulder strap and carrying easier.
Other top tips…
Take your wax off… to save on weight and prevent you arriving to a sticky mess in your board bag! Chances are you'll be using a different type of wax where you're going anyway.
Take a spare fin key.
Take spare tape and cable ties for the return journey.
Max out your hand luggage weight allowance.
Remember if you're driving to the airport in the rain with your bags on the roof, they'll get wet and probably weigh more at the airport than they did at home! So cover them in bin bags.
Write your name and address on your board bag with a permanent marker so if the tags are lost, your valuable possession will be returned to you.
Always have some spare currency on you incase you need to shell out for unexpected expenses. Don't rely on the airport having a cash machine, as many small remote airports might not.
So what are you waiting for? If you've had an urge to travel with your SUP, don't let the thought of flying put you off. A bit of planning and preparation goes a long way and can make traveling with your SUP a pleasant experience.  And just think about what you'll be able to do at the other end!