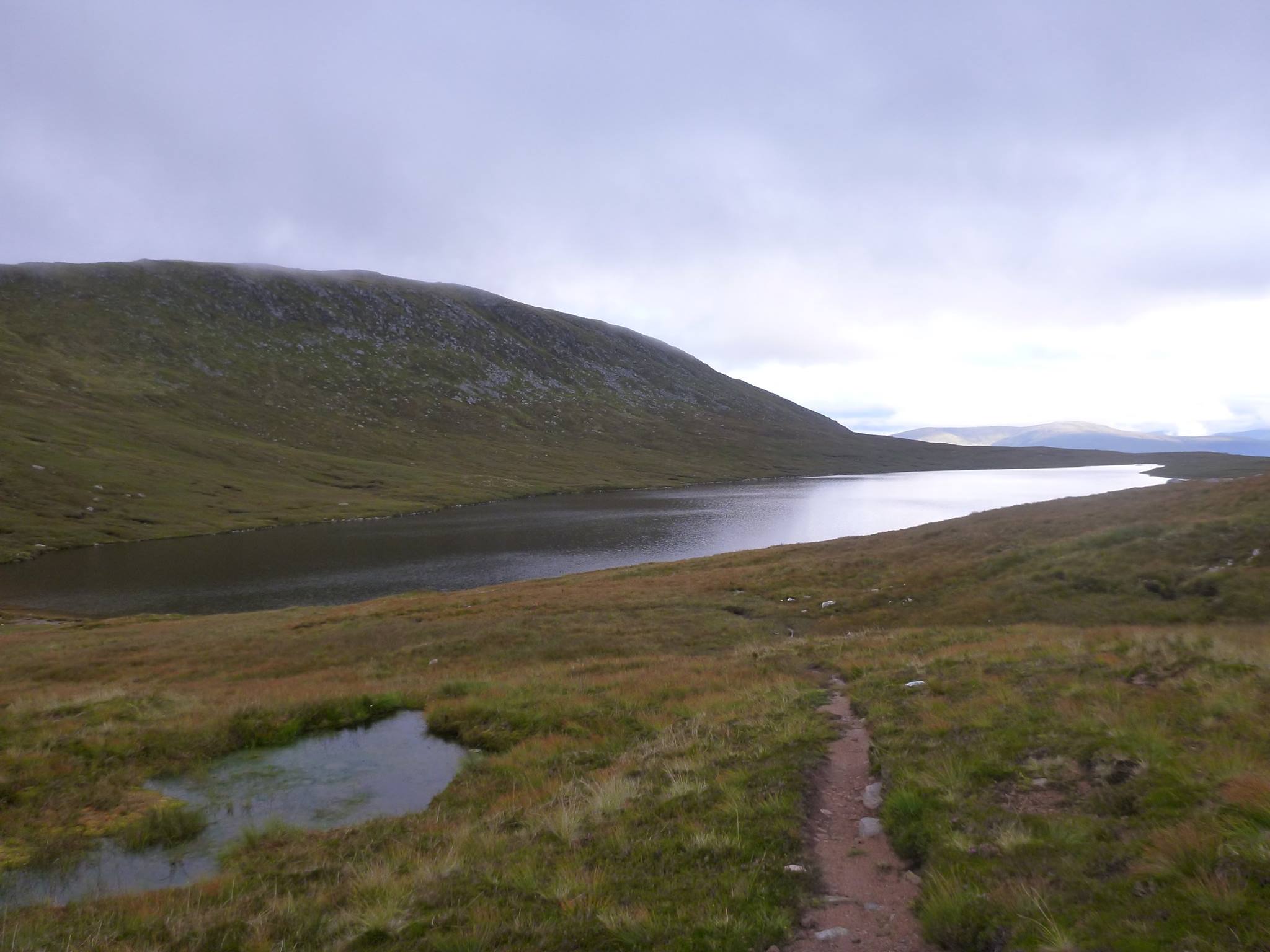 Ian Cormack is one of those SUPboarders who when he see's an expanse of water that's paddleable he just has to paddle it! Wherever it is and whatever it involves Ian's up for the challenge! And it was only a matter of time before Ian and his iSUP were scouting out the loch near the top of Ben Nevis, wondering if anyone had ever paddleboarded there before. Last summer Ian made it his SUP mission to walk up there with his iSUP. The paddle itself was just half the adventure. Getting there and who he met on the way made it a true adventure. Below Ian tells his story of feeling 'on top of the world… sort of!'.
Countless people will be familiar with that "because it was there" response to a certain question. Being a recent convert to SUP from various other watersports I discovered there was a whole new avenue of  "why did you do it?" experiences available to me that up until now were not on my radar. My latest "because it was there" experience came about when I was thinking that there was one piece of water in Scotland that I was 99.9% confident nobody had paddled before and 99.95% sure if it had it would have been in an inflatable kayak not on a SUP. The piece of water in question is a small Loch on Ben Nevis known as 'Halfway Loch', or 'Lochan Meall an t-Suidhe' to give its correct name. Now, I assumed early on that any piece of water that was half way (ish) up Britain's highest mountain would naturally be Britain's highest expanse of navigable freshwater – incorrect but that's another story! Psychologically unfair to walkers the loch is at about 600metres ASL while the Ben stands at about 1344metres.
Anyone who knows Ben Nevis will tell you its not a pleasant hill walk! No offense to the Scottish Tourism Board but there are many more scenic and peaceful walks/climbs in the British Isles but it's 'The Ben' and any ascent would instantly give you mountaineer status! Unfortunately its accessibility to Fort William means at least 100 mountaineers are crowned there every day in summer, by people who couldn't look any less like mountaineers if they tried. I am yet to see the view from the top but that's not because I haven't been there!
The morning I arrived it was overcast with a cloudbase at about 300metres meaning the loch would probably be in cloud but if that sort of thing put you off you would be waiting a long time for a clear morning to climb the Ben. The first part of the ascent is about as interesting as climbing the stairs in your house for 50 minutes, with a winding switchback of rocky man made steps, made even less fun when carrying an iSUP… but lets not forget why I am here. Once you get off the rocky steps there is a transformation at about 500metres onto a gravel track which zigs zags into the clouds culminating at the peak. I had chosen the Nine Six over the Twelve Six RED for pretty obvious reasons plus with the Loch only being a few hundred meters long I didn't see any need for a Touring board.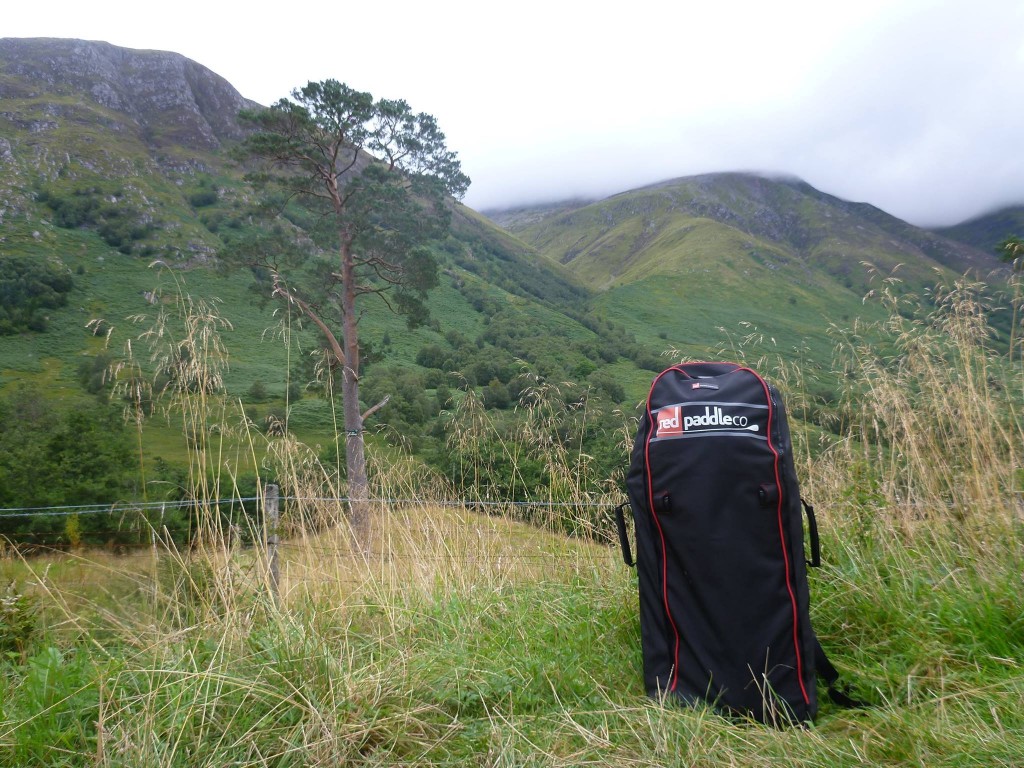 After about 90 minutes I reached the loch which had a sprinkling of overnight campers pitched around the shoreline. And the arrival of some guy pumping a board up didn't seem to affect anyones sleep pattern – unlike letting it back down again! Being a Nine Six it didn't take long to inflate and protected with minimal neoprene  (another weight saving measure) paddled out onto a surprisingly cold dark piece of water, that at best is probably about 20feet deep. End to end took about 5 minutes to paddle. On the return leg a guy appeared out of one of the tents in a kilt – which made me feel quite under-dressed for the occasion and very unpatriotic . I may have carried a board up here but this guy came up in a kilt. Respect!
There are many awe inspiring locations to paddle in Scotland, and the UK, but standing in the middle of the loch looking around it was a pretty surreal and humbling feeling. Dominated by the mountain to the north veiled in cloud and sat in a natural bowl there was very little to see in the area that wasn't exactly how it would have looked hundreds of years before – except for a guy on a paddleboard and a few tents insignificantly placed in the middle. Although who`s to say our ancestors didn't once camp up here in less brightly coloured tents and fish on the loch using hollowed out tree trunks and branches? Paddling along you pass over boulders the sizes of a small car which at some stage belonged further up the mountain but over the course of time had ended up here – hopefully on a day when there were no tents on the perimeter and no SUPs on the loch! The 5 minutes stood in the centre of the loch looking around was worth the 90 minutes getting up there.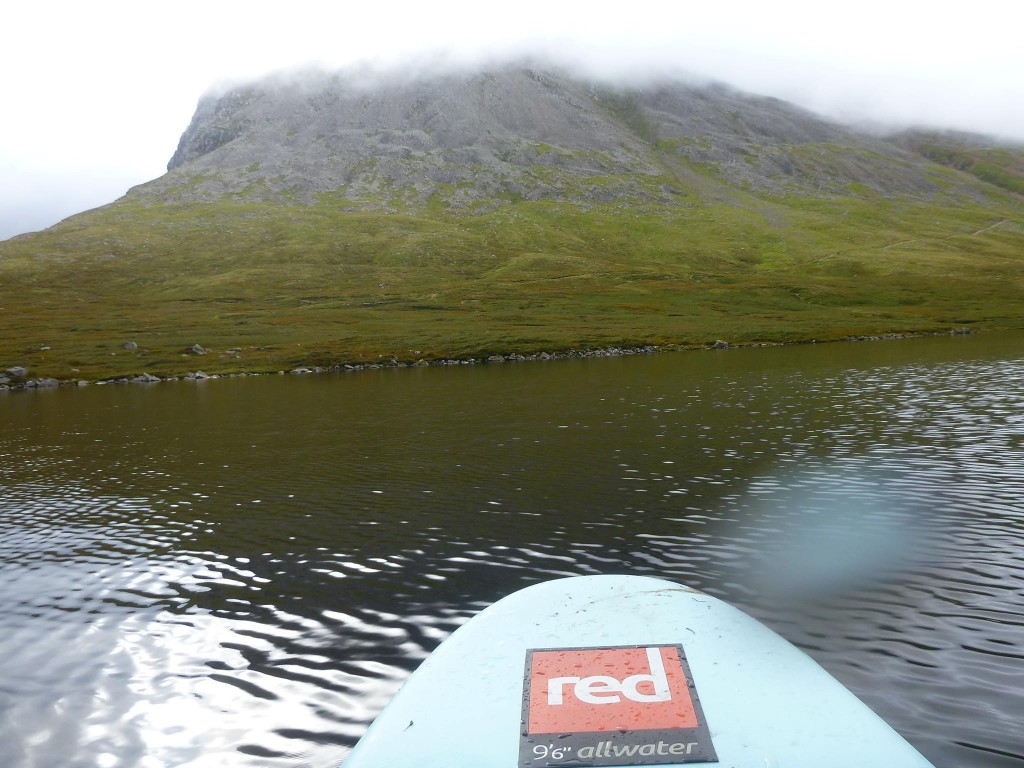 Having satisfied my curiosity, and hearing the distance call of a well known mountain sport café in Fort William I let the board down, woke everybody up from their slumber and headed down. You would assume a guy with a paddleboard on his back would probably be the strangest thing to see on a mountain side but as ever The Ben never fails to deliver on that score. It only took about 45 minutes to get back down but in that time I stopped to swap stories with an Olympic triathlete running to the top, 2 guys carrying full race downhill mountain bikes, various families looking totally lost and a geisha girl – yes genuinely! The two guys with bikes were from the Go Ape downhill team and were carrying them to the top for charity so they could ride, as much as it was possible the path back down. Even more respect. I have never felt guilty about giving to charity before but I only had a pocket full of loose change which I don't think the guy with the collecting bucket appreciated considering how much of the mountain he still had to ascend. As for the geisha girl, its amazing what lengths people go to in order to update their facebook selfies!
Afterwards sitting in the café in town reflecting on what I had accomplished and more so the people I had met my faith in humanities 'bonkersness' was fully restored. Just as I have relayed my tale I imagine somewhere on the Scottish geishas girls forum there is a story about a strange little character on Ben Nevis who had said he had been up to the Halfway Loch with some form of blow up board in a bag that you stand on and paddle – that will never take off. I can hear the geisha community laughing about it right now.
Whatever next?!
Words by : Ian Cormack owner of SUP Ecosse. Visit their website here for paddling in Scotland and more.

Where's the strangest place you've been to with your iSUP? Why not make 2015 the year of SUP adventure. You never know who you might meet on the way!