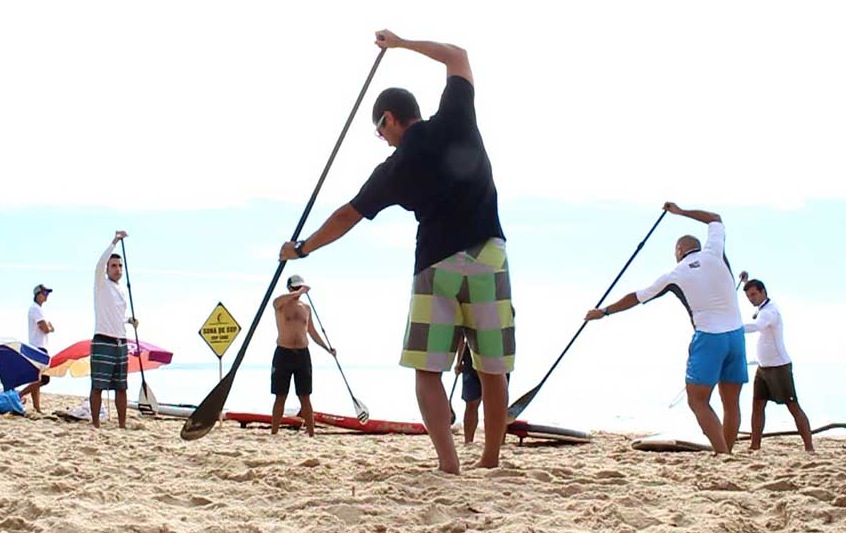 What is Functional Paddling?
Functional Paddling was founded in 2012 by Tiago Silva a SUP Instructor and Exercise Physiologist from Portugal. He created a SUP Conditioning program because of the huge demand of training methodology for SUP Racing. His SUP conditioning program combines water and on land training.Functional Paddling is a revolutionary tool for SUP athletes and/or SUP Instructors using the latest information about sports science applied to SUP.
As part of this program, Tiago Silva, incorporates unique techniques to get the most out of each athlete regarding their request. Body awareness training, Breathing & Core activation techniques, on land functional training and specific cardio training methods promise to help athletes to reach higher levels of performance.
A certification program for Functional Paddling Trainer Level 1 is already available for athletes and SUP Instructors.
Tiago Silva believes that every paddler has an unique technique related to his anatomy, past sports history, previous injuries and level of performance. Functional Paddling concept supports to find out how can your body work to maximize efficiency in performance including injury prevention.The acess is suitable for all kind of paddlers and SUP levels.
Who is Tiago Silva?
Passionate paddler , SUP surfer/racer and SUP Instructor since 2011 (ASI & IOSUP)  in Portugal. He is an Exercise Physiologist with a University Degree in Sports Science and owner of Portugal SUP Camp. Currently coaching one of the TOP 3 of the SUP World Tour in SUP Surfing and 2012 ISA Champion, Sean Poynter.
Upcoming Events
Certification (3 days), February 7th, 8th & 9th, 2014 (Fuerteventura, Spain)
Workshop (2 days), May 10th & 11th (Mallorca, Spain)
Workshop (2 days), June (dates to be confirmed) (Lake Geneva, Switzerland)
Functional Paddling is not a bootcamp. His workshops are filled with moments of instruction, mindfullness, and personal practice. He takes care of the pacing and fitness levels of all participants .
Contact Tiago Silva, functionalpaddling@gmail.com and www.functionalpaddling.com
Words : Functional Paddling