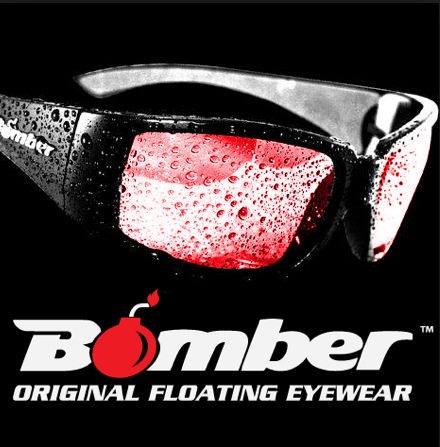 Bomber Eyewear is the world leader in floating eyewear, created in 1997 in California USA, by three-time World Champion Jet Ski Racer Tommy "The Bomber" Bonacci. After years of losing countless pairs of glasses while on the water, Tommy simply wanted a pair of sunglasses that would float! Drawing inspiration from his own extreme and active lifestyle, Tommy specifically designed Bomber Eyewear for the active lifestyle. Built with the best materials to offer maximum eye protection: nylon frame, flexible, lightweight and choc-resistant and polycarbonate lenses almost unbreakable. A foam lining ensures the glasses float, and offer comfort and grip, keeping your glasses secure on your face. Also the extreme resistant materials for the lenses and the frame make them ideal for any sport. Bomber products are innovative, strong, stylish and affordable, so that you can just focus on your passion! Many SUPboarders including Casper Steinfath and Pete Holliday wear Bomber eyewear on the water, as they're perfect for SUP.
Lenses and Frame
Bomber lenses: are made of impact resistant and almost unbreakable polycarbonate. Polycarbonate is also very durable and offers an excellent clarity.
Bomber frame: nylon is used for the frame to be ultra strong, choc resistant, flexible and lightweight.
Security eyewear
Because of the material used and the shape of our frames, most of our models meet the US norm ANSI Z87.1 for security eyewear making the glasses ideal for any sport or job where eye protection is a concern. Click on our product details to learn which models meet this requirement.
UVA and UVB protection
All our sunglasses block 100% of the harmful UVA and UVB rays.
Polarized lenses
Bomber sunglasses are available with polarized lenses to reduce glare reflected off shiny water or snow. This annoying light is filtered by adding vertical layers within the lenses.
How do Bomber glasses float?
Bomber uses EVA (Ethylene Vinyl Acetate) foam to offer floatation superior to any other floating eyewear. EVA foam is dense, smooth and light. EVA is typically used as a shock absorber in sports equipment. It offers comfort and a non-slip grip, keeping glasses snug and secure on face. The foam is also placed at the corner of the sunglasses. As a result, lateral air turbulences created by the speed, are reduced or blocked and cannot enter at the corner of your eyes.
Is the foam bulky?
Not at all. The foam is 2mm thin and is fixed in an insert on the inside of the frame, meaning that overall, the width of the sunglasses is unchanged.
For more information about Bomber Eyewear check out their website here or contact via email (info@bombereyewear.eu)