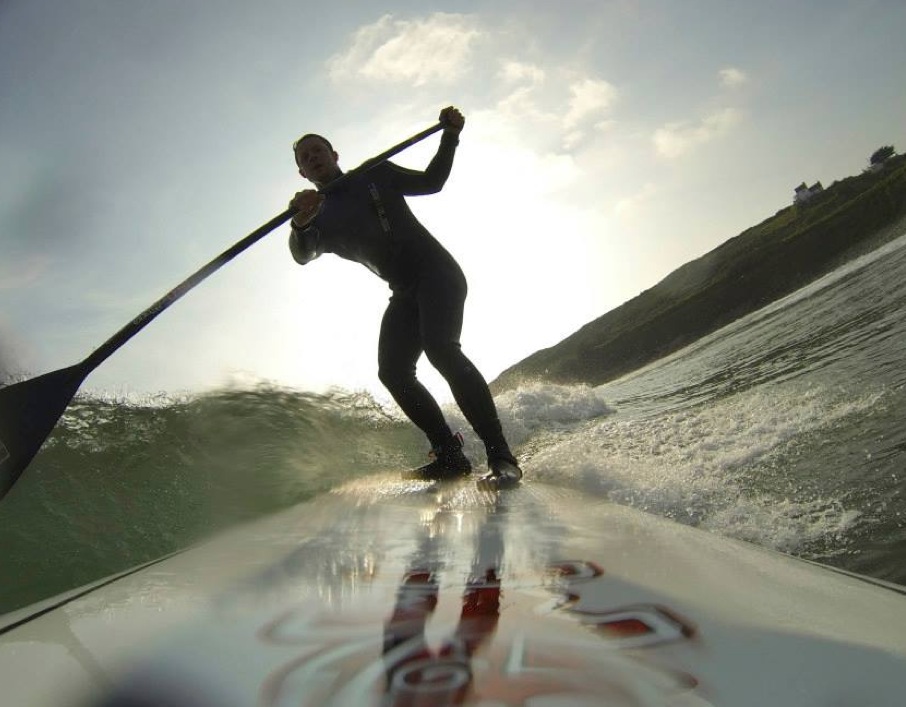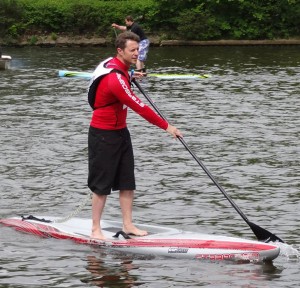 If anyone has grasped SUP to full effect, it's the charismatic founder of Central SUP and Kenyon Watersports, Chris Kenyon.  Through sheer passion and commitment Chris has brought stand up paddle boarding to the midlands, introducing hundreds of people to the sport with his infectious enthusiasm – we thought we needed to share a bit  of this mans passion, so we asked him to write us a regular coloum.  A regular guy, with a regular job enjoying a fantastic sport as a 'jack of all trades'.  He's got a great love for SUP and in his opening column gives us a feel for whats to come and why he has that 'love for SUP'.

It is with great pleasure I sit and write my first ever article for SUPboarder mag. After much thought I  pondered over what my opening gambit would be….  Perhaps something to do with the awesome and exciting race scene at the moment? There have been a ton of highlights so far as 2013 has shaped up to be a true year for the growth of SUP racing in the UK.   Or perhaps a bit about SUP surf in the UK? We've had great waves here at home and we've had the showcase of the best surfers out in Peru.  Then I thought perhaps I could write about a recent paddle I had done….but all I could think was none of these experiences captured all the things the sport gives me.
Then I realised that the reason I can capture all this in one discipline is what makes SUP so fantastic and that it is for ALL these things and so much more.  I enjoy all aspects of this sport and could probably categories myself as a jack of all trades but master of none when it comes to paddling.  The sport gives me so much enjoyment and my passion for it comes from the love of SUP!
There are currently some great racers out there and some paddlers who are dedicating their lives to the pursuit of this sport, but this is aimed at the 'average joe' of paddlers. The guy or gal who looks forward to hopping on their board on a rare summers night and enjoying a bit of time on their local water away from the troubles of life, catching a couple of waves with a Gopro attached to your board and scrutinizing over the 400 or so shots of a confused looking face to find that perfect face book profile pic.
In my case I've enjoyed so much and have some funny moments… like being told 'Oi mate there's no waves on this canal ' on too many times to remember.
I used to respond with a whole spiel about how it's not surfing and the boards are constructed differently and so on, but now it's just a standard 'OK ' and on I paddle thinking soon enough they will jump on a SUP and realise the love for SUP themselves.
So I suppose this first column is a way of explaining what I'm going to be telling you about as I continue to feed my obsession, nay dare I say it – ADDICTION for Stand Up Paddle Boarding!  After all, it certainly seems to be the year for it . The Dart race , Battle of the Thames, International Pro SUPer Jamie Mitchell coming to share his skills, National SUP Club Day,  The Bray Lake festival and Paddle Round the Pier have already happened with a huge impact on the UK SUP scene. Add to that a good show from our top UK competitors all doing well in some international events and you've got something special. After all , why do we do it otherwise? – one thing is clear no matter who you talk to on a paddle board you're bound to find the stoke for the sport. I can vouch for that having made friends across the globe via this sport. The rest of the year is set to be just as exciting with more events up and down the UK, more clubs starting up and even more individuals getting into SUP.
If the jet stream can play ball with us and shift the right way just a touch then we may just have the summer of summers this year. So I hope to bring to you some of the joys of the many sides to our sport as they arise, and in particular focus on you – the paddlers! The SUP community of the UK.
To finish I would like to to tell you a story of my SUP experiences around the canals of Tamworth. No matter how much you love your paddling there are always potential dangers to be marked. I'm not near the coast but the canal can whip up a serious head wind at times you know! Mine, however is not that,  it's far more serious and is becoming a regular feature,
I call it or him (I think it's a him!)  'Ralph the rogue swan.'
In fact Ralph now rules a hefty part of my local river and will now often 'jump me' from the reeds often causing me to go into the drink in a mad race to escape him.  If anyone can suggest how I might tackle this problem or is some kind of swan whisperer and live in harmony with my feathered friend or indeed has a similar tale to tell then please get in touch. For now I hope you get your (rogue swan free) time in on the water. Until the next time…
Check out Chris's other features like: