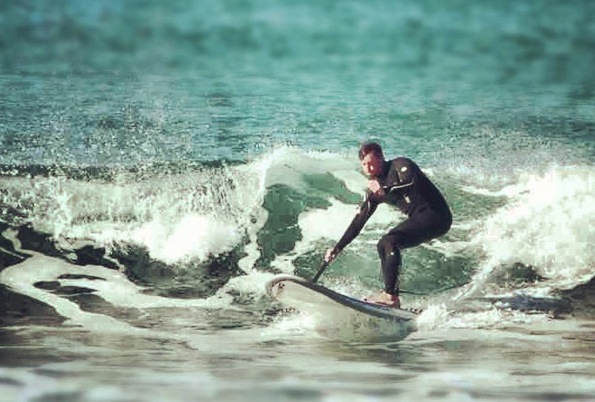 Chris Kenyon from the Midlands talks to SUPboarder about his love for the sea and surfing, and how it feels to be a land locked surfer. Stand Up Paddleboarding has helped give Chris his surfing fix despite living miles from the sea. Wanting to share his passion for SUP and meet other land locked surfers Chris set up Central SUP Stand Up Paddleboarding Club.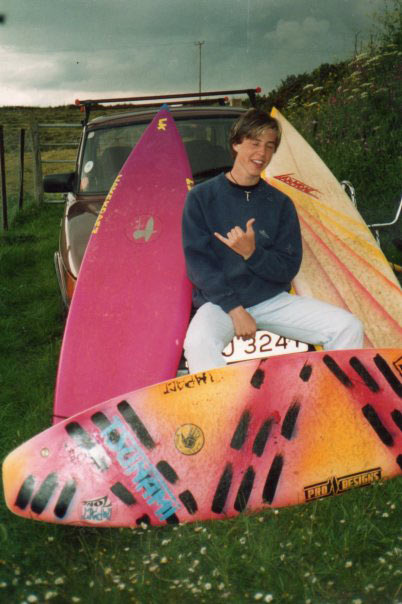 When I was little, being in the water use to scare me. I'm not sure how it came about but somehow I came to love it eventually. I think it was in my blood, my grandfather was an avid sailor and set up the first sailing club in the Midlands before he moved to Cornwall. Although it scared me I was exposed to the ocean on a regular basis with my family based down in Cornwall. I enjoyed every aspect about it from hearing the waves crashing late at night when we would arrive at my grandparents for our holiday, to just being on the beach in the sun. It was inevitable I would become a surfer, and around the age of 14 I did an incredible amount of car washing to raise the money for my first board – A Tsunami pop out in a variety of fluorescent colours with a bungee cord leash! I still have it infact.  From that day on my good old dad would drive around Cornwall, don his wetsuit and grab the body board so I could get some waves.  I would surf anything, and each session was so precious as I had so little time to enjoy the water. The irony of the whole thing was that I live in the Midlands, in the middle of the UK ! And about as far as you can get from the surf.
"It was a depressing thing for a 14yr old Kelly Slater wannabe to have to get his surf fix in the school holidays"
It also meant my progression was limited as I never got regular training sessions in.  In my late teens I moved up to a 6'8'' board and then finally a long board facing the fact that this would be the best way to get waves, and maybe because I was well on my way past 30. Perhaps I should have moved to the coast but I had strong ties in the Midlands and that was just the way it was. I also had my own family and work commitments which changes a lot of your priorities.
My appetite for waves may have been dampened but I never lost it, as one day the light bulb went off and I came up with a cunning plan to create  a website for landlocked surfers as I began to realize that I was not alone and there were actually quite a few of us.  During my research I accidently came across a video clip of Laird Hamilton on his SUP . What on earth was this? As I looked further into it I realized I could do this SUP thing anywhere! That was it really, I had my first paddle in Sheffield and was hooked. I got my first board and paddle and was off, nobody could stop me. I could paddle on the canal five minutes from house!  I got some odd looks doing that, I don't think the concept of SUPing the Midlands waterways had ever been done before then. OK, so it wasn't Hawaii but I could be on the water none the less. As my passion grew and became my obsession I found more and more I was becoming a Stand Up Paddleboarder and not a 'surfer', I was only using my SUP to surf and my longboard would remain in my uncles garage roof.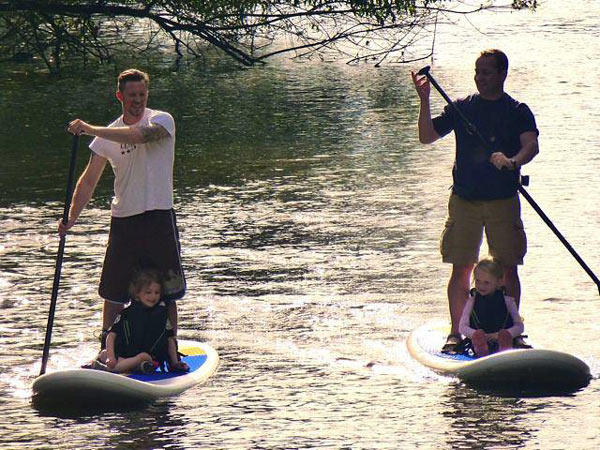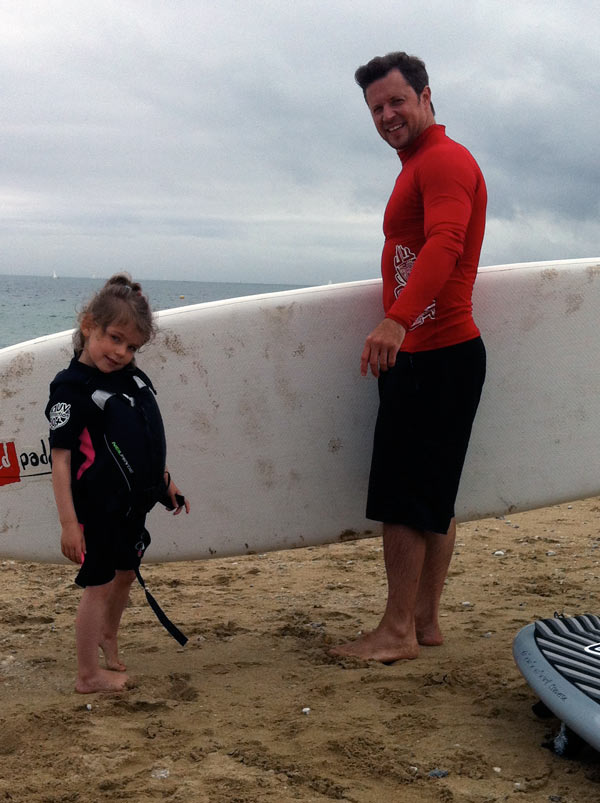 This story is not unique at all. I meet so many people who come to me saying they are a landlocked surfer and thought they would try SUP. Their addiction soon becomes as mine and they also become full on paddlers.  And that is the great thing about this sport, it has no boundaries. Not only has it inspired a whole new generation of landlocked SUP'ers (over 60 at central SUP club now) it has taken me to places that I would never have gone as a surfer. My love of the ocean and waves remains the same, I'm still as surfer just a SUP surfer now. My skills have improved vastly to the point of me even braving my first SUP surf competition at Watergate last year. I have also become interested in the racing side to but just for fun.  It inspired the creation of a club and there is nothing better than talking to like minded souls about your latest paddle adventures. If I want to surf now there are plenty of people up for a trip too.
There is certainly a lot more to this story of the land locked SUPer to come as I meet more and more people who have something in common with me.  As the sport of SUP grows I think that more and more inland cities and towns will see the figure of a paddle boarder on their local canal or lake , and who knows where that will take us in the future.
There's a vast amount of water out there to be paddled, especially for the land locked surfer… so go and find it. For more information about Chris Kenyon and Central SUP click here.
To find where to get on the water in your local area visit the SUP schools/club directory …and get your water fix.