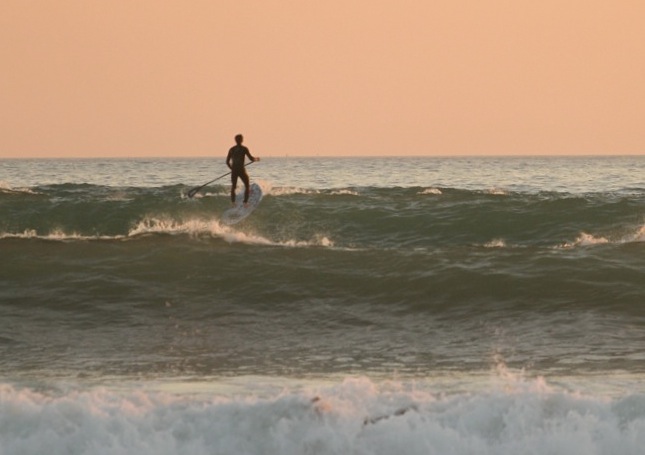 Over the last few weeks SUPboarder has been running the Zero 2 Hero feature. So far in the SUPboarder Zero 2 Hero Surf Features we've covered, what equipment you should be using in the surf, where you should be looking to go if it's your first session and how you should be behaving with your SUP in the surf. So it's almost time to get out there in some small waves on a quiet beach. But before you do that here are afew tips to help you get out there and catch your first waves.
In this feature of Zero 2 Hero we will be looking at;
Launching and landing – How to get you and your kit safely on and off the beach.
Getting out – How to paddle out in surf (by prone paddling, kneeling and standing up)
Catching your first wave – Turning to catch your first wave and the correct surfing stance.
How to handle your kit safely – How to bail safely from a wave and your equipment, when you are out in the surf.
Launching and landing,
Handling your equipment on the beach in small waves. There are a few basic tips that will really help you out when you are paddleboarding in surf. A SUP can be large and heavy and if you come in contact with one between the wave they can also become very dangerous. When launching with your board, first carry your board into knee – waist high water. Make sure you always stay between the wave and your board, never letting your board come between you and the wave. If this happens it will result in the wave pushing your board onto you and knocking you flat. It is amazing how much force a wave on your board will have, especially if you have a longer board. You should get used to handling a board in the shallows by always making sure the board is pointing directly into the surf. The best way to do this is to walk your board out by either pulling the board holding the nose. Or push the board out from the tail making sure that when a wave comes you force down on the tail, which will force the nose up and over the wave. (If you're unsure which way to try, always go for holding the nose, that way you will never have the board forced back onto you). When launching with your kit make sure you hold onto the middle/top of your paddle with the blade pointing towards the beach.  This is to stop your blade being caught in the wave and hitting you or being pulled out of your hand.
"The paddle can be a big problem if not handled correctly in the surf".
Getting out
Next you'll need to get out through the breaking waves to the non breaking clean waves. This is known as the outside. There are a couple of options and ways to do this. What you'll find is that you might use a combination of the below techniques when paddling out, especially in your first few SUP surfing sessions.
Prone paddling is lying down with your paddle under your chest and paddling out through the surf. This is a really good way of getting out back in small surf when you are unable to stand up. However there are some drawbacks in using this technique. You will find there is only a certain size of wave that you will be able to paddle over with your board. If the white water is larger and more powerful you may find that the wave will force your board up and backwards, sometimes forcing you back or even the board over the top of you. If this is happening the chances are that you will not get out back using this technique. When prone paddling it can also be difficult to trim your board as you are unable to move forward and back easily. However with some practice it is possible to paddle out in larger surf in the prone paddling position.
Paddling on your knees is a great technique because it enables you to use your core body muscles and rotate your trunk to get a lot more power through the paddle when paddling out. It will also give you a bit more freedom to be able to trim and balance your board when paddling over waves or white water. Paddling on your knees is also very handy after you have fallen off your board, you can quickly jump back on your board on your knees and start paddling relatively quickly.
Standing up is the ultimate technique. You will be able to trim the board using your body weight, as you will be able to lean forward and back when paddling out over white water or large waves. Also because you can use your full trunk rotation you will gain more speed when paddling thus helping you to get out back. There are a few key factors and tips that will help you stay standing up all the way out back.
Keep your head up and look over the wave as you are paddling out.
Paddle using your full blade in the water , and at a nice steady pace (the faster the board is going the more stable you will feel).
Paddle towards the wave at 90 degrees so you hit it head on.
As the whitewater approaches you, shuffle your feet into the surf stance position (this is where one foot is in front of the other) This will enable you to lean back on your back foot as the wave approaches, helping to push the nose and the board over the wave. Then put the weight on your front foot to trim the board over the top of the whitewater.
Keep your paddle in the water as much as possible. When you are about to paddle over whitewater place your paddle in the water just before the whitewater hits your board. Drive yourself over the wave and then put your next paddle stroke in at the top/ back of the whitewater. This will help to pull you over the wave and keep your stability and speed to the max.
Catching your first wave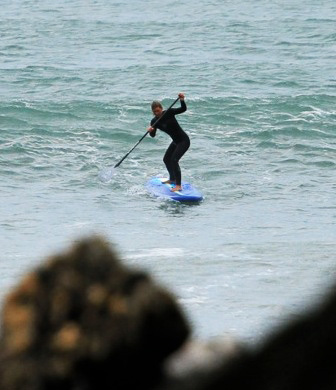 You're out back well done.. Now take a moment to relax, look around and find out what the waves are doing. A good surfer will be able to understand where the waves are breaking and which direction would best to ride before taking off on the wave. Understanding waves fully takes time and practice. We will be going over waves and the way they break in a future feature. But for now lets just try getting on one! There are four main things to understand and do when catching waves.
Complete your turn. When turning for a wave make sure you have completed the turn and that you are pointing directly back in at the beach. If you don't you might find that the board will dig an edge in and throw you off the side.
Surf stance position (same as paddling out). This position will offer you more control and balance. Also being able to lean on your front foot will allow you to catch the wave easily.
Speed… the faster you are paddling for a wave the easier you will catch one. Waves move at different speeds depending on their size. A small wave of about waist high (2-3 foot) will be moving at about 3 to 4 mph and a large wave of double over head (10-13 foot) will be moving at about 8-12mph. Therefore if you are paddling at 3 mph for a waist high wave the wave will slowly pick you up and you will catch it easily and smoothly. If you find that when you try and catch a wave the board shoots out infront of you or you fall off the back, it is probably because you are not paddling fast enough for the wave.
How to handle your kit safely
When out back in the surf, being able to maintain control of your equipment when you are on and off the board is vitally important for yourself and other surfers. Sometimes it is very hard to control the way you get off a wave and your board. When bailing (jumping off) your board on a wave, always make sure you jump off the board out to sea or over the back of the wave and never towards the beach. This will stop the board from coming back over the top of you. If you find yourself in the water unable to get back on the board as white water or waves approach you, make sure you do the following things.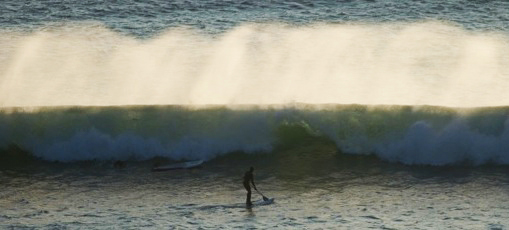 Hold your paddle at the handle with your back towards the approaching wave and the blade towards the beach.
If a large wave or whitewater is coming and you are in the water, push your board to one side of you and duck under the wave.
Never let the board come in between you and the wave.
Never let go of your paddle.
Always be aware of others around you.
Summary
So there you have it. Some simple top tips that will hopefully enable you to get out and get on it, whilst keeping you and others around you safe. Some people will prefer certain techniques, and some techniques work better in certain conditions. You just have to give them a go and find out what works best for you. Be sure that you understand the best ways to launch and land, have an idea of how to get you, you board and your paddle out back, how you should catch your first waves and how to handle your kit safely in the surf before heading out.

Zero 2 Hero  SUP Surfing # 1 What and were
Zero 2 Hero SUP Surfing # 2 SUP Etiquette