Paddleboarding in waves is not just for the expert – SUPboarder looks at the first steps to getting into SUP Surfing, in the first Zero 2 Hero feature
Everybody can have fun on a SUP in waves, as long as they're on the correct kit, on the right waves, in the best place and know a few of the basics.
Paddleboards are BIG compared to traditional surfboards and therefore it's important to be aware of your own safety and others when out in the surf.  Over the next few weeks SUPboarder will be bringing you a series of SUP surfing features, from zero 2 hero.
Part 1 / What you need and Where to go?
Board
There are a lot of different SUP boards out there but for your first surf session you don't need to buy the latest or expensive small board.  A good size to begin with is 9′-12′ long and 29″- 34″ wide; as long as you are comfortable paddling the board on flat water and it has enough volume to support your weight then this will be great for your first surf session.  Fin shapes and set up can be very important and will be covered in a separate feature – most all-round boards will be set up with a single swept back fin or a three fin setup called a 'thruster'.   An iSUP is also a very good way of getting into stand-up paddle surfing, without the worry of having a large, hard board hitting you on the head.  Starting with an iSUP can be a great way to build your confidence in the surf and learn the basic SUP surf skills.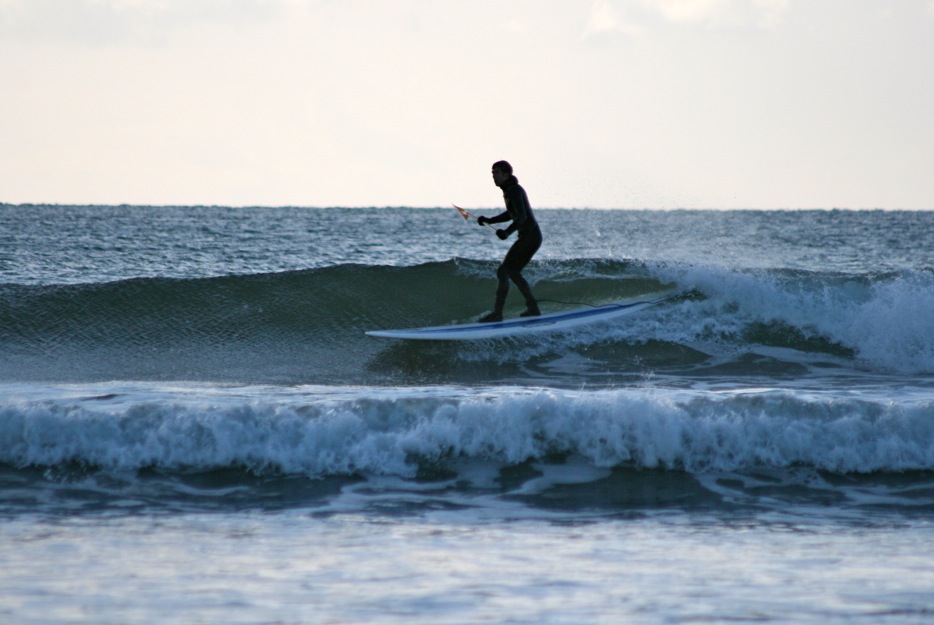 Leash
It is very important to have a good leash to attach yourself to the board. Your leash should ideally be around the same length as your board, for example when using a 10ft board you should have a leash around 9-10ft. There are many reasons for this, firstly the leash must have enough stretch and strength to resist the pull of the wave on your board (without snapping!) – the longer it is, the more stretch it has.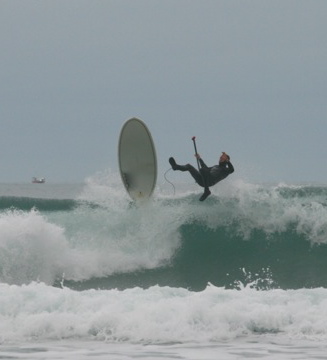 The last thing you want is your board to become disconnected from you and tumble in the surf towards other people or the rocks. Secondly, it's important to be able to move around your board freely and to get far enough away from it when being washed around by waves.  It's important to always wear a leash when paddleboarding, as you may not be wearing a buoyancy aid, and therefore your board is your flotation device and is best kept with you at all times! It's not recommended to use a coiled leash in the surf due to them having a large amount of spring back, which is not advisable when there's a large SUP at the other end!  If you are using your current leash get into the habit of checking the leashes condition regularly. There must be no cracks or splits in the main body of the leash and check the swivel parts of the leash for cracks or corrosion.
"It is always a good idea to have a spare leash in the back of the car there is nothing worse than having to leave good surf because of a broken leash…"
Tying a broken leash together is incredibly dangerous due to the shortening of its overall length, this is not a good idea.
Paddle
There are many specialist wave paddles available in different sizes and shapes however when getting into SUP surfing its not necessary to have anything  advanced – an all round paddle will be more than suitable.  It's more important your paddle is the right length, approximately 20cm above your head is a good place to start however many SUP surfers choose to use much shorter paddles. Tweaking your paddle height as you advance in your SUP surfing level will be covered in more detail in another feature.
Wetsuit
A good quality wetsuit is well worth having as it will help to prolong your surf session – particularly if you are surfing in cold water locations. If you are warm when you're surfing, you will react to the conditions faster, feel more comfortable and improve faster as you won't be constantly worried about falling in. A wetsuit will also give you added flotation in the water, and protection from your board if it does hit you.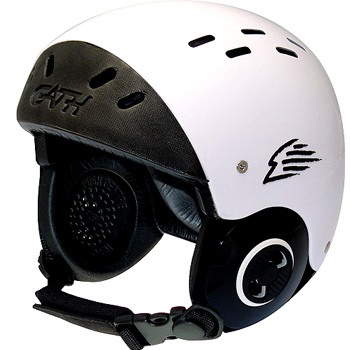 Helmet
To protect your head it's always advisable to wear a helmet when learning – SUP's are bigger than traditional surf boards and consequently its more common to see paddle boarders wearing helmets than surfers. They also help to keep your head warm in those winter months! The disadvantage is that some people find they effect their balance on the board due to your ears being covered; ultimately it comes down to personal preference.
Bouyancy aid
In general a buoyancy aid is not used in and around the surf for several reasons. Wearing a buoyancy aid in an environment where you will be climbing on your board a lot can often be a hindrance and waste energy. Furthermore, if you're wearing a buoyancy aid in waves, the wave will tend to hold on to you longer because you are more buoyant. You will also not be able to duck under the waves when you are swimming to get back on your board.
Again, its down to personal preference, but if you think you would feel more confident wearing a buoyancy aid then it would be advised to try it out in small waves first in the shallows, to see how you find it.
Where to go?
The best thing about SUP surfing is you can catch anything – from 1ft high to 50ft high! There are so many different places to surf around the world on a stand-up paddle board. The thing to do is find out where there are waves in your local area. This doesn't have to be the busy locals surf spot (and probably best if it isn't!  You can find out about the best spots by enquiring through a local surf/SUP shop, SUP club or ask a friendly local at the beach. There are also several good books available about the surf breaks around the country which clearly state dangers surrounding tides, rips and rocks.   The best beach is one where there is enough space so you don't have to worry about the crowds and where you can go and find a small wave on your own or even better with a couple of friends. You are ideally looking for a light wind day with a small wave of about waist high, to get you into your first SUP surf session.
Google Earth is a very good way of finding out new spots – especially if you are looking for somewhere to be slightly more sheltered from wind and swell.  The best thing about paddle boarding is that you can easily access spots less easily accessible by foot, so check out Google Earth and see if you can paddle to an empty spot to learn to SUP surf without the worry of crowds.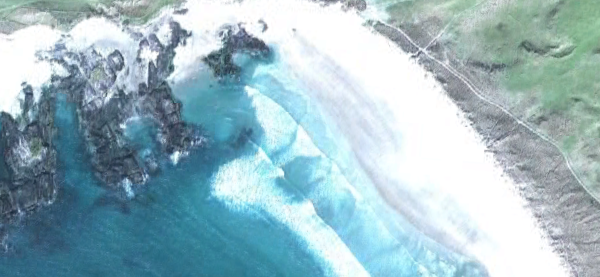 SUP surfing is a very enjoyable paddle board discipline and is really simple to get into – just make sure you have the correct equipment, its in good working order and that you research your local area and find out all of the possibilities of where you can go SUP surfing.
Happy SUP Surfing!
In our next feature we will be covering Surf etiquette, Surf rules and how to make friends not enemies in the lineup.