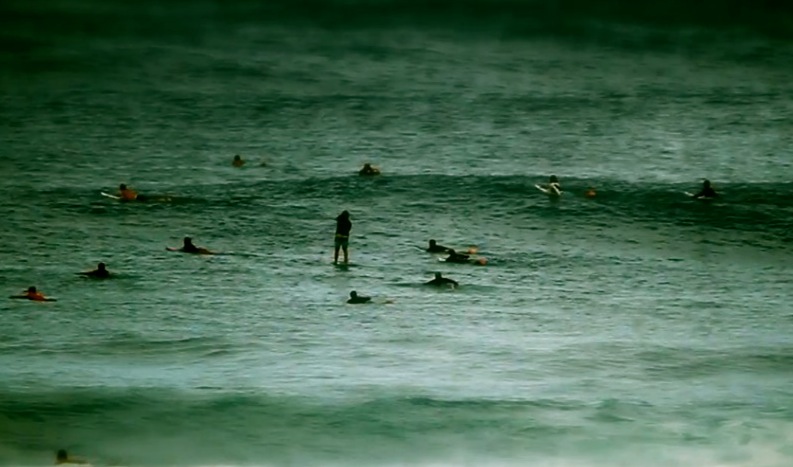 Following on from the first article in the Zero2Hero SUP surfing series – 1 /What & Where? this next article is all about SUP Surfing Etiquette. Surfing is defined as: 'a surface water sport in which the wave rider (surfer) rides on the forward face of a wave.' (Wikipedia).  Therefore, it doesn't matter what you're riding when surfing… a long board, short board, body board, kayak, SUP or an inflatable crocodile… the same surfing rules apply!
So before you go out on your SUP in any sized surf, make sure you know the surfing rules and all about SUP Surfing Etiquette. You will then hopefully find that you make friends  rather than enemies in the line up! The balance of happiness with all surfers when out SUP surfing in a busy surf break can be a hard thing to achieve. The big problem with catching waves when in a big group of surfers is that most people are after the same wave. If it's a quiet day for swell and not many waves are coming through, then this will only heighten the problem. Unfortunately many surfers perceive SUP surfers as a nuisance in the line up, due to many SUP'ers being unaware of SUP surfing etiquette – paddling out through busy breaks and catching lots of waves, with a big board that could easily injure somebody when the rider is being washed around in the surf out of control, understandably does not go down well with other surfers..
Therefore, it's important as a SUP surfer that you are aware of SUP surfing etiquette and  help change the perception of stand up paddle boarding in surf. SUP surfing is one of the most dynamic and technical sides to surfing.
Follow these basic rules and you will soon make friends in the line up.
Rights of Way
The surfer/SUPer closest to the peak or the breaking section of the wave has the right of way. This means if you're paddling for a right hander (the wave is breaking right when looking at the beach), and a paddler on your left is also paddling for it… then unfortunately it's their wave! If the whitewater catches up to a surfer riding a wave it doesn't give you permission to take off down the line. A good paddleboarder or surfer can easy get around a broken section of a wave and continue along the clean unbroken section.
If the wave closes out or breaks over a large area between yourself and another surfer you can take off for the wave, but be aware of the other surfer at all times as they may try to paddle around the section, in which case it is still their wave.
Don't Drop In

The surfer on the right of the picture has right of way. The surfer on the left is dropping in.
This is the most important rule in surfing etiquette. Dropping in is where a surfer goes for a wave when there is already someone on it. It is very stupid and can also be very dangerous…and you will definitely not make any friends! You are likely to get a firm talking to (if not worse!)  This is the most common problem at surf breaks all around the world. If you see someone you know doing this, please tell them not to before someone else does!
If you do accidentally drop in on someone (which can easily happen in a busy line up), don't panic, just pull off the back of the wave ASAP and signal to say sorry. If you acknowledge the fact that you did not mean to drop in and you understand the rules, there will be no problem and you'll gain respect for doing that.
Paddling Out Rules
The paddler going out should always try and paddle around the back of the surfer coming in.
When you turn up to your beach or break, have a look at the waves and see if there is a way of paddling out alongside the main break i.e. out through the river mouth or around the side of the main break. This will give you an easier paddle out, give you more space and more time to check the break out. And then when you have caught a wave and have started to paddle back out again, make sure if somebody is surfing towards you, you always paddle behind them, leaving them a clean wave to ride. If this is not possible then paddle as wide as you can, leaving the surfer lots of space to ride the wave and maneuver their board. There will be times when you're paddling back out and just find yourself in the wrong spot. In this case you will just have to make a decision which way to paddle, making sure you make it obvious which direction you're going.
Ditching Your Board Safely
Ditching your board is something you'll probably find yourself doing quite a lot when out in the surf, either when trying to get off a wave you're surfing, or when you do not want to paddle over a wave of a certain size! Jumping off your board is easy, but doing it safely takes a bit more thought, especially when surfing with others. When surfing in a busy break it is vitally important to know where your board is and where the nearest person is to you at all times. Please also be aware of the amount of stretch your leash has when you are getting tumbled in the wave. A leash length plus you're board length could mean a potential 25 foot radius of danger to others. This is another reason why paddleboarding in a quiet or empty surf  break is ideal. Being able to fall off your board without having to worry about anybody else is the best way to improve your surfing.
Don't Snake to get in position
"Snaking" is the term used for somebody who is continuously paddling through the line up of surfers and always putting themselves in the best position for the next wave that is coming in. It is easy to do this on a SUP but again that doesn't mean you should! It's not good practice and will not make you any friends. Surfing is all about sharing waves and everyone having a good time. And with a bit of practice on a paddleboard you will find that you will get more than enough waves in one session!
Keahi de Aboitiz plays by the rules at one of the most busiest breaks in the world. If he was not playing by the rules he would soon be pushed out of the water. Just because you are being respectful it doesn't always mean that the other surfer will be. See if you can spot the Blatant drop-in by a surfer on to Keahi wave. Sometime this will just happen, but if a SUPboarder does this you will have every surfer in the line up giving you stink-eye…
Don't paddle out to the middle of a busy break
The best thing about SUPing is that you do not have to paddle in a busy surf break. On a paddleboard it's easy to paddle over to a quieter peak just down the beach. The chances are you'll find a wave all to yourself, and you'll have much more fun.
However if it's not possible to get away from the crowds then paddle out on the side of the break and slowly bring yourself into the surf line up, being aware of other surfers at all times.
Don't catch everything that moves
Okay so you're a SUPboarder and you can catch as many waves as you want, but that doesn't mean you should! If you do this in a busy lineup you will soon be getting stink-eye, which is the term given when surfers are looking at you like they really don't want you to be there! If you want to catch every wave, then go and find yourself an empty break all to yourself, then you're free to catch as many waves as you want without annoying other surfers.
Be considerate
Always look out for others in the surf. Try and give people as much space as possible, and if you can start a conversation! Talking is the first step to making friends and educating others about SUP. Surfers are always keen to ask a good SUPer about their board and how long they've been riding for. They might even ask to have a go!
If you follow the rules you will become a well respected SUPboarder. Share and tell other paddleboards about SUP Surfing Etiquette and the rules and stand up paddleboarding will gain more respected at surf breaks around the world. Get out there and enjoy it!