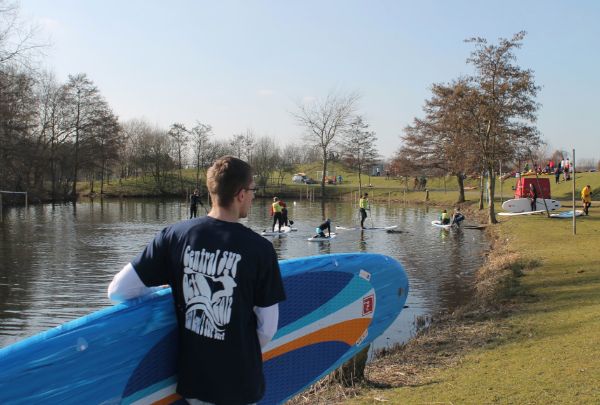 Last weekend (2nd & 3rd March 2013) was a great weekend for SUP in the UK. Not only were there some great SUP club events organised but also some sunshine too! Hopefully a sign that spring is finally here in the UK, and that summer isn't too far away either!
Central SUP in Tamworth had a busy weekend, giving both SUP newcomers and regulars the opportunity to get on the water, have fun and enjoy the sunshine! Here's what central SUP had to say about their weekends events.
A Weekend of Sun – by Scott Warren – Central SUP.
At Central SUP we had an interesting and exciting weekend in what turned out to be some glorious sunshine. On Sunday we had our normal club paddle in the beautiful Tamworth Castle grounds, taking some new paddlers out alongside our regulars the river Tame and Anker. Chris Kenyon also ran the first junior lessons of the year, and we hope to push the sport out to the local community and beyond and if only we could keep the sunshine this summer it looks set to be another good one.
Saturday was our first major event of 2013 and a chance to promote SUP outside of paddle boarding. We had an invite to attend the National Student rodeo at the National Water Sports centre in Nottingham. The rodeo is a freestyle kayak event where universities from across the country gather to run the white water course, compete, have some fun and ultimately party on through the night over the weekend.
With some estimated 1000 students attending Central SUP couldn't pass this opportunity up to get SUP out there to people who already have an interest in water sports. Our aim for the day was to get as many people out on the water as possible and promote the UK scene as it grows. It turned out to be huge successes with some 50 brave students giving SUP a try for the first time on a small lake beside the white water course.
We took with us 13 Red Paddle co. inflatables and 10 Starboard hardboards of various shapes and sizes. In all honesty we didn't think we would use all of them but we decided to take more than we needed just to be safe. As it turned out we could have taken twice as many as we had a lot more interest than we expected, and in the end ran out of time as the water was closed ready for party time to begin at 4pm.
The day started out by gathering at Central SUP HQ to pack up the kit and get everyone sorted into cars etc. Nottingham from Tamworth is around 45 minutes away and the sun was already shining by the time we hit the road, and it looked like the sun was set to stay which was a pleasant change from the cold of the previous weekend. As we arrived the day's events were already in full swing so we decided get straight to work setting up the tent and inflating the boards ready to go. Of course there is always one little hitch as we got the van stuck in the mud right where we had planned to put the tent, but with a good push it was soon out of the way.
As we finished setting up, breakfast was on the agenda as we expected it to be steady gaining some interest at first. Needless to say that by the time we had grabbed a sandwich there were some students ready to give SUP a try. We met all kinds of people from all around the country and everyone who came over wasn't disappointed. There were nervous first timers, headstands, confident ones braving the chilly water in just shorts or fully clothed and plenty of smiles as the day went on, with even some clowns coming along for a go as well.
And it was great to see some of our club members, friends and family getting stuck in a lending a hand, be it with setting up kit, helping out with paddle strokes, handing out flyers or taking photos, we simply couldn't of done it without them and a huge thank you to all involved. Ultimately for us SUP continues to be a huge part of our lives and Central SUP started with the mission to take Paddle Boarding to the people in the right way. Saturday was a great day topped off with a pleasant meal and a chat before heading home. We had fun and banter with kayakers, Paddle Boarders, friends and family, and all in a bit of early spring sun, what could be better. At Central SUP we are very much looking forward to a great 2013.
Many thanks to Jen Habart and Matt Duffy for the great photos.
If your SUP club/school held an event last weekend make sure you let the SUPboarder readers know about it… so they don't miss out on the next one! Find out how your SUP club/school can contribute to SUPboarder here.
Or if you want to find out where your nearest SUP club/school is… check out the SUPboarder SUP Club/School Directory.
The SUPboarder Event Calendar is a great way to find out about all the SUP events happening this year.