The next up and coming SUP competition star to be interviewed by SUPboarder in their Young Guns Feature, is Charlie Jones. Could Charlie possibly be a SUP champion in the future?… we'll just have to wait and see! But just now, lets find out more about the man himself…
Charlie Jones / Readings Racer
Charlie is already a very well known character in the freestyle windsurfing world, but having tried SUP for the first time only last summer (with a bit of persuasion from his dad!), he has quickly shown impressive talent in SUP racing. Charlie has already achieved some impressive SUP racing results at his nearby club Bray Lake, demonstrating that a background in the athletic sport of windsurfing has helped accelerate him to the front of the pack in the local SUP racing scene . If Charlie can continue to fit in SUP training around his college work, then we're certain he'll be one to watch in 2013.
So over to Charlie…
Hey Charlie, thanks for taking the time to talk to us. To start with here are some standard questions we ask all of our 'Young Guns'… 
SB/Where are you from?
Charlie/Reading, United Kingdom.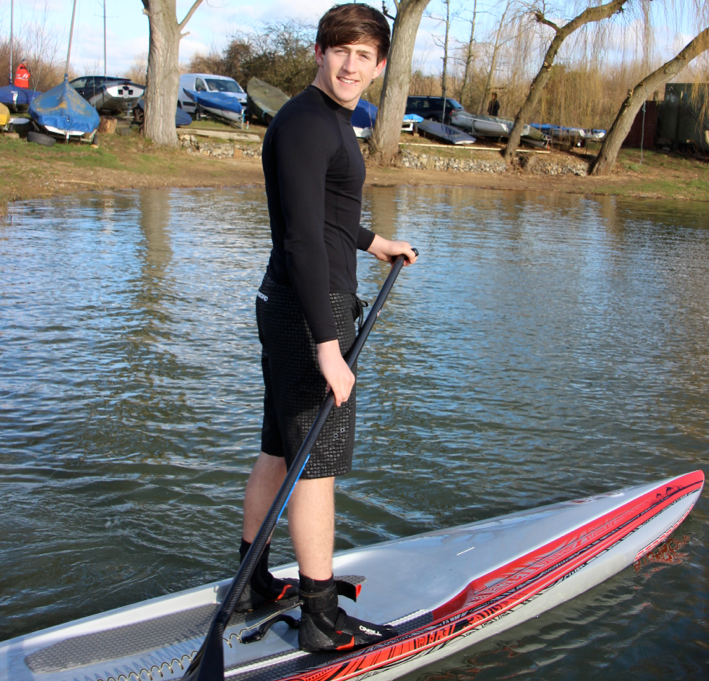 SB/How old are you?
Charlie/17
SB/Car or Van?
Charlie/Car
SB/Which SUP disciplines are you competing in?
Charlie/I'm currently competing in a winter race series.
SB/How long have you been paddling a SUP for?
Charlie/I only started paddling back in September 2012. This was when I found out that I wasn't too bad at the race side of SUPing!
SB/Favourite place paddled?
Charlie/Vassiliki, Greece.
SB/Place you want to paddle the most?
Charlie/Nowhere in particular as I'm into the racing so I don't require waves to have a good time on a SUP board!
SB/So we heard your nickname is Charles?  What's that all about?
Charlie/Well, shortly after I started SUP racing with Ben Swails he started calling me Charles. I guess its him trying to annoy me because he knows I'm not too far behind him when we race!
SB/Have you got any big influences in SUP?
Charlie/My biggest influence has been Ben as he's helped me a lot with technique and its always good fun to paddle with him.
SB/What paddle length are you using?  (cm above head)
Charlie/I am trying out a number of different sized paddles at present.
SB/We know you have been doing pretty well on the results side of things for a relative new comer to stand up paddle board racing – what's your best result so far?
Charlie/My best results have been 2nd in a few of the Bray Lake winter SUP series races just behind Ben. And I've come 1st in one race when Ben couldn't race!
SB/Tell us how you got into SUP?
Charlie/My Dad has always been into his SUPing, spending hours on the river paddling in the summer evenings. He always tried to encourage me to come along to the Bray Lake SUP Club which is run by Ben, and I always made some stupid excuse as to why I couldn't come along! But eventually I was persuaded and I've been hooked ever since!
SB/What music should we be listening too?
Charlie/Anything Indie!
SB/What boards do you paddle?
Charlie/My favourite board to use is the 12,6" Starboard Race.
COMPETITION
SB/So, you eventually got into SUP but what is it that got you into SUP racing?
Charlie/Definitely the competitive side to it which always adds to the fun of the racing! And also the fitness that comes along with racing as you are physically drained after racing, especially when your trying to keep up with paddlers like Ben Swails!
SB/Have you ever SUP surfed?
Charlie/I've given it a go when I was at a Windsurf freestyle event in Wales, but I soon realised that I should only be in the waves when on my windsurf kit!
SB/How would you rate the ease of getting into SUP competitions?
Charlie/It's incredibly easy to get involved in SUP racing, as everyone is extremely friendly and helpful. And obviously the banter that comes with the SUP racing is good fun! I would definitely recommend racing!
SB/We have seen that you are a bit of a super star windsurfer – can you tell us a bit about your windsurfing background, competitions, travel etc…?
Charlie/My dad first got me into windsurfing when I was 7. I started to go regularly and progress in the freestyle side of things when I was about 15. Soon after starting freestyle I started competing on the UKWA Freestyle Tour and have been doing to for the past 3 years. This year I finished 3rd in the youths. I have spent the last two summers windsurfing in Vassiliki, Greece. My favourite spot I've ever sailed has to be El Tur in Egypt. Its everything a Freestyler wants!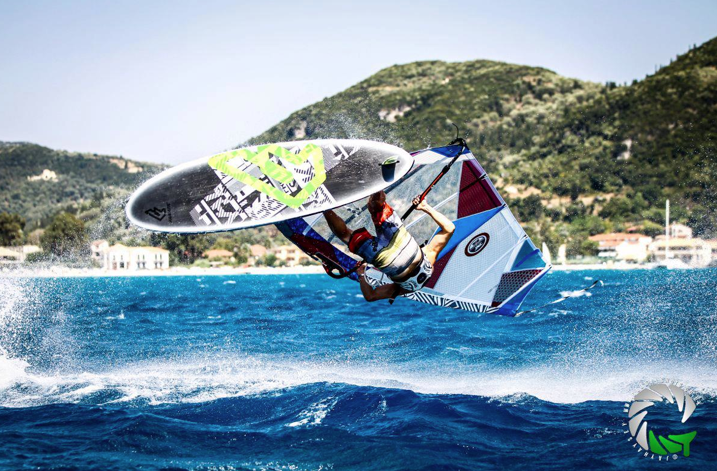 SB/…and then how come you got into SUP, and how do the two sports sit well together for you?
Charlie/I got into SUP through Bray Lake who have been helping me out with my windsurfing. I think that the fact there is a lot of SUPing at all of the big windsurfing events throughout the year, will make it easy for me to switch between the two sports.
SB/Have you ever had a background in endurance sports?
Charlie/I'm the classic lazy teenager! So SUP racing is the first proper endurance sport I've been interested in!
CHARLIE'S SUP WORLD
SB/Tell us a bit about what it's been like growing up around Bray Lake?
Charlie/Well I've lived around Bray Lake since I was born and my dad has been going to Bray Lake for many years. So as soon as I was old enough to get out on the water at Bray I started taking part in the various kids summer courses that Bray Lake has to offer! As I realised that windsurfing was my favoured sport I concentrated on windsurfing. And Simon at Bray (not forgetting James and Seb and the rest of the team at bray!) has been extremely supportive of my windsurfing ever since.
SB/Windsurfing freestyle sounds like a very different sport to SUP racing where its about endurance rather than style and spinning around in circles – does the endurance thing get you motivated?
Charlie/Definitely with the windsurfing. Although I do love taking part in the competitions, I still have just as much fun when I'm out free sailing and trying new moves! Whereas with the SUP racing, I love the competitive side to it as well as the fun and banter. And also the fact that each time I race I know I'm getting a good work out, as I've always been keen to keep fit!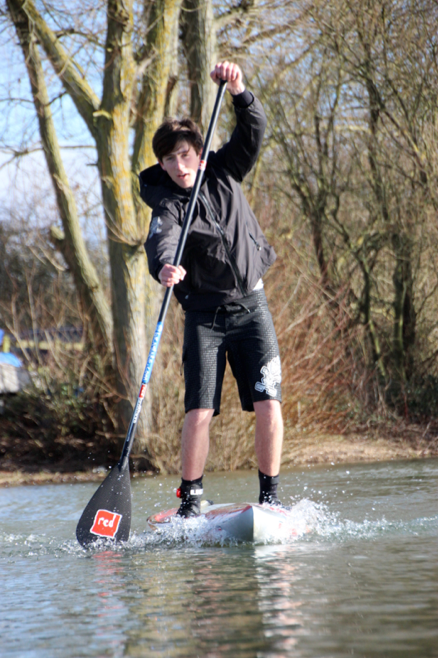 SB/Is SUP cool?
Charlie/How can something with the name "SUP" not be cool?
SB/Have you ever got any of your mates who are not into water sports out SUPing?
Charlie/I have tried with some of them, but most of them are more into sports like football and rugby. And they prefer just watching the water sports rather than taking part in them. My advice would be not to take it too seriously and go into it knowing that your going to have a laugh and meet new people!
SB/Do you train at all for SUP or windsurfing?
Charlie/I spend a lot of time in the gym doing circuits and free weights as I'm trying to get my strength and fitness up for the SUP racing!
SB/What are your SUP goals for 2013 – what will you be competing in and how do you want to rank?
Charlie/At the moment I'm not too sure what I will be competing in as I'm just finishing my last year of college and trying to plan out my summer. But once I know what my plans will be for the summer I will get onto entering some competitions straight away. I'm mainly going to use this year to gain experience but I will still obviously paddle hard in every race and see where I come!
SB/Laird Hamilton – Mad man or Legend?
Charlie/Both!
SB/Inflatable SUP's – Cool or Stupid?
Charlie/Cool!
SB/Do you think Sup will ever be in the Olympics – would you go for it?
Charlie/I think once the sport has grown, I think there is a gap in the Olympics for SUP. And if I ever reached that level then that would be awesome!
Thanks Charlie – SUPboarder wishes you all the best with your SUP racing and last year at college. And Ben Swails if you're reading this… watch out for Charlie at the next event because he's going to be snapping at your heels like a small dog!
If you missed SUPboarders first Young Gun Feature with Aaron Rowe make sure you check it out.