Happy Sunday, and welcome to SUP weekly, the place for your UK SUP news!  This weeks been a bit of a mix on the weather front – snow in the beginning and very cold temperatures, but luckily milder conditions for the weekend. Not great for relaxed cruising on your paddle board, but there has still been plenty going on in the world of SUP for those desperate to get their time on the water fix.
One of our favorite pictures of chilly stand up paddle boarding came to our attention via social media from Paul Kendrick http://www.suppaul.blogspot.ca/ – we can't wait to see how long before a brand will bring out an ice breaking SUP!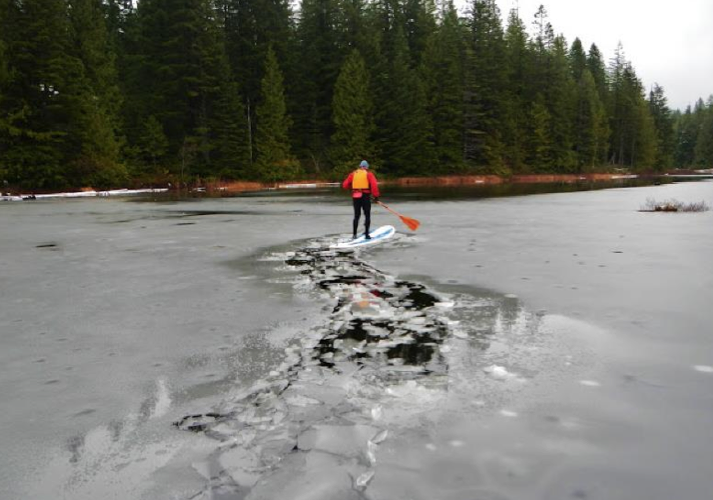 If you have any great pictures of SUP in the chilly temperatures, send them over to us on our facebook page or by email and we will do our best to publish them.  This weeks featured image is of a winter sunset at Polzeath Cornwall, UK.  A brilliant SUP surfing spot.
It looks like even hardened Jersey Young Gun Aaron Rowe, has been keeping off the water in the cold weather, choosing instead to edit the highlights of his year in this nice little video.
AARON ROWE from Tim Rowe on Vimeo.
We are expecting big things from Aaron, who even said he would be keen to train for the Olympics if Stand Up Paddleboard racing ever was selected! It seems that that the idea of SUP in the Olympics is not as crazy as we might think, with even one of SUP's pioneers, Dave Kalama suggesting he expects it to happen in our exclusive interview from earlier this week.
We have also seen that team Fanatic SUP have been getting hold of their new 2013 Carbon Falcon race boards and trying them out around the Shoreham area.  They look fast, but the proof will be in the pudding on the 2013 race series!  The guys have also been making the most of the snow on some iSUPs as well – looks awesome!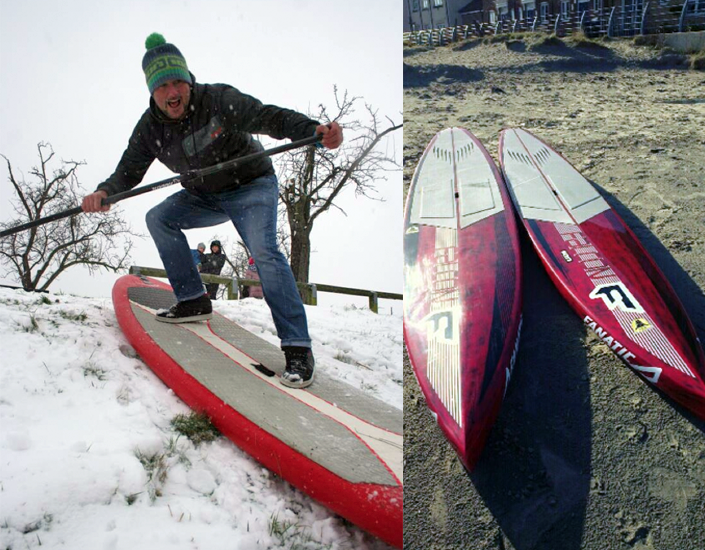 Its worth checking out UK SUP coach and producer of the excellent 'How to SUP' videos, SAM ROSS'S new SUP dedicated website, Sam emailed us to tell us he is planning some 'SUP retreats' in May around the Poole area – keep updated to his website for more details. If we know Sam, it will certainly be full of  exciting SUP fun!
News from windsurfing is that the Red Bull Storm Chase is hitting Ireland for one of the biggest storms ever seen – Red Bull are flying windsurfers all the way from Maui to compete in the crazy contest – Irish windsurfer and extreme paddle boarder Finn Mullen might have to sit this one out as the storm is expected to be of mammoth proportions – but if the wind is lighter that expected and its at all possible to paddle some of the big Irish reefs we are sure Finn will be out there catching monsters like he was at Aileens in this video from last year!
Finn Mullen SUP Aileens 21/10/2012 from Tam Mullen on Vimeo.
As we mentioned a few weeks back, Central SUP, 'the land locked surfers' have been road tripping to the coast to catch some waves – they have now produced this video of their trip.

This weekend marks the first of the winter 2013 SUP race events, which kicked off with the Bay SUP, WeSUP and Central SUP races.  News is trickling in from all the corners of the UK of results -we will publish the full story, pictures and full results early in the week.
If you are thinking of training for a race event, and haven't checked it out yet, have a look at out our hugely popular SUP race feature on building a training plan by Ben Swails to get you motivated for the new season!
Finally….
JOIN THE CONVERSATION!
If you want something to keep you occupied over the next few chilly winter weeks and don't fancy getting outside, then Join our fast growing forum conversations.  There are loads of newcomers to SUP asking for advice and help on where to SUP, where to buy, and what kit they should get, so please, get involved and pass on your knowledge and advice.
SUPboarder Mag is your SUP community and you are the SUPboarders…
Happy Paddling!