The Pornichet Paddle Trophy is happening on June 25 to 27, 2021. Three days of stand up paddle races and entertainment in Pornichet, France with €10,000 prize money.
**Press Release Le Pornichet Paddle Trophy Organisers
After the successive event postponements and cancellations due to health restrictions, the stand up paddle race is ready to rebirth its international season of events with the Pornichet Paddle Trophy happening on June 25 to 27, 2021.
If the 2020 edition, maintained in September, allowed amateur paddlers to line up against members of the French world champion team, this 2021 edition celebrates the return of an international field in Pornichet. The French multiple world champions Titouan Puyo and Olivia Piana will have to hold their rank against world class athletes such as Fiona Wylde (USA), Leonard Nika (ITA), Susak Molinero (ESP), Marcus Hansen (NZL) or Vinnicius Martins (BRA). The victory will be defined by the combination of results on two races: a distance race (1O km – 6 miles) and a "beach race", to award a prize money of 10,000 €.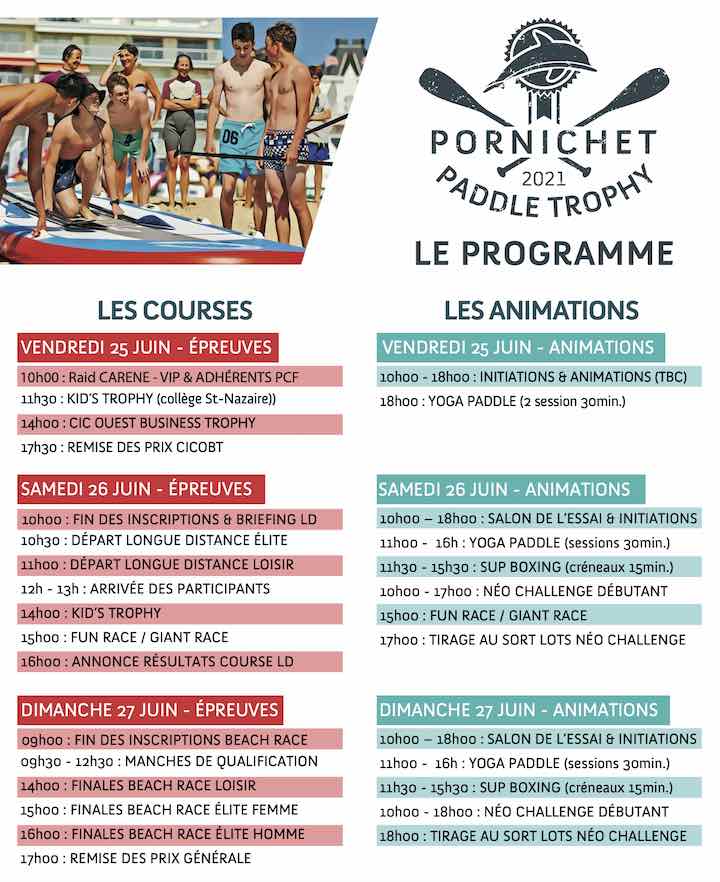 Developing the sport of stand up paddle
Organized by the Paddle Club de France association, the event aims to democratize the practice of stand up paddle by showcasing the sport with its different faces: initiation for neophytes, the discovery of race courses for beginners and pure competition for confirmed paddlers and spectators. With a 20x5m inflatable pool in the center of the village, the test center will allow visitors to try out stand up paddling for free, but also to participate in a Yoga Paddle session or a SUP Boxing game.
New this year, each visitor can participate at the Neo-challenge, an easy and marked coastal course concept, which once completed opens access to a raffle with many prizes to be won.
Races and divisions for all competitors
In the elite division, experienced competitors will be able to line up alongside the champions on the distance race (10km) and "beach race" (5km – spectacular coastal short race) event. The awarded elite age devisions are junior ( under 18 years old), master (+40 years old) and open (all categories combined). Prize money is equal for men and women: 1st 2000 €; 2nd 1200 €; 3rd € 800; 4th € 600; 5th € 400.
In the leisure division, amateur paddlers will have the opportunity to line up on the same startline than the world's best paddlers, with a shorter distance race of 6 km. The Beach Race in the leisure division consists in a simpler race format of 3 km. All age divisions are awarded in leisure division : juniors (under 18 years old), seniors (19 to 39 years old) and masters (+40 years old).
Registration
Registrations are open in the LEISURE and ELITE categories, by event or in the combined. The Pornichet Paddle Trophy is also joining forces with the Nautic Paddle de Paris to offer a registration pack that allows you to reserve your place for both events, in particular without going through the draw for the Nautic Paddle. Register here : https://www.weezevent.com/pornichet-paddle-trophy-2