Jobe SUP has announced their line-up of boards for 2021 and we are excited by one of their new inflatable boards, the E-duna!
Bringing tech to your sup experience, the new E-duna features a jet engine to support you on longer sup tours and on windy days. This engine sucks up the water and an internal fan blows out the water. This makes for a jet propelled forward thrust, supporting you on your SUP tour in every condition. You can cruise up to 3 hours on the E-duna with a speed of 2 knots.

With a price tag of £2,299.99, the e-Duna could change the way we paddle. Just think head wind, long touring adventures, family outings, ocean current or tide and this Jobe E-duna could be your new best friend. Find out more information on their website.
We want to hear from you though, so please submit this very short survey so we can hopefully bring you a full review of the E-duna.
What do you think about the Jobe E-Duna?
But wait, there's more from Jobe in 2021!
New features they've brought to their Aero SUP collection (inflatable paddle boards) is Jobe's EZ-lock fin, with which you can easily click the fin in. No tools needed! It's a whole new finbox system which makes for a fin which is lock tight and won't budge, even if you bump into rocks or something.
Bamboo SUPs
Their hardboard range has received a beautiful new coating on the rails of the board. The rails are always the point of a board where people tend to get the most impact because they might bump into rocks for instance. This new coating on our Bamboo SUP boards doesn't just look good, it's far more durable.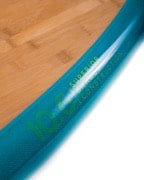 Premium Aero Series vs Aero Series
This year they have the Premium Aero Series and the Aero Series. The premium comes with all their tech and an advanced paddle. The Aero Series is their answer to the cheap, low-end boards and brands on the market. Jobe's Aero Series is thinner (4.75 inches thick) and offers high-end quality for a fraction of the price.
If you look at the design of their
Stand Up Paddle boards
Jobe's handles and storage cords are all integrated which makes for a sleek look with functional features. No more patches over your board but practical integrated features or as we say:
form follows function
.