Some paddlers wear them, some paddlers don't. Most of the time, wearing a personal flotation device (PFD) when SUPing is a personal choice. Many padders wear a PFD for increased confidence or for emergency use. But todays sleeker and less restrictive PFDs offer many other less obvious benefits, making wearing a PFD a great option across a wide range of SUP disciplines. In this article we talk you through the basics of PFD's, why you should wear a PFD, how to fit and care for your PFD, aswell as take a closer look at what we think are some of the best PFD's on the market for SUP, from Palm.
What is a PFD?
A personal flotation device (PDF) is a piece of equipment designed to assist a person keep afloat in the water, helping to save their life.  PFD's can come in many different forms. A buoyancy aid is designed to aid a conscious individual float by providing extra buoyancy. A life jacket is designed to keep an individuals face out of the water by turning them from face down to face up in the water even if unconscious, helping to prevent drowning. Inflatable PFD's, which when activated (either manually or automatically) become either a lifejacket, buoyancy aid or a simple buoyancy float.
Buoyancy aids are generally less bulky and less restrictive than life jackets, and therefore the more common choice by paddleboarders. Todays sleeker fitting buoyancy aids with additional features, and the new compact style of inflatable PFDs has made wearing a PFD  more appealing to paddleboarders across many SUP disciplines than ever before.
Should I be using a PFD?
Most of the time wearing a PFD is a personal choice. Some people choose to wear a PFD for increased confidence or simply because they think they should when doing a watersport. Others wear them for emergency use e.g when touring and paddling further afield, or because regulations state they must e.g at an event or in specific paddling locations. And other paddlers choose not to wear them at all. Being able to swim, being uncomfortable and restrictive, making it more difficult to climb back on the board, and over heating are many of the common reasons you hear for people not wearing a PFD when SUPing.  
As with any watersport there is always an element of risk. And it is up to you the paddler to assess the risks and make sure you are equipped to deal with them should they arise. 
Some paddlers argue that your board can act as a flotation aid and therefore there is no need to wear a PFD. And yes this is true to a point, as long as you always wear a leash keeping your board within close reach. But in the unfortunate situation where you become separated from your board e.g leash snaps, or you damage your board e.g deflating iSUP, wearing a PFD is a good idea, especially when paddling further away from shore.
As well as a PFD helping to keep you safe, there are also many other benefits of wearing a PFD, such as extra pockets, hydration pack storage, additional safety features and helping to keep you warmer both in and out of the water. And therefore wearing a PFD should be considered across a wide range of SUP disciplines e.g touring and exploring, racing, downwinding or general family fun, when the reasons for wearing a PFD may not appear so obvious.
There are some SUP disciplines where wearing a PFD is not recommended e.g SUP surfing (where you ideally want the wave to pass over you, not wash you into the shore which is what would happen if you wore a PFD). And for other more potential risky disciplines such as whitewater SUP a PFD is a must. 
Increase confidence if a weaker swimmer
Help keep you afloat in an emergency
Keep you warmer in & out the water
Extra pockets
Additional features
Help save your life
Can feel a bit restrictive (especially if the wrong size or not fitted correctly)
Can make it harder to climb back on your board (especially when using thicker iSUPs or wearing a bulky PFD)
Risk of overheating when paddling in warmer climates
What to consider when choosing a PFD
With so many different types of PFD available today, to help you choose the right one there are afew factors well worth considering:
– Why are you wearing a PFD? – If it's for increased confidence on the water then a more traditional jacket style PDF might be the best option. But if its for emergency use on a multi day SUP adventure or an open water downwinder then a more compact manually inflated PFD may suit you better.
– Is it comfortable to wear? If it's not comfortable you're not going to want to wear it… simple as that! By comfy I mean.. Does it feel restrictive? Is it easy to get on/off? Does it stay in place whilst paddling? You don't want to have to stop paddling to reposition your PFD every 5 mins – not only is it very uncomfy if it rises up under your chin it's also very annoying. As with any clothing, different styles have different cuts, and one style may fit you and your body shape better than another. So try afew on to find the best and most comfy fit.
– Does it affect your paddling? A PFD shouldn't restrict your paddling. If your PFD stops you paddling how you normally would or makes it difficult to climb back on your board then it's probably not the right PFD for you.
– What type of paddling will you be doing?  – Yes a simple PFD will do the job but with so much choice available think about the type of features that would be handy on your PFD e.g more slim line for racing, extra buoyancy for white water, zipped pockets for carrying your essentials, fleecy lined pockets for warming your hands after a long day exploring, or a hydration pack holder to carry that vital water on longer paddles etc… A PFD can offer a lot more great features than just help keep you afloat!
– What will you be wearing under your PDF? – Thinking about the clothing you'll be wearing under your PFD may determine both the size and style of PFD you choose. Make sure your PFD is a good & comfy fit over your paddling clothes, and allows you to still access pockets etc…
– How much do you want to spend? PFDs vary in price enormously depending on the additional features they have. So before parting with your cash, maybe consider how often you'll be using it, and what specific features you'd like from your PFD.
What are my PFD options?
We identified Palm as a brand that has a wide range of PFD's suitable for many disciplines of SUP. Helping to keep people afloat since 1984, Palm is a well established brand that over the years has expanded their quality PFD range to suit paddlers of all ages, across a range of paddling disciplines. Now offering different styles, buoyancy levels, and specialist features, they've come a long way since their original simple ribbed canoe PFD. But even with all the choice today, Palm state how the fundamentals of PFD's remain the same…
"a PFD must fit comfortably and securely - Palm"
Despite initially being designed with kayakers in mind, after taking a closer look at the Palm PFD range, we've identified afew PFDs which we think are really well suited to SUP across a range of disciplines.
Quest (adult & kids)
-
£38.95-£46.95
A great value, simple PFD suitable for the whole family. Available in both adult and kids sizes. The front zip makes it easy to get on/off, and the adjustable waist buckles, anti ride-up waist belt and leg straps (kids only) keeps it firmly in place.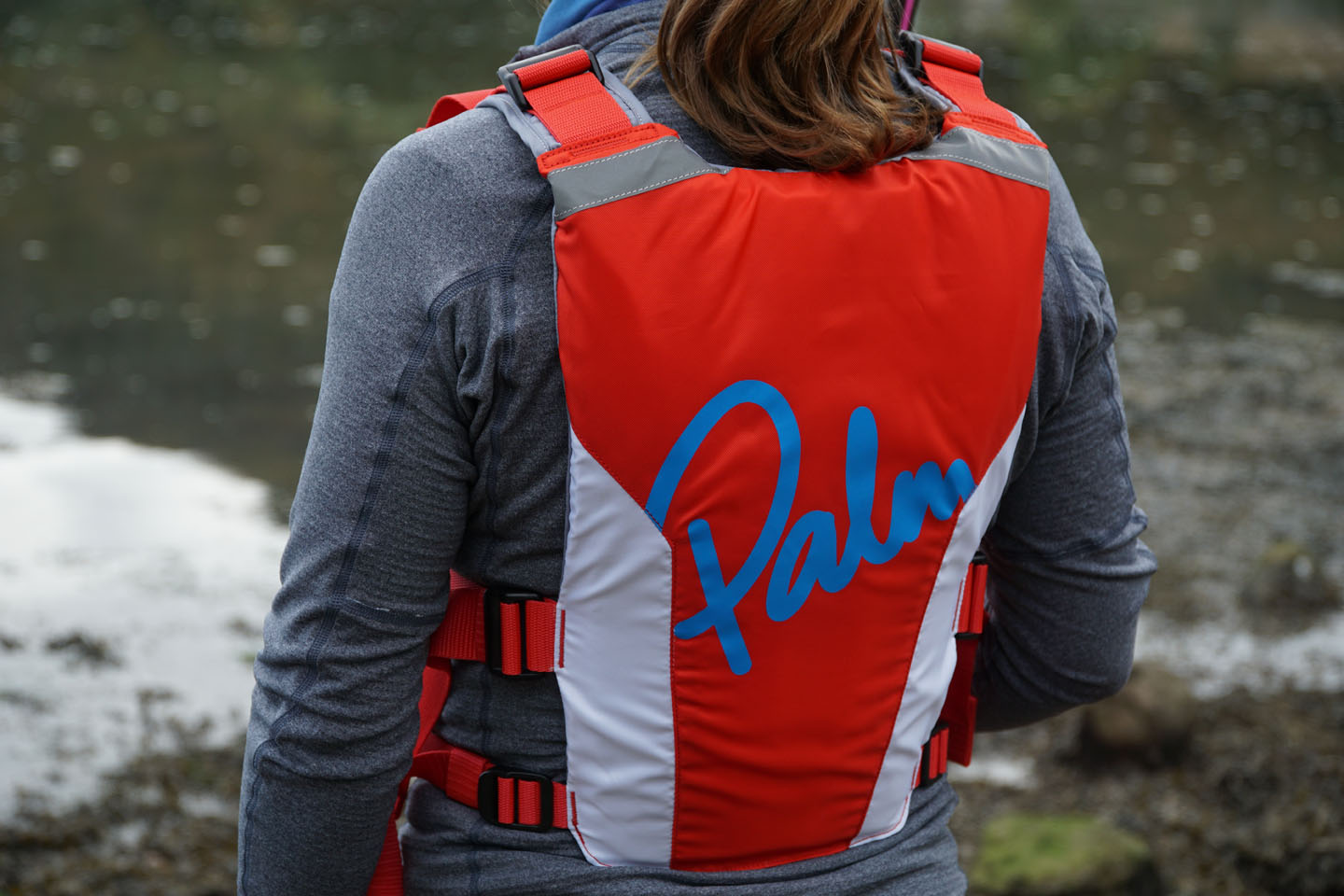 A simple & sleek over the head style PFD. Ideal if you're new to SUP and wanting to get afloat with confidence, without all the extra features.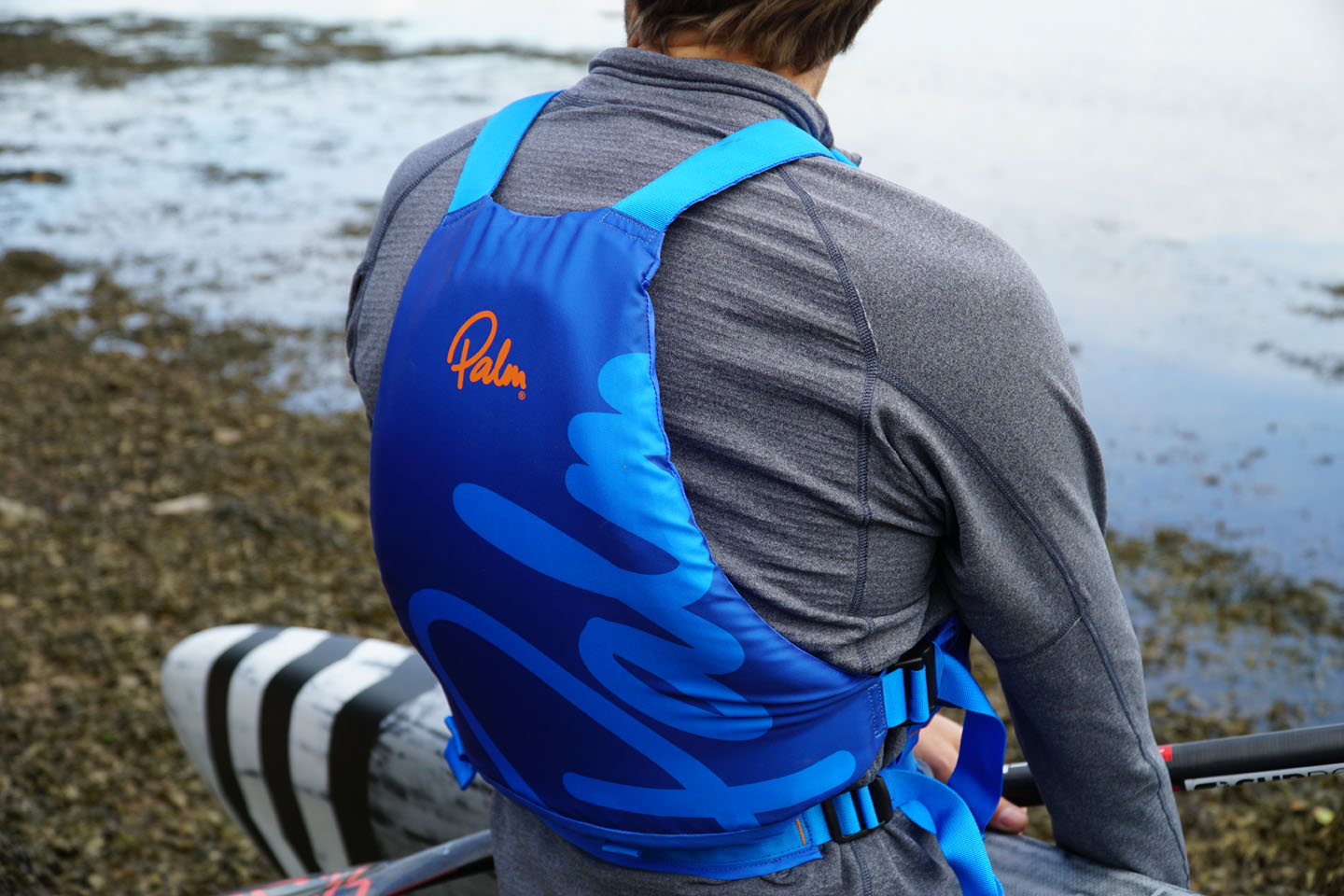 A simple sleek PFD which has a close fit allowing unrestricted paddling. Ideal for whitewater paddling, downwinding, racing or everyday paddling. With no zips/external pockets etc and an anti rider waist belt, it won't hinder climbing back on your board and therefore ideal if you're looking for a top end PFD to wear for increased confidence. For the more extreme paddlers, more specialist WW PFDs are available with additional pockets, removable chest harnesses etc…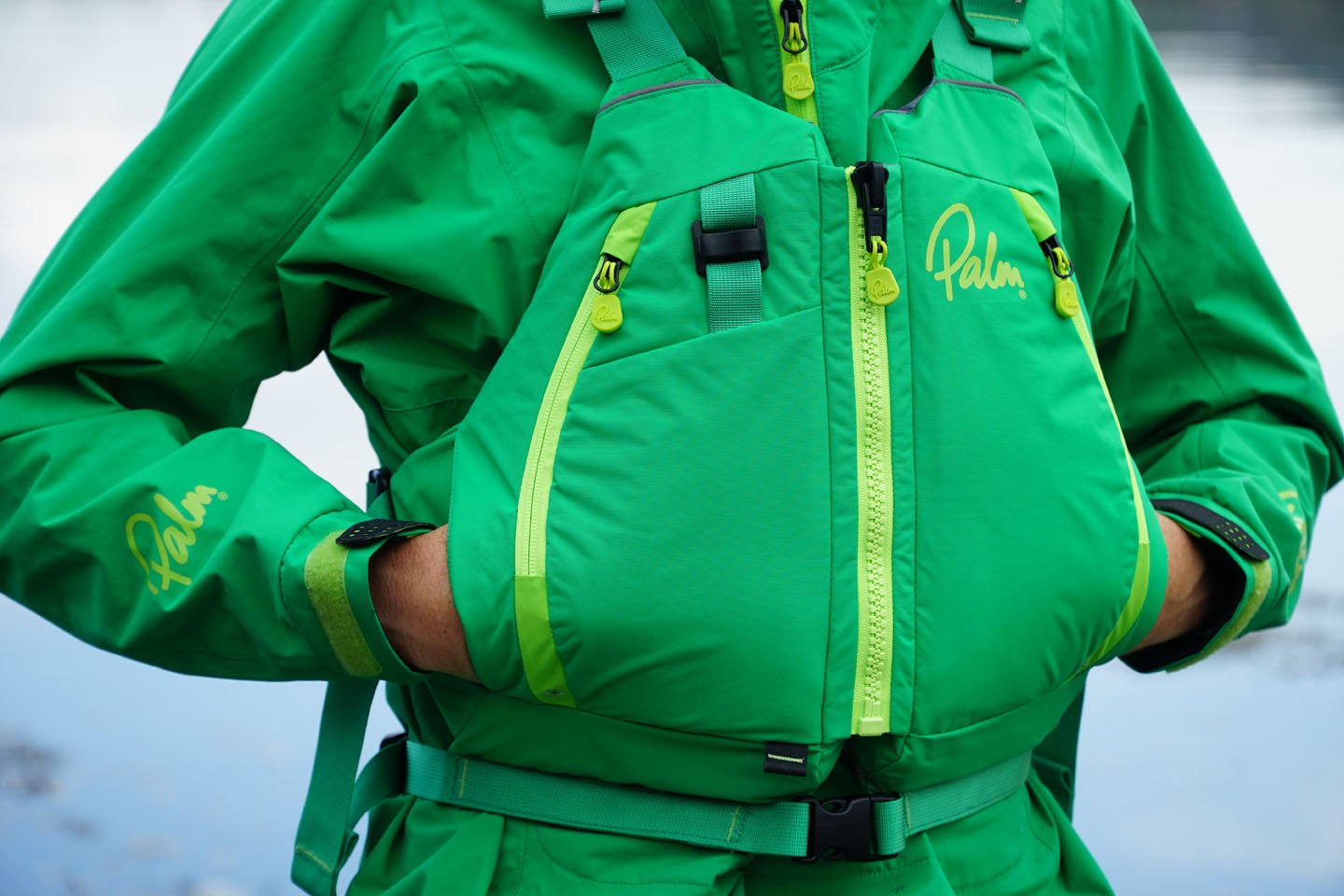 A great PFD to wear SUP touring. The front zip and simple buckles makes it quick and easy to take on/off, and the spacious front and back pockets are perfect for carrying your paddling essentials and hydration pack. The cosy discreet fleecy pockets are ideal for warming up your hands after a chilly paddle too! Stylish with loads of great features but still super comfy allowing unrestricted paddling. A womens version and other specific touring PFDs also available.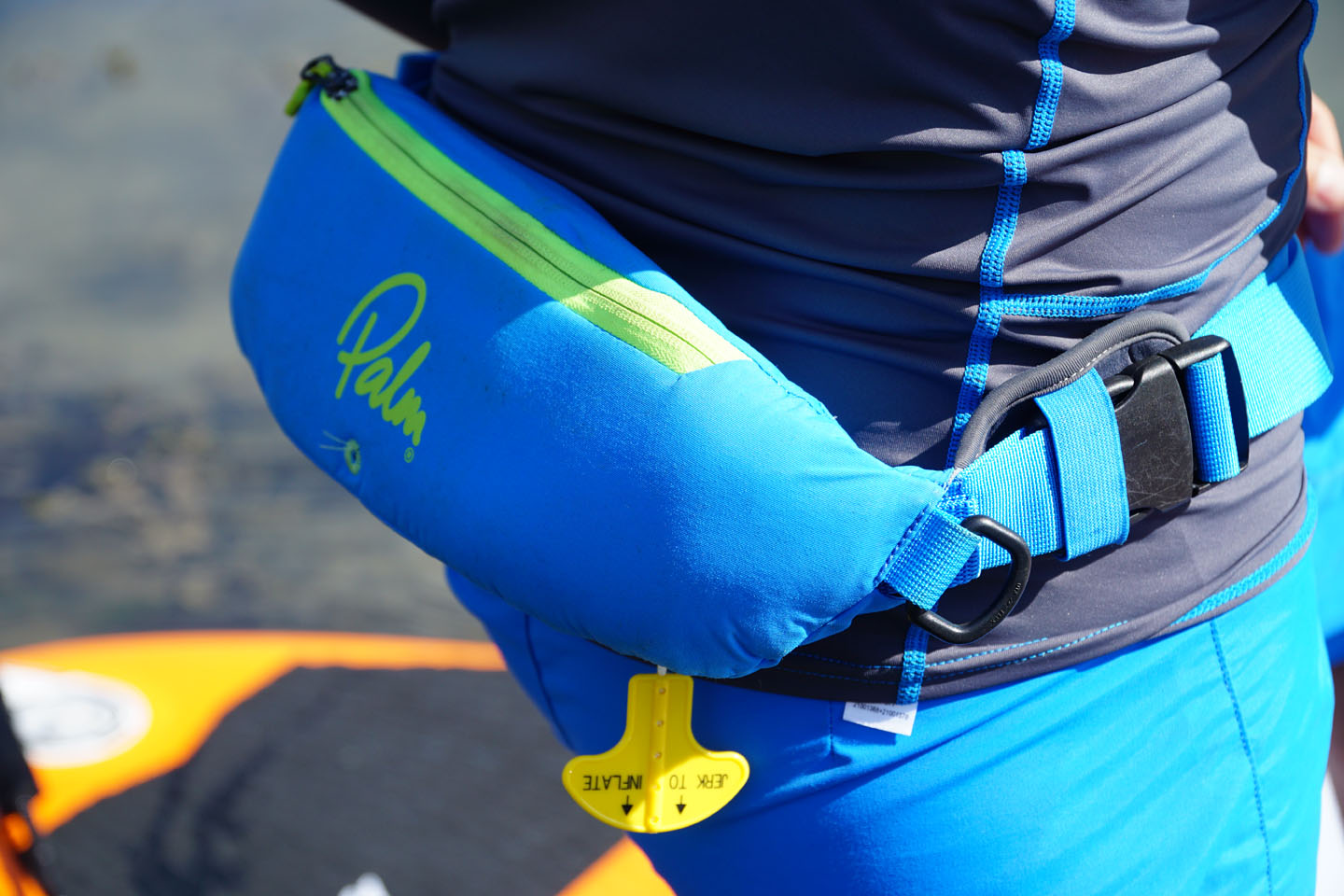 A super compact, manually inflated emergency PFD. Stored in a waist belt this unrestrictive PFD requires manual inflation and is therefore no use if you're unconscious or unable to pull the toggle and re-position over your head. But when inflated this PFD acts more like a life jacket than a buoyancy aid. Ideal for those SUP adventures, or more exposed downwind paddles, when it's always a good idea to take an emergency PFD.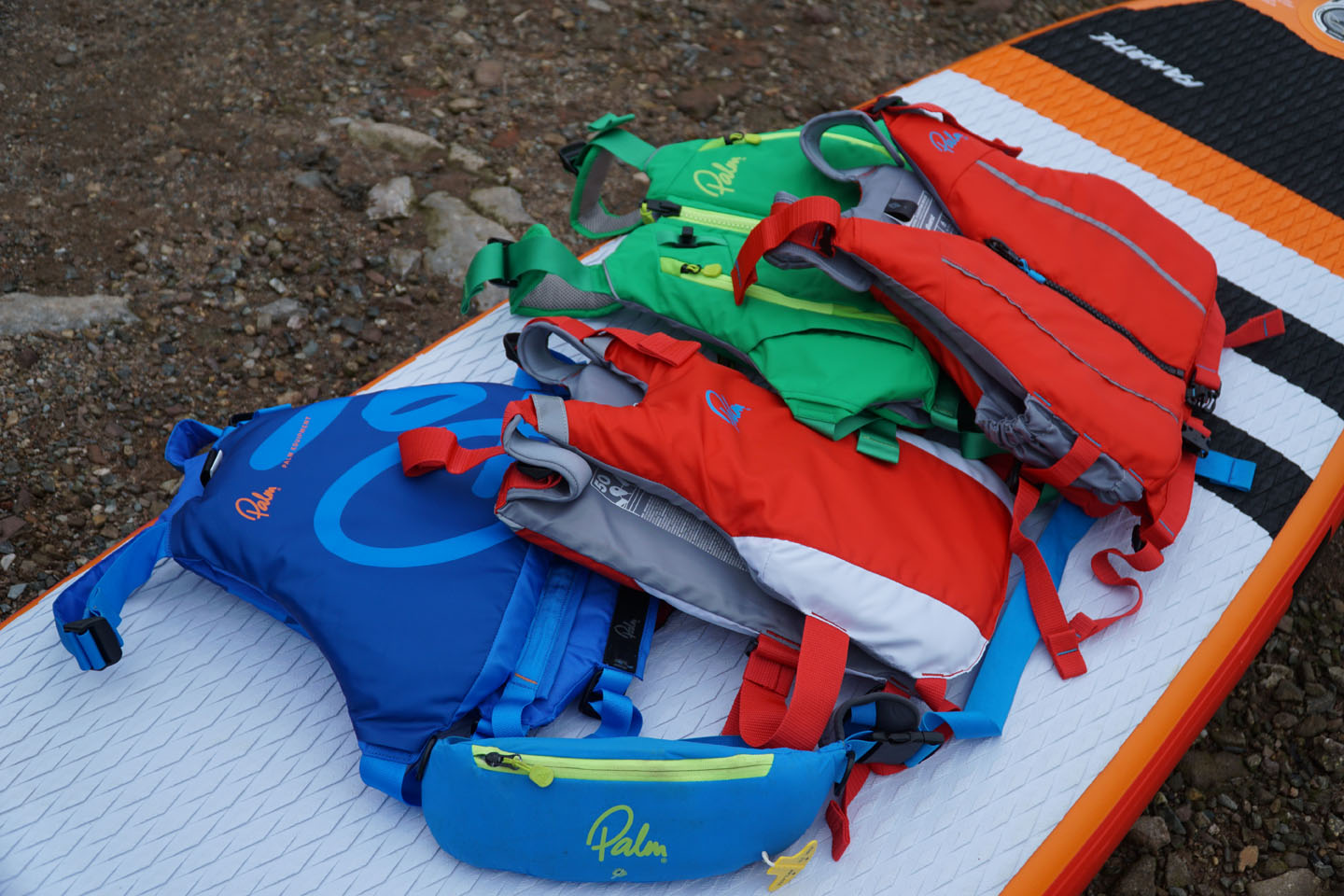 Palm offer a huge range of other PFDs – recreation / touring / whitewater / rescue / professional. Check out their website to find out more.
Choosing the right PFD for you and your paddling needs is obviously important. But more importantly is that your PFD fits correctly.
How to fit a PFD correctly:
The correct PFD size is usually determined by chest measurement and a persons weight.  After selecting the correct size PFD, to ensure it does what it's designed to do, it's vitally important it's fitted/adjusted correctly. Regardless of which PFD you choose, if it's the right size and fitted correctly it will certainly help save your life.
The correct way to fit a PFD as suggested by Palm is:
1. Loosen all the straps and buckles
2. Put the PFD on (over your head or by the front zip) and fasten any buckles. Do not tighten chest harness yet (if fitted)
3. Tighten all straps, starting from the waist and working upwards to the shoulder straps. Tighten and fasten chest harness. Finish by sitting down and checking shoulder straps.
Caring for a PFD
To keep your PFD in good condition and working as it should in the water, it's really important to look after it. Here are afew quick and simple things Palm suggest you can do to help prelong the life of your PFD:
Rinse with clean fresh water after every use
Hang up using both shoulder straps
Drip dry out of direct sunlight
Avoid storing wet/damp
Check condition regularly
""Look after yours and it will look after you" - Palm"
As with any waterports equipment your PFD will have a lifespan due to general wear and tear. How regularly you go paddling and how you treat your kit on and off the water will determine how long it keeps functioning as it should. You should check the overall condition of your PFD regularly, and repair/replace it if required. As well as offering an excellent repair service to help prolong the life of your PFD, Palm also offer a PFD float test which they recommend every year from 3 years after purchase, to check the buoyancy of your PFD, so you can feel confident when afloat.
Unless you're surfing or paddling where rules state you must wear a PFD, whether or not you choose to wear a PFD is up to you. But with so many great PFD options available on the market today, and the days of having to compromise paddling comfort/performance over safety being long gone, for most paddling disciplines there really seems to be no reason why you should go without. The difficult decision isn't whether or not to wear a PFD, rather which PFD to choose! Remember, whichever style of PFD you choose and specialist features you decide you'd like, just ensure your PFD fits correctly and you look after it to ensure it does the job it's designed to do! If you have a PFD which you think is particularly suited to SUP please let us know.