The second annual Red Bull Privateers standup paddle race recently took place on Cape Romano, just south of Marco Island, Florida. This is not your usual SUP race! It's a one-of-a-kind event, where teams of four paddlers have two and a half hours to do their best buccaneer impression and navigate through the mangrove mazes of the Ten Thousand Islands to retrieve doubloons from fifteen hidden treasure chests. The team that collects all fifteen gold doubloons – Red Bull treasure coins – and cross the finish line in the shortest amount of time wins.
Red Bull Privateers is quickly becoming a tradition for Southwest Florida, where there is a rich history of pirate lore. One of the most famous outlaws in the area's legends is Captain 'Calico Jack' Rackham, and word is his treasure is still out there somewhere in the maze of waterways that divide the Islands. Stories like his serve as the inspiration for the four-person, SUP scavenger hunt.
This year the three-day event weekend included a Friday night sunset party, a Saturday SUP event and day-long beach games, and a Sunday cleanup of the Ten Thousand Islands area in Rookery Bay National Estuary helmed by the 4ocean Community Cleanup Team..
Check out the Red Bull Privateers press release below for more details…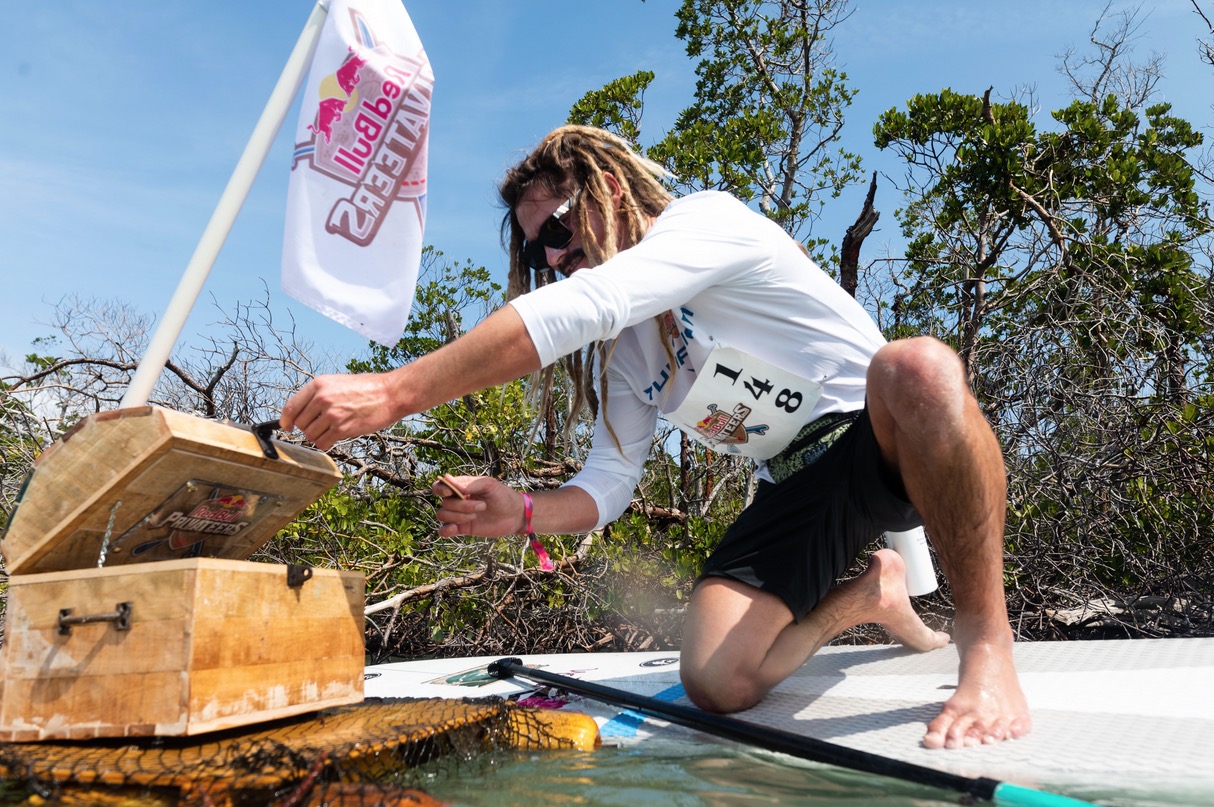 Press Release – Red Bull Privateers Names New Champion
The unique standup paddle race returned to Ten Thousand Islands for year two; Team Flying Fish sets impressive new record course time
MARCO ISLAND, Florida (Feb 17, 2019) The second annual Red Bull Privateers standup paddle race has named a new champion in Team Flying Fish. Hundreds of participants paddled their way through the mangroves of Cape Romano and Ten Thousand Islands to compete in a pirate-inspired race, where the team who located 15 hidden doubloon-filled treasure chests and crossed the finish line the fastest took the crown.
With competitors from as far away as California and Indiana, the event saw a local four-person team, Team Flying Fish, claim victory in 50:39 – nearly 40 minutes faster than 2018's winning time. The Flying Fish featured Katherine Pyne and Steve Miller from Jupiter, Florida, and Brad Ward and Tim Warner from Sarasota, Florida.
"Last year's winning time was about an hour and a half and this year was under an hour," said Rob Alfieri, the race director for Red Bull Privateers. "Last year, a local team won and they knew the waterway, but Team Flying Fish also competed last year and was just short of making the podium. They've obviously been training and getting a lay of the land because they were incredibly fast."
Beyond the competition, Red Bull Privateers hosted a full weekend of events on Cape Romano, including music, camping and a cleanup organized in conjunction with the 4Ocean Community Cleanup Team.
"The event was fantastic seeing people come out here and enjoy the environment and pay homage to Calico Jack and this great area," said Daniel Murphy, 4Ocean's Community Cleanup Manager. "It's a really pristine environment and we were able to do a cleanup and have some participants be good stewards of the Earth and not leave anything behind. Everyone really did their part to pick up stuff left by other people – waste that's been out here for who knows how long."
The cleanup was a fitting end to a weekend long event, focused on fun, spirited competition, community and the gorgeous surroundings. Rob Alfieri added;
" It's a beautiful place and one-of-a-kind experience that you can't capture without being here – and a unique team environment where the focus is on having fun and being out in nature."
Champion Results…
Team Flying Fish
Katherine Pyne – Jupiter, Florida
Steve Miller – Jupiter, Florida
Brad Ward – Sarasota, Florida
Tim Warner – Sarasota, Florida
A great weekend was had by all. If you missed out on the fun this year, don't worry, there's always next year!
For more info check out the Red Bull Privateers website. 
Images by : Nathaniel Harrington/Red Bull Content Pool