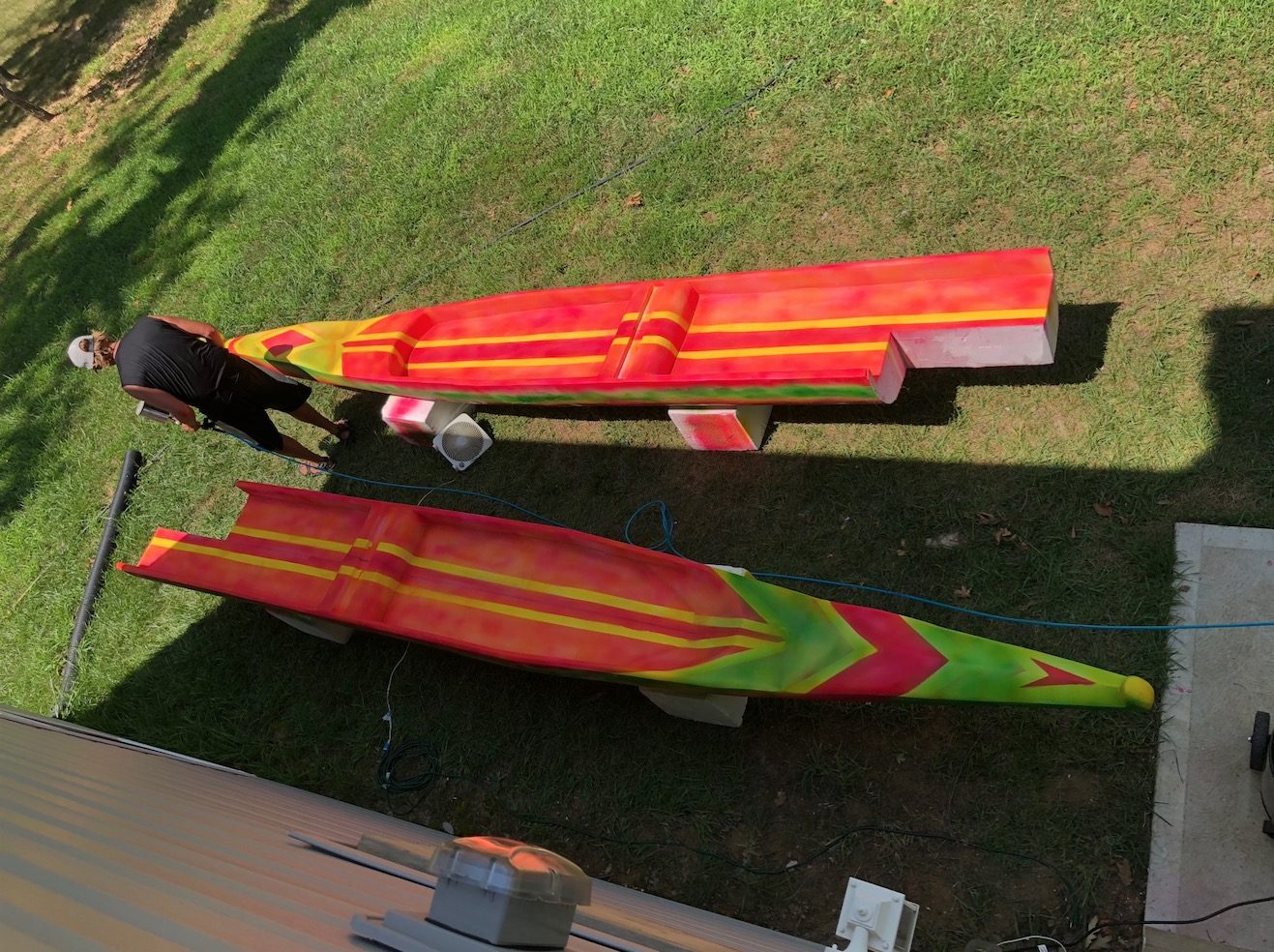 Building your own SUP is one thing. Building a 30ft SUP in your basement is a whole different challenge! But Shane Perrin from Missouri, USA did just that earlier this year… he built a monster 30ft Dragon SUP at home, and then raced it at the Missouri340 event in July 2018. Why set yourself such a big challenge you may ask?!!  
Well… being an entrepreneur Shane says he has always been one to take on new projects and try new things. And living near St Louis, NW Missouri where previously there wasn't much of a SUP community Shane was keen to share his love for the sport. Shane first discovered SUP in 2008 and since then has started up a summer SUP school (SUP St Louis in 2012), taken part in distance SUP events and over the last 2 years built numerous boards with a team of good friends.   
Shane first built a home made paddle in 2006 from cedar and pine to allow him to stand up in his canoe and experience SUP for the first time. He then built afew (as he describes in his own words!) "crappy wooden boards and paddles" before getting his first proper race board in 2008. Shane has been pushing extreme distance paddling since 2011 but has always had the desire to continue making!
In 2016 Shane built a 4 man SUP and raced it at the Missouri340 event. In 2017 he built a 6 man SUP and raced it there as well. At the finish of the 2017 event he had planned to take a year off of building, but whilst chatting with friends building a Dragon SUP came into conversation. "I became intrigued and fixated how that would look as a build" says Shane "and after a couple of months of ideas I thought I figured it out!" Shane enlisted the help of best friend Daren Wolf and they set upon building something that had never been made before! Shane's overall design goal was…
"To build something unique. Something cool. Something fast."
"It's one thing to build something" says Shane "but it's a whole other thing to build it well and with a purpose!"
The 30ft Dragon SUP build took 6 weeks working 10-18hr days. The closer they got to the race date the longer the hours were, with Shane putting the last hot coat on only 48hrs before race day!
The build process started with a 1.5lb piece of eps foam. It was then hotwired into 4 slabs 16' long, 25" wide and 15" of depth.  "All the shaping was done in my 10'x20' shop!" says Shane. 
The pieces were then fused together to make up 2 boards that were 30' long by 25" wide. All the fusing and fiberglassing took place in Shane's basement that he'd cleared out.
"It was the toughest build we've done yet" says Shane. "Extremely labor intensive and pretty expensive! ($3500 in materials and tools)"
The boards were connected with a bamboo connector arms to give the structure a bit of give. Initially 6' apart but then shortened to 4' and adding extra pieces of bamboo after testing the board on the water (the night before the race!) and learning there was too much give and way too much side to side instability. 
"After the initial adjustments we ended up with the perfect strength, stability and give set up" says Shane. "All set for race day the following day!"
The Missouri340 event Shane and the team took part in is a 340 mile paddle race across the entire state of Missouri 14th-27th July 2018. Starting in Kansas City and finishing in St Charles solo and team paddlers are allowed 88 hrs to complete the course, passing 9 checkpoints along the way. 
2017 was the 7th year Shane had taken part in the mr340. His first time in 2009 was in a tandem kayak. And in 2011 he was the first to ever complete it on a solo sup.  "The race itself is not to be taken lightly" says Shane.
"Sleep deprivation, hallucinations, aches, pains, and the stuff you think will never happen happens! It's 340 miles of pain and suffering done with a smile!"
Onboard the mega Dragon SUP were 12 paddlers, 6 people on each board. Shave explains how "It took about an hour to get our timing sorted (Keep in mind most of these people hadn't paddled together before!) but once we figured it out the board was cruising past quite a few other paddlers."
"In the end we finished 25th out of 500 vessels. 1st in the dragon boat division and only 8 hours off of the dragon boat division record."
Despite the initial challenges Shane says there were a lot of pro's to the 30ft Dragon SUP, including…
"Speed, a load of laughs, bonding in a way others could never imagine (eat, sleep, pee, poop on the board!), creating  and successfully paddling a first/never been done vessel in a grand fashion."
You might be thinking that after such an epic challenge Shane would be having a rest from all the SUP stuff. But in Shane's words, "I swore I was taking a year off of building and racing after this race… but time heals all! So I'm working on a concept for a carbon kevlar 6 man SUP that we plan to race at the Texas Water Safari – 260 miles traversing across 3 rivers and an ocean bay crossing."
Later in the summer Shane and his team plan to add it to this years 340 board in the center making a tri hull 18 person SUP. The team will consist of para-athletes, amputees, and a few able bodied paddlers. A group called Rally works with these athletes (Shane's one of the athletes having had a kidney transplant in 2001) and they plan to go after the dragon boat division record again!
When it comes to building SUP boards there's no stopping Shane! But whilst he's planning his next build Shane's taking a month or so off to enjoy time with his family!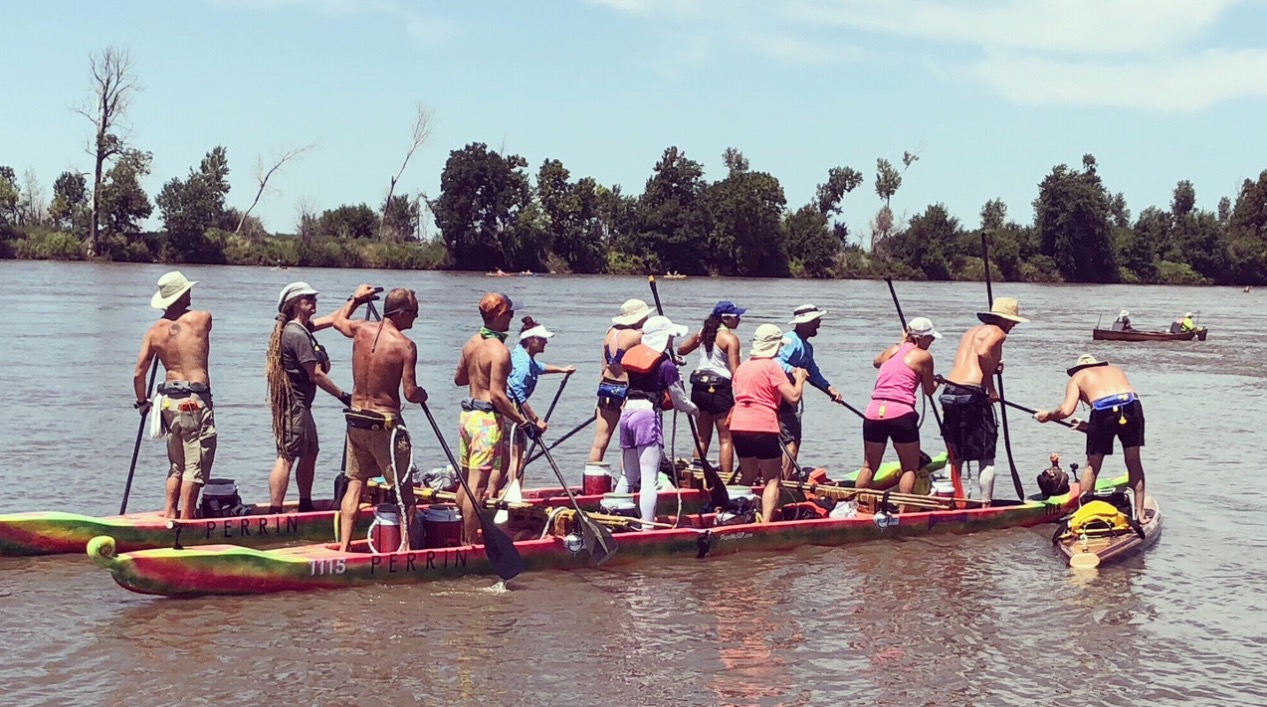 To find out more about Shane's epic SUP builds check out his facebook page.
And for more info about SUP St Louis check out the SUP St Louis website and SUP St Louis facebook page.
Have you ever built your own SUP? If so what did you make and where did you make it? Was it a success?!!