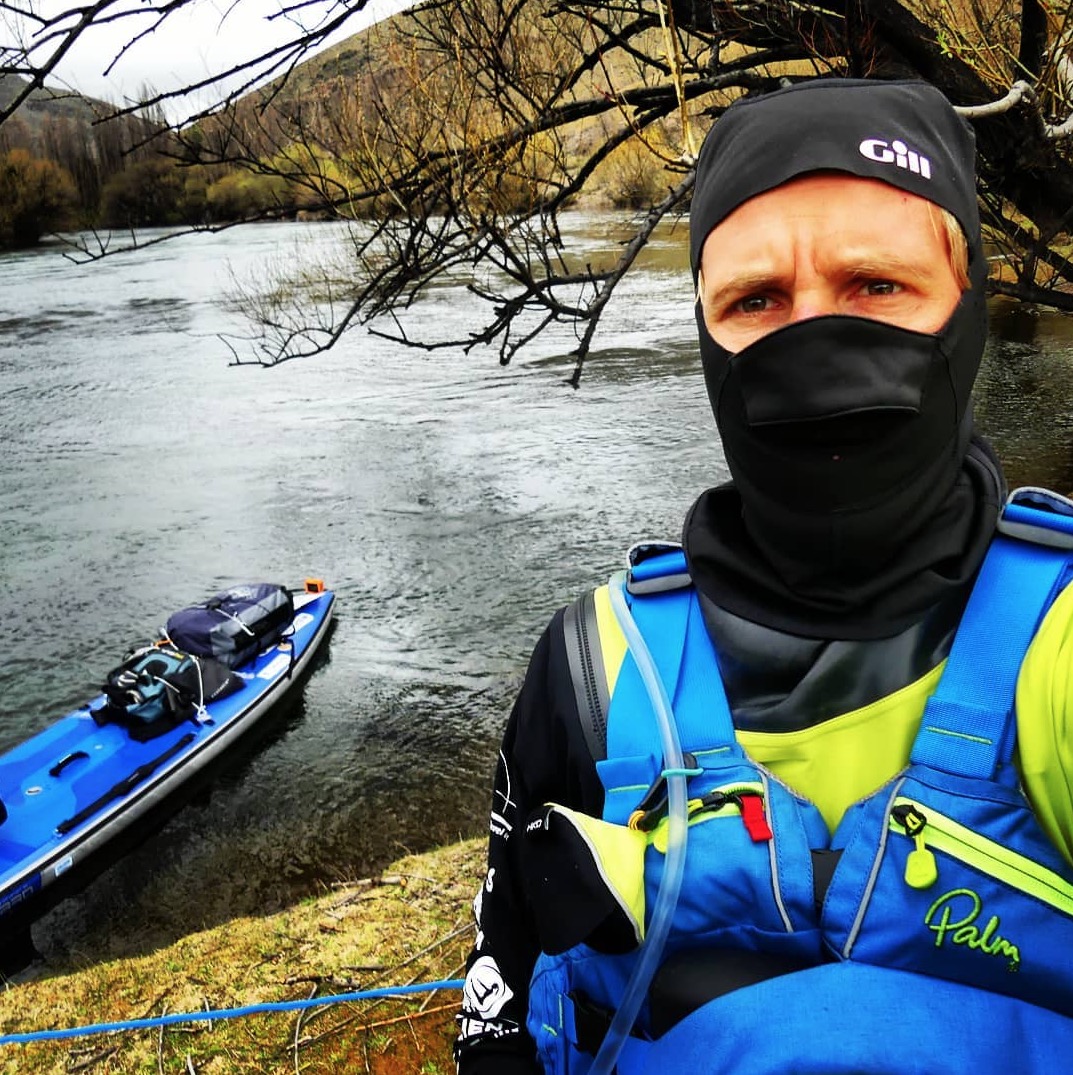 Wild winds and wild pumas are just a few of the challenges adventure paddler Stefano Roversi, will have to face on his latest SUP adventure. But that's not going to stop him explore the pristine waters and remote wilderness of beautiful Patagonia. Last week Stefano, who is normally working as a SUP instructor on Lake Garda, Italy (SUPGarda) set off on the 1200/1300 km journey across Patagonia, from San Carlos de Bariloche, in the Argentinian Andes, along the Limay and Negro RIver to the Atlantic Ocean. Stefano is keen to use his addiction for adventure to show others what's out there and what we should all try hard to protect, as well as help others access something vital to us all… water.  
SUPboarder caught up with Stefano before he set off to find out a bit more about his Patagonia SUP trip, his goals and his kit!
SB/ Hi Stefano. Tell us a bit more about your trip and why you're doing it?
SR/ On Monday 22nd of October I will be leaving to go on a 1200/1300 km long adventure! I will be doing this trip on a paddleboard, solo, unsupported, carrying all my food and equipment on my board.
I am doing this adventure for three reasons: 
– I want to shoot a documentary about SUP outdoor adventure and to show the beauty of the land and the importance of protecting the environment, I want to promote this sport in a different way. I want to show people what can be done with SUP and push them to get off the path and to live in contact with nature. I believe that the only way to increase respect for nature is to learn to know and love it. As long as people see it as a distant thing, they will never be able to give it the right importance and the right respect.
– I live on the water, I live thanks to water, both because as a living being I need to survive but also because the water allows me to work and teach this wonderful sport. We often forget the importance of water, how much this is a luxury we have and that we must learn to respect and protect it. For this reason during the trip I decided to help those who do not have the luxury of having water, those who have to fight to earn it, walking hours.  I launched a GoFundMe campaign to raise funds to build two wells in Guinea Bissau and help these people by trying to give them the most valuable asset… water.
– I love outdoors and adventures, I love to spend some time alone in the wilderness, enjoying the nature and fighting the bad weather,I love to dream new adventures looking at maps and then find out that is always completely different from what i had in my mind.
SB/ Why Patagonia? 
SR/ I chose Patagonia because it's wild, because it's cold and because there are few tourists. I chose it because it made me dream of pristine rivers, wild pumas and having no people around…
SB/ Can you tell us a little about the SUP gear you will be using and why you selected it?
SR/ For this trip I chose to change my board. I always use Inflatable boards, because they are easier to carry around the world and easier to repair. On this trip I will be using a Starboard 2019 INFLATABLE SUP 12'6″ X 30″ X 6″ TOURING DELUXE. I chose this board because it has a double chamber, allowing my board to stay partially afloat, providing me with some buoyancy and my main luggage to remain out of the water in the unfortunate event of a puncture in my board. I chose a 12.6 because in Patagonia the wind is very strong and the 14" board might be too difficult to handle. Also being a fast river at the start I thought the 12'6 would be easier to handle to avoid rapids and rocks. Starboard kindly provided me with the board as sponsorship.
I will have 2 paddles with me. My main paddle is a carbon 3 piece Starboard paddle, high quality, light and fast. My second paddle is a 3 piece Starboard tufskin, sturdy and durable to use as a back-up in case I break the first one.
Falling is always an option so I had to find a solution for the cold weather and the cold water. Paddling all day everyday in a wetsuit wasn't going to be a good choice, so I looked into dry suits. After hearing about supskins dry suits, I sent them my project and they agreed to give me a Magic model as sponsorship! To be honest I expected quite a cumbersome suit, but it's not all all, it is very light and well made. (I am not just saying this because of the sponsorship!)
 Under the dry suit, I chose Redlevel underwear, an Italian product designed for bicycle races, but very high quality, very breathable and fast to dry.
SB/ What other expedition gear will you be carrying?
SR/ I will carry : 3 Drybags, 100 lts, 50 lts, 30 lts (and some smaller ones), tent, sleeping bag, inflatable mattress, camping stove, gas
SB/ What other SUP touring and expeditions have you done before building up to this trip? 
SR/ In 2017 I paddled 1400 kms in the Philippines, and in 2018 from the Garda Lake to the Adriatic sea.
SB/ How will you manage with the long distance in terms of mental and physical condition?
SR/ What I usually do is to try to avoid to think about the trip as a whole. I think day by day. Sometimes if you look at the map you start to say, "What?? I am so tired and yet have only done 15% of the whole trip! Will I ever make it?!" So I find it better to think each day about where I might get to before dark, and what will I eat etc… ,It's very important to be able to control your mind on trips like this. The best skill you need, is to be able to travel with your mind. When you are too tired and you keep focusing on the pain, it is easy to get frustrated and in a bad mood. Thats when you need to start to fly away with your mind, make up stories, dream about other trips or whatever. You need to be able to sing, talk loud to yourself or with the animals, laugh, tell jokes to animal, and all those kind of crazy things that normally you are not allowed to do at home! The body will follow the mind. Just do some warm ups the morning (packing up is often enough!), stretch in the evening, and have a big dish of lasagne for breakfast!
SB/ What about safety? What gear will you be using to help keep you safe? 
SR/ Safety is always one of the main topics when organising a trip like this. My safety equipment is made of:
PFD 2018 Palm Extreme Whitewater, i chose this because it has a D-ring with fast release for the leash, and a hydration bladder slot.
A Leash. Always use a leash, even on flat water. But never wear the leash on your knee or ankle on a river, because if your board gets stuck up river the water flow might be too strong for you to be able to get to your knee and detach the leash.A knife to cut whatever gets stuck
A Garmin inreach gps tracker that allows me to send an sos in case of troubles. 
SB/ What's motivating you? 
SR/ That's a good question! Every time I say, "Ok this is the last one", but every 2 years I need to jump into something, plan it and leave. It is stronger than me, the adventure calls me, and I must obey 🙂
SB/ How can we follow you?
SR/ You can follow me on my social media – Facebook, Twitter, Instagram, Garmin map tracker, or Blog. 
Stefano will be publishing short video diaries throughout his trip via his social media aswell as his satellite tracker allowing you to follow his route. So if you want to find out more about what it's like paddling through Patagonia or get inspired to make your own SUP adventure plans check it out.