Well, the new 2019 Fanatic Strike has caught our eye for sure. Available in just 2 sizes, 14′ x 21.5" and 14'x25" it says to us just one thing… "If you want to go fast these are the boards to have!" The new Fanatic Strike has been designed for optimum speed and performance in the 14" class, with a 25" wide option for riders over 85kg and 21.5" for those below 85kg. By focusing their efforts on just two widths Fanatic make it easier for paddlers to choose their racing machine!
For us the shape of the Strike does look very promising indeed. We know from testing other race boards that bottom channels/concaves and subtle rail shapes can make a massive difference to speed and stability  The Strike definitely looks very refined and you can see that the board has had a lot of RnD put into the new shape. The recessed deck and large open standing area at the tail will offer a huge stable area for trimming the board forward and back, and help with buoy turns.
And as always, we can't wait to get our hands on this board and give it a real going over, and compare it to the other worlds fastest race boards.
Please let us know your comments and thoughts on this new Strike shape for 2019. Have you seen it? Have you used it?
Thoughts from our race doctor Bryce Dyer
"I think this board really illustrates where race boards have been going over the last couple of years. i.e. The narrowest profile possible but with shaping measures applied to then make it as stable as feasible. Other aspects include that the 12'6 raceboard interest is slowly being phased out by manufacturers, a flatwater boards design being tweaked to accept that most racers will see some level of chop or small waves and that the widths are now coming down to levels that will dettach them from use from all but dedicated racers. The Fanatics design seems smart and well thought out on paper if speed is the game. 
What is interesting for me was that the widths of the strike in this case are wide apart (at 21.5 and 25) with nothing in between. Unless the 21.5 is attainable for club level racers, I feel this may well be a risky strategy as once you get past elite team paddlers, it may see one version too narrow for most and the other too wide to justify for a relatively specialised board type.  The Strikes design makes complete sense though for those who race in events typical of those seen in the UK. Whilst I have more general concerns that the direction that manufacturers are taking their race boards in will kill off mass participation racing in the long run (and therefore ultimately hurt their own sales), personally the Strike only makes me curious as a scientist to know whether I can personally tame it and how much faster can I paddle when being on one ?"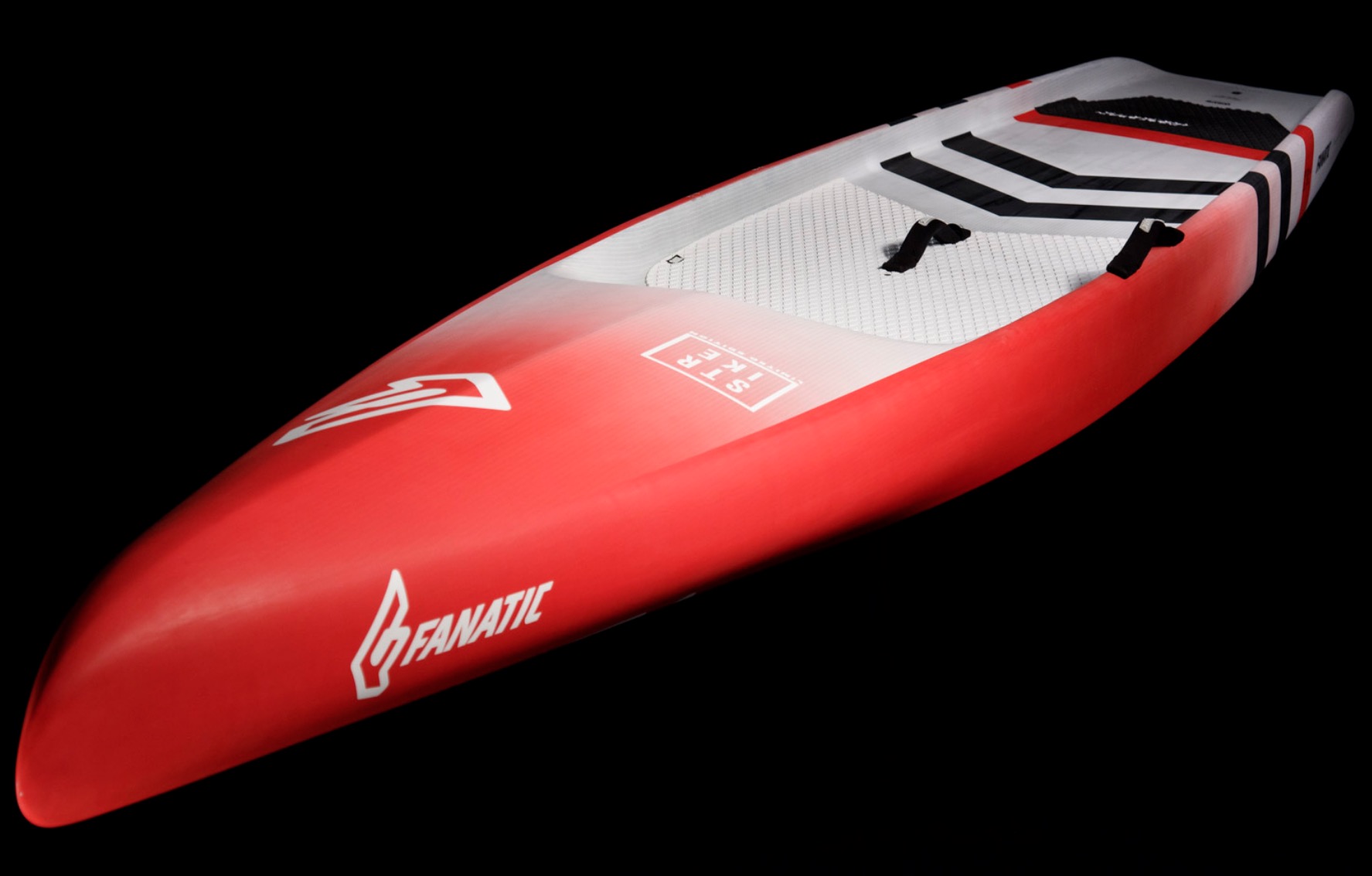 Read on for brand details and website www.fanatic.com
Redesigned for 2019, the Strike is our out-and-out speed machine. Quite simply the fastest board you can put your feet on! Its unique shape defies convention, delivering the stability of a wider board with the efficiency of a much narrower one.
Everything about this design is feature packed for speed and efficiency.  The forward rake in the nose cuts a sleek line through the water and ensures that all 14' of the Strikes length is put to good use.  Plenty of volume up front ensures that the nose rides high for speed and control.
The bottom shape is where much of the Strike's magic happens.  Starting out with a double concave at the bow to deliver a smooth, efficient glide, the hull soon blends into a deep monoconcave for tracking and stability, designed to keep the rider fresh and fast mile after mile.  The wider tail profile of the Strike further boosts stability, whilst plenty of tuck delivers manoeuvrability when required.
The recessed deck is another new feature for 2019 enhancing both the stability and efficiency of the Strike.   The 14' long Strike is offered in two sizes with widths of 21.5" and 25".  The 21.5" is the go-to race board for the super competitive.  Nothing paddles quicker over flatwater, and yet the Strike 21.5" still retains enough stability for chop and messy water conditions in experienced hands.   The 25" is the first choice for riders over 85kg and for all-round racing on flatwater, combined with a few open ocean races.