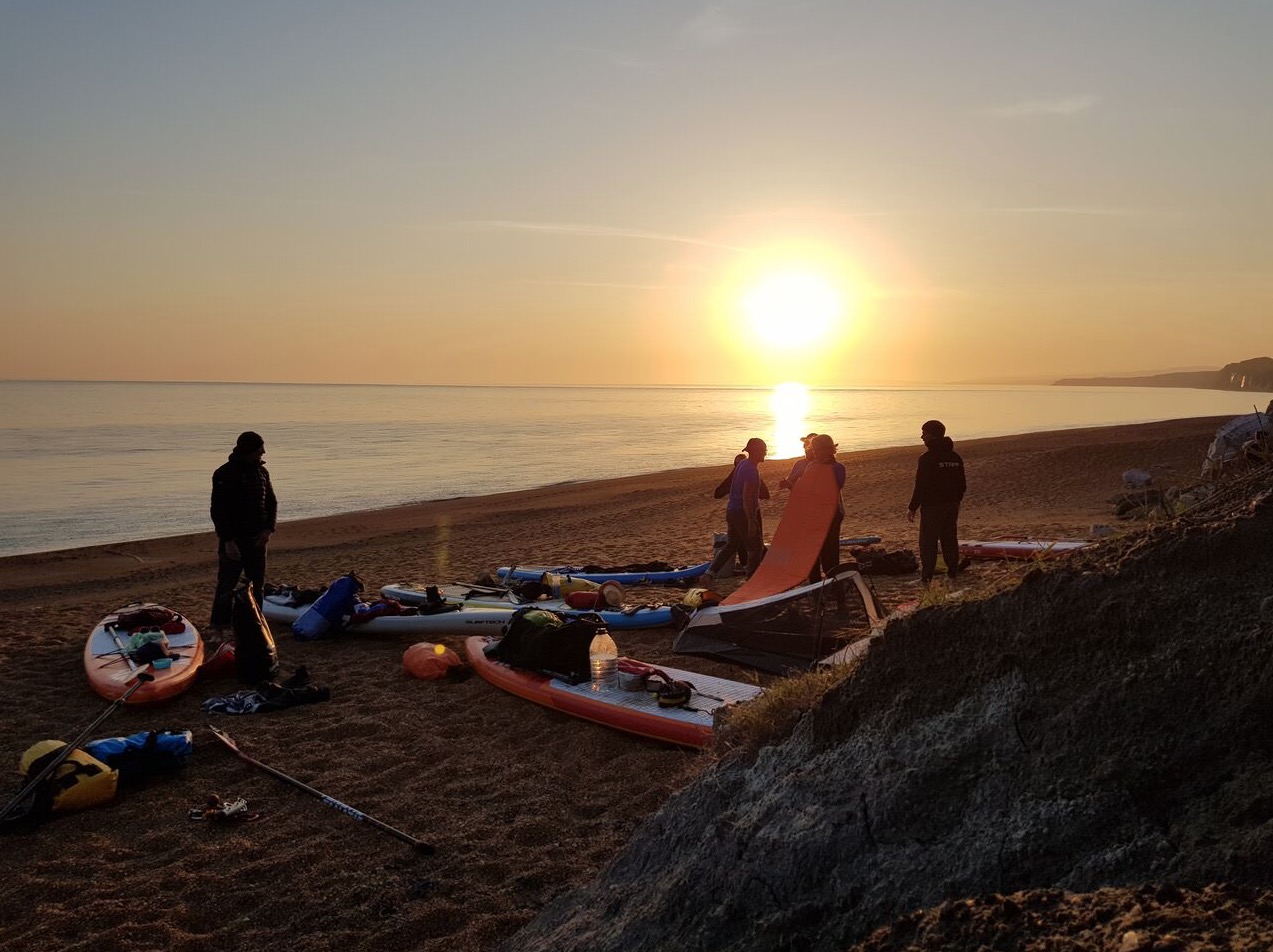 This year was the first time paddlers of all abilities took to the water on a circumnavigation SUP challenge of the Isle of Wight. Over three days, nine paddlers made their way 100km around the island as part of the Isle of Wight Challenge. Experienced adventurer and leader of this micro expedition Charlie Head is planning for this to become an annual event on the SUP calendar.  
SUP paddler Emily King took part in this maiden micro expedition, paddling an NRS 12'6 Escape inflatable SUP.  Emily King is an elite paddler who competes in all disciplines of SUP. Living and training in South Wales she takes great advantage of the inland waterways and oceans around her, catching waves, race training, throwing herself down rapids or coaching SUP. Emily has a huge appetite for all things SUP, but explains that
"Challenges come in all shapes and sizes and are not just for the elite seasoned paddlers."
For Emily this 3 day paddle was far more than just a SUP challenge. It was an opportunity to take time out from her busy life, connect with nature and those around her, and take a step back to look at the bigger picture in life. 
The sun was blazing high in the sky, too many kilometres of water had passed for me to either know how long or far I'd come. Just being in the moment knowing that with every stroke of salt and sweat it would bring me closer towards the iconic landmark of The Needles on The Isle of Wight. Our paddle group had an unusual silence. The feeling of being so small, yet truly empowered fell across us all as we paddled through the middle of these iconic 30 meter high white chalk stacks crowning the most western point of the island….
With such busy and demanding lives, getting away from it all with your SUP and like minded people can be an inspiring and cost effective way to take time out and re-evaluate.
With the growth of board sales exploding even more this year in the UK thanks to the record hot weather, maybe you're thinking about a SUP challenge of your own?
I took part in this 100km "Around the Island Challenge" with a mixed group of seasoned and novice paddlers, from all walks of life and we were all going to paddle fuelled by a plant based diet. Our debt to this stunning location was to beach clean and help raise awareness of the plastic pollution we all see on a daily basis.
"Also for me and the rest of the paddlers, the challenge would be an opportunity to get away and find some mental and physical space."
Our shared agenda was to discuss how we could implement any changes in our daily habits to reduce our environmental burden. We also wanted to reflect on our mental health, taking the time to think emotionally about how we are getting on in our lives. This is something I rarely have time to consider when managing a career, baby and SUP training. Hours of paddling and beach campfires gave us ample opportunity to enjoy deep conversation, contemplating many subjects both with humour and seriousness. I found it truly restful sleeping under the stars and listening to the ocean. With stars overhead and waves breaking on the beach it inspired a great openess, all of us stripping away our emotional armour and bonding over stories and experiences shared.
Carrying all our kit and food on our boards made for a slower pace to the paddling i'm used to… a challenge in itself! I soon found the relaxed pace allowed me time to take in the sights and ponder what this island has seen over the last few hundred years, from Queen Victoria Sailing in on her Royal ship, war throughout Europe, and the modern invasion of tourists crossing the Solent on yachts, ferries and hovercrafts.
Three days of paddling, laughing, thinking and just being in the moment whilst paddling the ocean certainly has me thinking about my next adventure! For me having the time to enjoy SUP at a slower pace has many benefits. Pushing limits of distance or physical demands has its place, but having time to spend with others creating friendships and finding solutions to problems we all share in our lives is a great way to help grow as a paddler and a person. So pack up those boards and plan your routes, whether its a micro adventure over a weekend or a few weeks away, go forth and paddle on!
"Remember, adventures come in all shapes and sizes, and the adventure comes from within you."
So make the most of the sunshine where ever you are, grab your SUP and set off on your own adventure. You never know where it will take you!
To read more of Emily King's inspirational features on SUPboarder click here.