Sonni Honschield & Ty Judson claim victory as Bluesmiths Paddle Imua raises money for children with special needs.
BLUESMITHS Paddle Imua 2018 took place in grueling hot conditions which tested all athletes' skill, stamina and mental strength. 162 stand-up paddlers, prone paddlers, OC1s, OC2s, OC6s, boats and Surf Skis took part in the Maliko Bay to Kahului Harbour ocean race for the benefit of children with special needs. With the trade winds shut down and choppy seas the course tested the limits of endurance and skill while focusing paddlers' minds on the event cause. This race is for the kids of Camp Imua and had it not been for the charitable nature of this event, many paddlers might have failed to finish the distance. The light winds meant that the hydro foil riders would have to take a back seat and a tactical battle between boats, OCs and stand up paddle boards was played out along the ten-mile course.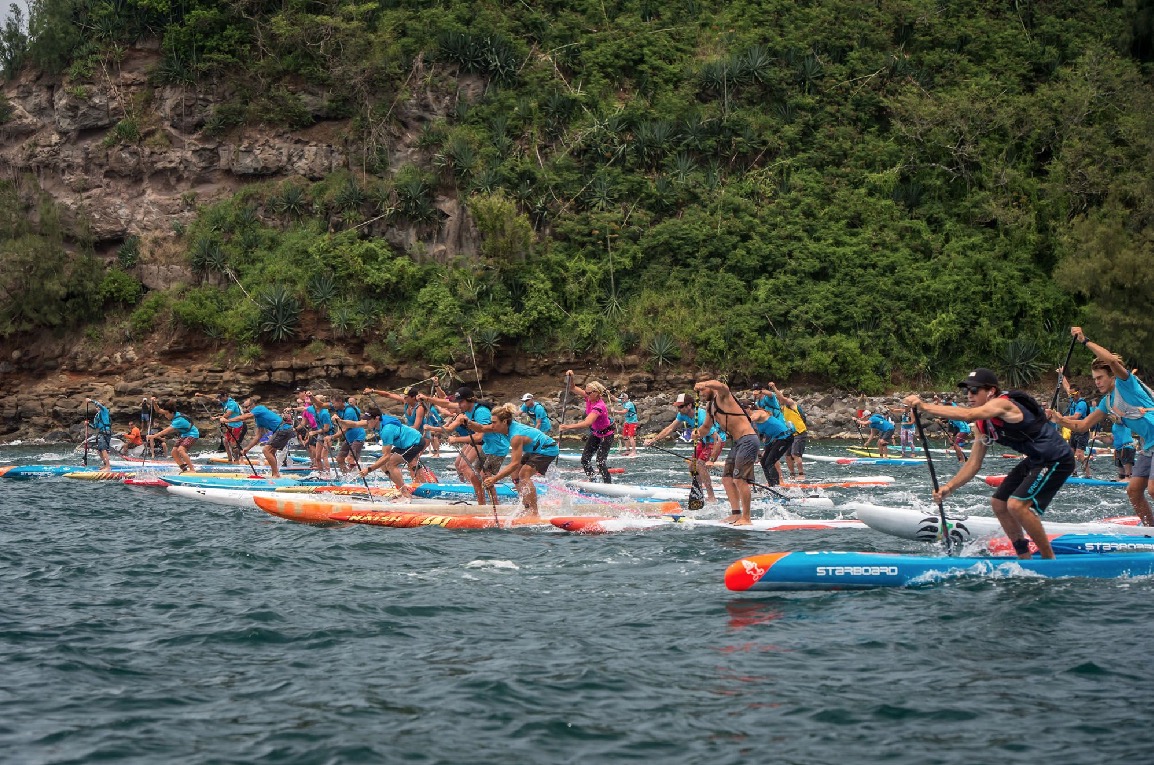 Picture: Bluesmiths + 808photo.me
This year it would be the Surf Ski of Michael Owens which would reach the harbor mouth first, with OCs and Surf Skis dominating the top 20. In the SUP division, Australian dark horse Ty Judson flew over the morning of the race from Oahu and, paddling his Unlimited SUP, outlasted Maui based Josh Riccio paddling on a stock 14ft SUP, with Team USA's Ryan Funk in 3rd. Ryan who had been set to race on a hydrofoil board opted at the last minute to paddle his stock 14ft flat water board rather than his unlimited due to light wind conditions. Typically, Unlimited SUP boards have a big advantage on the Maliko run but when the winds are light their speed advantage is to some extent eroded which resulted in the tactical battle between crafts gunning for the overall win.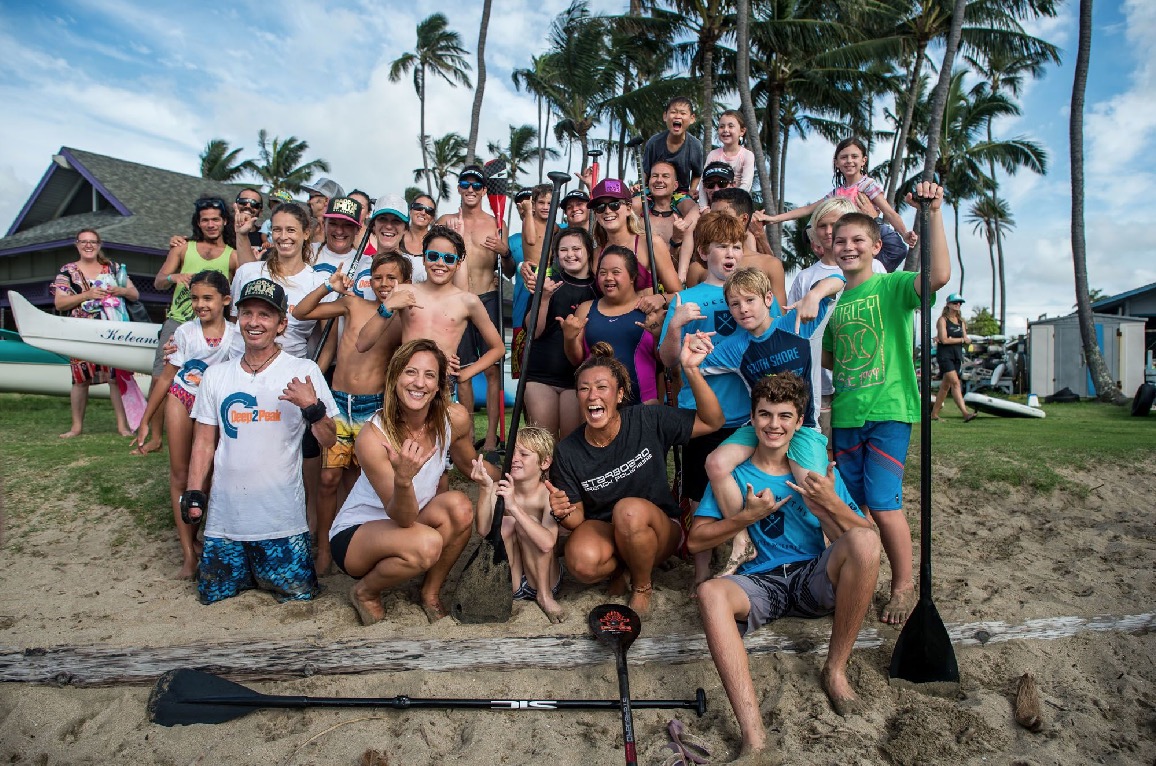 Picture:  Bluesmiths + 808photo.me
"Thanks so much to the organizers of BLUESMTHS Paddle Imua for putting on such an inspirational race. The atmosphere at the finish line was amazing with all the kids from Camp IMUA greeting us with leis. It's great to be a part of something so special and showcase the inspiring things that can be done to help kids with special needs. Thank you to all the volunteers and sponsors. The famous Maliko Run was testing and rewarding, if you worked hard for the bumps there were runs the whole way into the harbor."  Ty Judson, Australia (Blue Planet)
The women's SUP race featured BLUESMITHS athlete Sonni Hoenscheid, current Paddle League world number #1 and a strong contingent of international and local athletes. Sonni has been in impressive form this season and here was no match for her speed and power, her time of 1:31:43 put her almost six minutes ahead of local Annie Reickert in second with Yuka Sato from Japan in third. As in the men's race, board choice was critically important. Sonni opted for the Unlimited with Annie and Yuka both paddling stock 14ft boards.
"The Bluesmiths Paddle Imua is one of the highlights of my year and I am thrilled to win again. This event is much more than a race, it is an event full of celebration with music, friends and most importantly it raises money for Camp Imua. This year we weren't the luckiest with the wind, but the hard paddle was totally worth it arriving at the finish line and getting greeted by the Camp Imua kids with flowers and smiles! Sonni Hoenscheid, Germany (Starboard)
Summary Results for the 7th Annual BLUESMITHS Paddle Imua
Men's OC1: Kevin Dudoit (1:15:42), Nalu Sampson (1:16:28), Lopaka White (1:18:05)
Women's OC1: Kathy Shipman (1:31:12), Theresa Felgate (1:32:13), Christine Donovan (1:35:27)
Men's OC2: Keoni Kalama (1:32:12), Jordan Soon (1:36:37), Ryder Tremble (1:39:00)
Women's OC2: Michelle Cerizo (1:38:38), Sarah Fletcher (1:40:17)
Men's Surf-ski: Michael Owens (1:11:52), Eric Rohozinski (1:20:15), Ricahrd Spork (1:20:52)
Men's SUP Unlimited: Ty Judson (1:22:02), Kody Kerbox (1:29:08), Nathan Cross (1:31:23)
Women's SUP Unlimited: Sonni Honschied (1:31:43), Devin Blish (1:42:44), Andrea Moller (1:53:34)
Men's SUP 14' No Rudder: Josh Riccio (1:22:41), Ryan Funk (1:27:09), Bernd Roediger (1:29:32)
Women's SUP 14' No Rudder: Annie Reickert (1:37:19), Yuka Sato (1:38:06), Lara Claydon (1:50:58)
Laser: Jochen Stuemges (1:43:30), Kai Ponting (2:05:41)
Full results for all classes – https://pseresults.com/events/960/results
Video: BLUESMITHS / TAKE SHELTER PRODUCTIONS