The Guadiana Challenge will be taking place in the Guadiana River on the 21st-22nd April 2018. A unique, unspoilt location nestled in the beautiful landscapes from Mertola to the Alentejo region in Portugal, it is the perfect setting for a SUP challenge.
The Guadiana Challenge is fast becoming one of Europe's top SUP challenges to do. Now in its 5th year it attracts paddlers from all across the globe, with top SUP elites attending to prep for their bigger races during the year.
The main event is a tough 32km race. However there is also a 32km Fun Challenge
and 10km Fun Paddle so something for everyone.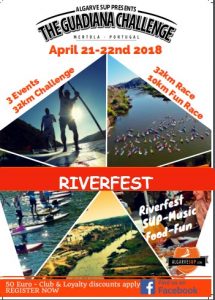 The Guadiana Challenge is a serious achievement for any paddler. With hundreds attending from all over Europe, great weather, great low cost airlines flying into both Faro and Lisboa (Mertola is 1.5 hour from either), and accommodation rates for groups and families, this really is a great trip for every keen paddleboarder.
Riverfest provides a relaxing chilled out area on the riverside with food, drinks, exhibitors, artisans, SUP clubs and SUP brands all there to have a chat and showcase the latest in SUP apparel and boards.
Check out the Guadiana Challenge website for more info and to register. Group rates also available.
Get it in the diary quick!